Jackery is one of the most popular power station brands. All its power stations, including the Jackery Explorer 160 and 200, offer reliable power output, decent battery timings, and sturdy construction. Best of all, these models come with generous warranties.
In summary, the Jackery Explorer 160 might be a better option if you're on a tight budget and want a solar generator that could juice up the latest gadgets. That is because the Explorer 160 comes with a USB-C port, something which the Jackery Explorer 240 lacks. Jackery 160 is also lighter (3.97 lbs) and takes less time to recharge. However, if power is your main priority, going for the Explorer 240 seems a no-brainer. Jackery 240 outperforms the 160 by having a higher surge capacity and a more powerful battery.
*The Wild Guides is reader-supported. When you buy through links on my site, I may earn an affiliate commission at no extra cost to you. Learn more*
Jackery Explorer 160 Vs 240 – Comparison

Here's how both these portable power stations compare with each other: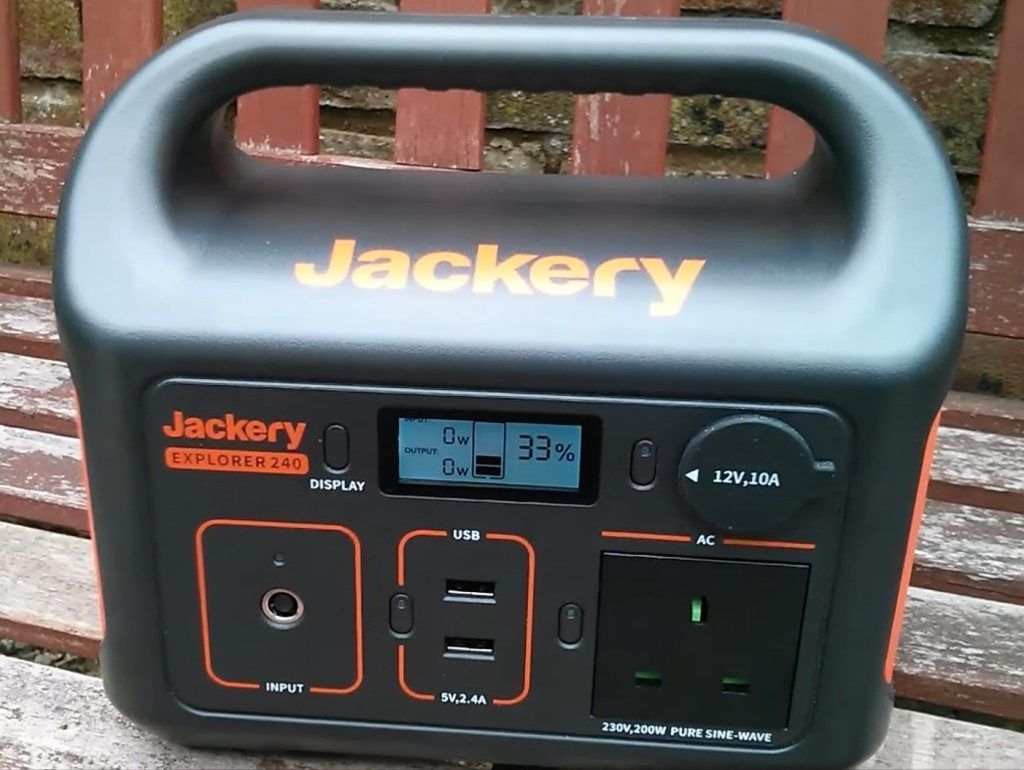 Design and Weight
Winner: Jackery Explorer 160 (lightweight)
The Jackery Explorer 160 weighs only 3.97 lbs with the battery pack. A sturdy handle, a common feature with all Jackery power stations, lets you carry it wherever you go. Four rubber feet at the bottom help stabilize this power station on uneven surfaces.
The Explorer 240 not only weighs more than its colleague (6lbs). But its relatively broad dimensions mean it will also cover more space on the ground. That said, both these models are far more compact than their much more powerful siblings. You'd face no problem in storing or carrying either of these.
Compatible Solar Chargers
Winner: Jackery Explorer 160 (takes less time for recharging)
Jackery offers three models in its SolarSaga Series. These include SolarSaga 60W, 100W, and 200W. It recommends using the 60W model for recharging Explorer 160 and 240.
Given the fact that it has a relatively smaller battery pack, it shouldn't come as a surprise that the Explorer 160 recharges quickly. One SolarSaga 60W panel will juice up this model in 4.5 hours under full sunlight. In similar conditions, the same solar panel will take at least 7 hours to recharge the Explorer 240.
Battery
Winner: Jackery Explorer 240 (more powerful battery)
The Explorer 160 comes with a 167Wh Lithium-ion battery. The Explorer 240, meanwhile, has a 240Wh Lithium-ion battery. What do these ratings mean in terms of performance?
In one complete charge, the Explorer 160 can juice up an iPhone 8 up to 16 times, Macbook Pro13 for 2 hours, and a 10W camera up to 20 times. By contrast, once fully charged, the Explorer 240 can recharge an iPhone 8 up to 24 times and Macbook Pro13 up to 3.5 times.
Both these power stations have the same Battery Management System (BMS). The BMS protects their batteries against over-current, under-charging, and over-charging. You can also count on it to shut down the power station if you start drawing more power than the unit could supply.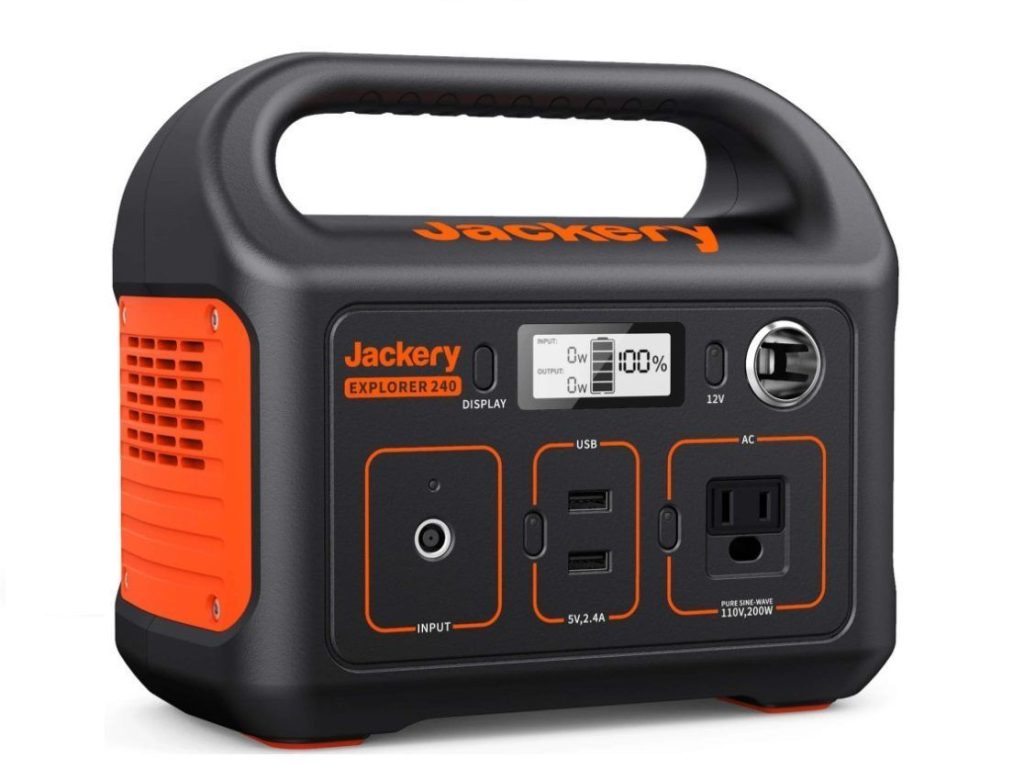 Jackery Explorer 160 Ratings
4.7⭐

out of 5280 reviews on

Amazon
Surge Capacity
Winner: Jackery Explorer 240 (higher surge capacity)
Surge capacity is the maximum power any power station can provide for a short time.
Surge capacity is crucial when you intend to operate power-hungry appliances (portable fridges, CPAP machines, power tools, etc.) on a power station. Since that wouldn't be the case with either of these models, you can skip this section if you so intend.
However, if you're curious, the Explorer 240 boasts a bigger surge capacity. This model can output up to 400W for a few seconds, compared with the 150W surge capacity of the Explorer 160.
Charging Options and Time
Winner: Jackery Explorer 160 (takes less long to recharge)
The Jackery Explorer 160 offers four ways to recharge.
These include an AC adapter, wall socket, 12V car adapter, and SolarSaga60W solar panels. Opting for any of the first three options means waiting for at least 5 hours before the unit goes from zero to 100% charging. One SolarSaga 60W solar panel will take at least 4.5 hours to completely charge this device.
The Jackery Explorer 240 offers the same recharging options. However, it takes a bit long to recharge. A wall outlet will take 3.5 hours to take this model from 0 to 80%. The 12V car adapter will require 5 hours, while the SolarSaga60W will need 5.5 hours to do the same.
Keep in mind that both these power stations support pass-through charging – you can use either of them while it's being recharged. A built-in MPPT controller is another thing that is common between the two. The MPPT controller optimizes solar charging for fast and efficient recharging.
Number of Output Ports
Winner: Jackery Explorer 160 (Explorer 240 lacks a USB-C port)
Here's where things get interesting. One would assume that the Explorer 240 would offer more output ports simply because it has greater power to supply.
That is not the case. As stated above, the Explorer 160 offers one output port (USB-C) that its counterpart doesn't. This makes the Explorer 240 a bitter pill to swallow for anyone using the latest smartphones, tablets, or any other gadgets that draw the power of a USB-C cable.
Both these models offer one AC port, one DC port, and two USB-A ports. Their AC and USB ports are supplemented with an on/off switch to save power when the units are sitting idle.
Expansion
You cannot daisy chain either the Explorer 160 or 240 with another Jackery or with an extra battery. This means you can't expand the built-in capacity.
Warranty
Both these units are warrantied for 24 months. Jackery also offers a 30-day moneyback guarantee and a free replacement warranty on Explorer 160 and 240.
Price
Winner: Jackery Explorer 160 (costs less)
On the official Jackery website, the Explorer 160 and 240 are available for $139.99 and $199.99, respectively. The price difference is understandable given that the Explorer 240 packs in more power and has a higher surge capacity.
Jackery Explorer 160 Vs 240 – Final Verdict
In conclusion, here's how the Jackery Explorer 160 and 240 stack up against each other:
Weight and build: Explorer 160 is relatively lightweight
Number of Ports: Explorer 160 comes with a USB-C port.
Battery and Surge Capacity: Explorer 240 is far more powerful
Warranty: Tie.
Price: Explorer 160 is easier on the pocket
Video reviews
---
Jackery Explorer Comparison Table
This table compares the main differences between Jackery Explorer Portable Power Stations
Jackery Explorer Comparison Table
ddd
Portable power station guides
Use this table to find out all the reviews I made about the best portable power stations in the industry.