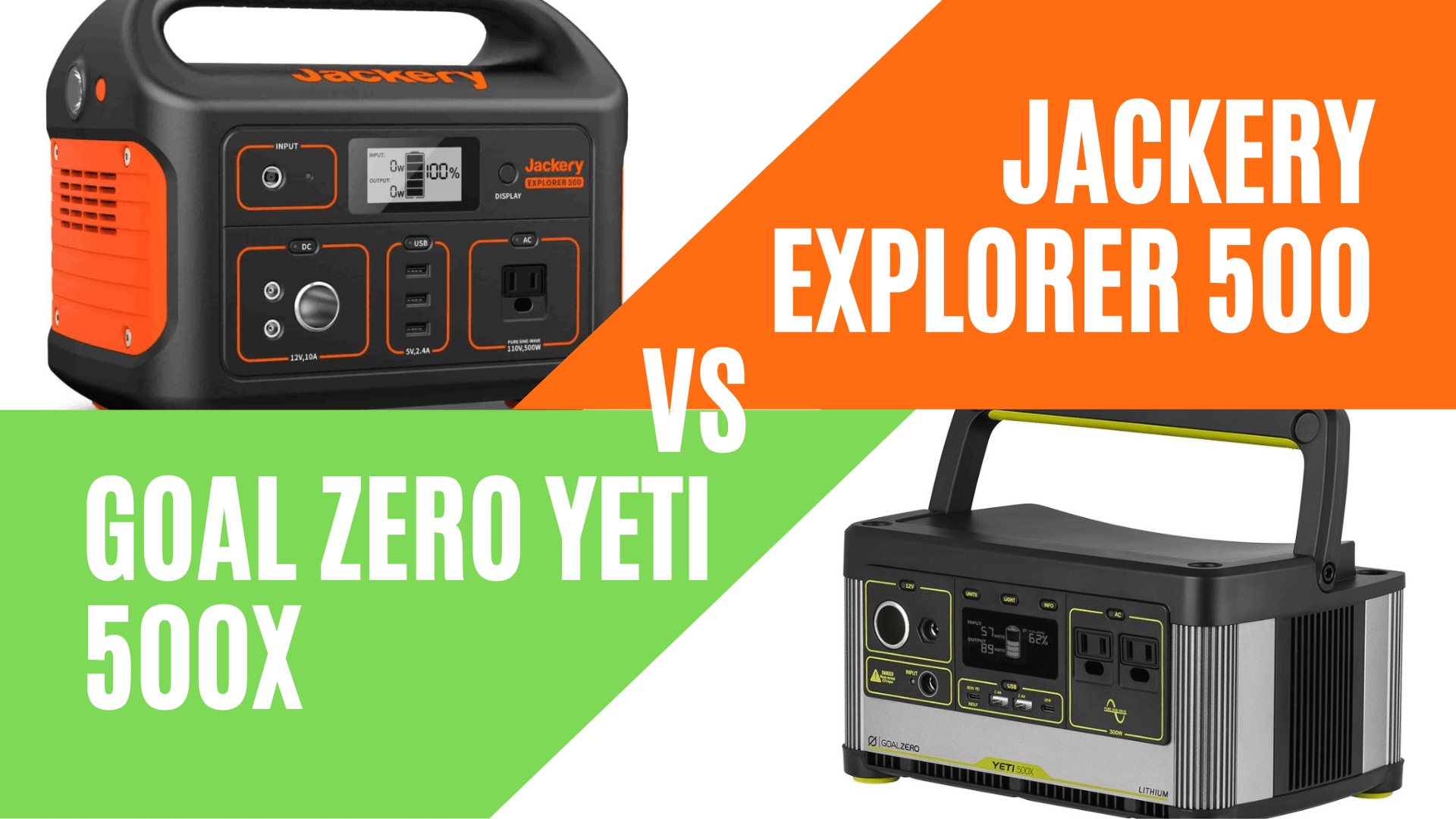 I hope that this Jackery Explorer 500 Vs Goal Zero Yeti 500X comparison will help you decide which of these two portable power stations should go with you on your next outdoor trip. Both these products come from top brands in the battery power station business, so deciding between them might not be easy.
After using the Jackery Explorer 500 for a few months, I had to borrow the Yeti 500x to see if Goal Zero might actually be a better choice. I've tested both prtable power stations in similar conditions and made this review that might help you make up your own mind.
For those who are short on time, I decided that Jackery Explorer 500 was a better choice for me. Read on to learn why.
*Disclosure: I only recommend products that I would use myself. This post may contain affiliate links that may earn me a small commission at no additional cost to you. Read the full advertising policy here.*

Jackery Explorer 500 Vs Goal Zero Yeti 500X – Overview
Let's have a quick overview of what both these portable power stations are all about:
Jackery Explorer 500
The Jackery Explorer 500 isn't something that you can carry in your backpack without feeling a thing – at just under 13.5 pounds, it would make you work to lift it up. Though its super-rugged build, which withstood a lot of abuse during my camping trips, goes a long way in justifying the added weight.
Its 518Wh Li-ion battery can retain 80% charging capacity for the first 500 recharging cycles. Jackery insists the battery can juice up an iPhone 8 around 50 times, a 12-inch MacBook around half a dozen times, and a GoPro camera up to 92 times in one charge. And you can also run a CPAP machine off it.
You can recharge the Explorer 500 with an AC wall outlet, 12V car adapter, electric generator, and a compatible solar panel (sold separately). I'd suggest investing in the solar panel only because of this power station's built-in MPPT controller, which makes solar recharging extremely efficient.
Moving on, the Explorer 500 comes with 3x USB-A ports, 2x DC ports, 1x AC outlet and 1x carport. Unfortunately, there is no USB-C port – a potential deal-breaker for those of you who have USB-C devices they like carrying with them on their outdoor trips.
Goal Zero Yeti 500X
The Goal Zero Yeti 500X features a 300W inverter that can juice up everything from smartphones to portable fridges. It can even power a CPAP machine when nothing else is drawing power. And the fact that it offers pure sine-wave output means the inverter can amp up sensitive electronics, too.
You have three options to recharge the Goal Zero Yeti 500X: the sun (with a compatible solar panel), the wall outlet (via the included 60W power supply), and the car. To get the power out of this power station, you've got 2x USB-A ports, 1x USB-C port, 1x USB-C PD port, 2x AC outlets and a 6mm port.
The display on this model tells you all you need to know about its working. It shows input/output watts, output amps, remaining battery percentage, and battery voltage. There's also a bar telling you how much time is left for the battery to go full/empty.
On top of everything else, this product supports pass-thru charging. This means it can supply power to other devices while it's being recharged. And a built-in MPPT controller helps it get recharged much quickly from a solar panel than older power stations with JWM controllers.
Goal Zero Yeti 500X Vs Jackery Explorer 500 – Comparison
Here's how both these portable power stations compare with each other
Design and Weight
Winner: It's a tie
The Jackery Explorer 500 weighs 13.32lbs with the battery pack. A black and white LCD display decorates the middle of its user-facing side. The display shows various useful indicators such as input wattage, output wattage and remaining battery life.
Five ports on the bottom (1x DC, 3X USB-A and 1x AC) give you as many options of drawing power from this portable power generator. A very sturdy plastic handle molded into the rest of the body allows you to carry it from the top, with four orange-colored rubber feet steadying it, even on uneven grounds.
The Goal Zero Yeti 500X weighs just under 13lbs. In contrast to the Explorer 500, it has a blue-color display showing all the usual indicators such as input/output wattage and remaining battery life. Two 12V DC ports, both of which output 10amps of current, neighbor it on its left side.
There are two 120V AC outlets on the right side of the display. A foldable carry handle on the top doesn't feel as rugged as the Explorer's 500, but it still lets you move around this 12.9lbs power generator. Plus, four rubber pegs on the bottom keep it from scratching any surface you put it on.
Compatible Solar Chargers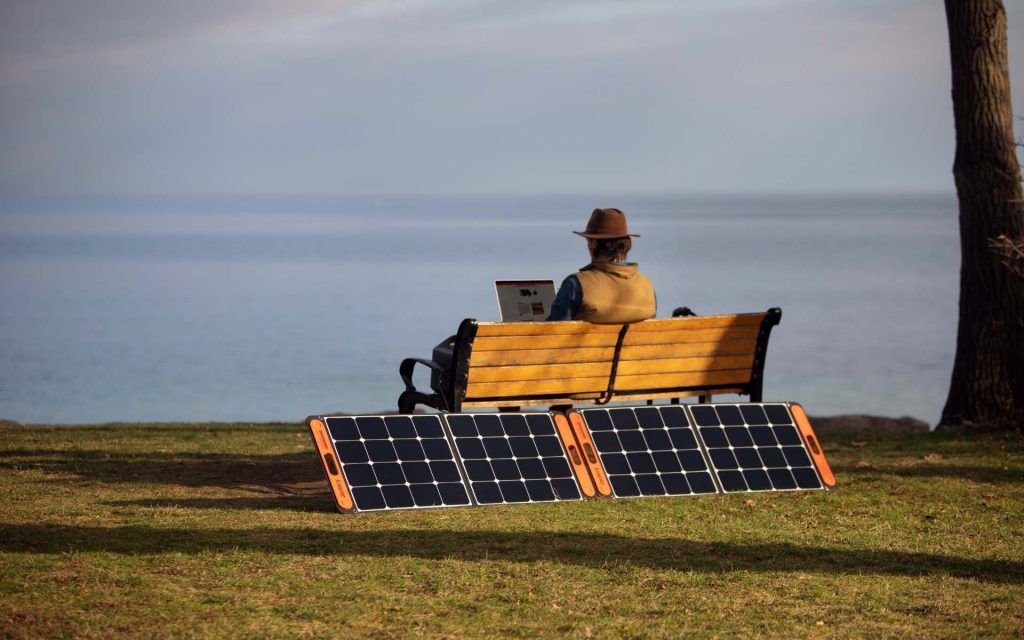 Winner: It's a tie
The Jackery Explorer 500 can be recharged with any one of the brand's three solar panels. It's your choice whether you opt for the SolarSaga 60W, 100W, or 200W solar panel. Jackery, however, suggests you go for the 100W solar panel and claims it will fully juice up the Explorer 500 in 9.5 hours.
Having followed this advice, I suggest you do the same. Apart from powering up the Explorer 500, the 100W solar panel comes with two USB ports using which I was able to recharge my devices, even when the SolarSaga was powering up my Explorer 500.
Goal Zero, as I mentioned during the Yeti 1500X Vs Explorer 1500 comparison, also offers its collection of solar panels. However, unlike Jackery, it doesn't recommend any of them for its power stations. It leaves it to you to decide between its portable and mountable solar panels.
Since you'd be using this portable power station on your outdoor trips (your presence here has made that clear), I'd suggest going for one of the foldable models. They don't weigh much, are easy to carry, and still offer just enough power to juice up the Yeti 500X.
Battery
Winner: Jackery Explorer 500 (The Explorer has a slightly bigger battery)
The Jackery Explorer 500 packs a 518Wh Lithium-ion battery. One that won't let its capacity drop below 80% during the first 500 recharging cycles. Jackery is so sure of the battery's performance that it has covered it with a 24-month warranty.
Its battery is capable of charging a MacBook Pro13 4.5 times in a single charge. You can also count on it to charge an iPhone 8 up to 53 times and a 10W camera up to 25 times. The battery can also keep an AC-powered CPAP machine running for at least 9 hours.
Unfortunately for Goal Zero enthusiasts, the Yeti 500X's battery (505Wh, Li-ion) is slightly less powerful than that of the Explorer 500. Still, if Goal Zero is to be believed, the battery is capable of running a CPAP machine for 8 hours and a 60W pellet grill for up to 9 hours.
Surge Capacity
Winner: Goal Zero Yeti 500x (bigger surge capacity)
Most people pay little attention to surge capacity when shopping for a power station. That's a mistake, especially if you're going to run power-hungry devices on your generator. Examples of such devices include a CPAP machine, any power tool or a portable fridge.
All these devices need more power upfront (at the time of startup) than when they've been up and running for some time. If your power station's surge capacity (the max power its inverter can supply for a short period) isn't greater than that power demand, it won't be able to run power-hungry devices.
Surprisingly, even though the Yeti 500X's inverter packs less power than Explorer 500's (300W vs. 500W), its surge capacity or peak power is bigger (1200W vs. 1000W). Perhaps that's why it can run a CPAP machine, even though it's less powerful than the Explorer 500.
Regardless of which of these two models you pick for yourself, make sure never to run devices whose startup power demand exceeds your power station's surge capacity. Otherwise, the power station's battery and inverter protection systems will spring into life, shutting down the unit.
Charging Options and Time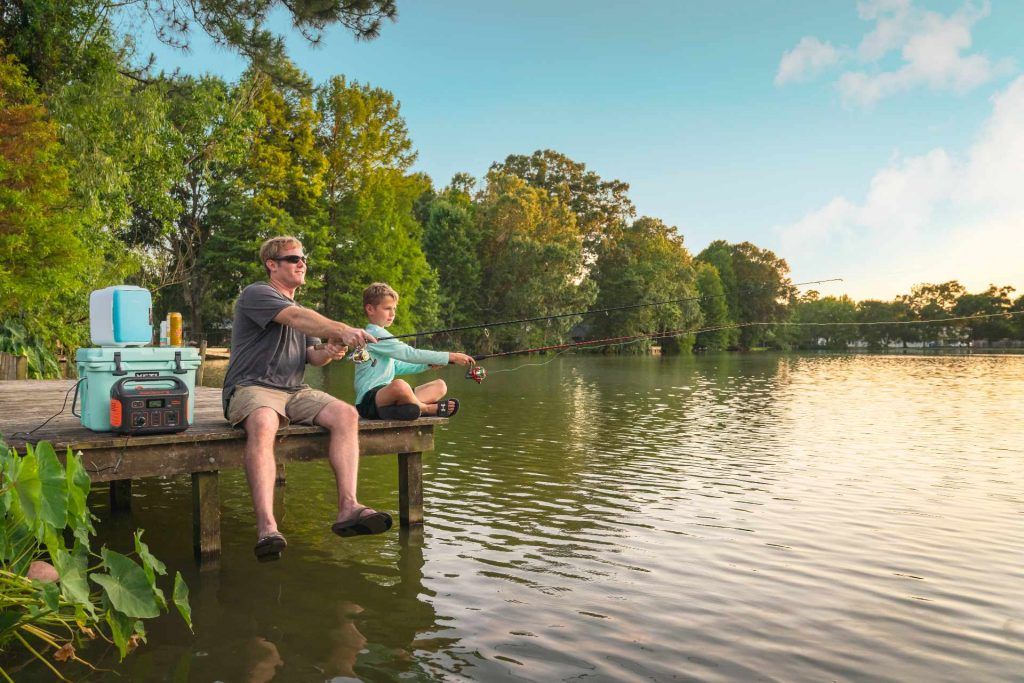 Winner: Jackery Explorer 500 (offers one extra recharging option)
The Jackery Explorer 500 offers four recharging options. You can recharge this portable power station with a wall outlet, electric generator and 12V car outlet. Its built-in MPPT controller means you can also hook it up with a compatible solar panel.
Surprisingly, you get the same recharging time (7.5 hours) whether you opt for the AC adapter, 12V car adapter or electric generator. However, you'd have to wait for two extra hours (9.5 hours) if you rely on the SolarSaga 100W solar panel to juice this model up.
The Goal Zero Yeti 500X, meanwhile, offers three recharging routes. You can power up this product using a wall charger (60W or 120W), car charger (120W) and with compatible solar panels (Nomad or Boulder). The charging times, as you might guess, are different in all three.
Connect this model to a 60W wall charger and it would take 10 hours to go from 0 to 100 percent. Hooking it up with a 120W car charger will cut that time in half. The recharging time with solar panels varies from 3 to 60 hours depending on the type of solar panel, its tilt angle, and intensity of sunlight.
What Can They Power?
Winner: Jackery Explorer 500 (packs more power)
The Jackery Explorer 500 can keep a 300W blender running for 7 hours. It can juice up a MacBook Pro13 4.5 times, an iPhone 8 for 53 times and a 60W drone nine times. Anecdotal evidence claims it can charge a 100W heated travel mug 9.5 times, too.
This power generator can keep the light bulb on the ceiling running for 45 hours, the heated electric blanket you use to stay cozy in the winter for 22 hours and the CPAP machine you count on to provide you with a nice, restful sleep at night for up to 9 hours.
The Goal Zero Yeti 500X's battery might not be as powerful as Explorer's 500. But it's still capable of delivering the goods. The reason why I can say that with confidence is that I've witnessed how it recharged my 12Wh smartphone more than 40 times before going dead.
Other gadgets that this model can keep up and running include a tablet (17 charges), DSLR camera (28 charges) and laptop (10 charges). An 11W light bulb, 25W portable bridge and 100W TV can rely on this product to provide them with 46 hours, 20 hours and 5 hours of runtime, respectively.
Number of Output Ports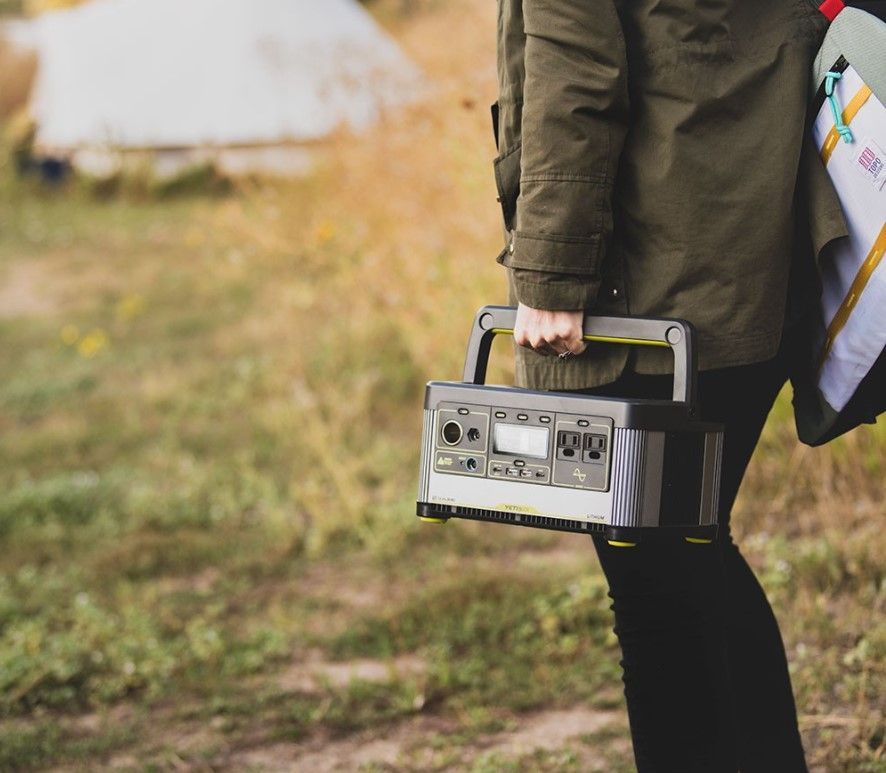 Winner: Goal Zero Yeti 500X (Explorer 500 lacks USB-C port)
The Jackery Explorer 500 offers five different output ports. On the front side, right below the LCD display, you'll come across three USB ports. Each is of the Type-A format and offers 2.4A output. Next to it is the AC outlet. It is made for gadgets that require you to plug them into a wall socket.
Aside from these four ports, you also get a 12V car charger port. The idea behind this port is to let you charge devices that need car chargers, without turning to a car. However, I have seen my friends sticking their car lighter in that port. So there's one extra need this power station can fulfil.
The Goal Zero Yeti 500X offers seven ports. It has two AC ports on the right side of the display, which have nothing wrong with them except their distance from each other. Both of them are placed too close to let you plug in two oversized plugs, like MacBook Pro and GoPro chargers, simultaneously.
Beneath the display are four USB ports. Two of them are USB-C (1x USB-C PD (in/out), 1x USB-C) and the other two are USB-A. There's also the 12V carport which can double as a cigarette lighter before a 6mm DC port completes the lineup. All in all, Yeti 500X offers two extra output ports than Explorer 500.
Expansion
Winner: Goal Zero Yeti 500X (solar panels can be daisy-chained)
Having used (and, in some cases, abused) various power stations over the years, I can say with confidence that no matter how powerful your power station seems to be, there will always be that one gadget or that one appliance whose power requirement will exceed the supply.
In such a scenario, you'd have two choices: pack that device into the box from where you took it out or, if it's possible, daisy chain your power station with another one of its ilk. Units that can be daisy-chained let you extend their battery capacity to meet demands one solo unit cannot fulfil.
As it turns out, Jackery Explorer 500 doesn't offer this facility. But the good news is that you could daisy-chain Goal Zero Yeti 500X. Users who have done that insist you can daisy-chain up to three solar panels together to charge up the Yeti 500X faster and ensure you never run out of power.
Safety
Winner: It's a tie
Both these portable power stations are protected with dedicated management systems. Their respective DMS provide their batteries with over-current protection, short-current protection, over-charge protection, and thermal/overheat protection.
I tried to test their over-current protection system by running appliances that slightly exceeded each power station's surge capacity. A 1800W hairdryer triggered both the models' over-current protection systems within seconds, shutting down the power stations before you could count to 10.
I was disappointed to note that unlike other Goal Zero models, such as the Yeti 1500X, the Yeti 500X doesn't come with a smartphone app. Its absence isn't a deal-breaker, but the app is a nice-to-have feature as it sends regular updates about the power station's health to your smartphone.
Warranty
Winner: Jackery Explorer 500
Both the Jackery Explorer 500 and the Goal Zero Yeti 500X are covered with 2-year warranties. Their warranties cover the inverter, manufacturer defects, and battery packs. However, the warranties might not be of any use if it's proven that the unit was damaged due to waterlogging.
Still, there's one area where Explorer 500 gets the better of Yeti 500X. Jackery gives you the option to extend the warranty of SolarSaga panels by one year by registering them with the brand, meaning you get a 3-year warranty on the panel. Goal Zero gives no such offer.
What's In The Box?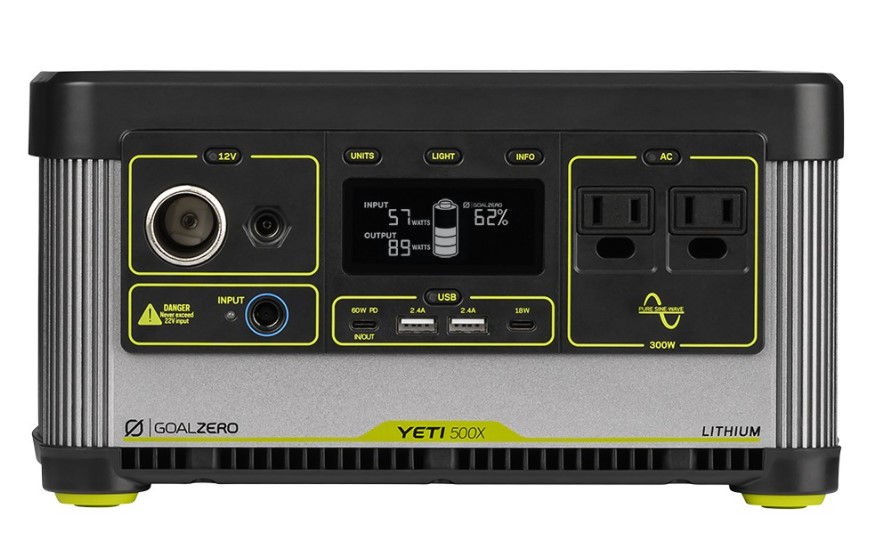 Winner: Jackery Explorer 500
The Jackery Explorer 500's box includes the portable power station, a car charger cable, an AC-to-USB converter (2 parts) and a user manual. The converter is especially useful as you can detach its USB cable and use it for other purposes. Don't forget to attach it back, though, once you're done using it.
Goal Zero, as it turns out, has cut corners in this department. The Yeti 500X box only includes the portable power station and a 60W wall charger. This means you'd have to purchase a car charger separately, adding to this product's upfront cost.
Price
Winner: Jackery Explorer 500
Before I sat down to write this comparison, I checked the prices of both these power stations on Amazon. Goal Zero Yeti 500X was available at the time for $699, exactly $200 more than Jackery Explorer 500, which was selling at $499.
The difference in the pricing of these products is surprising to me. After all, the Explorer 500 packs a bigger battery and a more powerful inverter than Yeti 500X. Surely, then, its lower price will make it more endearing to potential users, right?
Jackery Explorer 500 Vs Goal Zero Yeti 500X – Final Verdict
Winner: Jackery Explorer 500
Having compared the Jackery Explorer 500 Vs Goal Zero Yeti 500X, it seems clear as day to me that the Explorer 500 is a better choice of the two. This portable power station might weigh heavier, and the absence of a USB-C port hasn't won it many fans either.
But it has a bigger battery, a more powerful inverter and comes with more items in the box. It also gives you the option to extend its warranty by 1-year, an offer which Goal Zero fails to reciprocate. And despite all of that, the Jackery Explorer 500 costs $200 lower than the Goal Zero Yeti 500X.
Check Out The Video Reviews
Jackery Explorer 500
Goal Zero Yeti 500X
Portable power station guides
Use this table to find out all the reviews I made about the best portable power stations in the industry.