The Goal Zero Yeti 150 is a versatile portable power station. It's ideal for short camping trips or RV adventures, providing reliable power when needed. With low maintenance and a compact design, it's easy to store when not in use. Despite its smaller size, the Yeti 150 packs an impressive amount of power.
What is really phenomenal about this unit is the ability to switch to solar power which is nice if you tend to take longer outdoor trips far off the grid where few power sources exist. Having the option of this smaller portable power source is certainly a plus.
Goal Zero Yeti 150 portable power station runs by way of battery power or solar power. This makes it easy to feel good about reducing your carbon footprint while out in the woods or wherever camping adventures take you over the years.
The Yeti 150 power station also makes a terrific backup power supply source during weather emergencies and other events when power may not be available for a time. This is ideal to pack away into your car or van for any unplanned power necessities.
Quick navigation
*The Wild Guides is reader-supported. When you buy through links on my site, I may earn an affiliate commission at no extra cost to you. Learn more*
Amount of power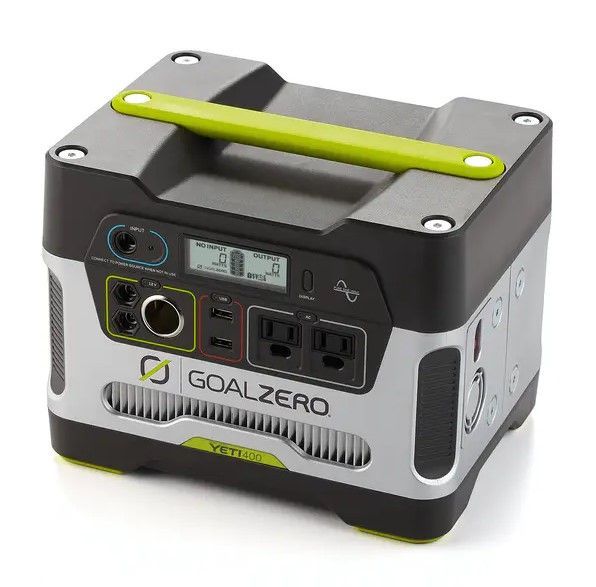 For being such a small and compact design, the Goal Zero Yeti 150 solar generator delivers an amazing power punch whenever it is needed. The mini-power unit is lightweight and easily carried from one location to the next. This tiny must-have power generator can charge up your cameras, lights, laptops, phones, tablets and even a smaller television with more power left to share.
Expect to get up to 168W-hrs, and the charge will hold a very long time. When the unit begins to chirp, simply recharge again and you are ready to go. This model is super-simple to operate, and it is a terrific choice for a variety of uses including camping, backyard parties and road trips in a car, van or RV.
Weight
Again, the Goal Zero Yeti 150 portable power station is well-designed and remains lightweight enough to be classified as a portable unit. Weighing in at just 12 lbs, the compact style is a cinch to move anywhere needed. Although as a portable power supply unit this model is on the heavier side, it is still built in a way that is conducive for easy-carrying. The overall power this unit gives is worth that little extra weight.
It is ideal for hiking, biking and other outdoor pursuits where you may be off-the-grid as far as power options. Even teens and younger kids used to outdoor adventures will have little difficulty carrying this power device.
Watt-hour expectations
Here are some of the watt-hours that can be expected from this hardworking power station. The capacity states the unit has 12V, 14Ah or 168Wh. The exact hours that a device will run using the unit will depend on the actual device and its power expectations. Expect that the device will give multiple cameras and smartphone charges over a multi-day camping trip.
It can run a coffee maker, a small fan and tablets or laptops or even a television that is smaller in size. The power with this impressive solar generator doesn't fade out the way that many portable power stations do which is a true asset to have when using games, Wifi or watching movies.
Recharge time
Expect this generator to charge in 6 hours with the AC wall outlet. The car charger port will take 8 hours for a full charge, and the solar panels charging times will vary depending on brand and model. The Nomad 13 (solar) should charge in 26 to 52 hours, the Nomad 27 (solar) should charge in 12 to 26 hours or so and the Boulder 15 (solar) will take roughly 22 to 44 hours for charging.
Recommended uses
Like most portable power stations, this Goal Zero Yeti model is made to be ultra-versatile. The small size, clean operation and ready-to-use charged-up feature make this one an excellent standby power generator should your home or business ever lose power suddenly. There are no messy or dangerous fumes to contend with and the unit operates silently making it a good selection to run a CPAP machine at night or for use in a home office or outdoor workshop.
The sleek design style of the Goal Zero Yeti is ideal for camping out for a weekend or a long spell as the unit can be charged with a solar panel if desired. Many users like to bring along this handy power source for road trips, an away children's sports game, as added assurance in your RV and as a standby party power option.
This portable solar power generator is an ideal gift for college students, teens, younger kids that have lots of electronics and for friends or family members that love camping, traveling or just puttering around in the garden or outdoor workshop space. Once you have tried this nifty power source, you will forget how complicated camping with teens and kids was before this came along to save the day.
Since this generator features Pure Sine Wave as a variant AC power, be sure to check any devices before charging them to ensure that they are able to tolerate this amped-up power type. Also, every device should have a maximum of under 120 watts capacity. This is the standard for most smaller portable power generators that use solar power.
Options for charging
Specifications include: standard inverter at 120W; 14Ah or 12V battery operates 150Wh; AC power output is 12V, and USB power port output also 12V.
Special features I like
This generator has several fantastic features that we love about it. These include:
Pure sine wave AC output
Lightweight for easy transport
Small & thoughtful design
Tremendous power capability for a portable generator
Handy pop-up carrying handle
Super quiet operation
Includes USB ports for greater connectivity options
LED easy-read battery indicator display
Holds a charge for up to 3 months
Can use multiple solar power panels
Replaceable battery
3 ways to charge & power
User-friendly design & operation
Good price for overall features
One final great feature is that you can get better-made solar panels that can charge in just under 6 hours depending on sunlight strength and anything drawing power during charging. This is a neat extra bonus if fast charging via solar power is a necessity.
Overall build quality & size
The overall design and quality of this unit are remarkable and well-thought-out. The compact shape and size make it super easy to grab on the go. It is also easy to store with its retractable but solid carrying handle. The LED display feature is crisp and clear, and the display backlight makes it easy to see in the dark of night. It is clear that the workmanship is top-quality as well.
Another added bonus is that most sellers offer a warranty. The battery itself is replaceable should that become necessary at some later date, and no special skills are needed to change them out.
To sum up
This impressive Goal Zero Yeti 150 power generator is well worth the low cost. While it can't power up everything due to its smaller size, this is ideal for most camping excursions and other family outdoor pursuits.
Video review
Portable power station guides
Use this table to find out all the reviews I made about the best portable power stations in the industry.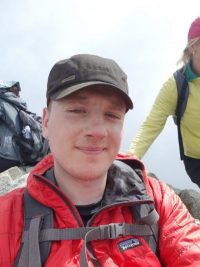 Mins Lukas Savela is a travel writer whose main focus is adventure travel. His passion for wildlife and nature has carried him to many countries in the world. He loves hiking the best trails on earth and sharing his experiences through writing. He hopes his experiences will help more people to start their own adventures and appreciate the world surrounding them a little bit more.
Mins Lukas Savela (also known as Lukas Saville) has written numerous articles that have been published on websites like Wandrly magazine, Go Nomad, Osprey.com, RAD Season, Wilderness Society, The Los Angeles Beat, California.com, Nature Conservancy, and many others.