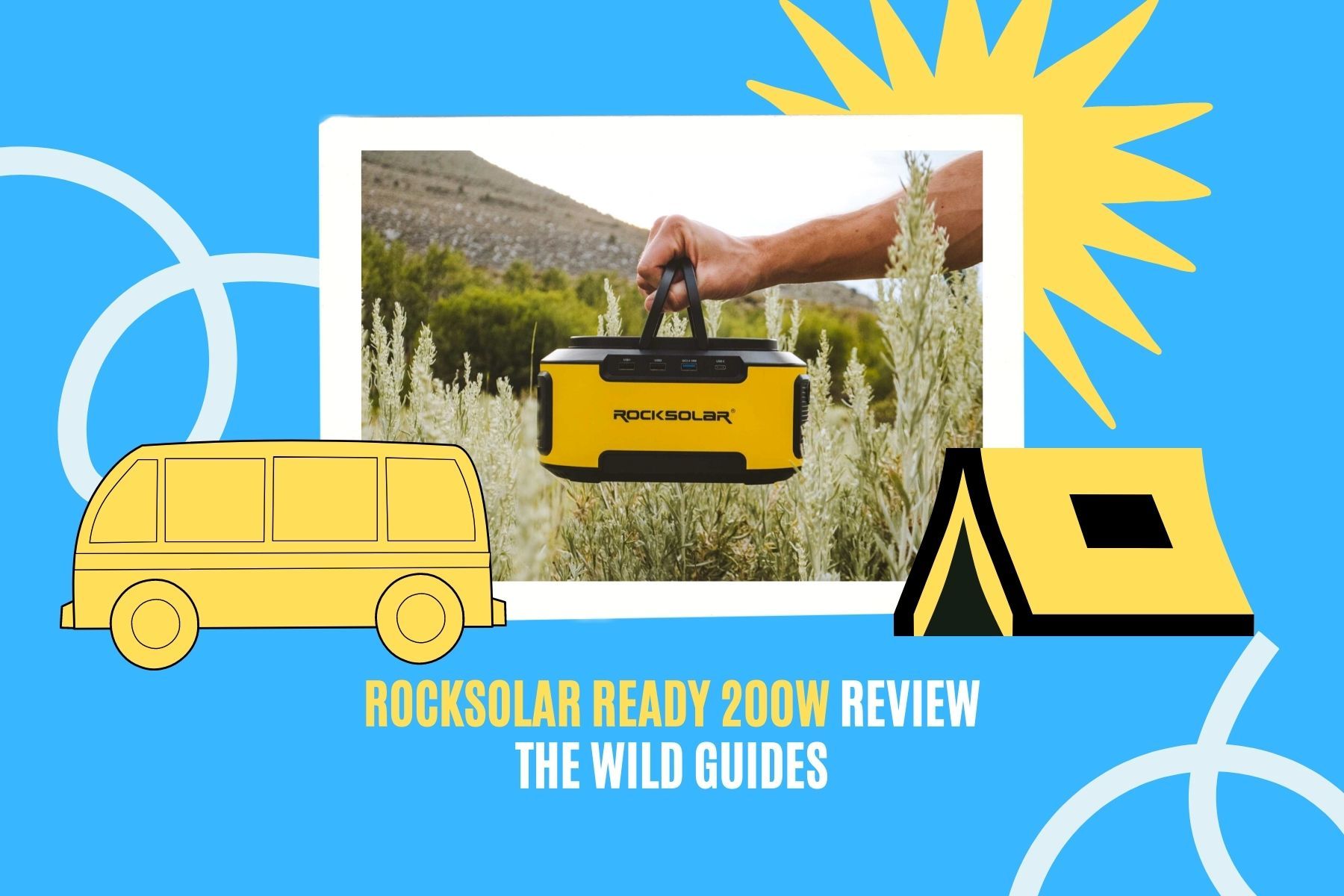 In this Rocksolar Ready 200W review, I'll tell you everything you need to know about this portable power station. That includes its package contents, design and build, battery timing, charging options, ports and more. We'll also look at areas where this model could have done better.
That's not all. Avid readers of this blog know that I review portable power stations as a hobby. To let you know how the Rocksolar Ready 200W fares against them, I've included brief comparisons of this model against some of the best-selling portable power stations out there.
*Disclosure: I only recommend products that I would use myself. This post may contain affiliate links that may earn me a small commission at no additional cost to you. Read the full advertising policy here.*
The Summary
The Rocksolar Ready 200W portable power station has impressed me with its budget asking price, multiple charging options, and reliable safety features. It also offers enough battery capacity to keep my devices going for days on end.
Rocksolar Ready 200W Review
Package Contents
1 x Portable Power Station
1 x Power Adapter
1 x Car Charger
1 x Cigarette Lighter
1 x User Manual
Weight and Build
The Rocksolar Ready 200W weighs a meager 4.5 lbs. This makes it half-a-pound lighter than the Goal Zero Yeti 200X and 1.5 times more lightweight than the Jackery Explorer 240, two of its competitors. Regardless of how you slice this, one thing is sure: the Ready 200W is pretty lightweight.
It's pretty sturdy, too. Only the two handles at the top – and the four feet steadying it – are made out of rubber. Everything else is metal, including the case, the grilles for the cooling fan and the ports, an amazing feature once you consider that this model costs less than $200.
There is nothing wrong with the placement of ports, either. All four USB ports are located right in the center of its face, so you can easily place the power station against the wall. The AC port has been shifted to the right to ensure no oversized plug can hide other ports, a problem I faced with the Explorer 240.
Battery and Ports
The Rocksolar Ready 200W packs in a 222Wh Lithium-ion battery. The battery isn't as powerful as the one I had with the Explorer 240 – which came with a 240Wh Li-ion battery. But the reason I'm not complaining is that this model costs a bit less than the Explorer 240.
As for its ports, this portable power station offers a whopping nine of them. Eight of them – 4 x DC; 2 x USB-A; 2 x USB-C (QC) – are on the front. The AC port is mounted on the right side. Both the AC and USB ports can be turned on/off by pressing separate buttons on the control panel.
If you're like me, you'd be satisfied with the amount and type of ports. Sure, I'd have been happier if Rocksolar had provided an extra USB-C port (as most of my gadgets are USB-C), but due to the price that this model is available at, I'm not complaining.
Recharging Options
You have three options to recharge the Rocksolar Ready 200W:
AC Adaptor: 6 – 7 hours
12V Car Adaptor: 8 – 9 hours
Solar Panel: 11 – 12 hours
Other Notable Features
Other notable features of Rocksolar Ready 200W include:
Battery Management System (BMS). The BMS protects the battery against over-charging, under-charging, over-voltage, current fluctuations and more. A built-in cooling fan, meanwhile, protects the unit against overheating.
LED Flashlight with SOS Modes. Do you regularly go camping in the woods? Have you spent more nights under the open sky than you care to recall? Then this model's LED flashlight – with its multiple SOS modes – give you an extra reason to go for it.
On-Demand Battery Indicator. Pressing the first button from the bottom right side will display the remaining battery life on the LED display. You'd thus don't have to worry about this model dying down in the middle of nowhere.
Pros and Cons
Most portable power stations on the market come with their fair share of benefits and shortcomings. The Rocksolar Ready 200W isn't any different. In this section, I'm going to shed light on the positive and negative aspects of this solar generator to help you make a decision.
Rocksolar Ready 200W Pros
Rocksolar Ready 200W Cons
No MPPT controller
Modified sine wave output
Best Solar Panel for Rocksolar Ready 200W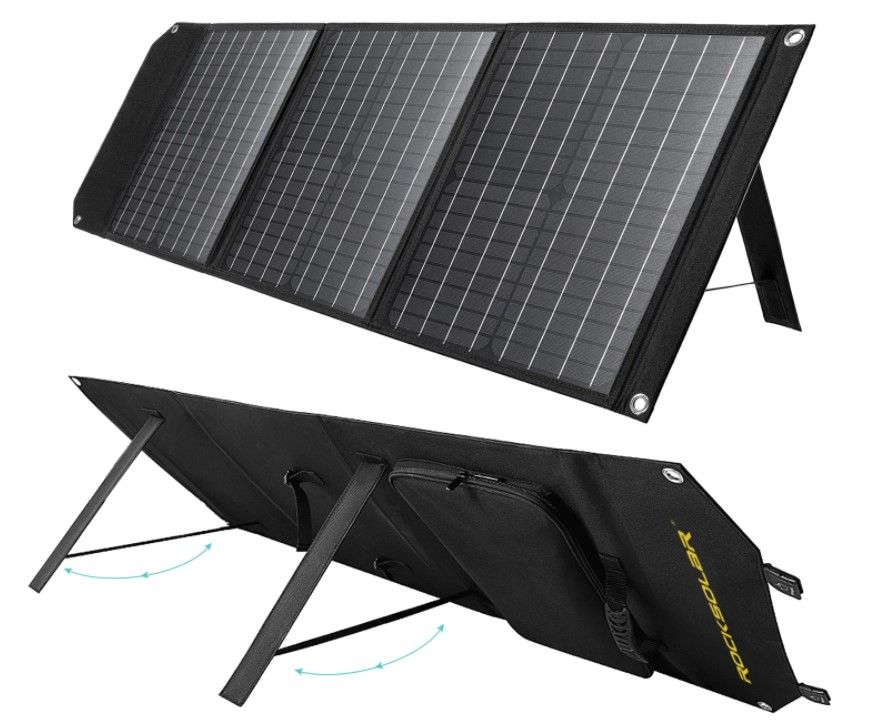 The Rocksolar 60W is the best solar panel for Ready 200W. Its foldable PET mono crystalline strips help it boost a market-high efficiency of 20 percent. An intelligent charging chip protects the devices it's charging from electric current fluctuations. Plus, the included carabiners help you attach it to your tent or backpack.
This solar panel won't only charge your power station. Its 2 USB-A and 1x USB-QC ports will help you juice up your other electronic devices, all the while its DC port is powering up the Ready 200W. An LED indicator inside its case pocket will let you know when it's ready to power up your devices.
Unlike most other solar panels you see on the market, this one hasn't left its panels exposed to the elements. Instead, a water-resistant polyester fabric cover keeps the panels protected at all times, making sure minimal dust and dirt gets to them. This makes the panels easy to clean.
What's more, this model comes with a case pocket to help you store your devices and make sure they stay cool while it's powering them up. And once you're done using it for the day, you can fold this solar panel and carry it to your car's boot with the sewn-on carry handle.
How It Compares With Other Portable Power Stations?
Rocksolar Ready 200W versus Goal Zero Yeti 200X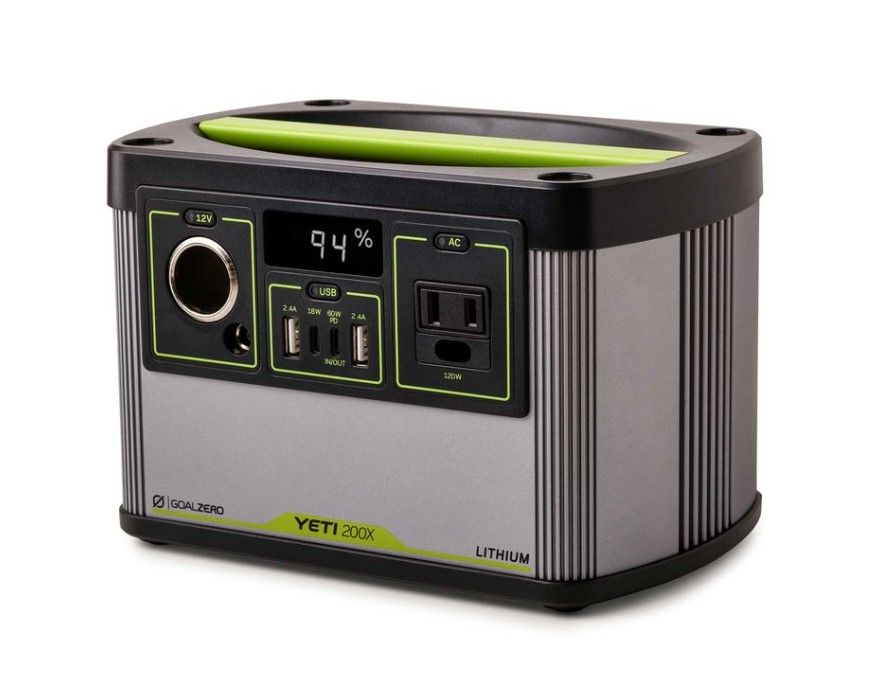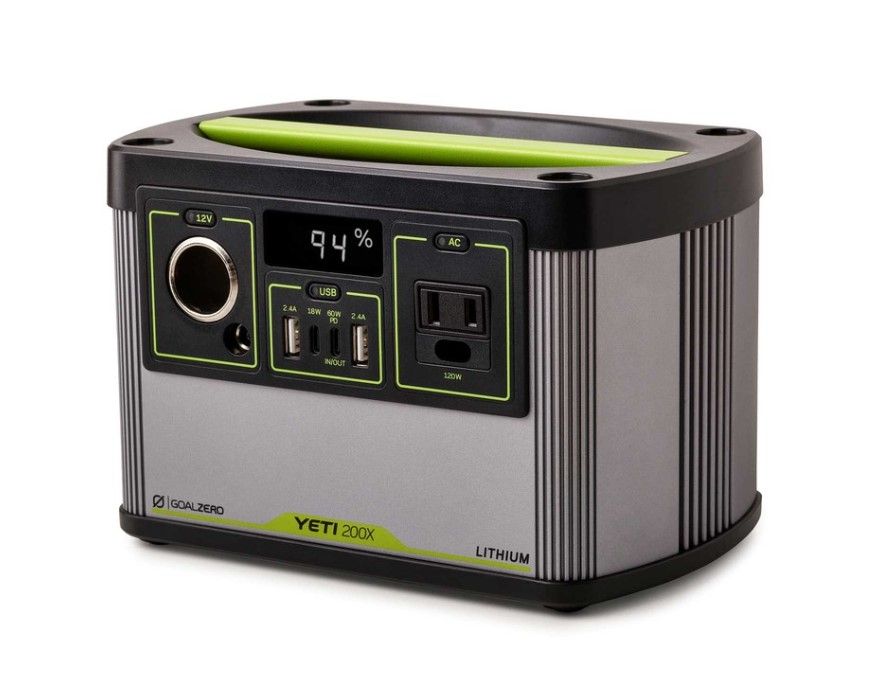 Similarities: Both these portable power stations have many things in common. They share modified sine wave output (which means you shouldn't charge sensitive electronics with either), support fast charging and have the same continuous (200W) and peak (300W) outputs.
Where the Rocksolar Ready 200W fares better: The Rocksolar Ready packs a much bigger battery (222Wh vs. 187Wh) to let you juice up more devices simultaneously. It's also equipped with 2 LED SOS lights, something the Yeti 200X lacks.
Where the Yeti 200X fares better: While both these power stations can be charged with a compatible solar panel, only the Yeti 200X has a built-in MPPT controller. This lets it boost the efficiency of the solar panel it's drawing the power from, decreasing the charging time.
Rocksolar Ready 200W versus Jackery Explorer 240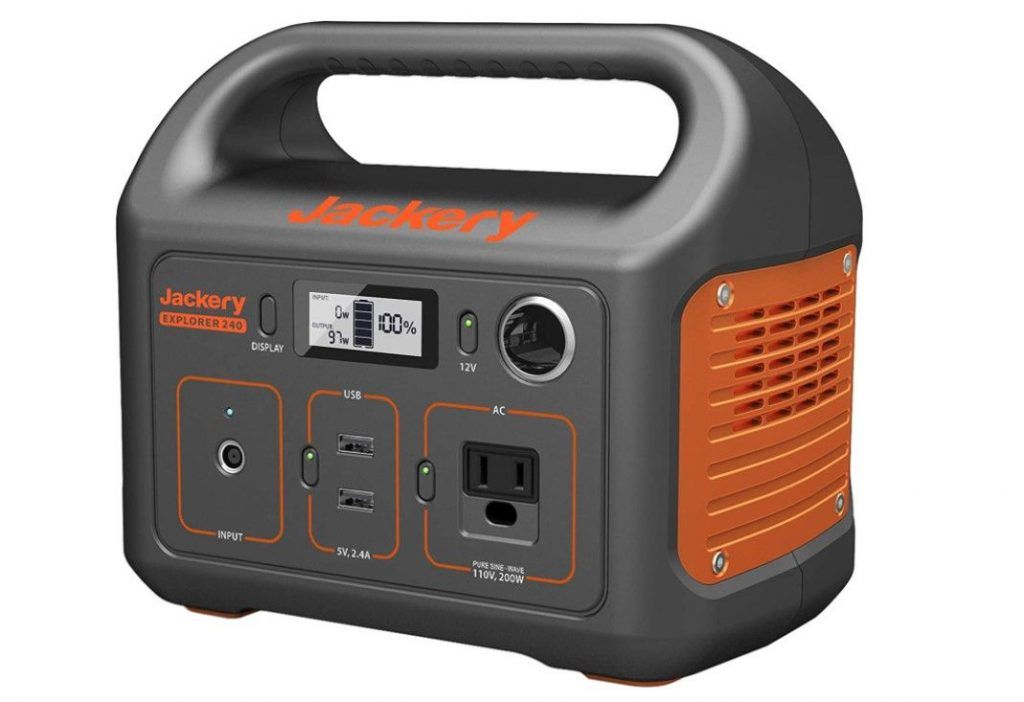 Similarities: The Rocksolar Ready and Explorer 240 have four things in common. Both offer the same continuous output (200W), can be juiced up with a compatible solar panel and come with 1AC output. They also have a built-in fan to keep the temperature under control. Both power stations support pass-through charging as well.
Where the Rocksolar Ready 200W fares better: Unlike the Explorer 240, the Rocksolar Ready 200W does come with a USB-C port. It also offers one QC USB-A 2.0 port and dual SOS lights, features which the Explorer 240 lacks.
Where the Jackery Explorer 240 fares better: The Explorer 240 portable power station offers a pure sine wave output to let you power up your sensitive electronics. And it comes with a bigger battery, too.
Rocksolar Ready 200W versus Anker Powerhouse 200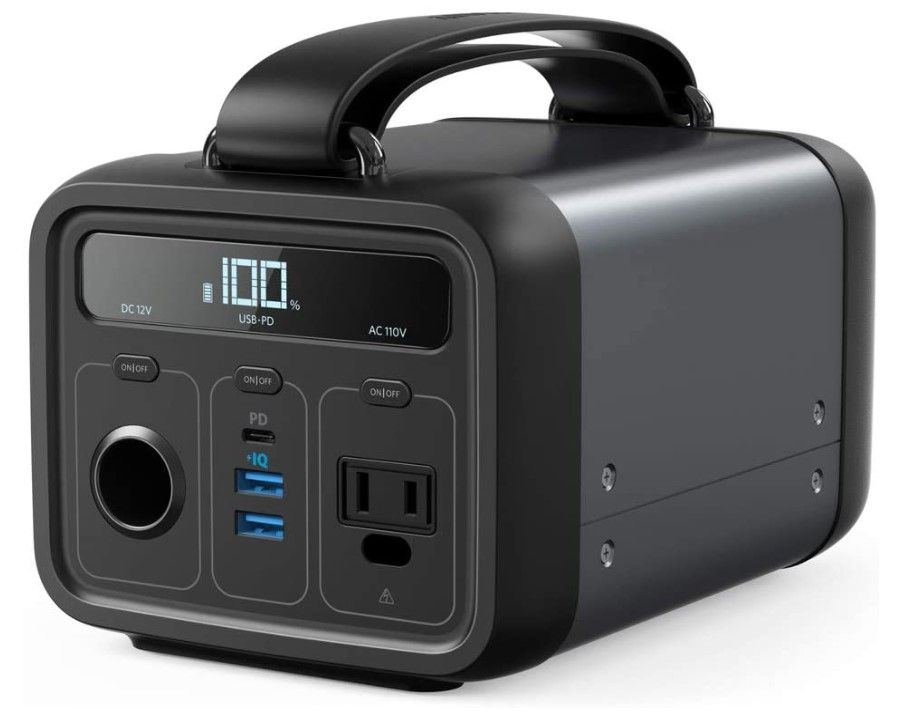 Anker Powerhouse 200
Power: 218 WH
Weight: 6.0 lbs
Dimensions: 7.48″ x 5.47″ x 4.69″
Similarities: Both these models can be recharged with a solar panel, offer USB-C and USB-A fast charging and are ultra-portable thanks to their lightweight construction. You can use either to power up CPAP machines as well. Both of the power stations also support pass-through charging.
Where the Rocksolar Ready 200W fares better: This model can juice-up more powerful devices thanks to its higher continuous output (200W vs. 100W). And the fact that it's backed with a bigger warranty period (24 months vs 18 months) means you can count on it to last longer.
Where the Anker Powerhouse 200 fares better: Unlike the Ready 200, the Anker Powerhouse 200 offers pure sine wave output and also comes with a built-in MPPT controller.
Rocksolar Ready 200W versus Rockpals 250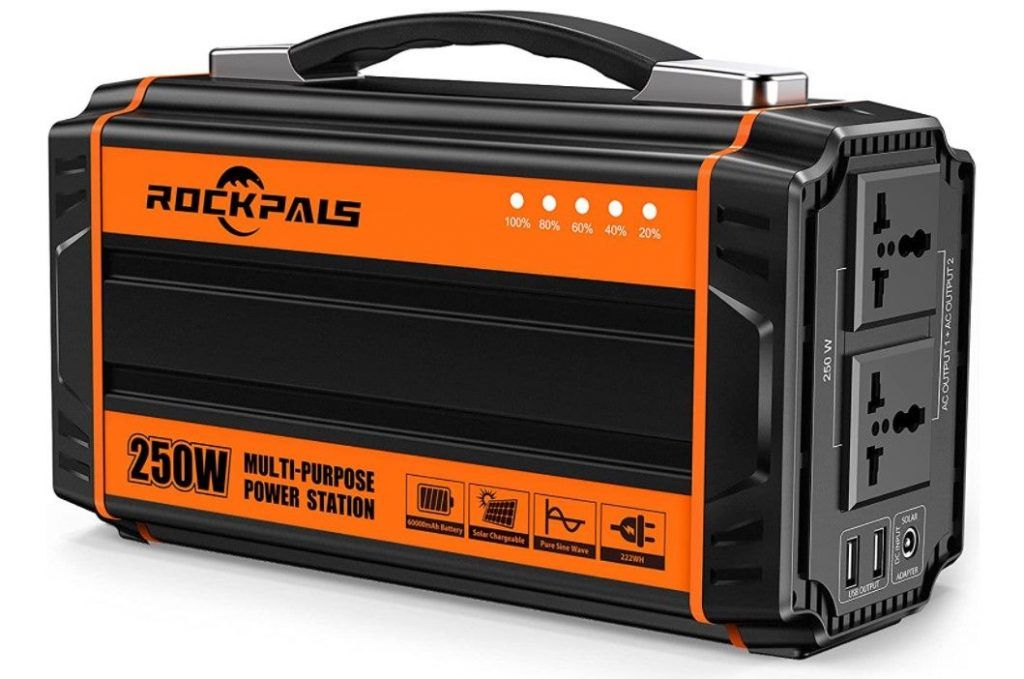 Rockpals 250
Power: 240 WH
Weight: 5.95 lbs
Dimensions: 8.86″ x 3.94″ x 6.3″
Similarities: You can charge both these solar generators from the sun with a compatible solar panel (not included in the package). Both are powered by Li-ion batteries that can last more than 500 lifecycles. And both are backed by 24-month warranties.
Where the Rocksolar Ready 200W fares better: The Rockpals 250 lacks a USB-C port, doesn't come with SOS lighting, and fails to offer quick charging. It also weighs more than the Rocksolar Ready 200W and is bulkier, too. The Ready 200 also supports pass-through charging.
Where the Rockpals 250 fares better: The Rocksolar Ready 200W fails to offer pure sine-wave output and its battery is less powerful than that of the Rockpals 250 (227Wh vs. 240Wh).
Frequently Asked Questions
Can you use Rocksolar Ready 200 with non Rocksolar solar panels?
You can use Rocksolar Ready 200 with non Rocksolar Ready panels. Just make sure that the solar panel you're using matches with this model's DC input (13V – 23.6V/2.5A Max).
Can you keep the Rocksolar Ready 200 plugged in all the time?
You can keep the Rocksolar Ready 200 plugged in all the time because it comes with over-voltage protection. However, I'd suggest being safe now rather than being sorry later on. Plug off this model once its battery is fully charged.
Can Rocksolar Ready 200 charge a car battery?
Yes. The Rocksolar Ready 200 can charge a 12V car battery.
Can the Rocksolar Ready 200 charge an electric cooler?
Yes. The Rocksolar Ready 200 holds enough power to charge an electric cooler like the Dometic CFX. You can even use this model to juice up a mini-fridge.
How long does Rocksolar Ready 200 last?
Depending upon your usage, the Rocksolar Ready 200 can last for weeks, even months. This means that it can easily keep your devices charged on a weekend trip.
Can you use Rocksolar Ready 200 while charging?
Since this model supports pass-through charging, you can use it while it's being plugged in.
Final Verdict: Is the Rocksolar Ready 200W worth your money?
Are you planning to go off-grid for days on end? Looking for a portable power generator that is easy to carry, can charge most of your devices and won't make much noise? If so, then the Rocksolar Ready 200W is worth your money.
Video review
Portable power station guides
Use this table to find out all the reviews I made about the best portable power stations in the industry.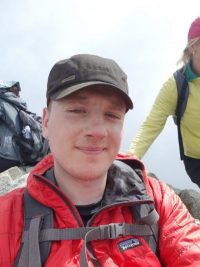 Mins Lukas Savela is a travel writer whose main focus is adventure travel. His passion for wildlife and nature has carried him to many countries in the world. He loves hiking the best trails on earth and sharing his experiences through writing. He hopes his experiences will help more people to start their own adventures and appreciate the world surrounding them a little bit more.
Mins Lukas Savela (also known as Lukas Saville) has written numerous articles that have been published on websites like Wandrly magazine, Go Nomad, Osprey.com, RAD Season, Wilderness Society, The Los Angeles Beat, California.com, Nature Conservancy, and many others.