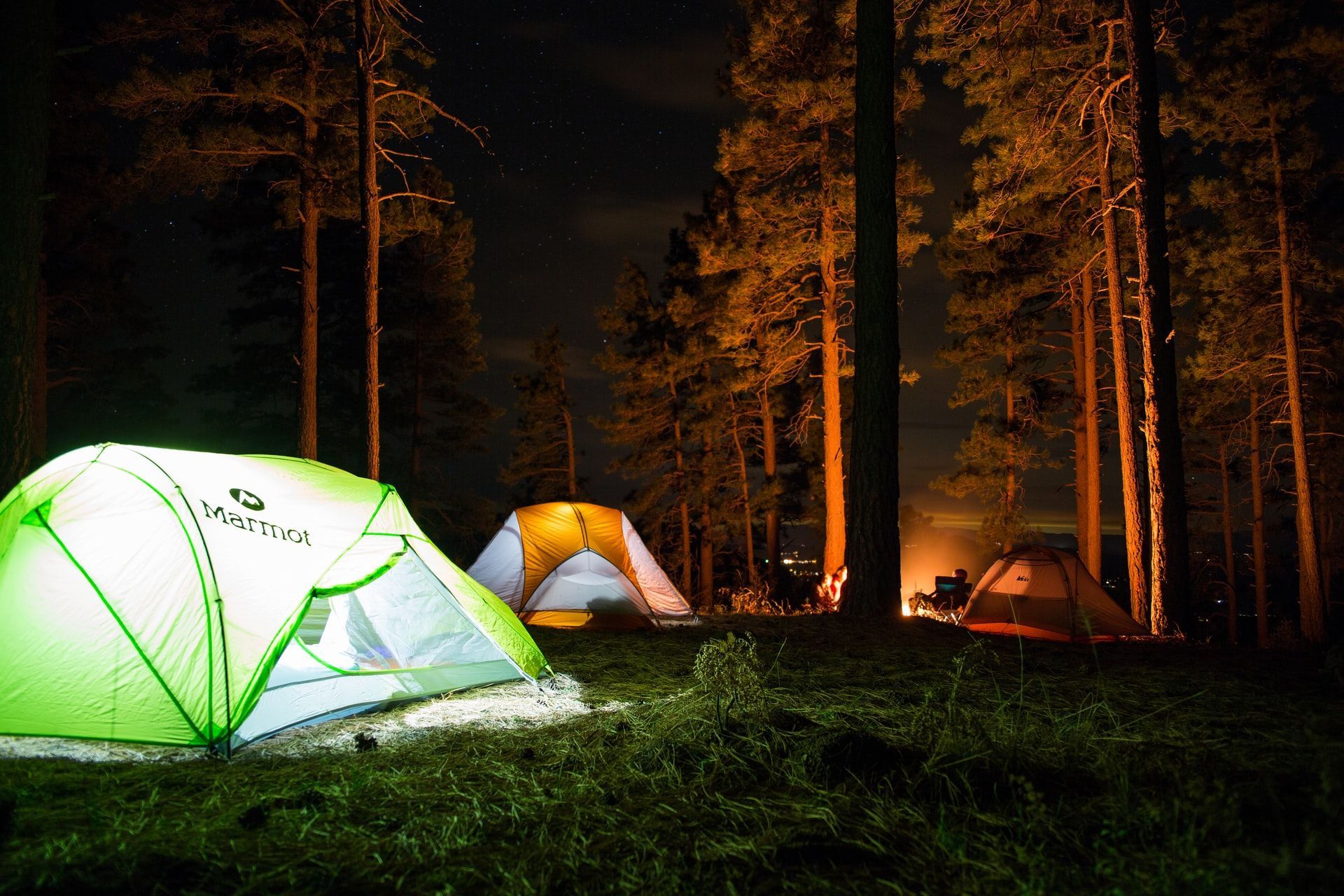 As a camping enthusiast, I realise what a difference a good and reliable source of power can make to your outdoor experience. I've spent a lot of time testing various portable power stations to find the best one for camping adventures.
After trying out various models I managed to get or to borrow from my friends, I have compiled a list of the best portable power stations for camping. Each of these models has its persk and drawbacks, and the competition is tough.
If I had to choose only one, I'd probably say it has to be the However, one power station stood out above the rest – the Jackery Explorer 1000 Pro. The revamped Explorer 1000 Pro is a compact and lightweight device, which offers lots of power to keep your devices running smoothly for multiple days.
Read on to see the best portable power stations for your next camping trip.
| | Jackery Explorer 1000 | Jackery Explorer 300 | Rockpals 300W Station | EF Ecoflow Portable | Goal Zero Yeti 1500X |
| --- | --- | --- | --- | --- | --- |
| Best for | Best Overall | Best Budget | Best Portable | Best Solar | Best High Efficiency |
| Weight | 22.04 lbs | 7.1 lbs | 7.7 lbs | 30.9 lbs | 43 lbs |
| Battery Capacity | 1002 Wh | 293 Wh | 280 Wh | 1,260 Wh | 1,532 Wh |
| Output Ports | 2* USB-C ports with PD, 1* USB-A port, 1* quick charge 3.0 port, 3* AC ports | 2* AC outlet, 1* PD 60W USB-C port (input/output supported) , 1* fast charge 3.0 port, 1* USB-A port | 1* AC outlet, 1* carport, 2*USB-A ports, 1* QC USB port, 1* USB-C port | 1* AC output, 2* USB-C ports, 2* QC ports | 2* USB-A ports, 2 USB-C ports (1x 18W 1X USB-C PD), 1* 6mm 12V port, and 2* 120V AC ports |
| Warranty | 2 years | 2 years | 18 months | 2 years | 2 years |
Portable power station comparison table
*The Wild Guides is reader-supported. When you buy through links on my site, I may earn an affiliate commission at no extra cost to you. Learn more*
Best Overall – Jackery Explorer 1000 Pro
The Jackery Explorer 1000 Pro is my top pick for various reasons. Weighing just over 25 pounds, this model is far more compact than most portable power stations I have tested. Sure, it won't come cheap, but it has the features to justify its higher asking price.
Start with output ports. This power station comes with 2x USB-C, 2x USB-A (1xQC), and 3x AC ports. They enable it to recharge smartphones, tablets, laptops, and other everyday appliances. You could also juice up a small fridge or even a CPAP machine with the Explorer 1000 Pro.
Next comes its battery. The Explorer 1000 Pro is equipped with a 1,000 Wh Lithium-ion battery. One that is capable of lasting more than 500 cycles before needing replacement. Battery Management System protects it against over-current and other common problems.
Then there are the recharging options. Most portable power stations out there let you juice them up with a wall outlet and car outlet. The Explorer 1000 Pro goes one step ahead. You could bring this model back from dead – or save it from going dead – by hooking it to a compatible solar panel.
That means you could count on the Explorer 1000 Pro to help you go off the grid. A built-in MPPT sensor optimizes solar recharging, taking it from 0 to 100 percent charging in less than 10 hours under shiny sunlight. And pass-thru charging would let it juice up other devices at the same time.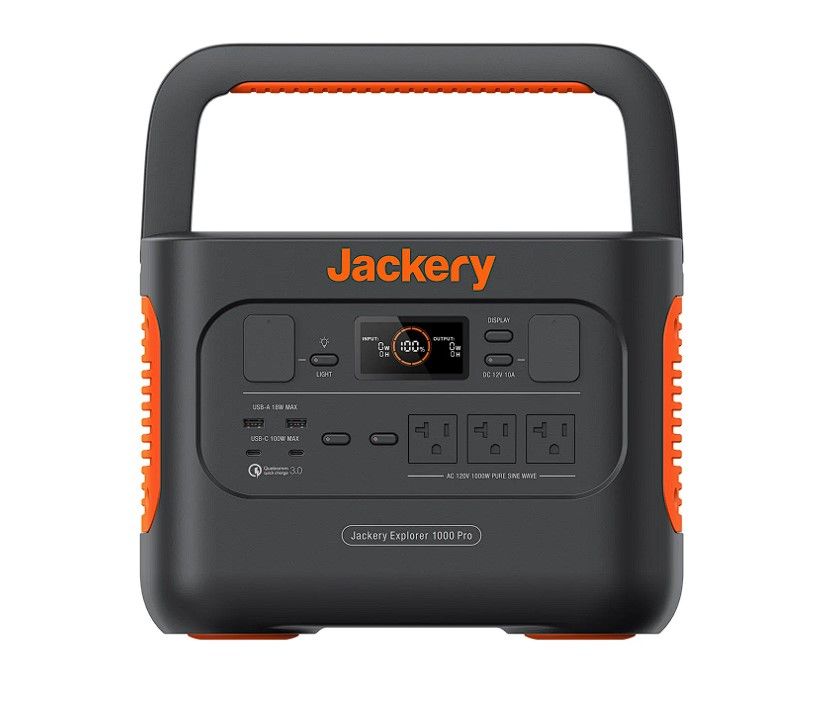 Pros
Seven output ports
Has a powerful battery
Can use it on solar power
Two-year warranty period
Cons
Built-in flashlight isn't very bright
Ratings
5.0⭐ out of 48 reviews on Jackery
4.5⭐ out of 48 reviews on Amazon
Best Budget – Rockpals 300W
The Rockpals 300W hits the sweet spot between price and power. Weighing just over 7.7 pounds, this model is one of the most budget-friendly on the market. Throw into the mix its ergonomic handle, which has finger-shaped contours to ensure better grip, and carrying this model is a cinch.
Pocket-friendly asking price isn't the only thing going in this model's favor. The Rockpals 300W also packs a powerful battery (280 Wh) for its size. Its battery holds enough power to keep a mini car refrigerator running for up to 6 hours. It can also charge a 12" MacBook Pro up to six times.
This model also offers five output ports. These include 1x AC, 1x car port, 2x USB-A, and 1x USB-C. All the ports have their separate on/off buttons. This is a pretty handy feature to have. It prevents this portable power station from 'leaking' power when it is sitting idle.
One of the USB-A ports (PD port) and the USB-C port offer fast recharging. Both the AC and DC ports have a cover to prevent the ingress of elements when not in use. Bear in mind, though, that the cover is flimsy. It might come apart if you treat it too harshly.
It also has its fair share of safety features. An automatic shut-off sensor sends lights out when this unit's charge gets perilously close to zero. A BMS protects it against over-current, over-voltage, over-heating, over-discharge, and other common issues.
Pros
Is competitively priced
Packs a sine-wave inverter
Comes with five output ports
Supports solar recharging
Cons
Ratings
4.5⭐ out of 29 reviews on Amazon
4.8⭐ out of 260 reviews on Rockpals
Best Lightweight/Portable – Jackery Explorer 300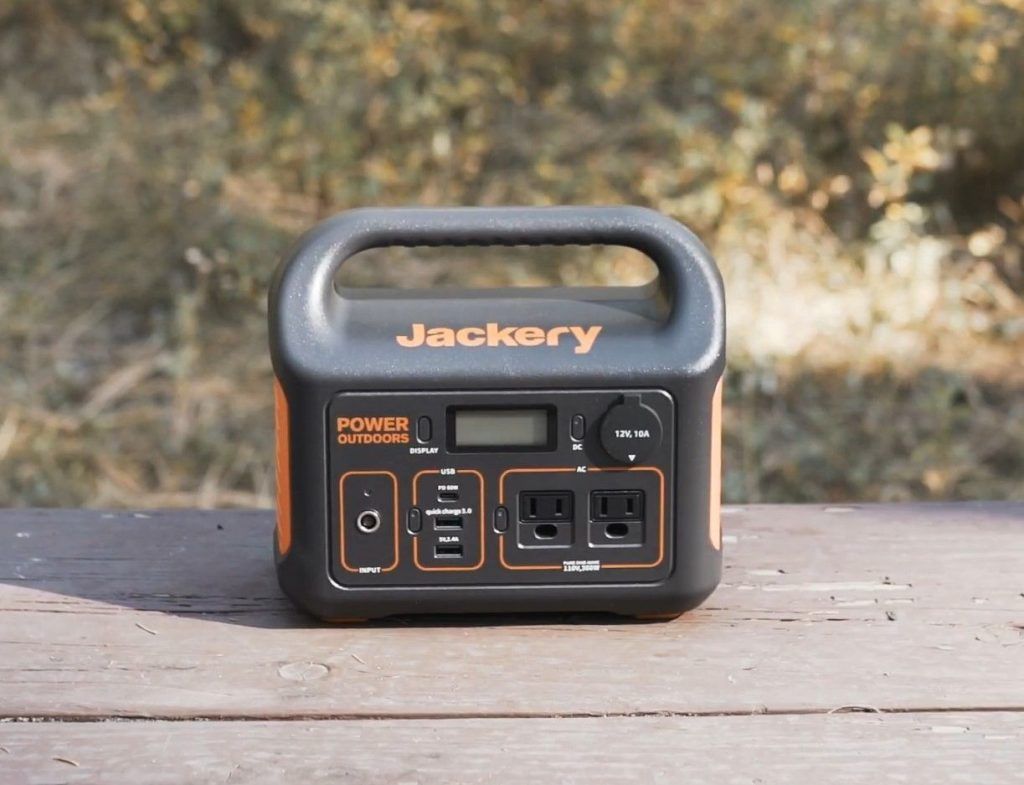 Small, powerful, and portable, the Jackery Explorer 300 makes an excellent choice for those of you looking for a lightweight model. The Explorer 300 also offers more than a few amazing features to justify its inclusion in this review.
Need verifiable proof? This versatile device packs a pure sine-wave inverter, meaning you could rely on it to juice up your sensitive electronics. It also offers six output ports – only one fewer than my top pick – despite costing three times fewer than the Jackery Explorer 1000.
You also get four ways to recharge, one of which is solar recharging. On a bright sunny day, I saw its remaining battery percentage climb from 0 to 80 percent in less than 3.5 hours with the help of a compatible solar panel. The 'wall-outlet + USB-C' recharging option is much quicker.
All the bells and whistles you saw with our top pick are on offer here, too. These include a built-in MPPT controller (that optimizes solar recharging), pass-through charging (to let you charge other devices while this unit is recharged itself), skid-free design, and a market-high 2-year warranty.
That isn't to say that everything about this model is hunky-dory. I always prefer models that come with built-in flashlights, something that this portable power station lacks. Also, if you want to charge it with USB-PD, you'd have no choice but to lug along a big power bank.
Pros
Incredibly easy to carry
Can power most heavy-duty devices
Has an integrated MPPT controller
Offers four charging options
Cons
Lacks a built-in flashlight
Ratings
4.9⭐ out of 78 reviews on Jackery
4.8⭐ out of 2270 reviews on Amazon

Best Solar – EF Ecoflow Portable Power Station Delta 1260Wh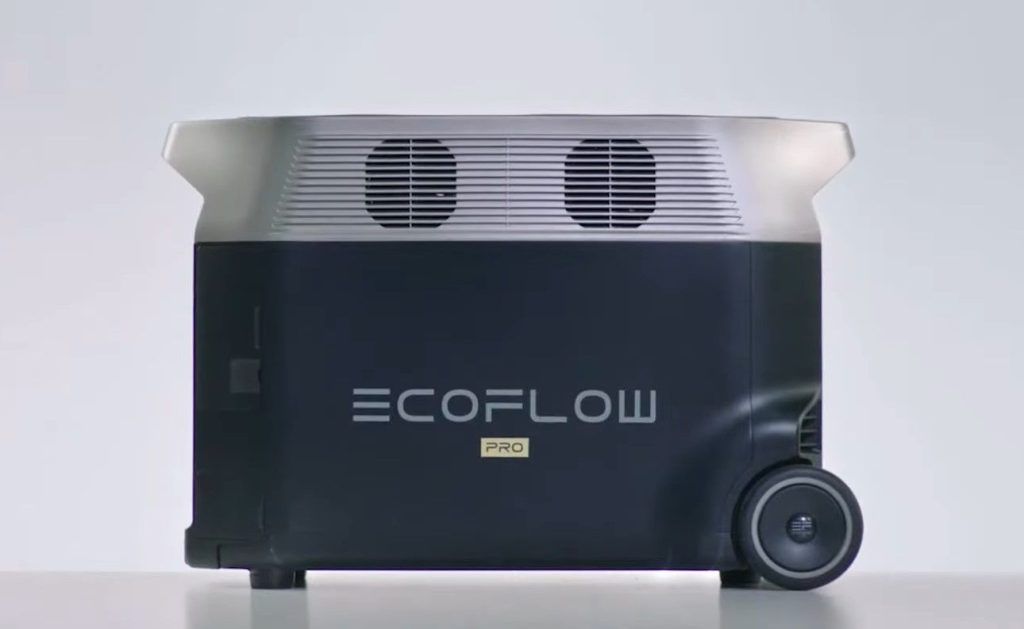 The EF Ecoflow Delta makes use of solar panels like any other portable power station. This model's built-in MPPT controller enables it to efficiently use the solar energy coming its way. Last summer, I saw it reach 80 percent from a solar panel in around two hours on a bright sunny day.
Solar charging aside, the amazing feature of this model is its charging capacity. Its 1,260 Wh Li-ion battery enables it to keep a CPAP machine running for 20 hours. I was able to extract 20 full laptop charges out of this model – as well as a couple of charges for my iPhone – before it went dead.
Ecoflow states that this model could power up to 13 devices at the same time. While the placement of ports makes that unlikely, I myself was able to juice-up up 7 devices simultaneously. That is the maximum number of devices Explorer 1000 (our top pick) can power in one go.
On more than a few occasions, I plugged my toaster oven and the refrigerator into the AC outlets, which left the 4 USB-A ports free for my friend's smartphones and 1 of the two USB-C ports for my tablet. The Ecoflow powered all these devices without any issue.
The only reason why I didn't rate this model any higher is its low battery efficiency. Most portable power stations you saw above store more than 75% of their battery capacity. That isn't the case here, as this model output only 58% of the power stored.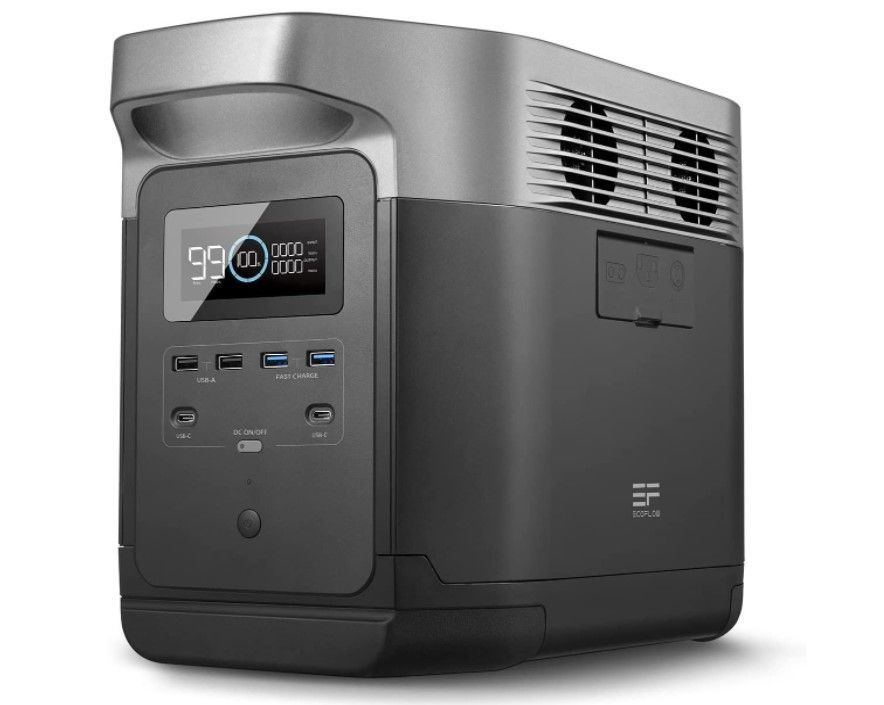 Pros
Fast solar recharging
Thirteen output ports
Backed with a 2-year warranty
Two-handle design for easy carrying
Cons
Noisy fan runs all the time
Ratings
4.8⭐ out of 513 reviews on EcoFlow
4.5⭐ out of 40 reviews on Amazon
High-Efficiency – Goal Zero Yeti 1500X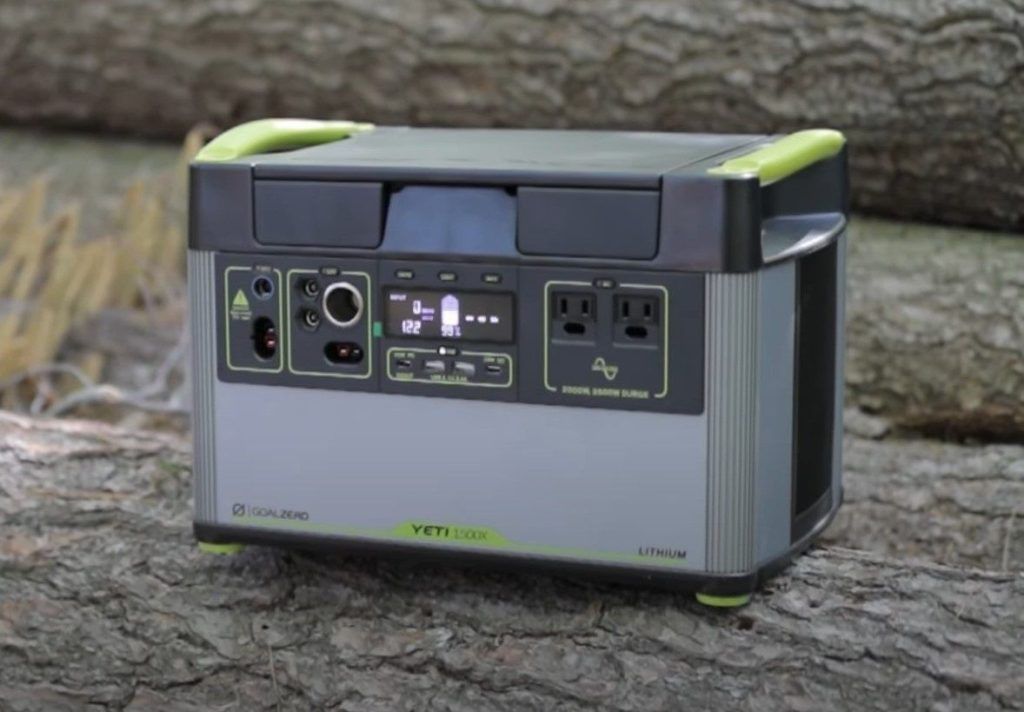 Goal Zero is one of the most popular brands in the portable power station category. Models like the Yeti 1500X are the reason why. High power output, massive battery capacity, and incredible efficiency – that's what I got from this portable power station.
Its 1,516 Wh Lithium-ion battery can go up to 500 charging cycles without letting its capacity drop below 100 percent. This means you'd continue to get 100% output from this model for the first 500 charging cycles. Even when 500 cycles are up, the capacity still won't drop below 80%.
As I explained in my Goal Zero Yeti 1500X vs Jackery Explorer 1500 comparison, this power station kept a full-size fridge running for more than 24 hours. That too in a single charge. Based on this, I could say with confidence that it could survive a week-long camping trip with no electric power.
You get three options to juice up the Yeti 1500X. My favorite is the 600W power supply (as it brings down the charging time to 3 hours). You could also plug it into a 12V car adapter. Or you could hook it up to Goal Zero's recommended solar panel, provided you could wait for 18-36 hours for full charging.
Another thing that I appreciate is the output ports. There are seven of those, including one USB-A port, 2 USB-C ports (1x 18W and 1X USB-C PD), 1x 6mm 12V port, and 2x 120V AC ports. The USB-C PD port is my favorite, as it lets me plug my laptop straight in, not forcing me to invest in a DC-to-AC converter.
Pros
Retains full battery capacity for the first 500 charging cycles
Allows you to plug-in a laptop without using a DC-to-AC converter
Excellent ports placement lets you use all of them simultaneously
Cons
Ratings
4.5⭐ out of 73 reviews on Goal Zero
4.6⭐ out of 74 reviews on Amazon
How I Picked?
To find the best portable power stations for camping, I ordered the top-selling models on Amazon, REI, Home Depot, and Walmart. I also turned to various outdoor forums to discover models that were already in the good books of users like you.
As these models arrived at my doorstep one after the other, I started noting down their specifications in a separate logbook. Once I had all their features where I could see, I started comparing them. This enabled me to come up with the following criteria:
At least 250 Wh battery capacity: A 250 Wh power station can recharge an iPhone 13 Pro Max (battery capacity 38 Wh) up to ten 7 times. Another reason why I set the limit at 300 Wh is that it allowed me to sneak in budget models like the Jackery Explorer 300.
A user-friendly display: As you can see by checking out the products I've recommended, all of them have displays showcasing the remaining battery life, the number of devices being recharged, output voltage etc.
At least one USB-C port: This was a difficult decision to make, as it meant that I had to leave out Jackery Explorer 500, one of my favorite models. Still, with more and more devices opting for the USB-C protocol, it was a decision I had to make.
Supports pass-through charging: When you're camping out there or traveling, you rarely have time to let the power station sit idle as it's getting recharged. For this reason, I've only picked models that could juice up other devices while being recharged.
Must be easy to carry: Two features make any portable power station easy to carry: lightweight build and ergonomic handle. By lightweight, I mean anything that weighs less than 20 pounds, a weight I think most people could easily carry.
Must have a pure sine-wave inverter: Pure sine wave inverters are a must-have if you are going to charge sensitive appliances off of a portable power station. Check out the buying guide section to know why I'm saying that.
At least a 1-year warranty: If all the power station brands had been as thoughtful as Jackery, I'd have set the bar at 2 years. However, since most of them back their models with a 12-month warranty, I had to settle for a 1-year warranty.
How I Tested?
Once I had picked the top 10 models, narrowing them to the top five was pretty easy. All I had to do was to test them in the following key areas:
Battery run time (hours): I manually turned on each portable power station, switched on its AC port and plugged in a 100W LED light bulb. Then I calculated the number of hours before the power station went dead.
Charging speed (hours): After turning on the power station, I plugged in my iPhone 12 Pro Max at 0% charging. Then I calculated the number of hours elapsed before my smartphone's battery hitting the 100% mark.
Build and construction: Were the power stations I was going to recommend capable of handling abuse? To get an answer, I roughened them up a bit (though not too much). The models you saw above turned out to be resistant to scuffs.
Things to Look for When Shopping
Portable power stations come in all shapes and sizes. Some hold enough power to last a day or two. Others will last for days as long as you keep power-hungry devices off of them. Still others won't break a sweat while juicing up CPAP machines and laptops.
Keep these factors in mind while choosing a portable power station for camping:
Battery Capacity
Battery capacity determines the appliances a portable power station can charge. It is measured in watt-hours (Wh). The greater the battery capacity, the higher the power station's output. Jackery Explorer 1000 Pro, my top pick, boasts a 1,002Wh battery capacity.
This enables it to juice up most gadgets (laptops, CPAP machines, and smartphones) people carry with them on outdoor trips. However, if you're thinking of tugging along a small-size fridge, the Jackery Explorer 1500 (with its 1,500Wh battery capacity) might be a better pick for you.
Charging Options
How will you recharge the portable power station? That's a question that should cross your mind. Portable power stations aren't like power generators – their power output nosedives after some time. How you can recharge it, and how quickly, will have a huge impact on ease of use.
Most power stations let you charge them via USB. You can plug them into your car's USB port, though that's not always the most convenient option. That's why most models I've picked offer the facility of solar recharging. Such power stations can be juiced-up in the middle of nowhere.
Output Ports
Most people pay little attention to output ports. Most people end up ruing this decision. It's the number (and variety) of a power station's output ports – not its battery capacity, power output or any other specification – that determines how many devices it's compatible with.
Take Explorer 1000 as an example. With its 3x USB-C ports, this model can recharge all the latest gadgets and smartphones. Its 2x USB-A ports let it take care of the older gadgets. Jackery has also thrown in 3x AC output ports to let the Explorer 1000 juice up your laptops and CPAP machines.
Output & Surge Capacity
Portable power stations come with two output ratings. These are output capacity and surge capacity. Their output capacity determines the power they can supply from start to finish. The surge capacity, meanwhile, is the maximum power the station can provide for a limited period.
If you only plan to use your power station for running everyday devices, you only need to concern yourself with surge capacity. But if you're counting on the model to run a power-hungry device like a small fridge (which requires more electricity during startup), don't forget to check out the surge capacity.
Inverter Type
Portable power stations come with one of two types of inverters. These include pure sine wave inverters and modified sine wave inverters. Those being powered with pure sine wave inverters cost more. But there's a very good reason you ought to pay their higher asking price.
Pure sine-wave inverters supply what I call safe electricity. One that can juice up sensitive electronics like smartphones, tablets, laptops, etc. That isn't the case with modified sine wave inverters, whose electricity output fluctuates too much to be safe for sensitive electronics.
Add-Ons
Most portable power stations in this review come with these features:
Auto-shutoff. As the name implies, it will automatically shut off the power station as soon as something south awry with the heat or the current. This feature will also shut down the power station if low battery/not in use.
Battery Management System. The BMS offers low battery protection, monitors the health of individual cells, and helps the battery last for 100s of cycles. Almost all the best portable power stations come with this feature.
Pass-thru charging. This feature enables the power station to charge your devices while it's being recharged itself. That makes it a pretty handy add-on to have, though not all portable power stations are equipped with it.
MPPT charge controller. Opting for a solar panel compatible power station? Make sure it comes with an MPPT charge controller, which decreases the charging time with a compatible solar panel.
Types of Portable Power Stations
Three types of portable power stations are available on the market:
Electric
Electric power stations operate on a battery. You can recharge the battery by plugging them into a standard electrical outlet. Some of them can also draw power from a car power outlet, but they take longer to charge than the models plugged into a wall outlet.
Electric power stations work best for weekend camping trips, or when you won't be away from electricity for more than one or two days. As such, they're a better choice if you're only going to charge low power devices, such as smartphones or tabletop fans.
Gas Powered
Gas powered power stations are incredibly bulky, especially when you compare their weight with that of electric or solar power stations. Most of them come with wheels to let you move them around with ease. For this reason, they aren't the best bet for uneven ground.
Having said that, if you want to enjoy the comforts of home in the outdoors, gas-powered stations are your best bet. They are extremely powerful and could easily juice up power tools, portable dishwashers and even electric pumps.
Pro Tip: Don't use gas powered models indoors or in a tent. They emit carbon monoxide which, if inhaled, can be deadly.
Solar Powered
Solar powered stations are the best bet for camping enthusiasts. Especially those that offer the feature of pass-through charging. This feature enables them to pass on the electricity to connected gadgets while the power station itself is getting recharged under the sun.
The first few solar powered models that hit the market could only be charged using sunlight. Nowadays, manufacturers have started combining solar and electric power. Jackery Explorer 1000, for instance, can be recharged with a wall outlet, a vehicle power outlet, or with compatible solar panels.
Portable Power Stations FAQs
Will Jackery 1000 Pro run a refrigerator?
The Jackery Explorer 1000 Pro power station could run a full-size refrigerator, electric grill, heated blanket, and TV for multiple hours in a single charge. That is because of its pure sine-wave inverter, which lets it power heavy-duty appliances with ease.
How long will a Jackery last?
Jackery power stations come with lithium-ion batteries. These batteries are rated to retain more than 80% battery capacity for the first 500 complete charge cycles. In normal use, this translates to a period of 2-3 years. Even after this period, the power station will continue working, albeit with a reduced capacity.
What can you run on a portable power station?
Portable power stations are powerful enough to run small electronic devices. These include smartphones, tablets, laptops, tabletop fans, and CPAP machines. Its battery capacity (measured in watt-hours), determines the devices a portable power station could run.
Can I leave my portable power station plugged in all the time?
Keeping the portable power station plugged into an electrical outlet means it's always 100 percent charge and available for use. Most manufacturers recommend against this practice. Jackery, for instance, suggests fully discharging the battery at least once every 90 days to keep them in good shape.
How long will a Jackery 1000 Pro run an electric blanket?
According to an estimate, the Jackery 1000 Pro portable power station can run an electric blanket for 14 hours on a single charge. But it depends on the power of the blanket. The estimate assumes that the electric blanket consumes 60 watt hours per minute. 
Conclusion
Your search for the best portable power station for camping ends here. I've tested, picked, and recommended the top five portable power stations on the market. There's also a buying guide to help you select a model that best fits your requirements.
Portable power station guides
Use this table to find out all the reviews I made about the best portable power stations in the industry.