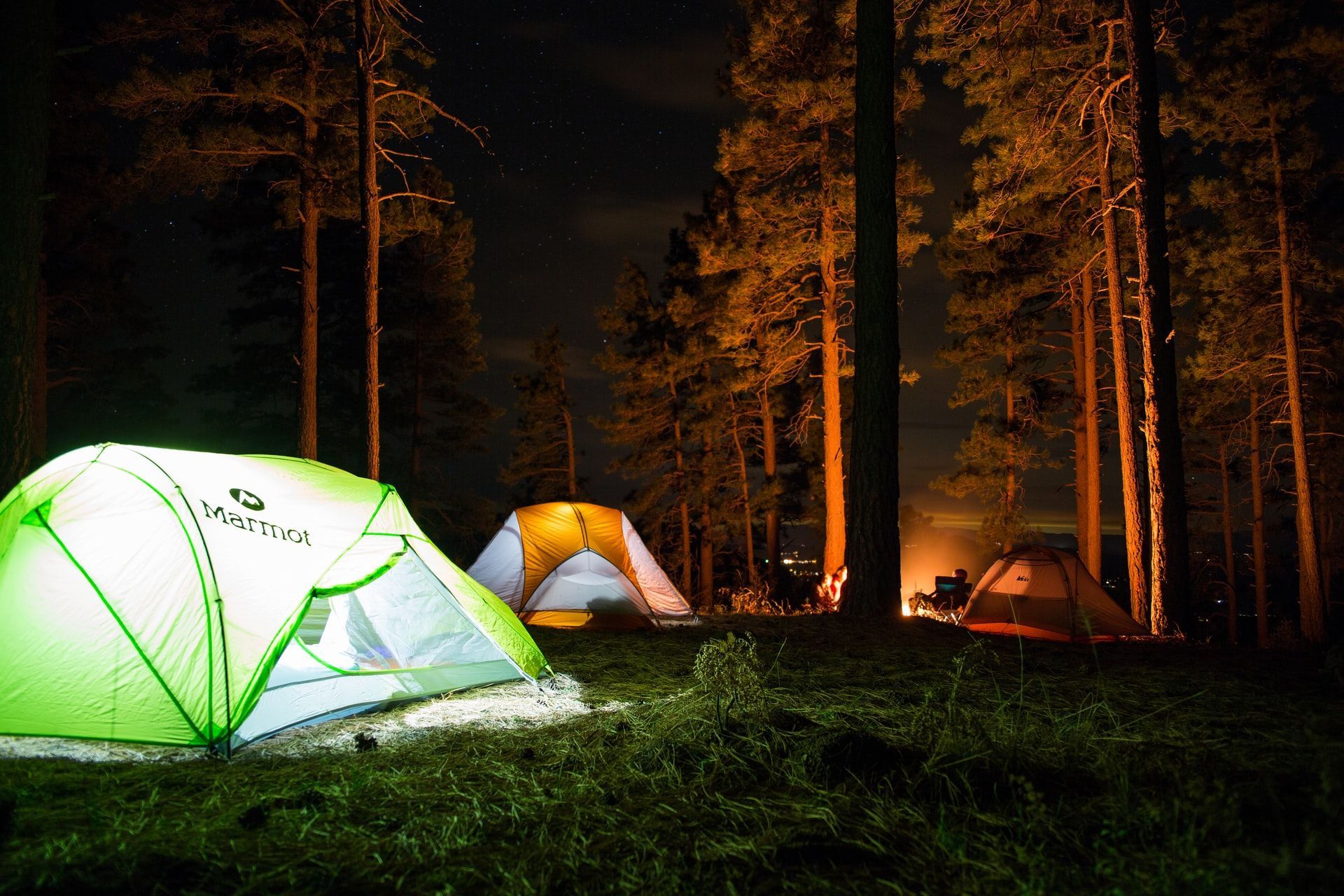 There are many reasons to love portable power stations that include camping with the family, hiking off-grid, backyard BBQ bashes and tailgating with friends during football season.
Choosing the portable power station that is right for your family does not have to be difficult. We have already gone the extra distance to get you up-to-speed on the latest compact power charging stations perfect for camping and more in 2021 and beyond.
Read on for important highlights about these 6 best portable power generators found on the marketplace today.
Best Overall Portable Power Station
1. Goal Zero Yeti 3000X Portable Power Station
This impressive portable power station has it all. A 1500 W AC inverter with a 3000 W surge gives you the ability to run even larger appliances during a power emergency or while out in the woods camping.
There are two wall outlets perfect for charging power tools, small appliances, laptops, speakers and more. Four additional USB ports give your small electronic devices enough power to keep everybody happy and plugged in wherever you roam.
This is one of the finer power stations that are portable sized for camping, during power outage emergencies, for car/van trips or for throwing an outdoor off-the-grid party with tunes and more.
There is no need for smelly gas fumes or the usual operational noise, and this compact power station holds its charge for a full 3 months without requiring any upkeep. Packs a lot of power while still ideal for camping with wheels and a telescoping carry handle.
-Watt-hours: P-3075Wh (10.95V, 280.8Ah).
-Weight: 68 lbs.
-Recharge time: AC wall outlets 2X – 25 hours, Solar panel Boulder 100 – 34 to 68 hours, Boulder 200 Briefcase – 17 to 34 hrs.
-Available outlets: 12 V car port – up to 10 A with 120 W Max; 4X USB – 5 V with up to 2.4 A and max 12 W; 2 X AC 110 V – 1500 W with 3000 W Surge.
*Disclosure: I only recommend products that I would use myself. This post may contain affiliate links that may earn me a small commission at no additional cost to you. Read the full advertising policy here.*
Best Bang for Your Bucks Compact Power Station
2. Goal Zero Yeti 150 Solar Generator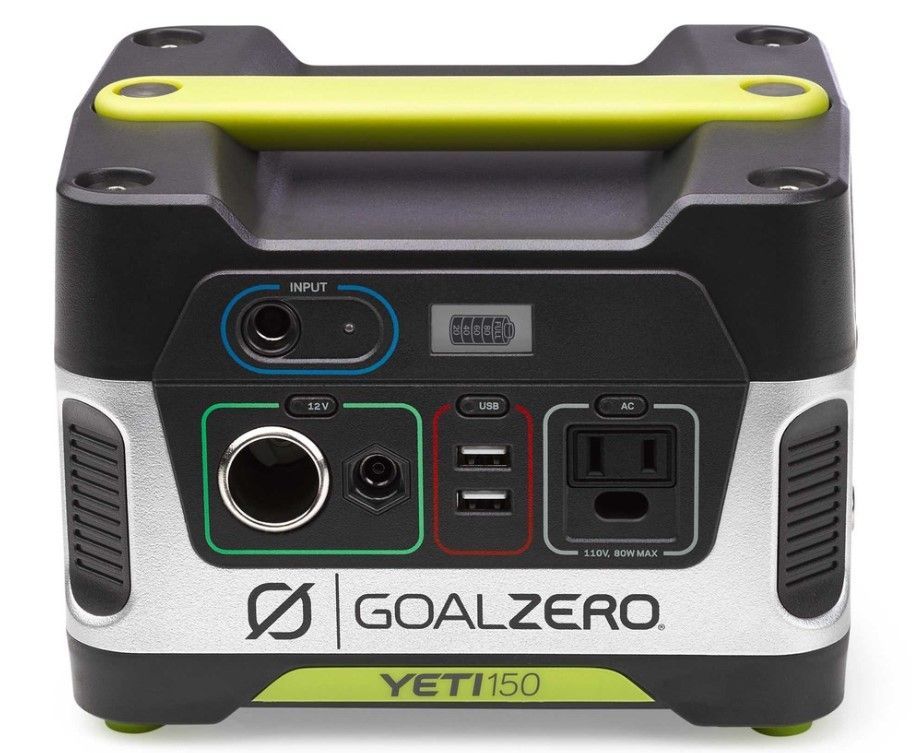 This compact portable solar generator by Goal Zero Yeti is ideal for life on the run. Keep all your devices plugged in when away from home, during a power interruption or while camping somewhere a bit off the beaten trail. The lower price for this handy power-up gadget makes this an ideal gift choice for teens, college students and anyone who cannot live without their power.
At only 12 lbs, this lightweight power source still manages to do a lot. A pop-up carrying handle offers streamlined storage. A display backlight is easy to see in darkness, and a clever indicator light lets you know when to recharge your power station.
Imagine never running out of power for taking those important pictures while on vacation or away camping with the kids. This smart power system is the right choice for life on the go.
-Watt-hours: 12V, 14Ah or 148WH.
-Weight: 12 lbs.
-Recharge time: Wall – 6 hours; car-charger – 8 hours; Nomad 13 solar – 26 to 52 hours; Nomad 27 – 13 to 26 hours; Boulder 15 solar – 22 to 44 hours.
-Available outlets: AC Outlet 110V, 0.7A (80W), 6 mm port – 12V, up to 10A (120W), [USB] 5V, up to 2.1A (10W).
Check out our full Goal Zero Yeti 150 solar generator review.
Best Portable Power Station Choice for Moderate Users
3. Jackery Explorer 240 Portable Power Station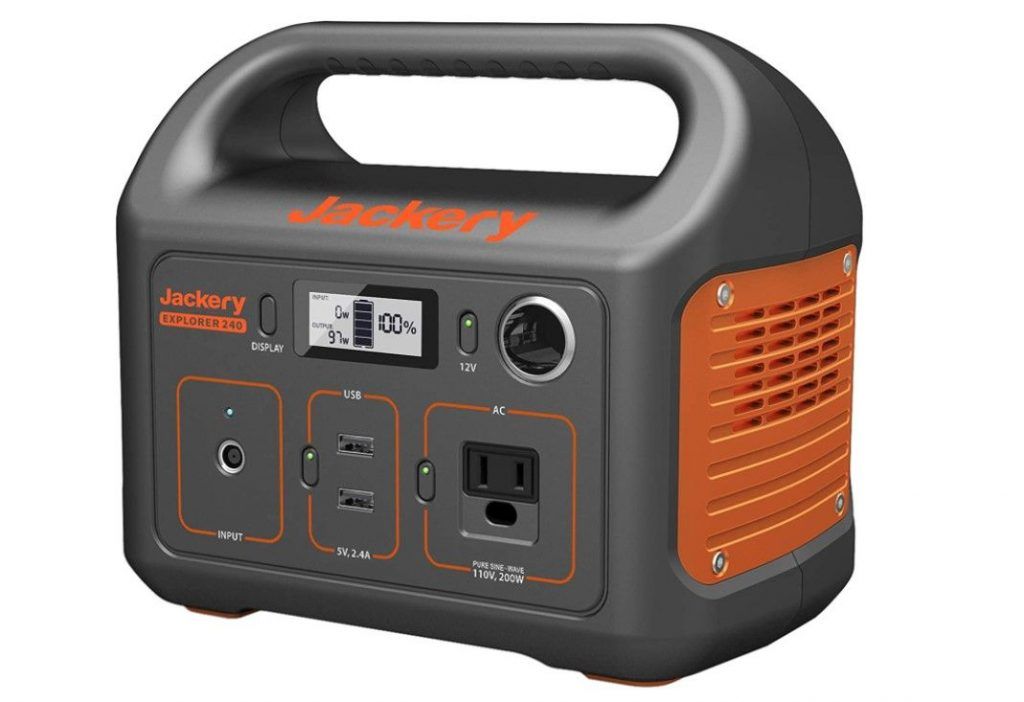 The Jackery Explorer 240 Portable Power Station is ideal for campers, backyard partiers and newbies to all things electronic when it comes to camping or other outdoor pursuits. This is a medium-sized unit that gives ample spots for plugging in all your family's favorite electronic devices and must-have technologies.
The low price is well worth it for the power amount that this unit can give. When the unit needs to be recharged, you will have three choices that include plugging it into a regular wall outlet, charging with your car battery or powering up with a slower yet economical solar panel. The charge time will take about 7 to 10 hours on average.
One nice feature about this quiet operating unit is the automatic shut-off that kicks in after 6 hours of charging when watt drawing power is 10 W or less. This streamlined and lightweight portable charger can be carried easily with one hand.
-Watt-hours: 240 W-hours.
-Weight: 6.6 lbs.
-Recharge time: about 7 to 10 hours.
-Available outlets: 2 USB ports; an AC outlet and 12-V carport.
Check out the full Jackery Explorer 240 portable power station review.
Most Versatile Compact Power Station
4. Westinghouse iGen 160s Portable Power Station
Outdoor enthusiasts and campers will find this versatile and compact power station from Westinghouse perfect. This dependable power center can charge up to 9 different devices at the same time. Keep all of your cellphones, laptops, smart tablets, radios and even a smaller 32-inch TV charged and ready to go at a moment's notice. This portable power unit can be used safely outdoors and indoors as well.
Most consumers love the handy compact design, and it is easy to move from campsite to campsite or other location as it only weighs less than 4 lbs. This power center powers up by a 155 W hr Lithium-ion battery or energy-saving solar panel. The unit has a built-in flashlight for easy use at night.
This portable power station offers up to 155 W hours on a single charge. That is enough power to charge up a smartphone about 17 times on average and will charge tablets almost 10 times. The unit can also deliver power enough to operate a Nintendo Switch, GPS Systems and Bluetooth Speakers for many hours. This is the unit to take backpacking, camping, on long drives, for weekend BBQs and everything else in-between all at a decent bargain price range.
-Watt-hours: 155 W hours with running wattage 100 W & surge to 150 W hour.
-Weight: Carry weight of 3.75 lbs.
-Recharge time: Can charge in 6 hours and up depending on the device.
-Available outlets: 120V AC outlets; 5V DC USB ports; 5V DC USB-C port; 5V DC quick charger USB 3.0 port.
Powerful Portable Station RP 250 Upgraded
5. Rockpals 250 Portable Power Station with Solar Power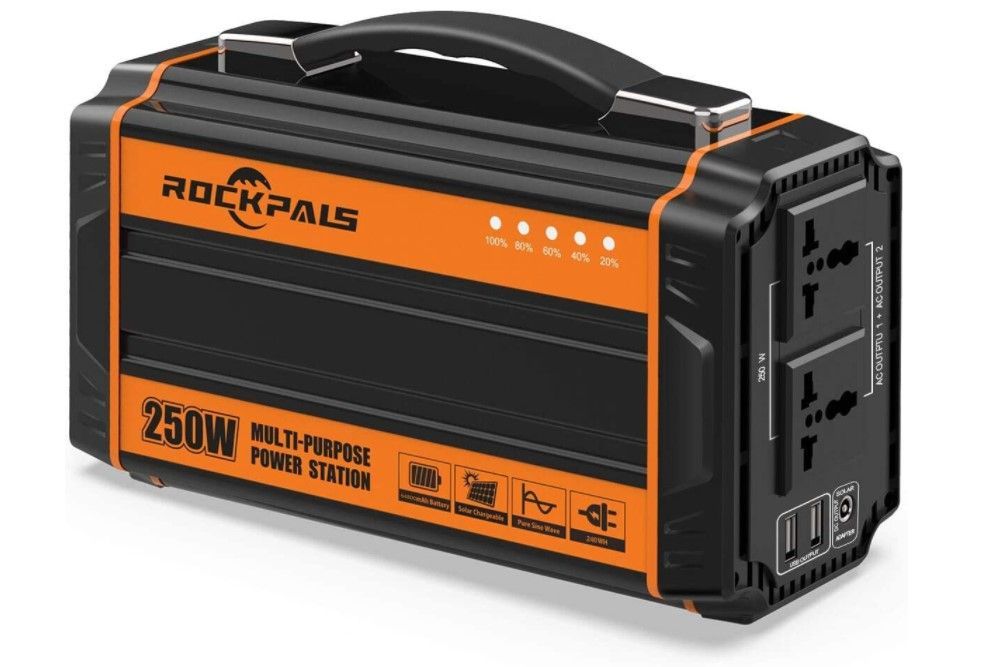 This portable power station has been upgraded so the AC output is a continuous 250 W and a 300 W surge max. Contains a lightweight and high-capacity Lithium power pack. Many campers use this model to run their camper mini-fridge or other small appliances. Use it to charge up your phones, smart tablets, laptops, circulation fans, lights, TV or CPAP machine.
Lots of camping enthusiasts enjoy using this easy-carry lightweight and trustworthy camping portable power station that is quiet and safer than using gasoline-powered generators. This is ideal for an at-home or away power blackout remedy to keep whatever electrical device is needed on and running smoothly. The pure sine wave inverter is nice for microwaves or fluorescent lights.
-Watt-hours: 250 W hours.
-Weight: 5.5 lbs.
-Recharge time: can be charged in 8 hours if plugged into a wall outlet. Longer with solar panel use.
-Available outlets: Dual AC outputs; 4X DC 12V or 60-Watt ports; built-in 2X USB 2.1A ports.
Best Overall Compact & Lightweight Portable Power Station Design
6. SUAOKI Portable Power Station, 322Wh Solar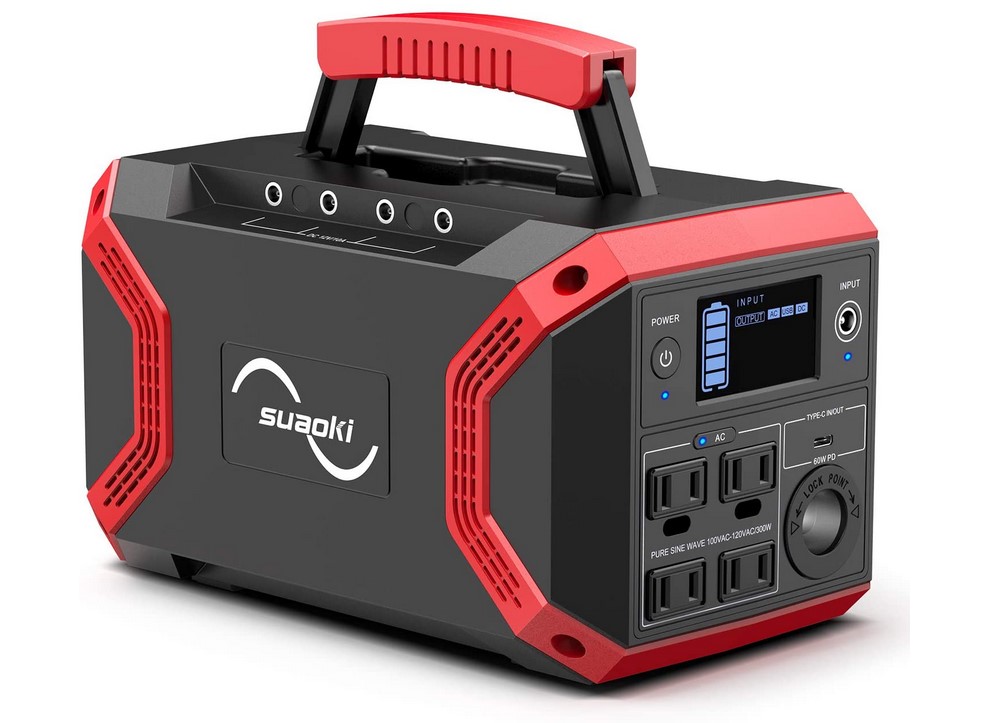 This durable compact size portable power station by Suaoki delivers dependable power that holds the charge well. This 322W hour or solar-powered offers plenty of multi-outputs for AC/DC/USB. Battery or solar panel powered, this power station is terrific for use indoors and outside.
The small and compact design is well-thought-out for camping, hiking, backpacking, tailgating and more. Weighing only a bit over 7 lbs, this lunch-box-sized power station is easily moved from one spot to the next.
This power station has a built-in cooling fan that will turn on automatically when the output total is more than 120W for added convenience and safety. This item also has a built-in battery management system and includes an MPPT controller that increases solar power charging efficiency.
This versatile use power station is an ideal backup power option for power blackouts. This portable power station operates quietly and uses no dangerous gas or other fuels. The price is good for the overall value.
-Watt-hours: 300W hours; 600W surge hours.
-Weight: 7.2 lbs.
-Recharge time: Within 6 hours for wall outlet, variable charge times solar panel power.
-Available outlets: AC: Continuous 300W/Peak 600W; DC: 12V/10A max – 4 ports; USB-A: 5V/2.4A; USB-A w/ QC3.0: 5V-3A/9V-2A/12V – 1.5A; Type C: 5V-20V/60W – max; Car Port: 12V/10A.
To conclude
Make your outdoor getaways even easier this year by trying one of these best portable power stations for camping. These useful and practical camping additions can keep everyone plugged in and happy at home, away or anywhere.
Check out other related articles on camping gear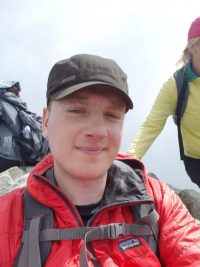 Mins Lukas Savela is a travel writer whose main focus is adventure travel. His passion for wildlife and nature has carried him to many countries in the world. He loves hiking the best trails on earth and sharing his experiences through writing. He hopes his experiences will help more people to start their own adventures and appreciate the world surrounding them a little bit more.