If you're looking for a reliable power station, both the Jackery Explorer 500 and 1000 are worth your attention. Jackery has established a great name in the portable power station industry and both models are very popular among outdoor enthusiasts. So I have made this review, to make it easier for you to choose the power station you need.
In summary, the Explorer 1000 might be a better choice if you're looking for a more powerful generator and won't mind lugging around the extra pounds. Its 1002Wh Lithium-ion battery can store almost twice as much power as that of the Explorer 500, which comes in with a 518Wh battery pack. Plus, the Explorer 1,000 has a USB-C port, something which its counterpart lacks. The main advantage the Jackery Explorer 500 has is the price – it's $500 cheaper than Jackery Explorer 1000, and for many outdoor goers, it packs enough power for their needs, which allows you to save quite a lot.
Before you read further, though, you should know that these aren't the most lightweight power stations. If portability is your main concern, check out my review on Jackery Explorer 160 vs Goal Zero Yeti 150 instead.
Let's have a closer look at these portable power stations.
*The Wild Guides is reader-supported. When you buy through links on my site, I may earn an affiliate commission at no extra cost to you. Learn more*
Jackery Explorer 500 Vs 1000 – Comparison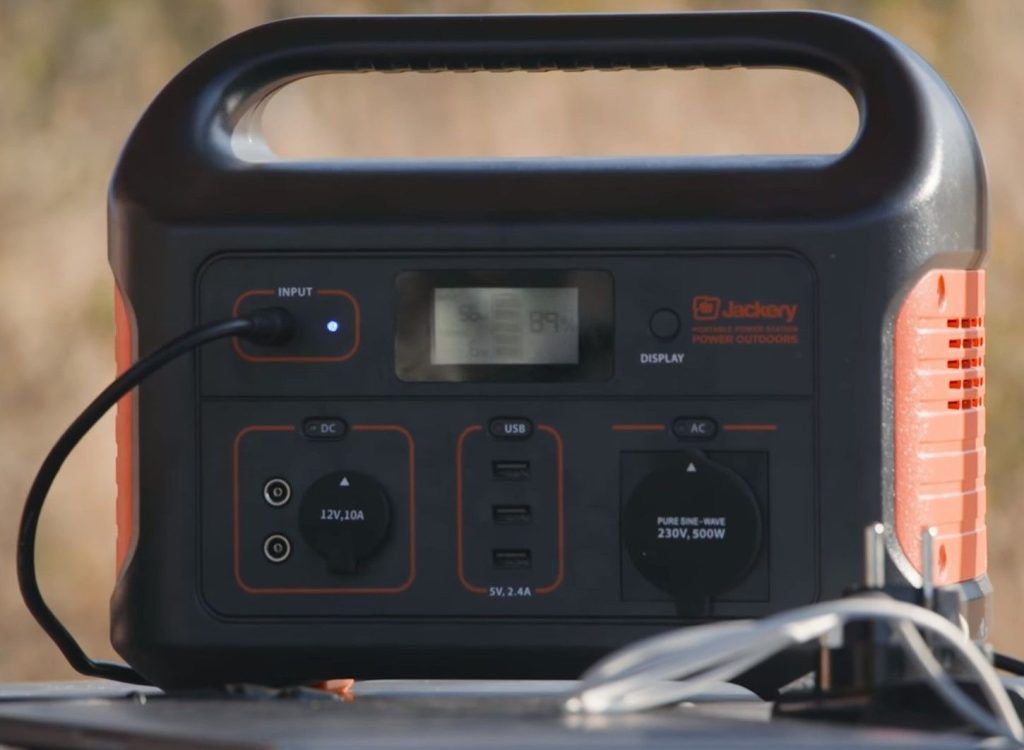 Here's how both these portable power stations compare with each other
Design and Weight
Winner: Jackery Explorer 500 (lightweight)
The Jackery Explorer 500 weighs 13.32lbs with the battery pack. A black and white LCD display shows useful indicators such as input wattage, output wattage, and remaining battery life. A slew of ports (1x DC, 3x USB-A, 1xAC) completes the lineup on the control panel.
Since it has a more powerful battery pack, it shouldn't come as a surprise that the Explorer 1000 weighs twice as heavy as the Explorer 500, at just over 22lbs. Its control panel includes 1x USB-C, 2x USB-A, 3x AC, and 1x DC ports. There isn't any difference in both units' displays, though.
Compatible Solar Chargers
Winner: Jackery Explorer 500 (takes less time for complete charging)
Jackery offers three models in its SolarSaga Series. These include SolarSaga 60W, 100W, and 200W. It recommends using the 100W for juicing up both Explorer 500 and 1000.
Four SolarSaga 100W panels will charge the Explorer 150 in 4 hours, whereas two pieces of this solar panel will need 9.5 hours under full sunlight. The Explorer 1000, meanwhile, would need to be hooked to the SolarSaga 100W for 16 hours to go from zero to 100 percent charging.
Battery
Winner: Jackery Explorer 1000 (more powerful battery)
The Explorer 500 packs a 518Wh Lithium-ion battery. Its battery can retain up to 80% of capacity for the first 500 recharging cycles. In terms of performance, it can juice up an iPhone 8 up to 53 times, a MacBook Pro 4.5 times, and a 10W camera more than two-dozen times in a single charge.
The Explorer 1000 takes the lead. It comes in with an uber-powerful 1,002Wh Lithium-ion battery. Jackery claims that the battery can charge an iPhone 8 up to 100 times, a MacBook Pro 8 times, and a 10W camera more than four dozen times. It can also keep a 500W blender running for 2 hours.
Like other Jackery portable stations, the 500 and 1000 are protected by a Battery Management System. The BMS protects both these devices against under-current, over-charging, and over-current. It will also shut down the unit in case you try to draw more power than these units could supply.
Surge Capacity
Winner: Jackery Explorer 1000 (higher surge capacity)
Surge capacity is the maximum power any power station can provide for a short time.
A unit's surge capacity deserves your utmost attention if you're planning to operate power-hungry devices on it. Portable fridges, CPAP machines, and power tools are examples of machines that need more power at startup than once they are up and running.
The Explorer 500 boasts a 1000W surge capacity, almost twice its battery capacity. The Explorer 1000W's surge capacity (2000W) is also double the power its battery pack can store. This makes the Explorer 1000 a better choice for running heavy-duty devices like those mentioned above.
Charging Options and Time
The Jackery Explorer 500 offers four charging options. These include a wall outlet, electric generator, 12V car outlet, and a compatible solar panel. Its support for pass-through charging means you can use the Explorer 1000 to charge devices while it's being recharged.
As stated above, opting for two SolarSaga 100W solar panels means waiting at least 9.5 hours for complete charging. Provided you have a standard wall outlet, 12V car adapter, or electric generator nearby, the charging time will come down to 7.5 hours.
The Explorer 1000 also offers the same number of charging options, even though this unit takes relatively longer to go from zero to 100 percent charging. It also supports pass-through charging. And both these power stations have a built-in MPPT controller to optimize solar recharging.
In terms of recharging times, the Explorer 1000 would like you to wait a little longer, provided you opt for a 12V car adapter (14 hours) or SolarSaga 100W (16 hours). However, if you go for the standard wall outlet, the unit would go from 0 to 100 percent charging in only 7 hours.
Number of Output Ports
Winner: Jackery Explorer 1000 (Explorer 500 lacks a USB-C port and has two fewer AC ports)
The Jackery Explorer 500 comes with three USB-A ports, one AC port, and one 12V car charger port. All these ports are on the front side, beneath the LCD Display.
The Jackery Explorer 1000 takes the lead on this count. Not only does it offer a USB-C port (something that the Explorer 500 lacks). But this portable power station also provides two extra AC ports (3 in total). It also offers two USB-A ports.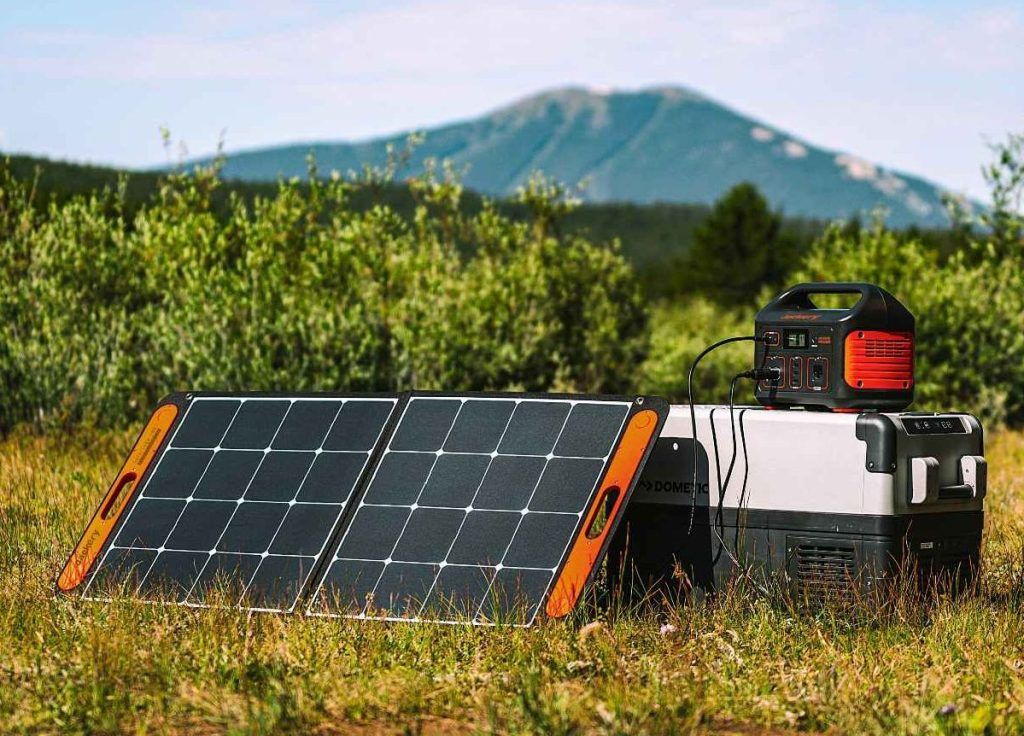 Expansion
You cannot daisy chain either the Explorer 500 or 1000 with another Jackery or with an extra battery. This means you can't expand the built-in capacity.
Warranty
Both these units are warrantied for 24 months. Jackery also offers a 30-day moneyback guarantee and a free replacement warranty on Explorer 500 and 1000.
Price
Winner: Jackery Explorer 500 (costs twice as less)
On the official Jackery website, the Explorer 500 and 1000 are available for $499 and $999, respectively.
Jackery Explorer 500 Vs 1000 – Final Verdict
In conclusion, here's how the Jackery Explorer 500 and 1000 stack up against each other:
Weight and build: Explorer 500 is far more compact
Number of Ports: Explorer 1000 wins.
Battery and Surge Capacity: Explorer 1000 is far more powerful
Warranty: Tie.
Price: Explorer 500 is more budget-friendly.
---
---
Jackery Explorer Comparison Table
This table compares the main differences between Jackery Explorer Portable Power Stations
Jackery Explorer Comparison Table
Portable power station guides
Use this table to find out all the reviews I made about the best portable power stations in the industry.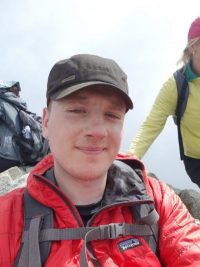 Mins Lukas Savela is a travel writer whose main focus is adventure travel. His passion for wildlife and nature has carried him to many countries in the world. He loves hiking the best trails on earth and sharing his experiences through writing. He hopes his experiences will help more people to start their own adventures and appreciate the world surrounding them a little bit more.
Mins Lukas Savela (also known as Lukas Saville) has written numerous articles that have been published on websites like Wandrly magazine, Go Nomad, Osprey.com, RAD Season, Wilderness Society, The Los Angeles Beat, California.com, Nature Conservancy, and many others.