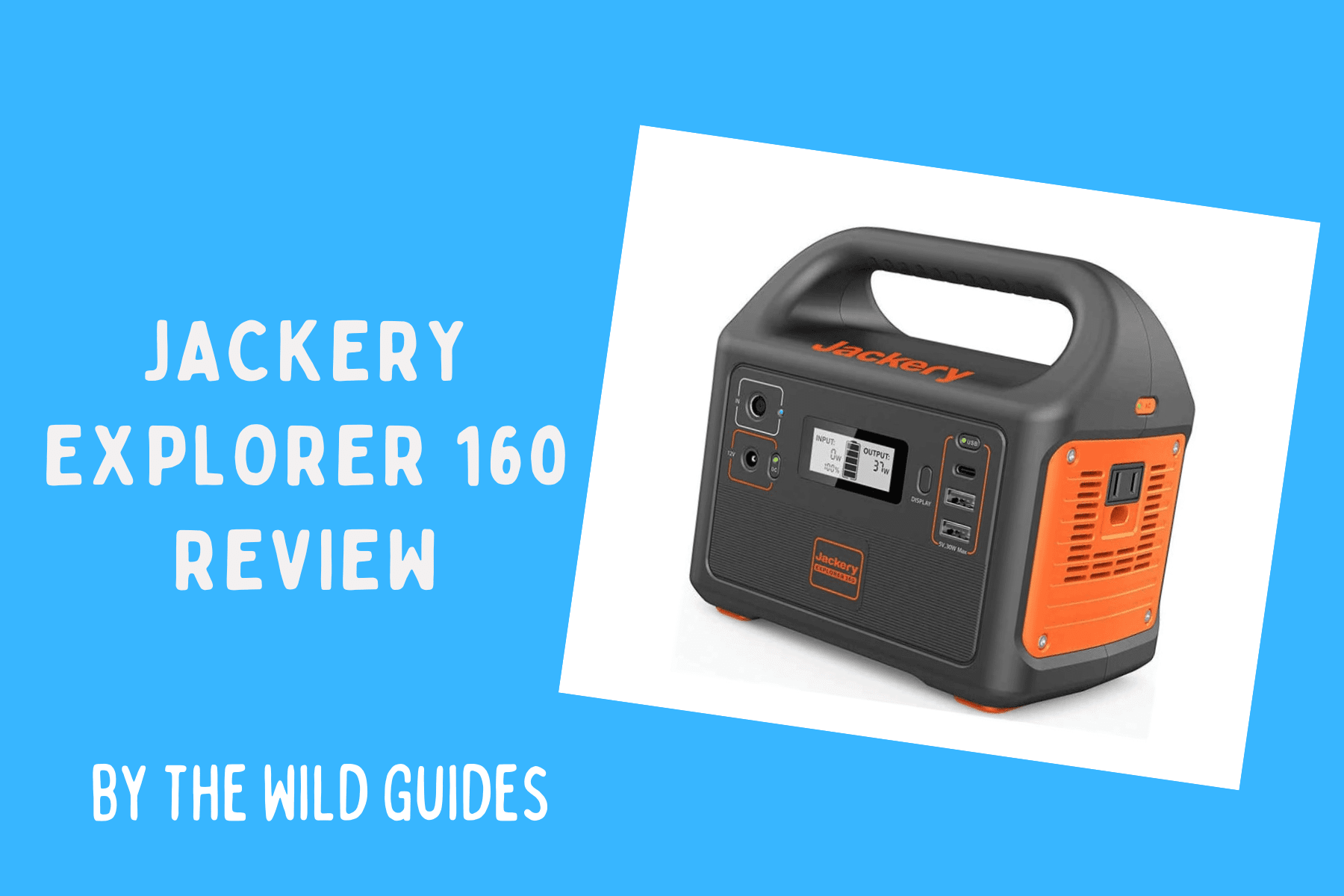 Read my review of the Jackery Portable Power Station Explorer 160. Despite its lightweight 4 lbs construction, it offers 167 watt-hours of power, enough to recharge an iPhone 11 up to sixteen times. That isn't to say that everything is excellent the Jackery Explorer 160. But with that price tag and portability, this is an excellent outdoor companion for those who need some extra power.

Quick Navigation
*Disclosure: I only recommend products that I would use myself. This post may contain affiliate links that may earn me a small commission at no additional cost to you. Read the full advertising policy here.*
Package Contents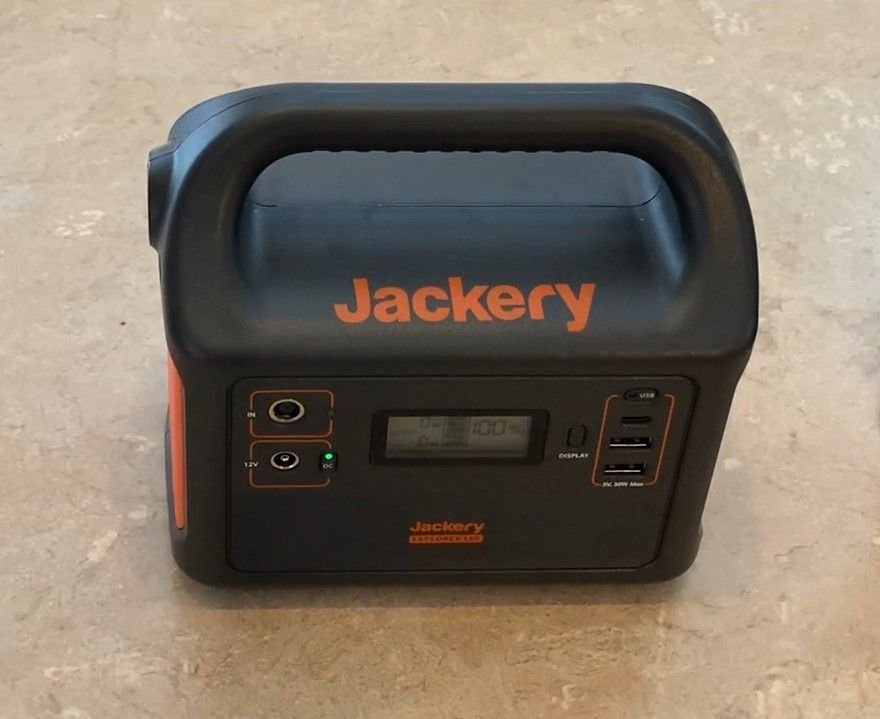 The Jackery Explorer 160's package has everything you might need to get it up and running. That includes the product itself, an AC adaptor, car adapter charger, DC to Car adapter converting cable and a user manual. Yet there is one missing item which you might want to purchase separately.
Provided you want to take advantage of its solar-ready capability, you'd need to buy the SolarSaga 60W from Jackery. That's because the Jackery power generator isn't compatible with solar panels from other manufacturers. It can only be juiced up by one of Jackery's own solar panels.
I suggest you bite the bullet – and order the solar panels – if you're planning to go off the grid for more than a few days. Sure, the investment might feel a bit steep at first. But with a warranty of over a decade, the solar panels would prove to be an absolute bargain in the long run.
Here's everything that comes inside its package:
Jackery Explorer 160
AC adapter
Car adapter charger
DC to AC car adapter cable
User manual
Design and Build
Like other Jackery models we see on the market, the Explorer 160 doesn't take any prisoners when it comes to sturdiness. It features a hard-plastic exterior that feels as if it could easily withstand quite a lot of falls before letting the damage get to the built-in LCD screen or the flashlight.
The ergonomic handle on top also feels solid. It's molded into the rest of the casing, which means there's no risk of it coming off. And the four rubber feet at the bottom prevent this portable charging station from leaving marks on floors, while also keeping it steady on uneven surfaces.
Yet I have my doubts about what the handle would do when it's held with sweaty fingers. It's polished to the extreme and features no contours to give slippery or greasy fingers – or a hand – something to grip. Swaying it to and fro might cause the product to slip out of your hand.
Weight and Power
How lightweight is the Jackery Explorer 160?! This was my first impression when I lifted it to take it out of the delivery box. A glance at its specification sheet confirmed my instincts – it weighs in at a mere 4 pounds. Aside from its weight, an integrated handle also makes it a cinch to carry around.
This model produces 100W of power under normal conditions and 150 watts of peak power. The paperwork included in its package has listed the common electronics that do NOT fall under its power range. You want to read it if you have no intention of ending up with burned electronics.
There is one aspect of its power that disappointed us. The Jackery Explorer 160 has a relatively slow charging speed, especially when compared with the Goal Zero Yeti 200x. But one can justify this shortcoming by pointing out that Goal Zero costs more than double the Explorer 160.
Battery and Ports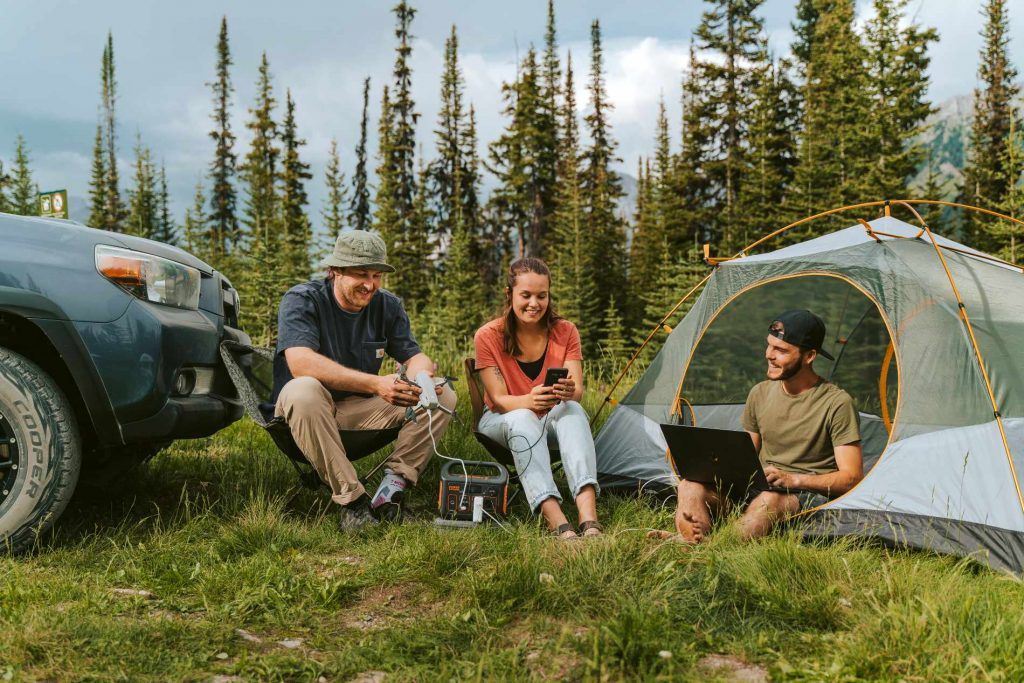 The 167 watt-hours (46,400mAh/3.6V) Li-ion battery pack accompanying this portable power station helped recharge my smartphone up to 18 times. It can also juice up laptops, cameras, and mini-drones. You can even use it to run small LCD televisions.
Still, the best thing about the battery isn't the number of devices it can juice up. The one thing that sets apart the Li-ion battery from its competitors is that it can be recharged with compatible solar panels, meaning you can recharge it during your camping getaways.
Turning our attention to its ports, the Explorer 160 comes with a built-in AC wall outlet to let you plug in almost anything you want to power up. It also includes a USB-C port, two standard USB ports, and one DC 12-volt 6mm port. You could use all these ports at the same time to charge multiple devices at once.
Noise
Most power generators you see on the market produce loads of noise. You cannot blame them because their power output is so high that it leaves them with no choice but to wake up the whole neighborhood whenever they're running close to full capacity.
The Jackery power generator is different. This pocket-size powerhouse produces less than 100 dBA of noise, even when it's juicing up multiple smartphones, laptops, and tablets simultaneously. Its noise level nosedives when you decrease the number of devices drawing power from it.
While you cannot sleep with this power station on your bedside, you could easily enjoy a shut-eye by placing it out of your room while you're trying to doze off. This, if you ask us, is a massive achievement for a device that produces 150W of peak power.
Compare the price for Jackery Explorer 160 on Amazon US and Amazon Canada
Charging Options
You have three options to recharge the Explorer 160:
An AC adaptor: This option comes in handy when you are still at home and have reliable electricity coming from the grid. I was able to power up the Jackery 160 from 0 – 100 percent charging within 5 hours of hooking it up to my room's plug.
DC carport: Forgot to recharge the Explorer 160 overnight? I deliberately made this mistake to check how much time it requires to go from zero to hundred when hooked up to my car's DC port. Five hours, as it turned out.
Solar panels: It takes about 10 hours to charge the device from a solar panel, twice as much time as from the DC carport or wall port. Yet this option makes the Explorer 160 a handy system for off-grid situations where you could get sunlight all day long.
Other Notable Features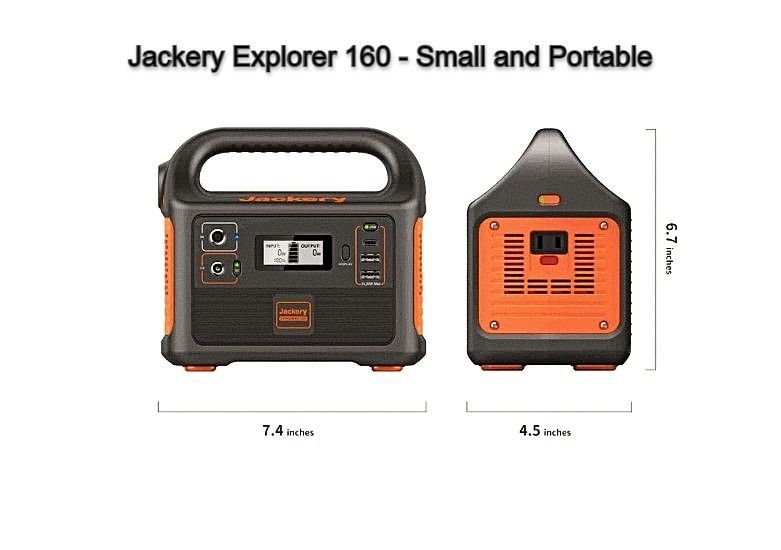 Other noteworthy features of Jackery Explorer 160 include:
Powers a CPAP machine
One of the biggest selling points of the Jackery Explorer 160, especially for users who don't want to compromise on their sleep in the outdoors, is that it can easily power a CPAP machine. This makes it an excellent device for those who need a device to help them fall doze off fairly quickly.
Small LCD screen
On the user-facing side of the Explorer 160 – between the plug-in connections and the USB ports – is a black and white LCD screen. You can turn it on/off by pressing the 'Display' button right next to it. It displays useful information such as the remaining battery %age and the input and output power.
Flashlight with SOS feature
The Explorer 160 comes with a built-in flashlight. It is bright enough to illuminate a large-size campsite at once. The light also features an SOS mode. You can use it to send signals to your traveling party in dangerous and threatening situations.
Carrying case for charging cables
I have already stated that the Explorer 160 comes with four charging cables. You might have found it difficult to store them, had it not been for the carrying case. One which contains zippers and side pockets to ensure that you don't lose the charging cables anytime soon.
Pros and Cons
As with other portable power stations, the Jackery Explorer 160 does have its pros and cons. This is why we're going to shed light on the positive and negative aspects of this model. So you could easily decide whether this product is worth your money or not.
Jackery Explorer 160 Pros
Multiple charging options: As stated earlier, the Explorer 160 offers one USB C and two USB A ports. The USB C port will come in handy to charge modern electronics whereas the USB A port will juice up slightly dated devices.
Lithium-ion battery: Apart from having hundreds of recharging cycles, lithium-ion batteries have a lower self-discharge rate and higher energy density. This means they can retain their charge for months while also offering better power efficiency.
Noise-free operation: How many portable power stations can produce as much power as the Explorer 160 yet operate as quietly? Not many, especially once you factor in this product's budget asking price.
Displays remaining battery life: Would you invest in a power station that goes dead without giving as much as a warning? Neither do we. That's why I prefer the Explorer 160 as it has dedicated a large portion of its display to show remaining battery life.
Generous warranty and moneyback guarantee: Both the power station and the battery are warrantied for two years from the day of purchase. A 30-day moneyback guarantee also backs them. What more can you ask for!
Jackery Explorer 160 Cons
Smaller output of the USB C port: When compared with the Jackery 1000, whose USB C port offers 60W output, the Explorer 600's USB C's 30W output seems meager. Even if you didn't know of the fact, you'd have become aware of it. How? Your USB-C devices would take an eternity to fully charge.
Limited to powering lightweight devices: Who knew a budget power station won't be able to juice up heavy-duty devices? I do. And I suggest that you don't try to charge products like electric drills, hair dryers, and blenders with the Explorer 160.
Relatively lower charging capacity: Here's an example of this model's lean charging capacity. While the EcoFlow Delta can charge a 13-inch MacBook Pro as many as 20 times in one charge, the Explorer 160 can charge the same product only twice.
How it compares with other portable power stations
Here's how the Jackery Explorer 160 fares when compared with similar power stations:
Jackery Explorer 160 Vs Goal Zero Yeti 150
The Jackery Explorer 160 weighs lighter than the Goal Zero Yeti (4lbs vs 12lbs), has more USB ports (3 vs. 2) and has a better battery too (Li-ion vs. lead acid). That's because a Li-ion battery can retain charge for longer, have a higher energy density and a lower self-discharge rate than its lead-acid counterpart.
However, there are a few areas where the Goal Zero Yeti 150 outperforms its competitor. Its maximum power input of 60W is one-and-a-half times bigger than that of the Explorer 160. And while it does have fewer USB ports, the Yeti 150 has one more DC port (2 vs. 1) than the Explorer 160.
Juxtapose the strong and weak points of both these portable power stations, and one thing becomes crystal clear. The Jackery Explorer 160 is clearly the better bet among the two and deserves your money more vis-à-vis the Goal Zero Yeti 150.
Pro Tip: Looking for a detailed comparison of these two portable power stations? Then check out this handy guide I have prepared. You can also see my review of Goal Zero Yeti 150.
Jackery Explorer 160 Vs Explorer 240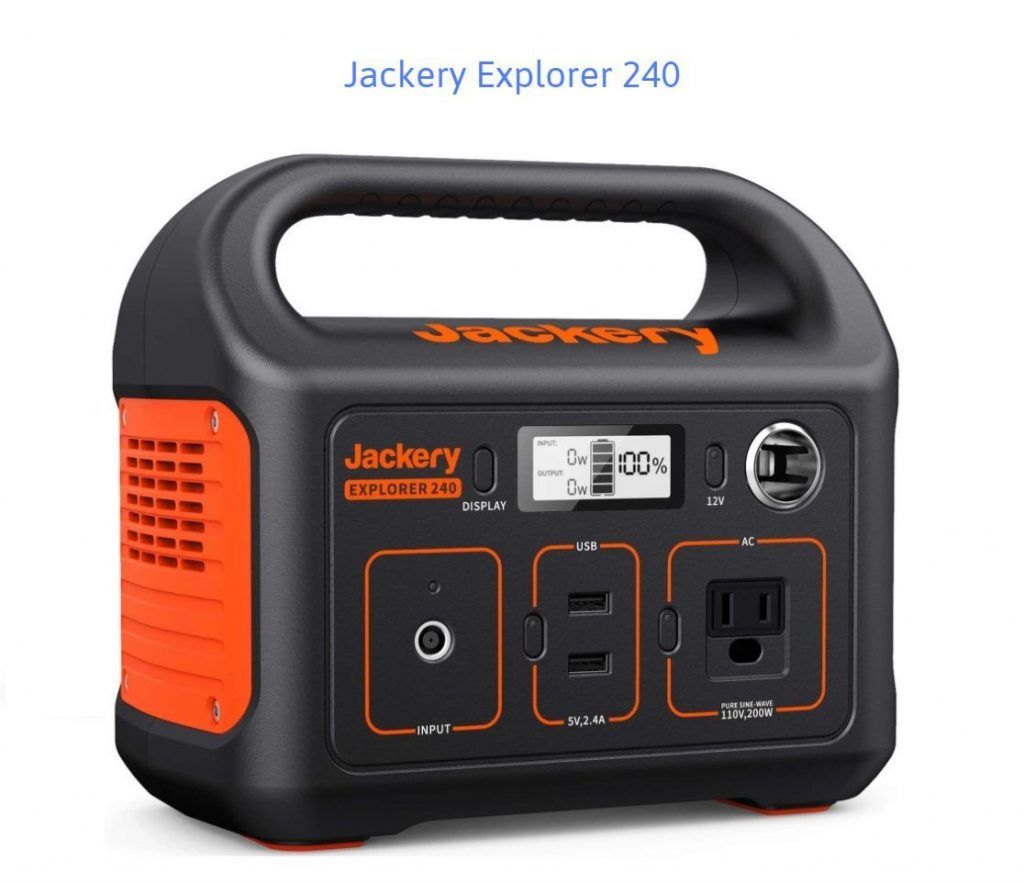 There are a few areas where the Explorer 160 outsmarts the 240. It takes less time to recharge (5hrs vs. 8hrs), comes with a USB-C port which the Explorer 240 lacks and costs almost $50 less. Unfortunately for the Explorer 160, that's where the good news ends.
While the Explorer 240 does cost extra, it justifies its higher initial asking price with a more powerful Li-ion battery (240Wh vs 167Wh) and higher peak power (400W vs. 150W). It also uses Pure Sine Wave Technology to offer you safe power, something which the Explorer 160 cannot claim to do.
Here's what all of this means for those of you who are confused between both these products. You might want to buy the Explorer 160 if you need a portable power station for your next getaway and would only use it for charging small everyday devices. For everything else, the Explorer 240 is a better bet.
Frequently Asked Questions
Can a Jackery Explorer 160 charge a laptop?
The Jackery Explorer 160 can charge a laptop because of its AC 110V outlet that is made for power-intensive devices like laptops, tablets, etc. These same ports are given on premium seats in airlines to let passengers juice up their power-hungry devices on the go.
What will a Jackery 160 power?
The Jackery 160 portable power station can charge up to 60W drones, cameras, smartphones, tablets, laptops, and similar power-intensive devices. However, it cannot juice up power-hungry appliances such as electric drills, toasters, microwave ovens, and the like.
How do you charge a Jackery Explorer 160?
You can charge a Jackery Explorer 160 with a compatible solar panel, by connecting it to the AC wall plug, or hooking it up to your car's cigarette lighter. In each scenario, the Jackery power generator will take less than 5 hours for full charging.
Final Verdict: Is the Jackery Explorer 160 worth your money?
My Jackery Explorer 160 Portable Power Station review makes it clear that this product is definitely worth your money if you're going to use it to power up lightweight power-intensive devices such as laptops, smartphones, tablets, and the like. Its competitive asking price, long-lasting and efficient Li-ion battery, and multiple useful extras make it a must-have for budget-minded users.
Video review
Jackery Explorer Comparison Table
This table compares the main differences between Jackery Explorer Portable Power Stations
Jackery Explorer Comparison Table
Portable power station guides
Use this table to find out all the reviews I made about the best portable power stations in the industry.