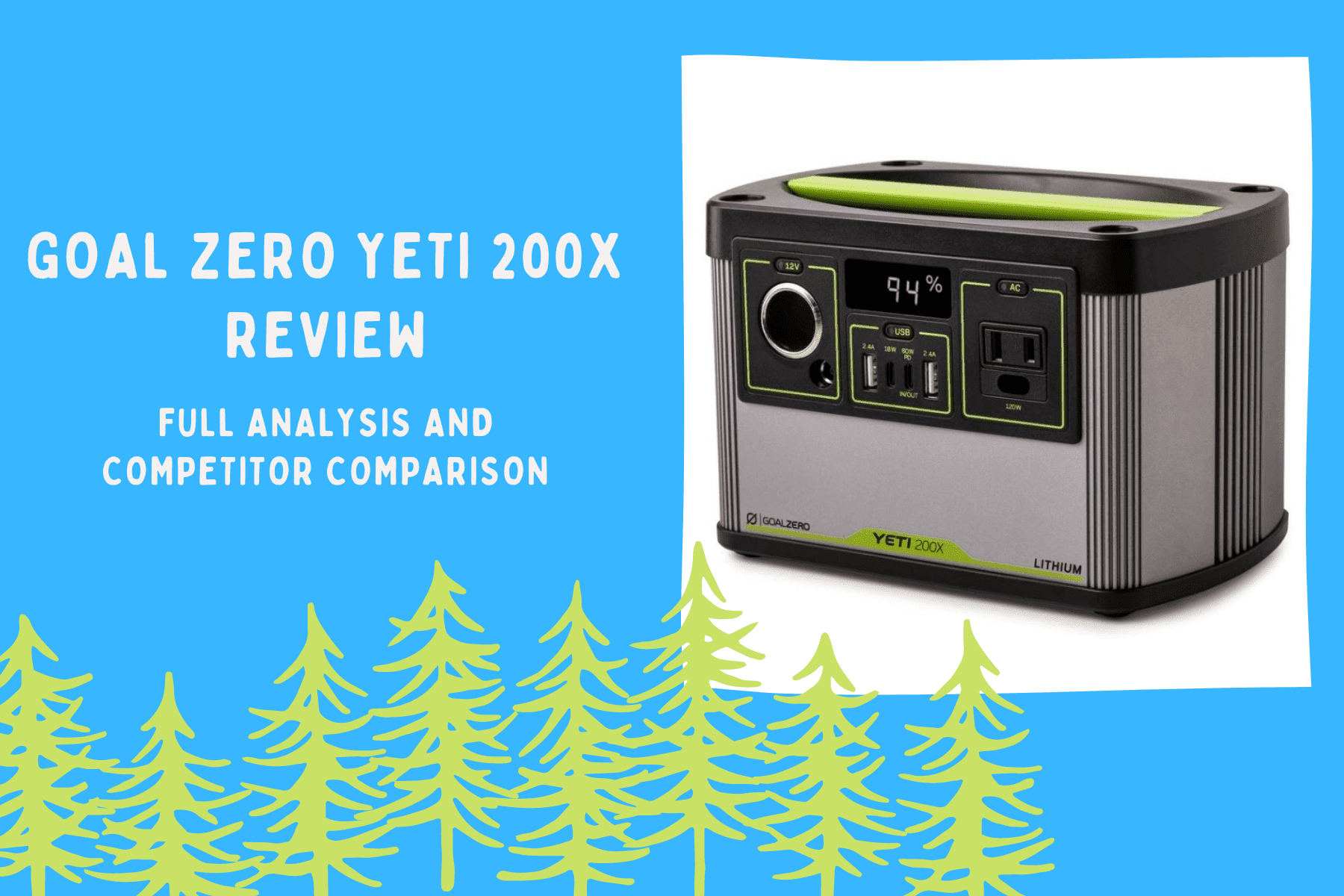 Goal Zero Yeti 200X is the company's most lightweight power station to date. At just five pounds, it's more than fifty percent lighter than Yeti 150, the model it replaced. Of course, weight reduction has been achieved by cutting down on features, but there are enough of them to be helpful.
The Yeti 200X offers many handy features, including a 187Wh Li-ion battery, support for solar panel recharging, and a 2-year warranty. You also get a slew of ports, including 2 USB-A and two USB-C ports. Plus, there's also a 120V AC outlet to let you juice up small-size power tools.
Still, that doesn't mean that there is nothing wrong with this portable power station. I wasn't too pleased to note that it comes with no water-resistance rating, meaning you'd have to be extremely careful while carrying it anywhere near water. Read on to know more.
*Disclosure: I only recommend products that I would use myself. This post may contain affiliate links that may earn me a small commission at no additional cost to you. Read the full advertising policy here.*
The Summary
The Goal Zero Yeti 200X is perfect for Overlanding or car camping on the weekend. It's a lightweight, compact portable power station that offers multiple charging options and rapid charge times. I've also noticed some drawbacks. The Yeti 200X doesn't come with any water-resistance rating. And since it isn't a pure sine-wave inverter, you shouldn't use it to charge sensitive electronics.
Goal Zero Yeti 200X Review
Package Contents
Goal Zero Yeti 200X
1 x AC Adapter
1 x User Guide
1 x Product Brochure
Weight and Build
The Goal Zero Yeti 200X is incredibly compact and lightweight. It measures only 9.5 x 10 x 9.5-inch and weighs 5 pounds, about the same as your average clay brick. Sure, that doesn't make it pocket-size, but the compact dimensions would stop it from occupying half of your car's boot's space.
The bulk of this power station's case is made of anodized aluminum. The top and the bottom are constructed of black, rubberized plastic that looks as if it could take a beating. The base is well-made, with rubber feet that stop the Yeti 200X from slipping unexpectedly.
The top casing oozes similar durability. A deep indentation in the center gives your fingers more than enough room to securely grip the fluorescent green handle, whose shiny color makes it easy to locate in low light conditions. All in all, there's nothing about the Goal Zero Yeti 200X's build that disappoints.
Battery and Ports
A 187Wh Li-ion NMC battery powers the Yeti 200X. This is a lot of power, but not a lot when you compare it with models like the Jackery Explorer 240. However, when you compare it with other smaller packs, the battery comes across as reasonably large.
From left to right on the unit's front, you'll come across a 12-volt cigarette adapter/carport, followed by a smaller 6mm output port. Then you'll come across 2 USB-A ports, 1 USB-C port, and 1 USB PD port (labelled "in/out".) The final port, located on the far right, is a 120-volt AC outlet.
If you're like most people, you won't need these many ports. I'm especially confused about the utility of the 6mm port. I would have liked Goal Zero to prefer another USB-C port over it, considering that almost all the latest and upcoming gadgets rely on USB-C for recharging.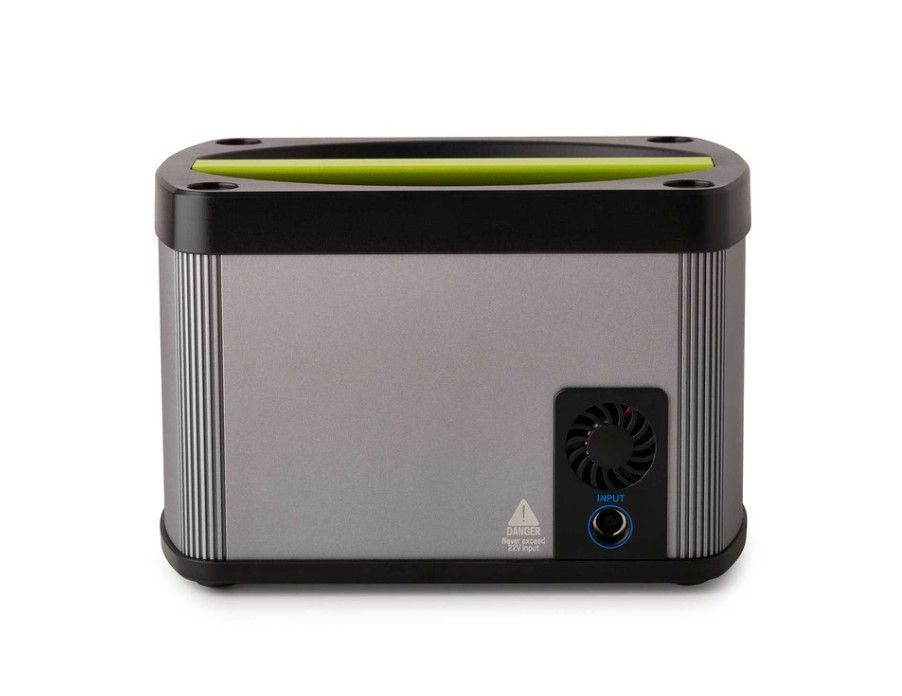 Recharging Options
You have four options to recharge the Yeti 200X:
Plug it into a wall outlet. 4 hours recharging time
Plug it into your car's cigarette lighter. Same recharging time as above
Hook it to Nomad 50. 4 – 8 hours recharging time (depending on sunlight)
Hook the USB-PD port to Nomad 50.
Other Notable Features
Integrated MPPT Charge Controller. The MPPT controller boosts the output of solar panels by maximizing the current they supply to the 200X's battery. Put simply, it will enable a compatible solar panel (revealed below) quickly juice up the Goal Zero Yeti 200X.
Battery Management System (BMS). The BMS provides low battery protection and monitors individual cells and the overall battery to ensure their health. It's one of the main reasons behind the battery lasting more than 500 lifecycles.
High-Speed Charging. The USB-C (PD) port located in the middle can charge compatible laptops, smartphones, cameras and tablets in a fraction of the time. You can also use this port to juice up the power station itself.
Pros and Cons
Most portable power stations have their fair share of drawbacks and features on which they excel. The Yeti 200X isn't any different. While its worthy features did win my praise, the fact that it isn't a pure sine wave inverter and the absence of an IP rating means there are areas where it could have done better.
Goal Zero Yeti 200X Pros
Integrated MPPT charge controller
Solar panel compatible
Low battery protection using Battery Management System
Supports high-speed charging
Lightweight and compact build
Goal Zero Yeti 200X Cons
No water-resistance rating
Isn't a pure sine wave inverter
Best Solar Panel for Goal Zero Yeti 200X
The Goal Zero Nomad 50 is the best solar panel for Yeti 200X. Its 50W panel is highly efficient, and the massive surface area won't let the occasional passing clouds or periods of intermittent sun stop this panel from charging your portable power station.
There's a reason why I can say that with confidence. I've seen the Nomad 50 juice up my (borrowed) Yeti 200X from 0 to 11 percent over the course of half an hour when subjected to periods of sun and shade. I'm pretty sure that with enough sun, it would have juiced up the 200X much quicker.
The Nomad 50 is highly durable, too. It can easily withstand a beating down from the elements, thanks to its laminated mono-crystalline solar cells and a coated upper canvas. The pocket is also canvas and reinforced, giving you a secure place to tuck away cords and other valuables.
Unfortunately, this solar panel comes with only one USB port and an AC power port. Both of which are more than enough if you intend to limit this model for powering your Yeti 200X. But they will pose an issue if you want a solar panel that can recharge multiple devices simultaneously.
How It Compares With Other Portable Power Stations
Goal Zero Yeti 200X Vs. Jackery Explorer 240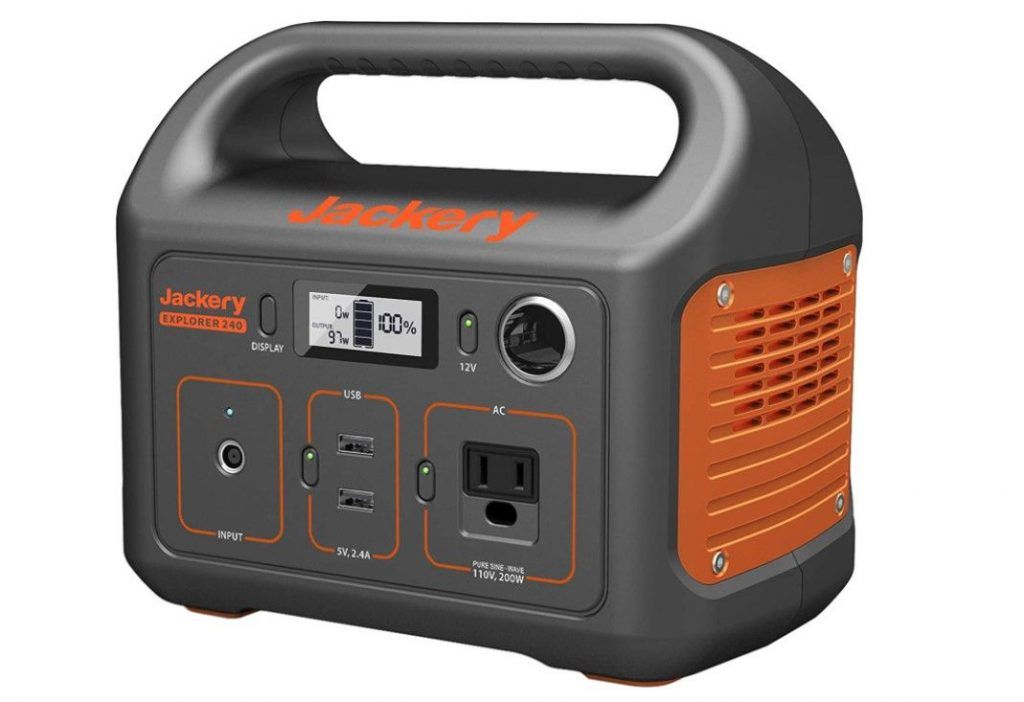 Similarities: Both the Yeti 200X and Explorer 240 have a regulated 12V port, offer three recharging options (AC adapter, 12V car adapter, solar panel), have a built-in MPPT controller for faster solar charging and dedicated on/off buttons for all their outputs.
Where the Goal Zero Yeti 200X fares better: The Yeti 200X beats the Explorer 240 on three counts. It is equipped with more USB-C ports (2 vs. 0), has a battery that takes less time to recharge with a wall charger (4hrs vs 6hrs) and is relatively lighter (5lbs vs 6.6lbs)
Where the Explorer 240 fares better: While the Yeti 200X is a modified sine-wave inverter, the Explorer 240's pure-sine wave output enables it to juice up sensitive electronics. It also has a much bigger battery capacity (240Wh vs 187Wh) and supports pass-through charging.
Goal Zero Yeti 200X Vs. Rocksolar Ready 200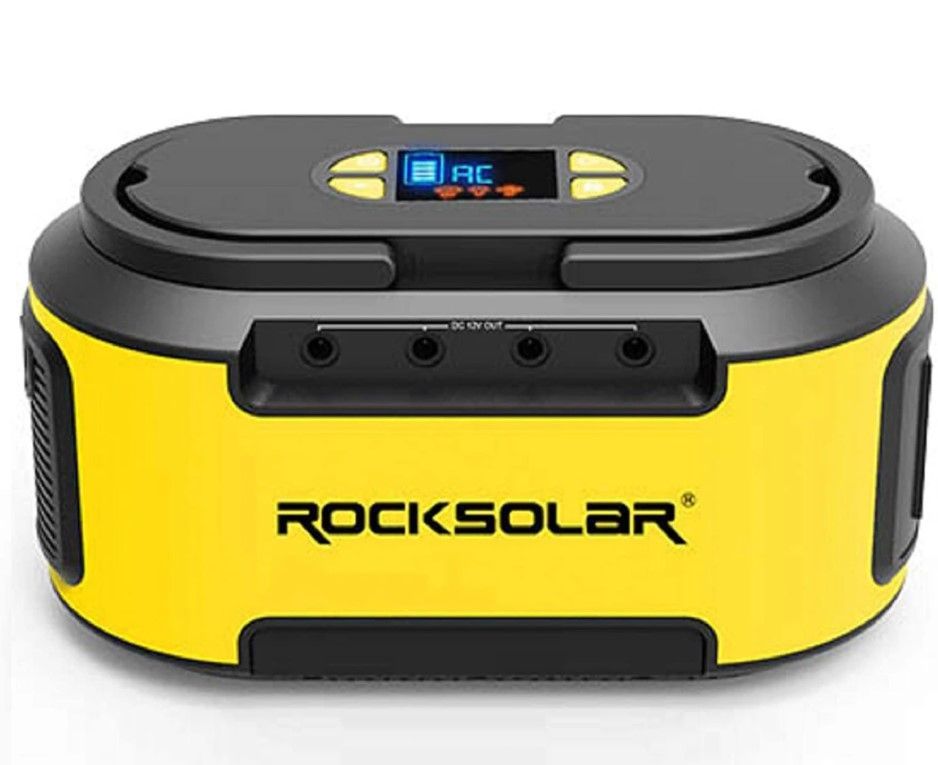 Rocksolar Ready 200
Power: 222 WH
Weight: 4.85 lbs
Dimensions: 14″ x 7.24″ x 7″
See my Rocksolar Ready 200W Review
Use the coupon code thewildguides and claim your 20% discount on Rocksolar products (except Utility)
Similarities: Both the Yeti 200X and Rocksolar Ready 200 offer modified sine wave output. This means you shouldn't count on either to juice up your sensitive electronics safely. They both offer the same continuous output (200W) and peak output (300W) and support fast charging.
Where the Goal Zero Yeti 200X fares better: This unit comes with a built-in MPPT controller, enabling a compatible solar panel to recharge it quickly. It also takes 8 fewer hours (4hrs vs 12hrs) for a complete charge using the AC adapter.
Where the Rocksolar Ready 200 fares better: The Rocksolar Ready 200 has a much bigger battery capacity (222Wh vs. 187Wh) than the Yeti 200X. It's also equipped with an LED flashlight. One that can serve the function of SOS in the event of an emergency.
Goal Zero Yeti 200X Vs. Rockpals 250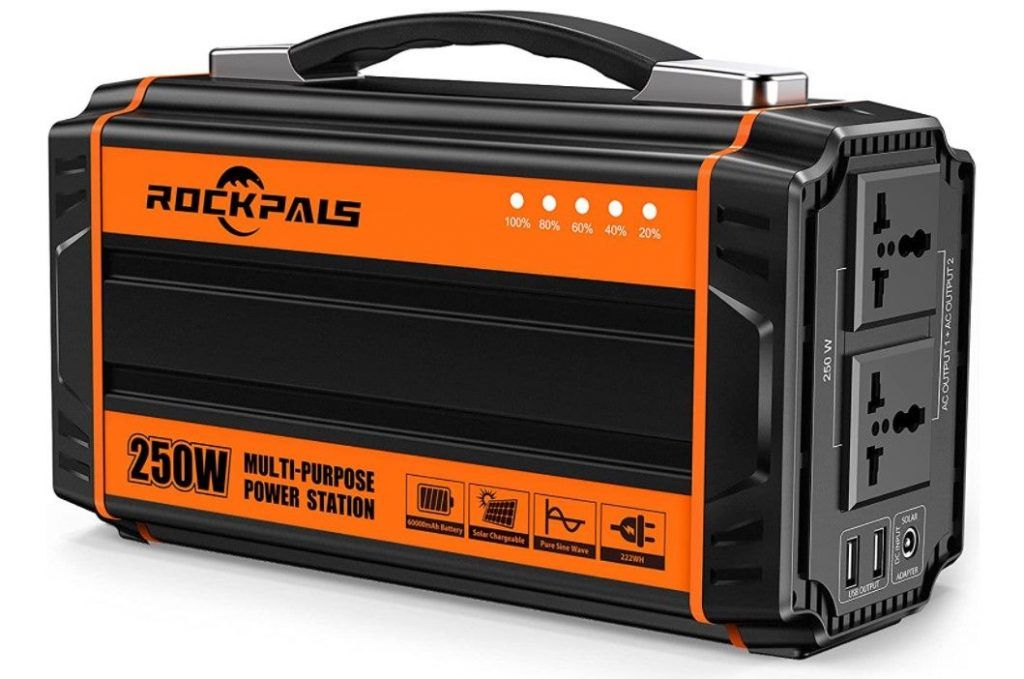 Rockpals 250
Power: 240 WH
Weight: 5.95 lbs
Dimensions: 8.86″ x 3.94″ x 6.3″
Where the Goal Zero Yeti 200X fares better: The Rockpals 250 has one on/off button; Yeti 200X has equipped all three of its charging outlets with one each. It takes 3 fewer hours to get fully charged plugged into the wall outlet (5 vs. 8) and is backed by a bigger warranty (2yr vs 1.5yr).
Where the Rockpals 250 fares better: The Rockpals 250 comes with a much bigger battery (240Wh vs. 187Wh) and outputs more wattage (250 watts vs 200 watts) than the Yeti 200X. This enables it to power up a CPAP machine, something which the Yeti 200X can't do.
Goal Zero Yeti 200X Vs. Anker Powerhouse 200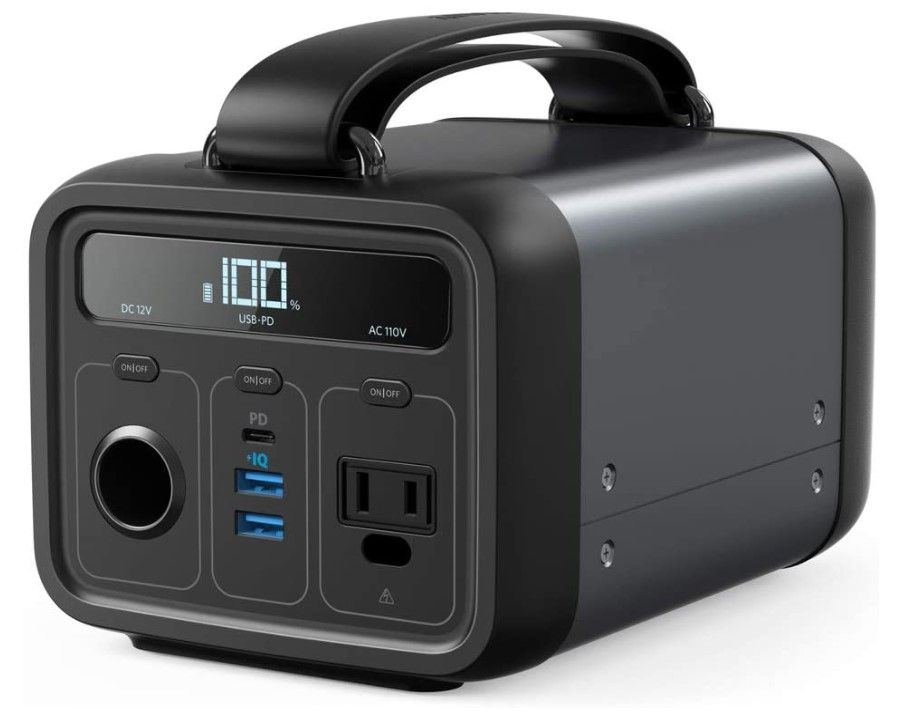 Anker Powerhouse 200
Power: 218 WH
Weight: 6.0 lbs
Dimensions: 7.48″ x 5.47″ x 4.69″
Similarities: Both these portable power stations are equipped with the latest Li-ion batteries. They also have dedicated on/off buttons for each of their charging outlets, supports fast charging, and come with an LCD screen that spans the products' width.
Where the Goal Zero Yeti 200X fares better: The Yeti 200X outputs more wattage than the Anker Powerhouse 200 (200W Vs 100W). It also comes with a built-in MPPT controller, provides low-charging protection, and has one extra USB C-port.
Where the Anker Powerhouse 200 fares better: This portable power station comes with a relatively more powerful battery (200Wh vs 187Wh). And while it does weigh 0.5lbs more than Yeti 200X, its oversized handle makes it much easier to carry.
Frequently Asked Questions
Can you use Goal Zero Yeti 200X with non-Goal Zero solar panels?
Yes. You can use non-Goal Zero solar panels with Yeti 200X. Just make sure the panel's output doesn't exceed 22V and has an 8mm port that will connect to the Yeti 200X. As long as the panel you're looking at satisfies both these conditions, you can use it with this model.
How far down can you discharge Goal Zero Yeti 200X?
The Goal Zero Yeti 200X comes with low-charge protection that keeps its battery from sliding any further than 10%.
Can you keep the Goal Zero Yeti 200X plugged in all the time?
Given the fact that it comes with over-charge, over-current and over-voltage protection, you can safely keep the Yeti 200X plugged in all the time. However, if you don't want to take any chances on its safety, I'd suggest plugging off this model when the display indicates 100% battery.
How to reset your Goal Zero Yeti 200X generator when it stops?
To reset your Goal Zero Yeti 200X generator, press all the buttons at the front at the same time. Keep the buttons pressed until the display goes dark. Wait for a few seconds to give the Yeti 200X the time to get things up and running again.
Can Goal Zero Yeti 200X charge a car battery?
The 12V AC port on the Goal Zero Yeti 200X can help you charge a 12-volt car battery.
Can Goal Zero Yeti 200X charge an electric cooler?
How long does Yeti 200X last?
The Goal Zero Yeti 200X has a shelf life of around 3 to 6 months, so you must make sure you're using it on a regular basis to get a good value on the money you paid for it. Keep in mind that it can last more than 500 lifecycles while retaining up to 80% battery capacity.
Can you use Goal Zero Yeti 200X while charging?
Since the Goal Zero Yeti 200X doesn't support pass-through charging, you cannot use this portable power station while it's being recharged.
Can a Goal Zero power a microwave?
Yes, but probably not with the Yeti 200X. One Goal Zero user has claimed of using their Yeti 1500 for powering a 700W microwave. According to them, hooking up their model with 260W of solar power did the trick for them.
Final Verdict: Is the Goal Zero Yeti 200X worth your money?
The Goal Zero Yeti 200X is definitely worth your money if you're planning on camping somewhere where you'll get plenty of sunlight and you're using a lot of USB-C devices. That's because this model's unique selling points – built-in MPPT controller, solar panel compatibility, multiple USB-C ports – revolve around both these points.
Video review
Portable power station guides
Use this table to find out all the reviews I made about the best portable power stations in the industry.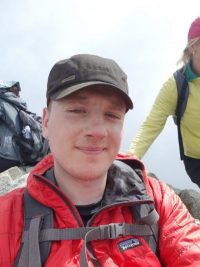 Mins Lukas Savela is a travel writer whose main focus is adventure travel. His passion for wildlife and nature has carried him to many countries in the world. He loves hiking the best trails on earth and sharing his experiences through writing. He hopes his experiences will help more people to start their own adventures and appreciate the world surrounding them a little bit more.
Mins Lukas Savela (also known as Lukas Saville) has written numerous articles that have been published on websites like Wandrly magazine, Go Nomad, Osprey.com, RAD Season, Wilderness Society, The Los Angeles Beat, California.com, Nature Conservancy, and many others.