In this Jackery Explorer 240 review, you'll find out everything you need to know about this light and portable power station. The Explorer 240 is a lightweight, compact, budget-friendly and dependable (for the most part) companion for any type of outdoor trop. I took it with me on camping trips and also brought it on my road trips, for that extra power source, in case something goes wrong.
Read on to learn more of my experience with Jackery Explorer 240.
*Disclosure: I only recommend products that I would use myself. This post may contain affiliate links that may earn me a small commission at no additional cost to you. Read the full advertising policy here.*
The Summary
The Jackery Explorer 240 portable power station is aimed at campers and for emergency preparedness. It's lightweight, holds enough power to charge my MacBook Pro 2-3 times, and can be charged up with a compatible solar panel. But the absence of a USB-C port is a glaring shortcoming.
Jackery Explorer 240 Review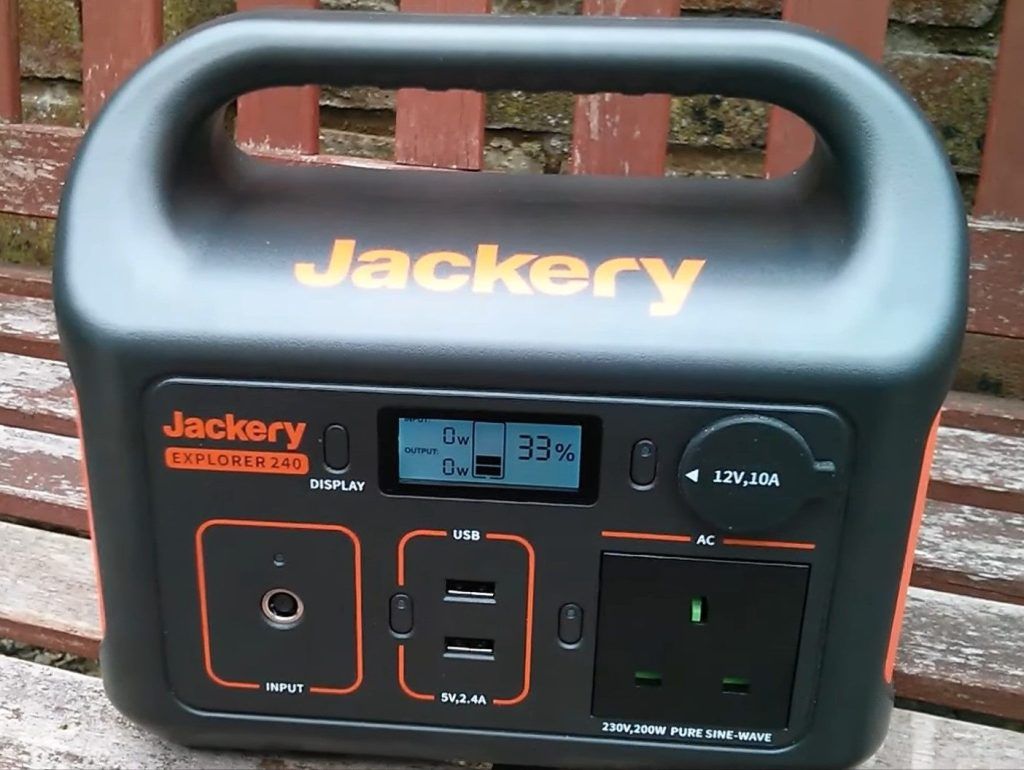 Package Contents
Jackery Explorer 240
Car Charging Cable
AC & AC Cable
User Manual
Weight and Build
The Jackery Explorer 240 weighs only 6.6 lbs. It is made of high-impact plastic and comes with an oversized handle that makes it easy to carry. The handle is molded into the rest of the casing, meaning there's no risk of it coming off. Four rubber feet at the bottom help steady this model on uneven surfaces.
There's nothing wrong with the design except the placement of the AC outlet. It's far too low for most oversized plugs, like GoPro and MacBook Pro chargers. You'd thus have to place the Explorer 240 on a table if your charger is oversized.
Battery and Ports
A whopping 240Wh, Li-ion battery is powering the Jackery Explorer 240. It can last up to 500 charging cycles while retaining up to 80% capacity. The battery is protected from overcharging, over-current, and short circuits by the Battery Management System (BMS). It's also backed by a 24-month warranty.
A backlit LCD-screen adorns its control panel, with a 12V car charging port on its right side. Clockwise from the bottom left of the front of the charger has the DC input, 2x5V, 2.4A USB-A charging ports, and the 230V AC socket. You get no USB-C ports but could use an adapter.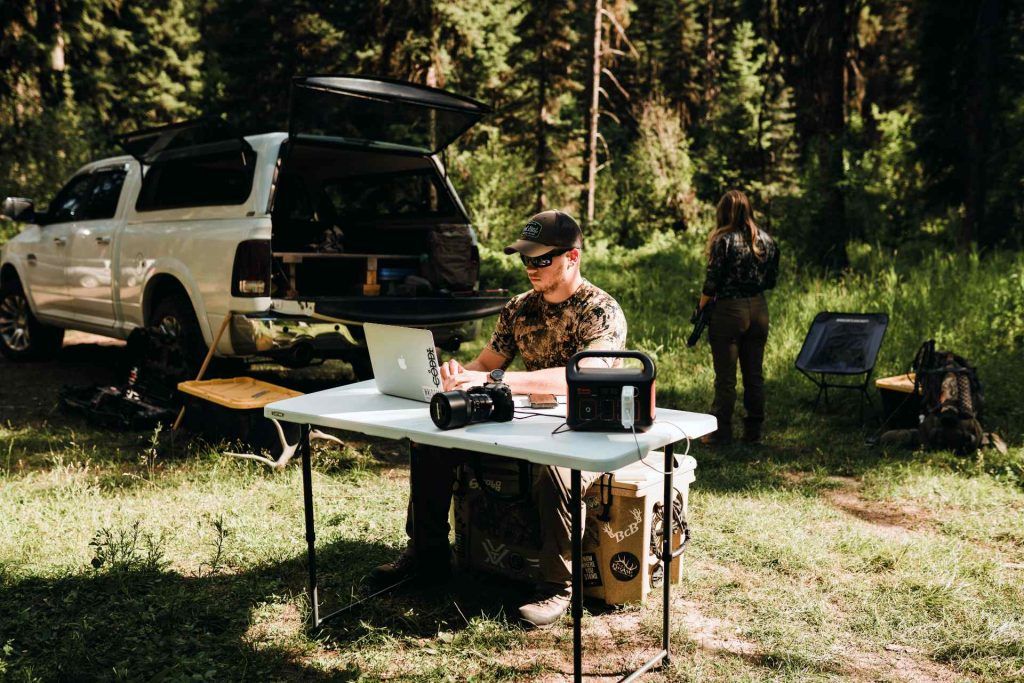 Recharging Options
You have three options to recharge the Explorer 240:
AC Adaptor: 5.5 hours recharge time
12V Car Adaptor: 6.5 hours recharge time
SolarSaga 60W Solar Panel: 7 hours recharge time
Other Notable Features
Other notable features of Jackery Explorer 240 include:
Supports pass-through charging. Pass-through charging is a technology that allows you to connect your devices to the Explorer 240 and recharge it while the power station is plugged into a source and charging itself.
Built-in MPPT controller. An MPPT controller maximizes the output of solar panels by increasing the current they supply to a battery by up to 30%. In plain English, this means a compatible solar panel (revealed below) will quickly recharge the Explorer 240.
Dedicated on/off buttons. Most power stations out there come with a single on/off switch for all their outputs. The Explorer 240 is different in that it has provided each of its three outputs with a dedicated on/off button, giving you more control.
Pure sine wave inverter. Pure sine wave inverters produce the AV power that closely resembles an actual sine wave. This lets them charge sensitive electronics, something which modified sine wave inverters can't do.
Has an intelligent display. This product's backlit, black and white display is placed right in the middle to ensure nobody can miss it. The screen helps you stay on top of all things Explorer 240 by showing input power, remaining battery, and output power.
Pros and Cons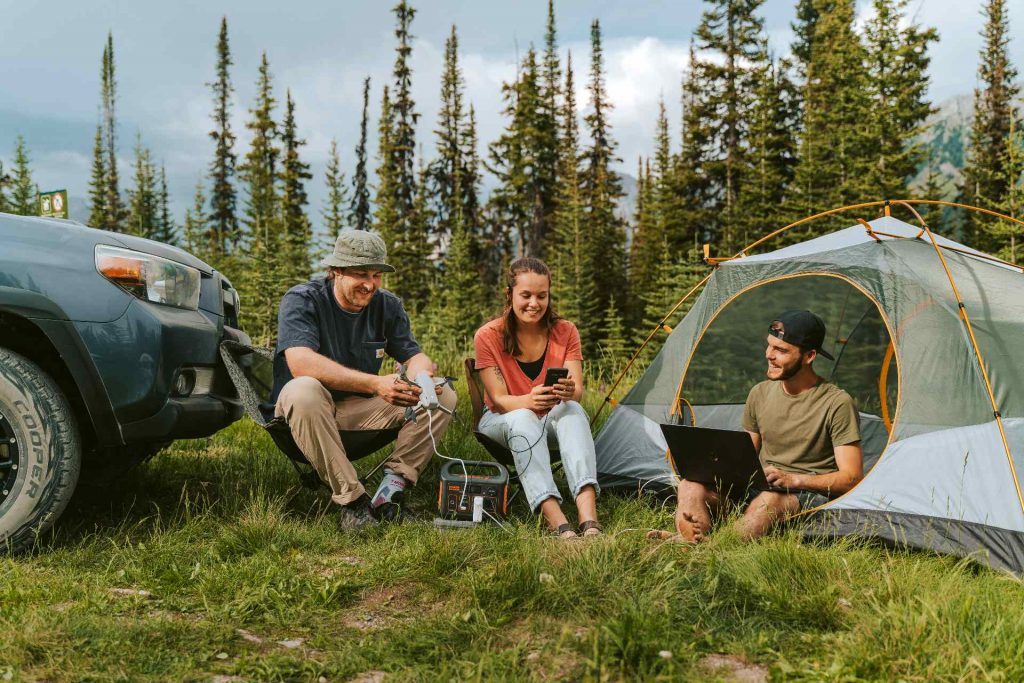 Similar to other portable power stations on the market, the Jackery Explorer 240 does have its fair share of pros and cons. In this section, I am going to highlight the positive and negative aspects of this model to help you make a decision.
Jackery Explorer 240 Pros
Three charging options
Sturdy plastic construction
Easy-to-read LCD screen
Solar-panel compatible
Jackery Explorer 240 Cons
Doesn't come with USB-C ports
Poor positioning of the AC port
Best Solar Panel for Jackery Explorer 240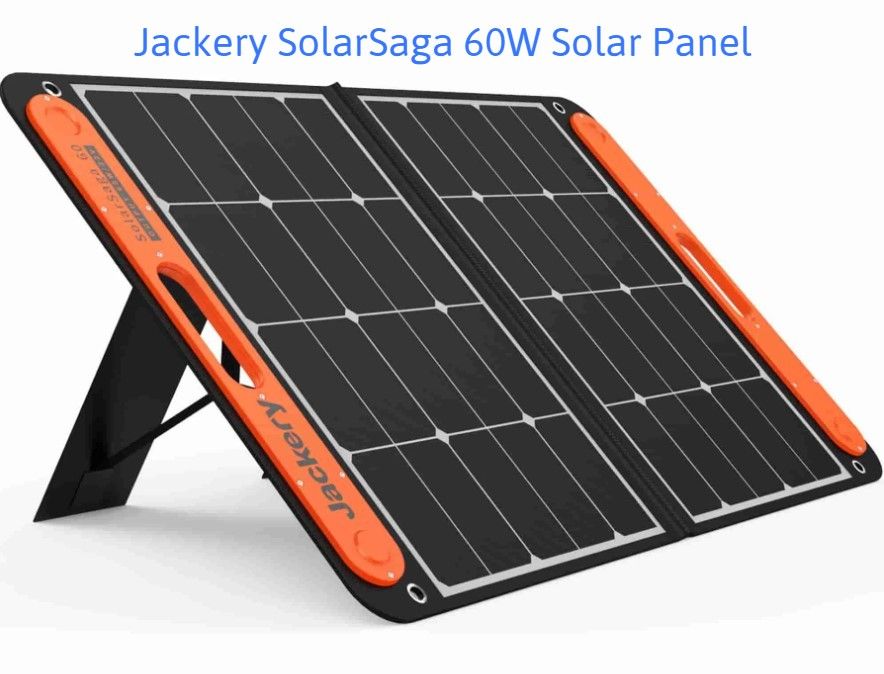 The Jackery SolarSaga 60W is the best solar panel for Explorer 240. It comes with mono-crystalline silicon solar cells that help it boost a conversion efficiency of up to 23%. A laminated upper surface means you won't have to worry about outdoor elements disturbing its efficiency.
Apart from being dustproof and shockproof, it comes with a built-in Anderson connector cable. All I had to do to juice up my Explorer 240 using the SolarSaga was plug its connector cable into an extension cable, before plugging the latter into my Explorer 240.
I was lucky that it was a clear, sunny day when I used this panel. This allowed the SolarSaga to give as much as 80W of output. Still, since the Explorer 240 was dead at the beginning of recharging, it took it almost 8 hours to go from 0 to 100 percent.
Lastly, I was pleased to note that the SolarSaga comes with 2 USB ports of its own. They were the reason why my smartphones didn't go dead for the entire period that the Explorer 240 was charging. And since I had registered my SolarSaga with Jackery, I got 3 years of warranty on the solar panel.
How It Compares With Other Portable Power Stations
Jackery Explorer 240 Vs. Rocksolar Ready 200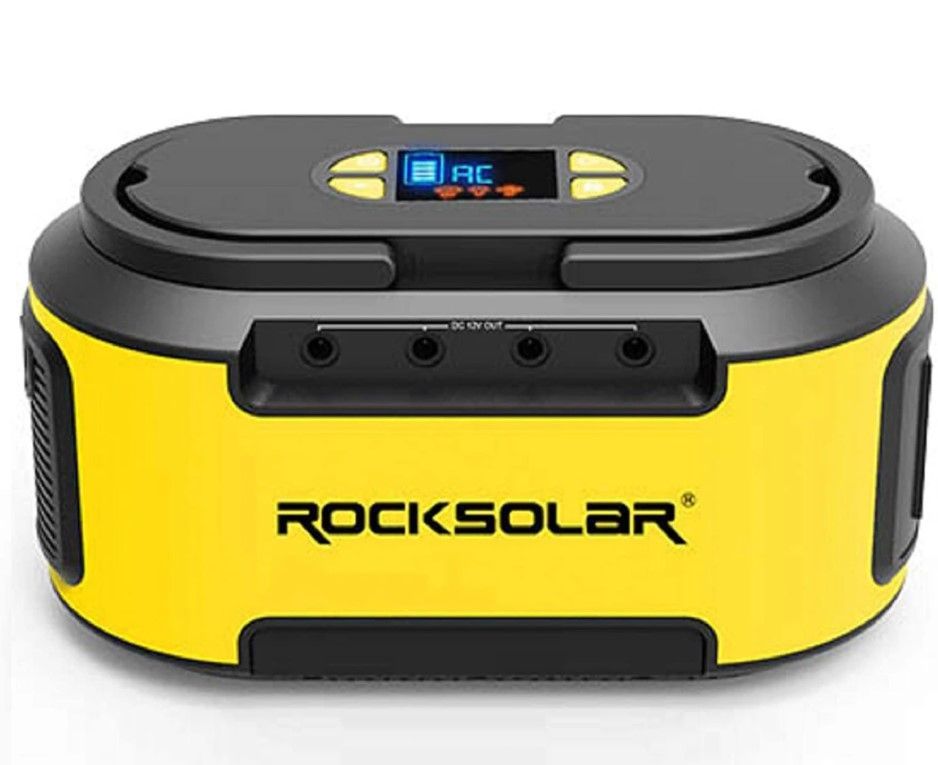 Rocksolar Ready 200
Power: 222 WH
Weight: 4.85 lbs
Dimensions: 14″ x 7.24″ x 7″
Ratings: 4.7⭐ out of 102 reviews on Amazon
See my Rocksolar Ready 200W Review
Use the coupon code thewildguides and claim your 20% discount on Rocksolar products (except Utility)
Similarities: As you might have guessed, both these portable power stations rely on Li-ion batteries to juice up your devices. They also offer the same wattage (200 W), which means they can power up almost the same devices. Both power stations also support pass-through charging.
Where the Explorer 240 fares better: The Ready 200 gives a modified sine wave output – which means you can't charge sensitive electronics with it. The Explorer 240 ticks the right box on this count. The Explorer 240 also has a bigger battery than the Rocksolar Ready 200.
Where the Rocksolar Ready 200 fares better: The Rocksolar Ready 200 offers one Qualcomm USB3.0 port (to support fast charging) and 1 USB-C port. It's also equipped with an SOS light and has a cooling fan that operates silently, regardless of the power draw.
Jackery Explorer 240 Vs. Goal Zero Yeti 200x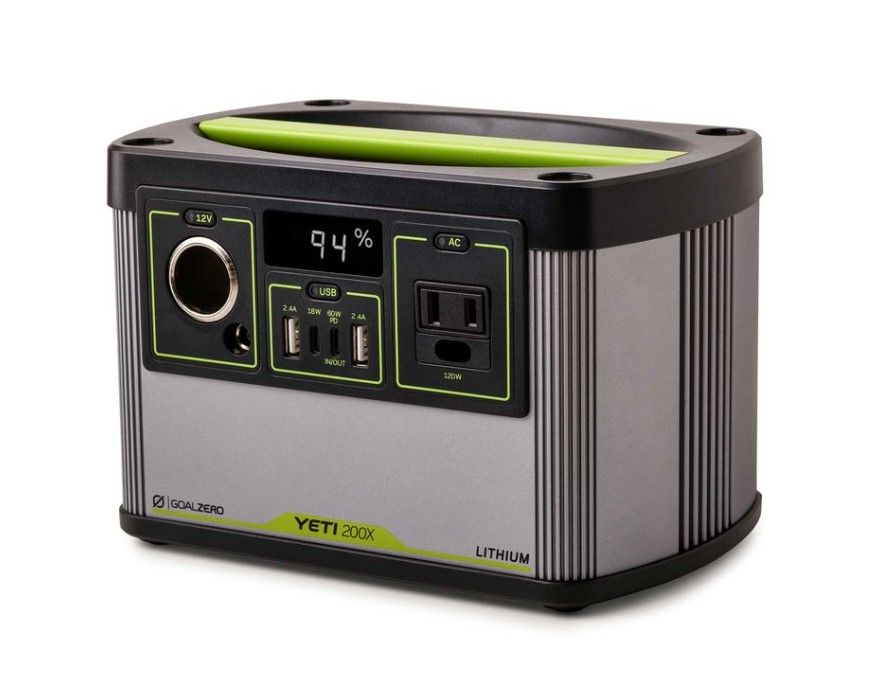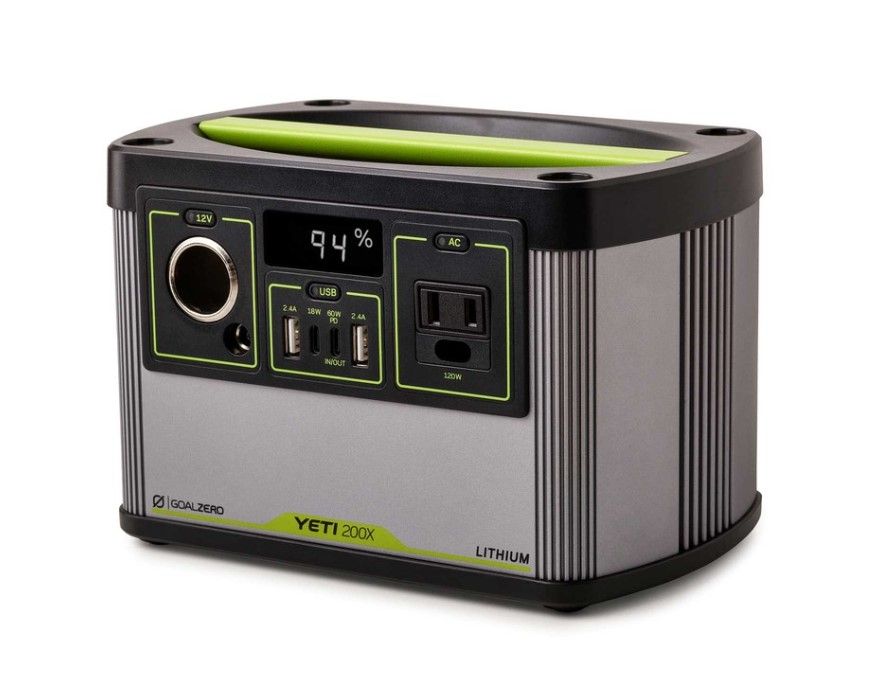 Goal Zero Yeti 200X
Power: 187 WH
Weight: 5.0 lbs
Dimensions: 7.9″ x 5.1″ x 5.1″
Ratings: 4.6⭐ out of 272 reviews on Amazon
See my Goal Zero Yeti 200X Review
Similarities: Both these highly-rated portable power stations are equipped with a Lithium battery, provide the same number of AC outlets (1), and have a dedicated 12V port. Both have easy-to-read LED displays showing the remaining battery life.
Where the Explorer 240 fares better: This model boasts a bigger battery capacity (240 Wh vs. 187 Wh) and inverter rating (200 W vs. 120 W). Since it's a pure sine wave inverter (the Yeti 200X is a modified sine wave inverter), you can use it to recharge sensitive electronics
Where the Goal Zero Yeti 200X fares better: Unlike the Explorer 240, which comes with only 2 USB-A ports, this portable power station comes with 2 USB-A and 2 USB-C ports. This means you can charge a greater number of devices with this model.
Jackery Explorer 240 Vs. Rockpals 250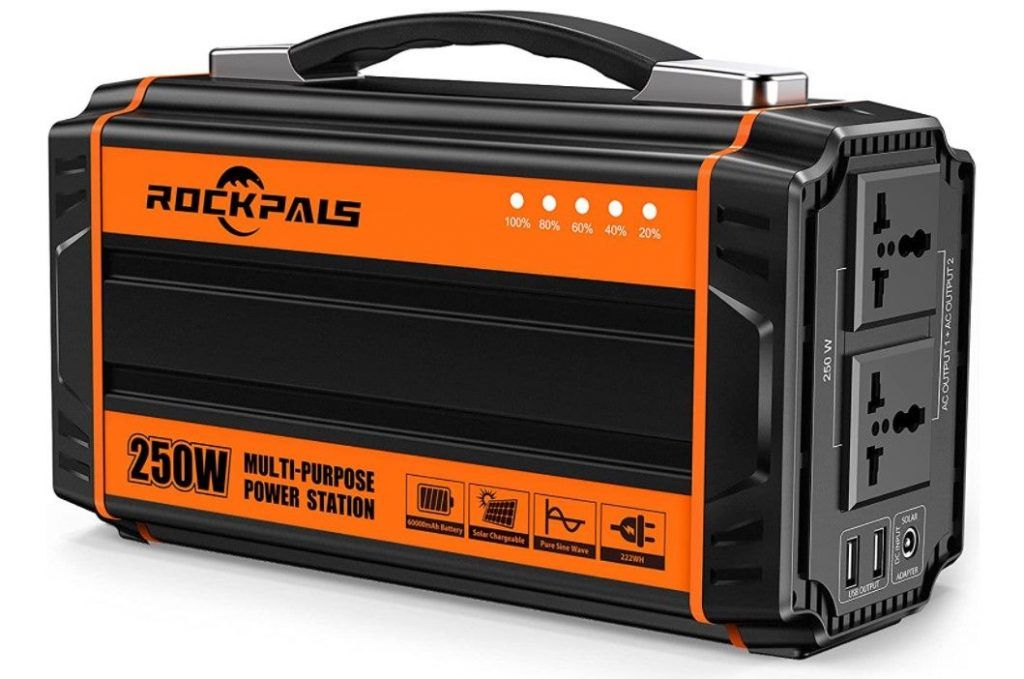 Rockpals 250
Power: 240 WH
Weight: 5.95 lbs
Dimensions: 8.86″ x 3.94″ x 6.3″
Ratings: 4.5⭐ out of 1853 reviews on Amazon
Similarities: Both the Explorer 240 and Rockpals 250 offer 240 WH of power, come with 2 USB-A ports, and have a built-in cooling fan that starts running upon a large power draw. Both offer three recharging options (AC, 12V car adapter, solar panel) and could power CPAP machines.
Where the Explorer 240 fares better: While the Rockpals 250 provides a single on/off button, the Explorer 240 has equipped each of its charging outlets with one. This model also takes one fewer hour (7 vs. 8) than the Rockpals 250 to get fully charged plugged into the wall outlet.
Where the Rockpals 250 fares better: Despite being slightly more powerful (250 WH vs. 240 WH) than the Explorer 240, this power station takes three fewer hours (10 vs. 7) to go from 0 to 100 percent charging on the SolarSaga 100W.
Jackery Explorer 240 Vs. Anker Powerhouse 200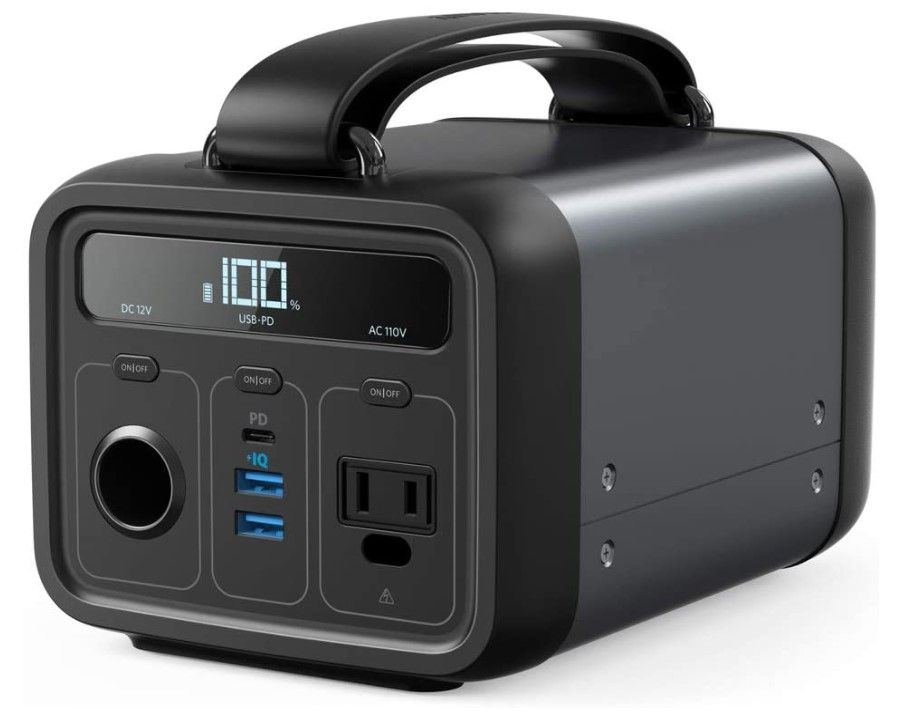 Anker Powerhouse 200
Power: 218 WH
Weight: 6.0 lbs
Dimensions: 7.48″ x 5.47″ x 4.69″
Ratings: 4.6⭐ out of 546 reviews on Amazon
Similarities: Both these portable power stations are powered by lithium-ion batteries. You can use either to power CPAP machines and recharge them via USB, AC, and solar. And they support pass-through charging to let you juice up your devices while being recharged.
Where the Explorer 240 fares better: This portable power station has a slightly more powerful battery (240 Wh vs. 218 Wh), costs $50 less, and is warrantied longer (24 months vs. 18 months) than the Anker Powerhouse 200.
Where the Anker Powerhouse 200 fares better: In contrast to the Explorer 240, which offers 2 USB-A and no USB-C ports, the Powerhouse 200 comes with both. It can thus help you charge the latest gadgets. And I've to say that it has a more beautiful design.
Frequently Asked Questions
What can Jackery Explorer 240 power?
The Jackery Explorer 240 can power all your gadgets, including smartphones, tablets, drones, laptops, lights, fans, mini-fridge, TV, and mini-cooler.
Can you use Jackery Explorer 240 with non Jackery Solar Panels?
Yes. You can use the Explorer 240 with non-Jackery solar panels. Just make sure the solar panel has the correct 8mm tip (5.5mm ID, 7.9mmOD).
How far down can you discharge Jackery Explorer 240?
You can discharge the Jackery Explorer 240 all the way down to 10%. After that, the display light will start flashing and the discharge protection will come into action, stopping the battery level from dropping any further.
Can you keep the Jackery 240 plugged in all the time?
You can keep the Jackery 240 plugged in all the time and it will still stay ready to use. That's because this portable power station comes with overcharge protection. However, if you ask me, I suggest unplugging it when the display shows it's fully charged.
Does the Jackery Explorer 240 have a built-in MPPT?
Yes. The Jackery Explorer 240's built-in MPPT enables the connected solar panel to operate at its maximum power point, helping it recharge the portable power station quickly.
Can Jackery Explorer 240 charge a car battery?
You can charge a car battery using the Jackery Explorer 240. Buy a set of Jackery Alligator clips, plug them into the Explorer 240, and connect the other side to your car's dead battery's terminals. The Explorer 240 will charge up a dead 12V car battery in less than an hour.
Can Jackery 240 charge an electric cooler?
Yes. The Jackery Explorer 240 can charge an electric cooler like the Dometic CFX. One of its users claimed of having used the 240's 12V port to power up their electric cooler.
How long does Jackery 240 last?
Jackery claims the Explorer 240's battery can outlast 500 lifecycles at 80% efficiency. Afterward, just replace the battery with another one from Jackery. This means you can keep on using the Explorer 240 for basically forever.
Can you use Jackery 240 while charging?
Yes. The Jackery Explorer 240 supports pass-through charging to let you recharge your devices while it's being recharged itself.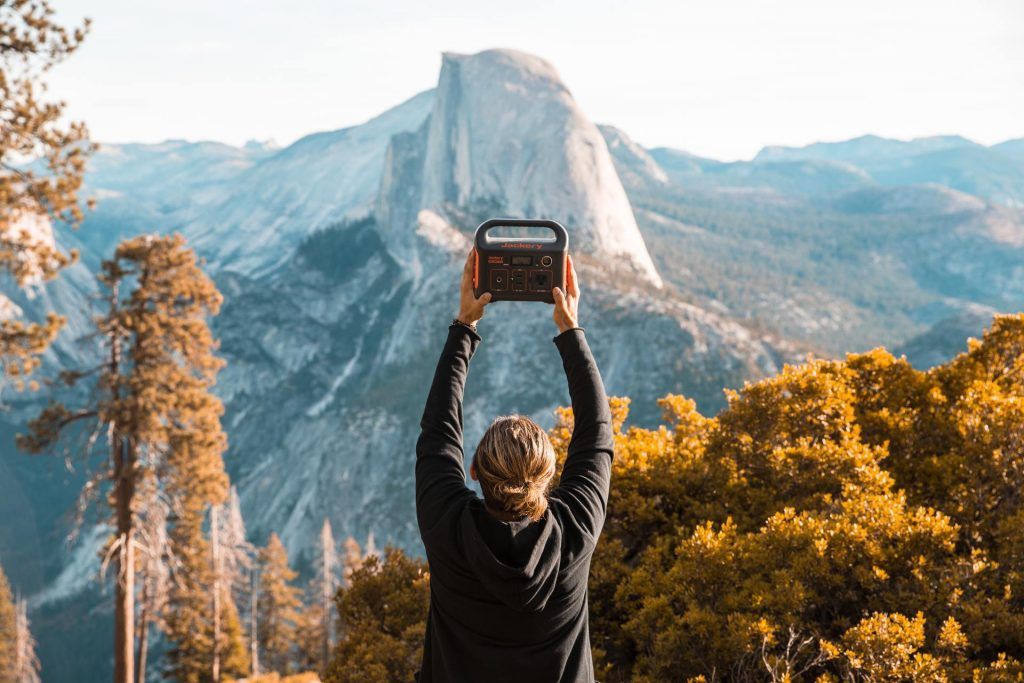 Final Verdict: Is the Jackery Explorer 240 worth your money?
My Jackery Explorer 240 review must have made it clear by now that this portable power station is definitely worth your money, especially if you stay off-grid for days on end and want to stay connected with your loved ones back home while you're out there exploring nature.
Video review
Jackery Explorer Comparison Table
This table compares the main differences between Jackery Explorer Portable Power Stations
Jackery Explorer Comparison Table
Portable power station guides
Use this table to find out all the reviews I made about the best portable power stations in the industry.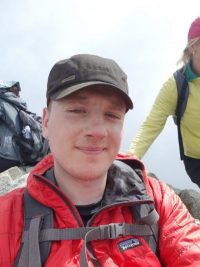 Mins Lukas Savela is a travel writer whose main focus is adventure travel. His passion for wildlife and nature has carried him to many countries in the world. He loves hiking the best trails on earth and sharing his experiences through writing. He hopes his experiences will help more people to start their own adventures and appreciate the world surrounding them a little bit more.
Mins Lukas Savela (also known as Lukas Saville) has written numerous articles that have been published on websites like Wandrly magazine, Go Nomad, Osprey.com, RAD Season, Wilderness Society, The Los Angeles Beat, California.com, Nature Conservancy, and many others.