When it comes to sleeping outdoors, there's a special feeling of getting up in the morning to sounds of nature. But in order to enjoy it, you need to rely on a good setuo to get you that first cup of coffee, allow you to warm up and start your day with a smile. That's why having a reliable camping stove is crucial for any overnight adventure in nature. For me, the camping stove serves as the centerpiece of my camping setup. In this article, I'll recommend the top nine camping wood stoves that are a great pick for your next trip. So, let's dive in!
Quick Navigation
*The Wild Guides is reader-supported. When you buy through links on my site, I may earn an affiliate commission at no extra cost to you. Learn more*
1. Marsh Kettles Flat Pack Rocket Stove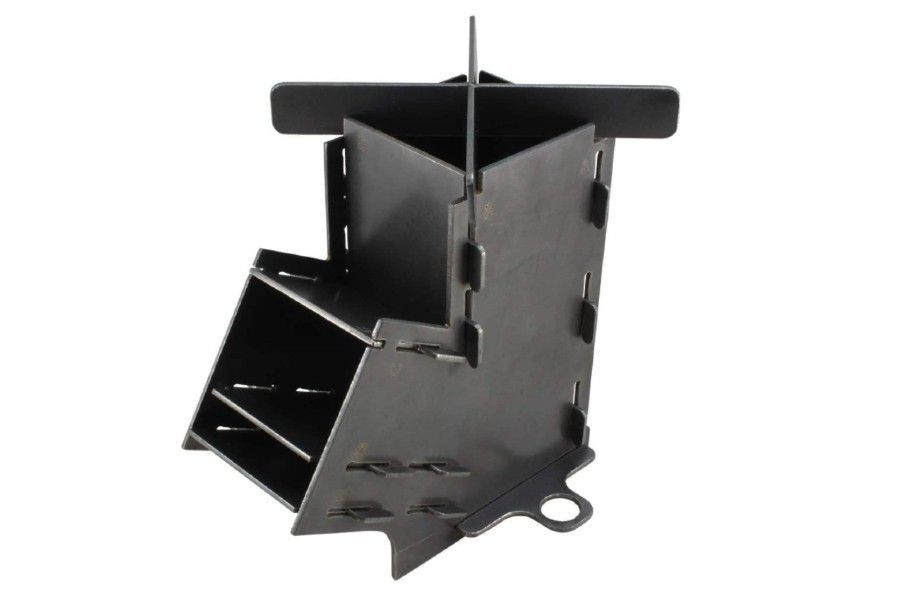 Made in the USA using durable stainless steel, this sturdy camping stove easily accommodates pots and skillets that are 3 quartz or larger. The dimensions on this 12-pound stove are 8 inches x 8 inches x 1 inch. What makes this the preferred stove for so many is the way this unit ignites and breathes so easily to create a consistent, lively fire that requires very little maintenance.
Marsh Kettles uses a gravity self-feeding method with this stove that's pulled off wonderfully. It's simply really easy to feed. While assembly is required with this unit, you can pretty much put it together with your eyes closed after doing it a few times. In addition to wood, you can use leaves, pinecones and biomass as fuel sources.
Pros:
Rests sturdily on the ground.
Rugged design.
Lights quickly.
Cons:
Assembly takes practice.
On the pricier side.
2. StarBlue Camping Rocket Stove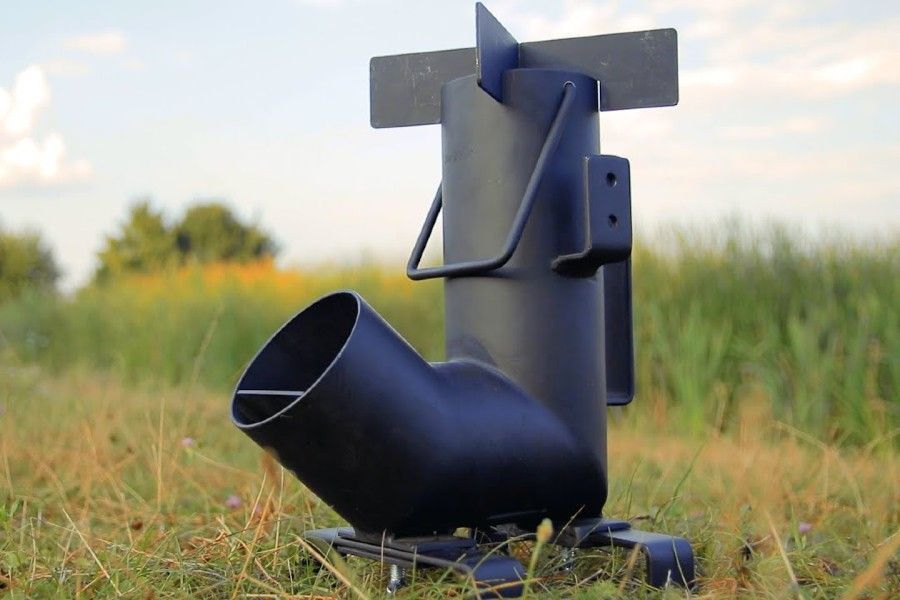 Capable of accommodating any size pot or pan due to its ultra-wide surface, the StarBlue Camping Rocket Stove is a stove for campers who like to feel limitless. Designed to run on sticks, this stove has a massive fuel chamber that helps you to enjoy even, prolonged cooking power at your campsite. This is also a low-fume, eco-friendly design. The dimensions on this 15.43-pound stove are 2.5 inches x 12.5 inches x 6.5 inches.
Yes, this stove does require a little bit of assembly once you get it at your site. However, it all goes together without the need for any special tools. This stove has a beautiful low-carbon steel design that will have you feeling like you're circling around an old wood-fire stove inside a country cottage when you're sitting outside your tent. This is a top pick if you're looking for a way to cook up a full meal with just a handful of sticks.
Pros:
Wide surface allows you to cook with huge pots.
Provides a lot of heat with very little wood.
Burn is very constant and even.
Packs flat for easy transport.
Large fuel chamber means you're not constantly maintaining your heat source.
Low fume output.
Sturdy.
Cons:
Assembly will be required at your site.
3. VidaLibre Camping Stove
VidaLibre has created a cooking kit for people who like to express a little culinary creativity while camping outdoors. In addition to wood, both biomass and charcoal can be used to heat up this stove. The carrying dimensions of this 20-pound stove are 14 inches x 11 inches x 13 inches.
Setup is easy enough with this stove. It only takes a few minutes to position it in place at your campsite by removing the cover, arranging the legs and putting on your chimney. Overall, you'll find that this stove cooks quickly and efficiently. For example, a pot of water boils in eight to 10 minutes.
The entirety of the VidaLibre stove is comprised of high-grade, 1-milimeter thick stainless steel. The exterior is coated in heat-resistant paint. VidaLibre boasts that this stove is intended to work under any conditions. Based on the pot sizes you can accommodate on this stove, it's good for serving from one to 10 campers
Pros:
Very durable.
Efficient and fast.
Provides lots of burn for very little fuel.
Made with quality.
Cons:
4. EcoZoom Versa Camping Stove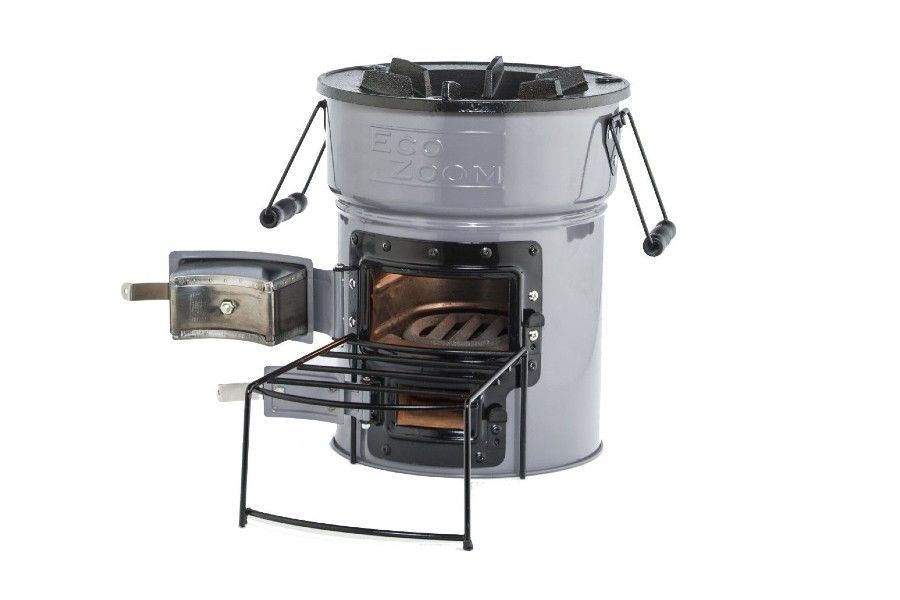 At 14.5 pounds, the EcoZoom Versa is a top pick for campers needing a heavy-duty stove. While this is primarily a wood stove, it also heats with charcoal and biomass. It owes its exceptional efficiency to a fully insulated vertical combustion chamber designed to force merging of gasses and flames. This method also helps to reduce the stove's emissions. The dimensions on this stove are 11.5 inches (height) x 10 inches (diameter).
The three-pronged cast-iron top on this stove can accommodate both flat and rounded pan bottoms. The silicone grips on the stove's stainless-steel handles are nice touches. The very sturdy, beautiful design on this unit also features a reinforced metal door frame. Overall, there's no better way to feel like a prepared chef in the wild!
Pros:
Beautiful and durable.
Very efficient.
Low-emissions cooking.
Works with both rounded and flat pans.
Cons:
On the heavy side.
Much pricier than smaller camping wood stoves.
5. Solo Stove Titan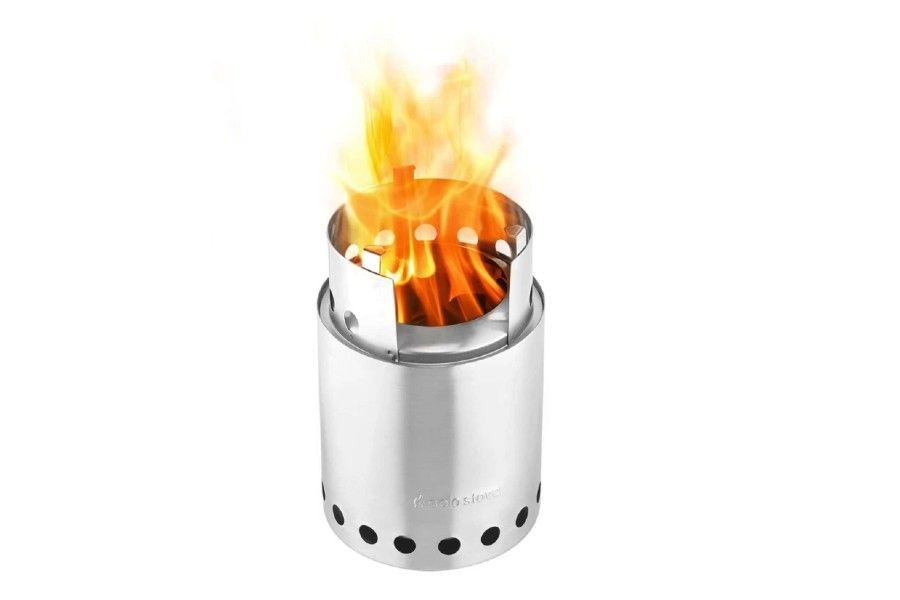 The Solo Stove Titan is a rock star among camping stoves. Yes, it has a few magazine and "celebrity" endorsements. However, hype alone isn't what has made this stove a big hit in the camping world. A lightweight steel body weighing just 16.5 ounces that delivers eco-friendly performance is what really makes this stove a sensation. In addition to wood, this stove can run on pinecones, twigs or biomass.
Right off the bat, this camping stove dazzles with its ultra-quick boil time. Expect your water done in five minutes once the stove is up and running. You can easily whip up meals for four on an overnight trip with this stove. When you use this stove for the first time, be prepared to be enamored with its dual-burner design that burns the wood on one level before preheated oxygen fuels your flame. This stove allows you to enjoy very safe, clean cooking out in the wild.
Pros:
Eco-friendly cooking function.
Boils very fast.
Easy to use.
Corrosion-resistant design.
Versatile burn options.
Very durable.
Cons:
6. Unigear Wood Burning Backpacking Stove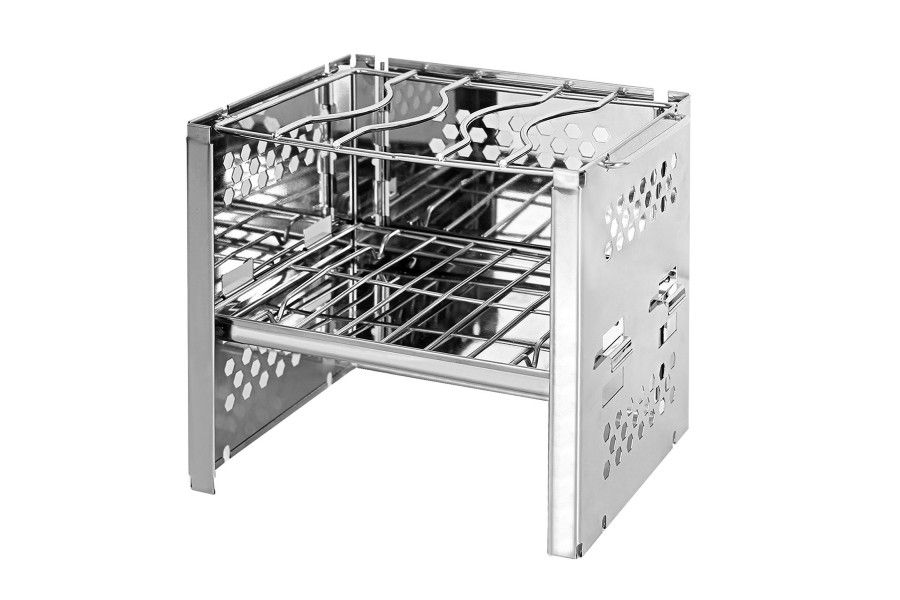 This Unigear camp stove allows you to commit to a camping stove without necessarily committing to one style of cooking. This multifunction stove can work with essentially any kind of pot. It can be counted on to cook full meals or boil water consistently and flawlessly. The sturdy top grate even makes it easy to grill up a few pieces of meat pretty nicely. In addition to being a wood stove, this unit can run on coal, gas, fuel tabs or a spirit burner. If you're in survival mode, it will even get some juice from leaves.
Made of durable stainless steel, this stove can make the trek to your campsite with you. Weighing just 1.5 pounds, it folds nicely for easy portability. The design does a great job of accommodating larger pieces of wood that many smaller foldable camping wood stoves simply can't handle.
Pros:
Works for nearly all pots.
Can be used for a number of different burn style.
Reasonable price.
Pots seem to rest pretty sturdily on the grate.
Cons:
Not the sturdiest base.
It would be nice if the ash tray could be deeper.
7. G2 Firebox Stove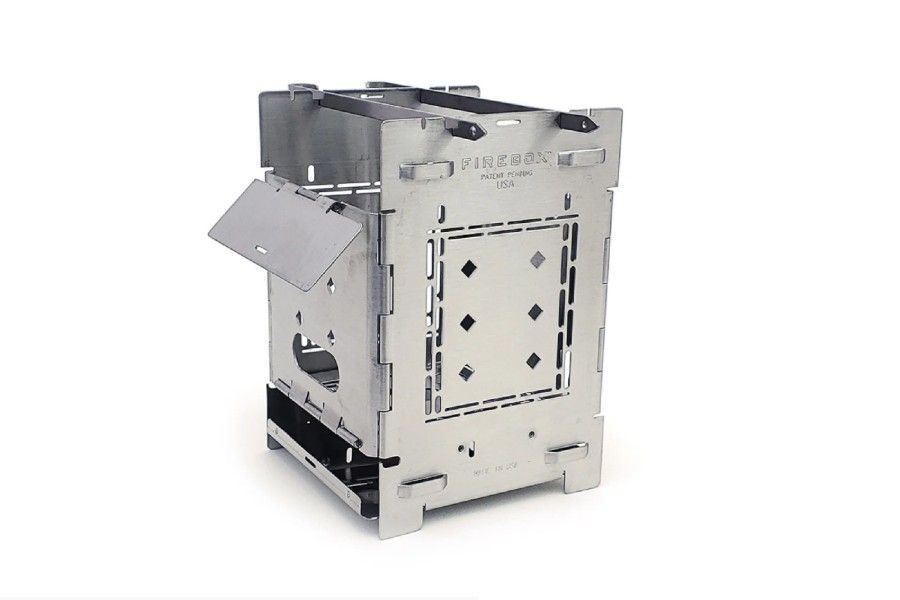 Made in the USA, the G2 Firebox gives you three different ways to burn your wood. You can choose side, top or the Swedish fire-torch method. This is a no-assembly folding stove that doesn't require you to keep track of a ton of parts. What's remarkable about this box stove is the way it allows for constant pan-to-flame contact. It also has lightning-fast boiling times. You can get up to two cups of water at boiling temperature in under three minutes. Weighing 33.3 ounces, this oven has dimensions of 5 inches (width) x 7.5 inches (height).
Featuring a flawless stainless-steel construction, the G2 Firebox is an extremely sturdy oven. In fact, the shape and stability of this unit allow for you to cook up camp meals using a Dutch oven without a care in the world. The G2 Firebox actually offers a robust array of burn options even though it's a superstar among wood camping stoves. The list of seemingly limitless options includes gas burner, alcohol burner, gels, Sterno cans, pellets, charcoal and fuel tabs.
Pros:
You won't lose parts because everything is hinged together.
Price is great.
Fast heat.
Very sturdy and durable.
Cons:
There's a little bit of a learning curve with the different burn styles.
8. TITANIUM G2 5″ Firebox Stove
If you can't get behind the G2 Firebox because the size feels too prohibitive, it's time to meet the TITANIUM G2 5″. Consider this the older, more capable sibling of the G2. The advantage of going with titanium is that you're getting the same size as comparable steel models at about half the weight. You're also getting much higher resistance to corrosion. This model also cooks much faster than stainless-steel models.
Weighing 17.5 ounces when put together, the TITANIUM G2 5″ has dimensions of 5 inches (width) x 7.5 inches (height). This stove is made in the USA. Its ultra-deep burn chamber helps it to keep consistent, even burns going. While it's famed for being a top wood stove, it's actually a multi-fuel unit that works with fuel tabs, charcoal, alcohol burners, gas burners, gel fuels and wood pellets.
Pros:
Beautiful, large stove with long burning.
Titanium makes this a very lightweight stove for the size.
Resistant to the elements.
Hinged construction means no assembly or missing parts.
Cons:
9. nCamp Multi-Fuel Camping Stove: Wood and Gas
Designed primarily to be used with wood, this is actually a multi-fuel stove that can also be used with solid and liquid fuels. While the size of this stove is impressive when opened to full capacity, it's a collapsible stove designed to strap right to your pack if necessary. Its delicate design is perfect for truly "living off the land" at your campsite by using twigs to heat up your meals.
Weighing 1.8 pounds, this stove has dimensions of 1.5 inches (height) x 6.5 inches (length) x 9 inches (width) when packed. This stove is made from both stainless steel and aluminum. If you're looking for slightly more room for pots, you can upgrade to the 34-ounce nCamp Stove Plus.
Pros:
Very decent performance.
Heats up quickly.
Room for larger pots.
Cons:
Not the best performance in windy conditions.
Cooking performance is a little smoky.
Burn chamber has to be refilled from the top during cooking.
Check out more related articles