When you're out there in the wild, a waterproof hiking bag is really your lifeline. A good backpack that shields your gear against moisture is also important when you're taking lighter journeys with mixed terrain and moisture conditions. That's why it's so necessary to do research on the best water-resistant backpack that can fit what you need. To give you a well-rounded picture of what's out there, I'm dividing up my top picks for the best waterproof backpack designs out there between overnight packs and day packs. Take a look at the best waterproof backpacks for all trips.
*Disclosure: I only recommend products that I would use myself. This post may contain affiliate links that may earn me a small commission at no additional cost to you. Read the full advertising policy here.*
4 Great Waterproof Backpacking Backpacks
1. Earth Pak Summit Dry Bag Backpack (55 Liter)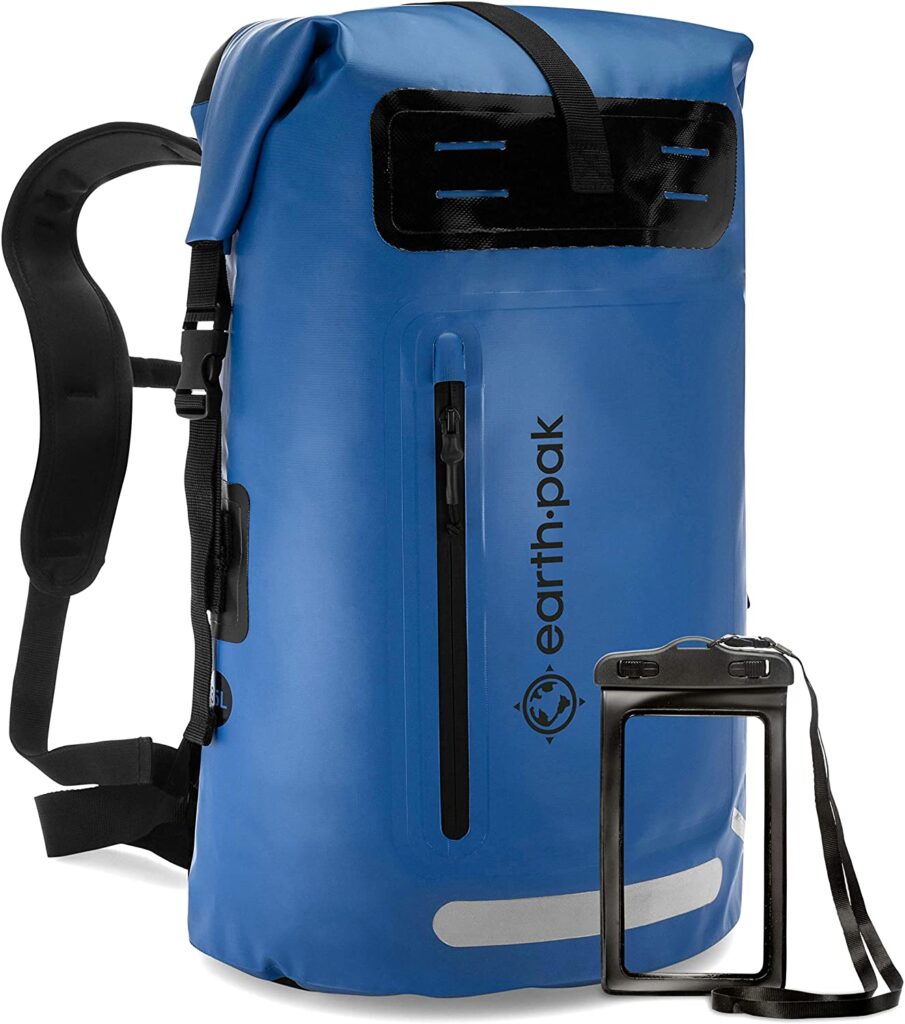 Weight: 2.51 pounds/1.14 kg
Main dimensions: 21.26 x 16.73 x 1.57 inches/54 x 42.5 x 4 cm
Built for comfort using a PVC body exterior, this waterproof pack impresses with its ergonomic configuration and storage capabilities. First, you'll notice the really smart roll-top closure feature that helps to keep water out of your pack. You should be fine as long as you take the time to roll the bag down three or four times before buckling everything together. I also like the pocket configuration on this pack because it offers a nice mix of interior and interior pockets to balance out security with "quick grab" options. A look at the highlights:
Holds enough supplies for trips lasting up to 2.5 weeks.
The reflectors on the exterior of this pack provide a nice touch for safety without the need to add weight by attaching your own!
100D PVC MOLLE looping system for easy latching.
2. Seenlast Waterproof Hiking Backpack (50 Liter)
Weight: 2.6 pounds/1.18 kg
Main dimensions: 25.6 x 13.8 x 9.8 inches/65 x 35 x 24.9 cm
Designed for trips lasting three to five days, this is the best waterproof backpack for hiking if you value pockets and storage. This pack really earns points from me when it comes to its adjustable compression straps that add a good amount of security. What makes the biggest impression is the way that all of your equipment stays in place as you manage on unsteady terrain. The highlights:
This pack is exceedingly comfortable on the back. It also has an adaptable design that fits to your back and hips to prevent strain and discomfort while trekking.
The back-ventilation system is great for keeping your whole situation dry as you hike through drizzle or sweaty conditions!
In addition to a tear-resistant, water-repellent coating, you're also getting an add-on waterproof cover for added protection.
3. Out Life Lightweight Hiking Backpack (60 Liter)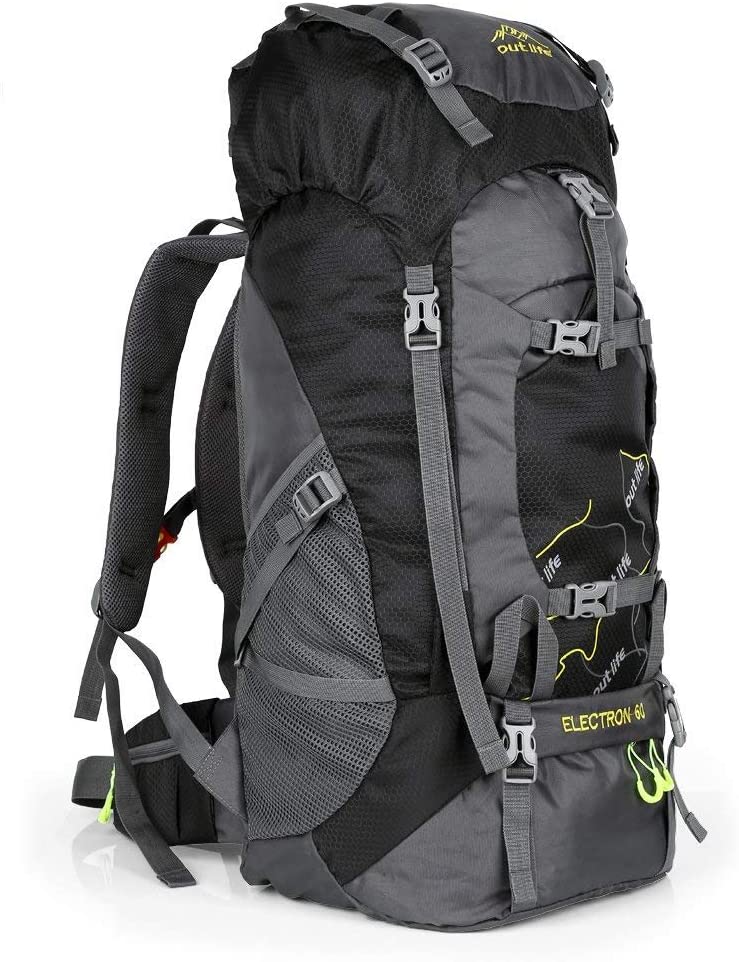 Weight: 2.2 pounds/1 kg
Main dimensions: 29.53 x 13.78 x 9.84 inches/75 x 35 x 25 cm
What makes this the best water-resistant backpack for many people is that it's so breathable while also giving you a whole world of storage options to work with. First, there's a large main pocket that serves as the main holding space. Next, you'll find a system of compartments made up of five strategically placed pockets. The pack can be adjusted to fit a person's dimensions using an adjustable strap. That means you can get more bang for your buck if you're looking for a pack that you can share with another person. I think I counted about 20 various belts, buckles and fasteners on this pack when admiring the sturdy and stable fit it delivers once you're all loaded up and ready to go. The highlights:
Highly adjustable.
Made with top-tier nylon and water-resistant fabrics for strength and comfort.
A double-layer piece at the bottom makes it easy to bulk up your load without necessarily feeling it.
The configuration is compatible with the way most backpackers intuitively pack for multi-day journeys.
4. Esup Hiking & Mountaineering Backpack (50 Liter)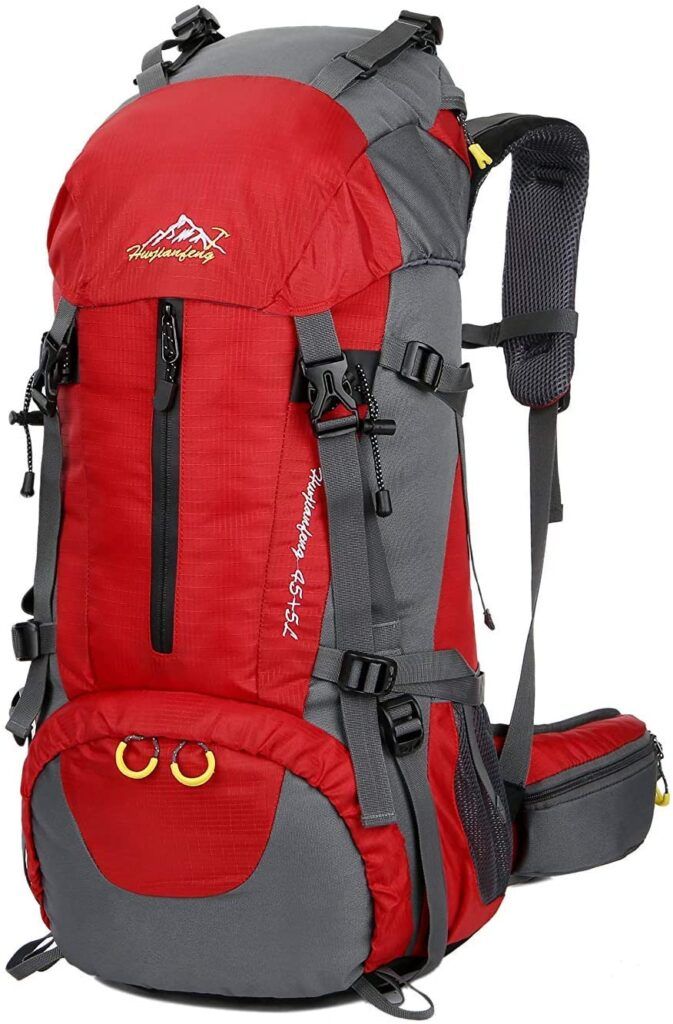 Weight: 2.6 pounds/1.18 kg
Main dimensions: 29.53 x 13.78 x 9.84 inches/75 x 35 x 25 cm
Slipping this pack on your shoulders might be all it takes to see why it's a contender for being the best waterproof backpack for hiking. When looking at the bag, you'll notice those signature S-style shoulder straps that do a great job of distributing the burden on your back and shoulders. Also sure to be appreciated by you once you get out on the trail are this pack's mesh shoulder straps designed with specialized sponge padding and lumbar pad. This pack does a great job of providing pockets that conceal your delicate items nicely while also ensuring accessibility. Ultimately, both the comfort and capacity of this pack should be suitable for trips lasting two to three days. The highlights:
Made using top-tier polyester with nylon fabric to deliver tear and scratch resistance. This pack does an exceptional job of keeping things dry when you're exposed.
Both the fit and breathability level of this pack help to reduce tension on your shoulders and back.
3 Great Waterproof Hiking Backpacks
5. Vitchelo Waterproof Dry Bag Backpack (30 Liter)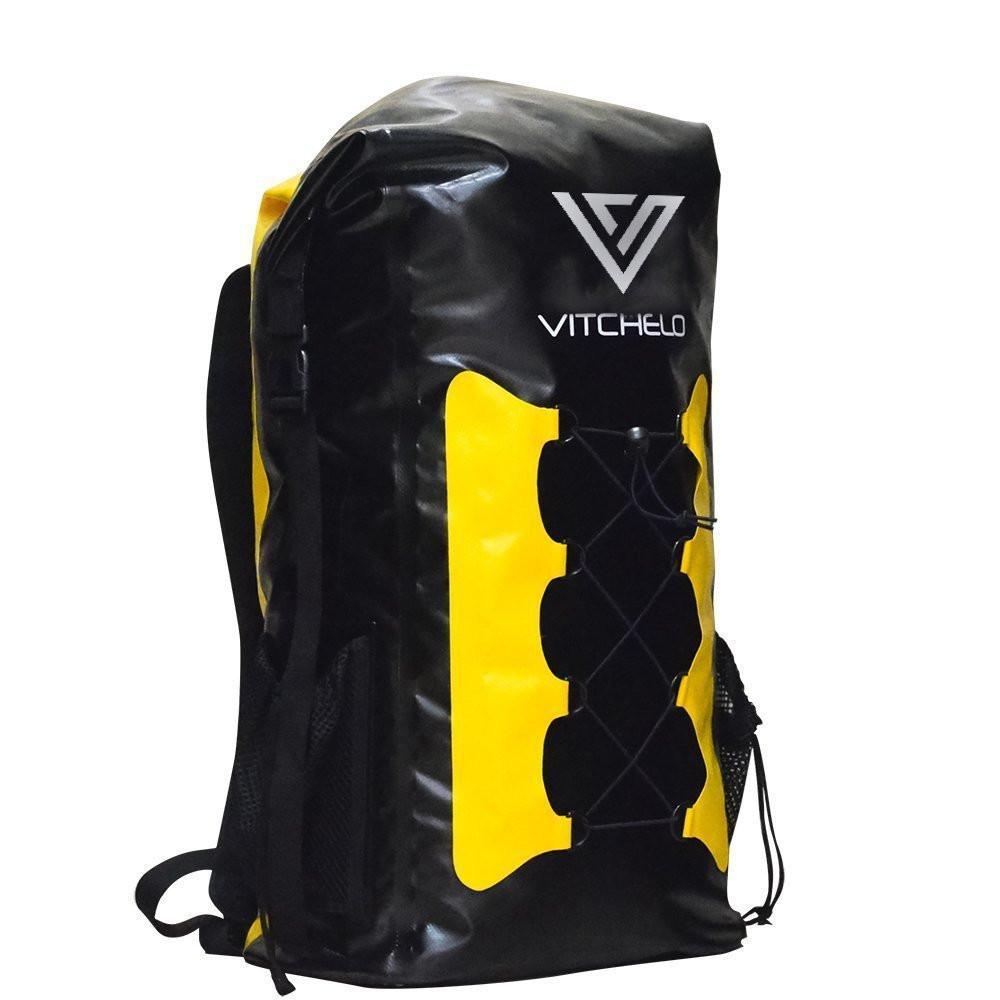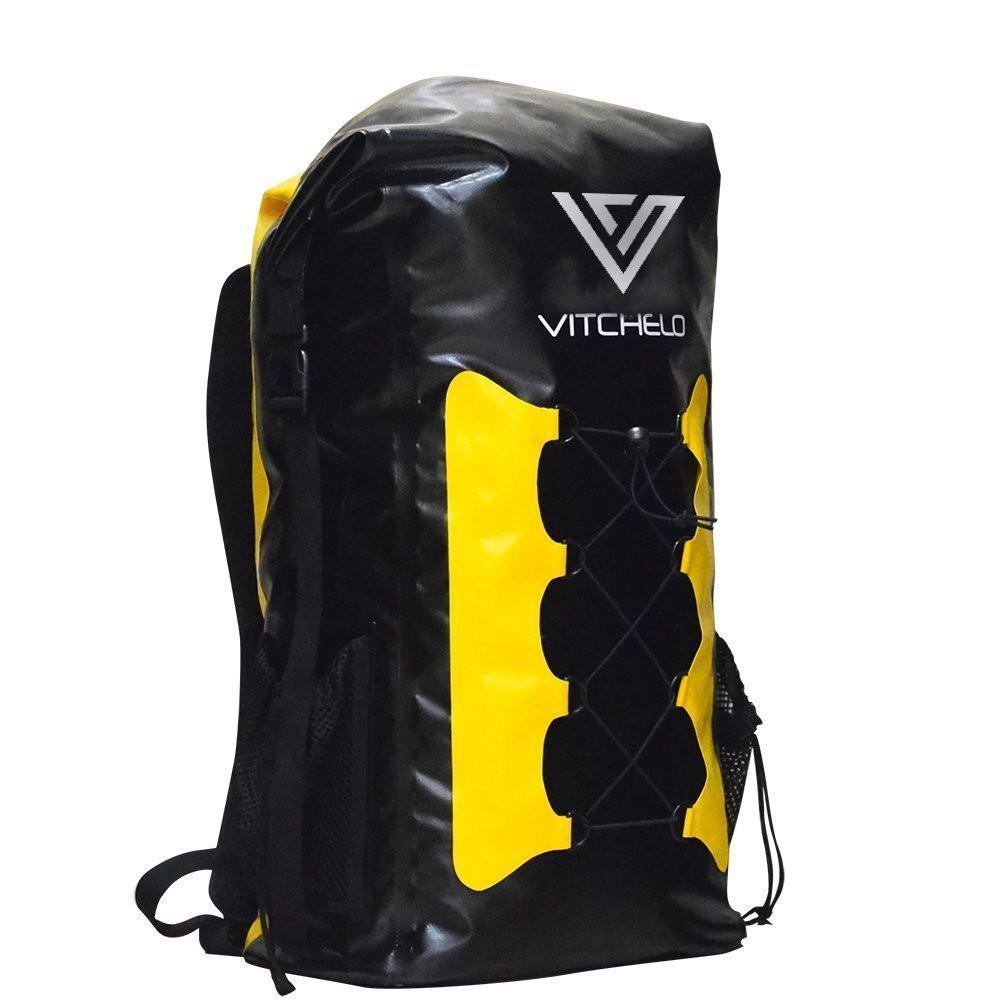 Weight: 2.05 pounds/0.93 kg
Main dimensions: 26.77 x 12.6 x 7.08 inches/68 x 32 x 18 cm
Vitchelo markets this pack as its best water-resistant backpack for kayaking, boating and water sports. I find that its lightweight design and ergonomic fit make it a top pick for any sort of hike or excursion that's going to bring you near water. This is a really attractive and versatile pack that offers a lot of peace of mind regarding moisture control. When you look it over, you'll notice how sturdy the suturing and welding at the seams are just to the naked eye.
I really like the way that a pack that feels so compact and streamlined on your back does such a great job of making room for essentials. For instance, the front webbing with mesh pockets creates intuitive storage space that's easy to get to without pulling your packing job apart. On the comfort front, I'm a big fan of the one-handed strap that you can switch to when you want to give your shoulders a break from the weight. However, you shouldn't expect to need all that much relief because the breathable straps and padded back area on this pack keep you feeling balance and ventilated. When you're in a slippery space, you'll notice the way the chest and shoulder straps on this pack let you relax a little more without putting all of your concentration on keeping your gear balanced. The highlights:
Once you activate the roll-top closure design on this pack, you're creating a watertight seal that's going to be the boundary that keeps all of your stuff dry even when you're not. I
Protects from dirt, dust and water.
Beautiful, secure welding.
6. Ortlieb Velocity Backpack (23 Liter)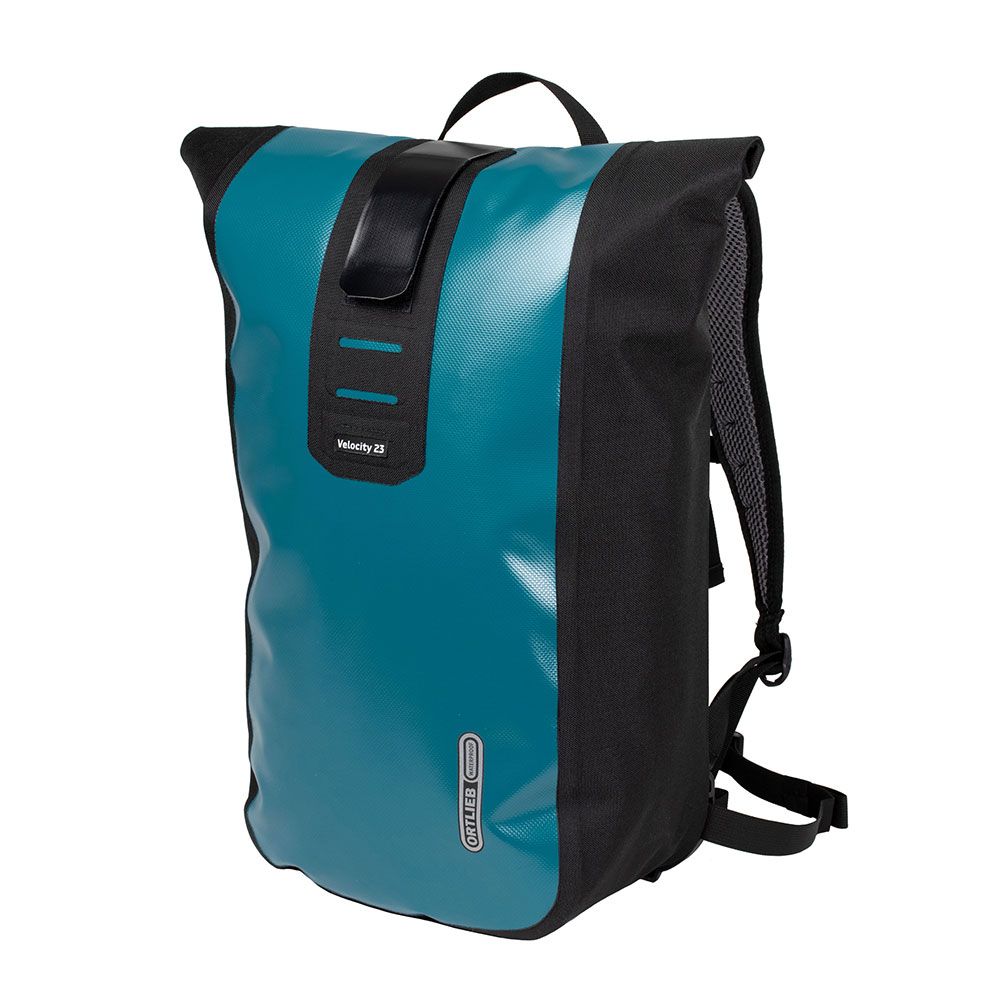 Weight: 2.3 pounds/1.04 kg
Main dimensions: 18.5 x 11 x 5.9 inches/45.8 x 27.9 x 15 cm
When it comes to a lightweight waterproof backpack that performs, I really like this design. The modern aesthetic of this pack makes it a nice trails-to-city option. Once you've packed in your day load, you simply roll the top and secure the Velcro fastener to enjoy waterproof protection without much brainpower needed. It's obvious that this pack is constructed with quality from the first touch. The highlights:
The rear foam padding does a great job of making the weight of this pack virtually "disappear" on your shoulders.
Little touches like a detachable waist belt and removable inside pocket make you feel like you can configure this pack for specific adventures on foot or bike.
Ultimately, you're giving up capacity for a lightweight, versatile pack that tends to provide "just enough room" for the essentials without creating a cumbersome experience.
7. Skog Å Kust BackSåk Waterproof Floating Backpack (25 Liter)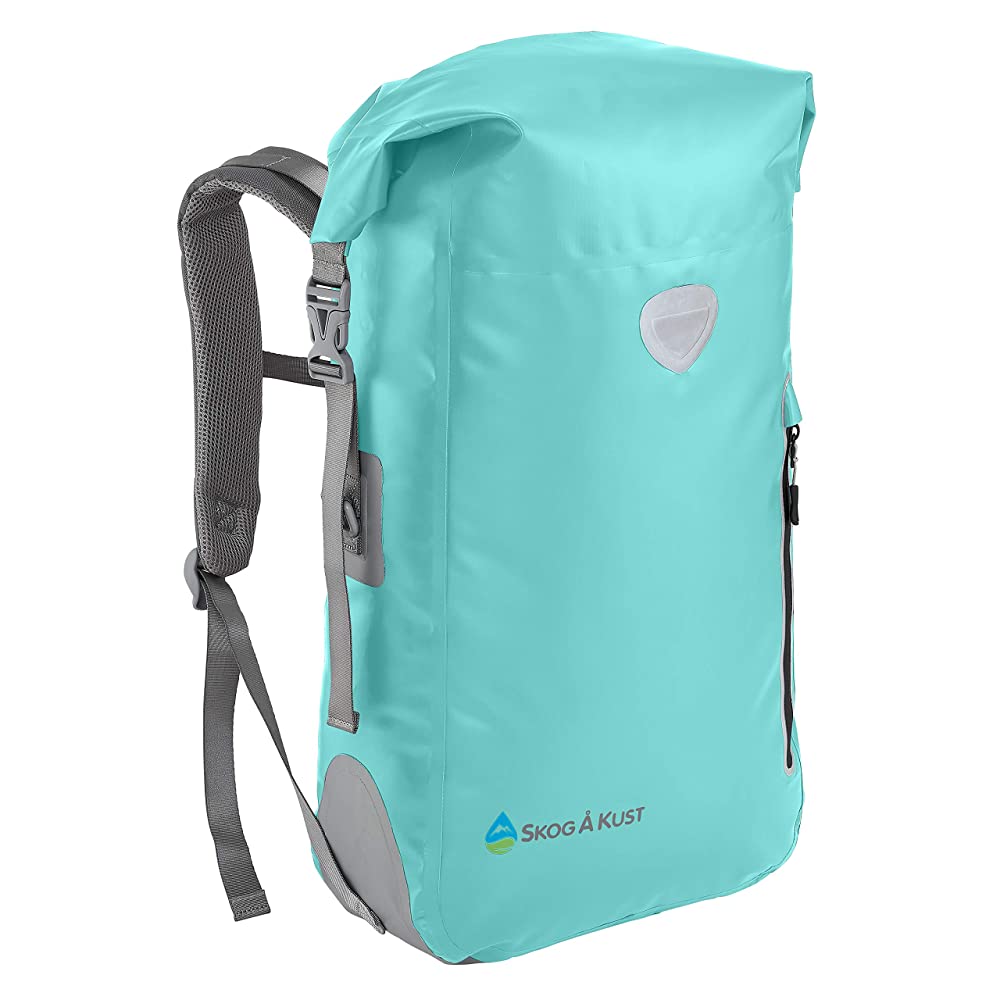 Weight: 2.3 pounds/1.04 kg
Main dimensions: 6 x 11.5 x 16 inches/15.2 x 29.2 x 40.6 cm
Made with 500-denier PVC, this waterproof backpacking backpack delivers a watertight seal. It uses a roll-down top with a welded-seam design to ensure dryness in wet conditions. While sleek, this pack offers a spacious interior that can fit both soft and hard gear quite easily. On the comfort front, this pack goes easy on your muscles with help from padded back support and very plush, cushioned adjustable straps. The highlights:
Ultra-sleek zippered pockets.
Streamlined without garnish or "frills."
D-rings at the sides for holding gear.
Splash-proof outer pocket for keys or identification.
Final Thoughts on Shopping for a Good Waterproof Hiking Backpack
As you can see, a waterproof hiking bag can vary wildly regarding everything from aesthetics to carrying capacity as you shop between brands. That's good news for you because it means that you can find great options for both intensive journeys and day trips that take you on trails, roads and waterways! What you're really focusing on when searching for a perfect waterproof backpacking backpack or waterproof hiking bag is longevity. My advice is that idealizing a bag's "frills" too much can lead you into dangerous territory because it will distract you from the formula of capacity and comfort that really determines whether a bag is sustainable for your needs.
Check out more related articles