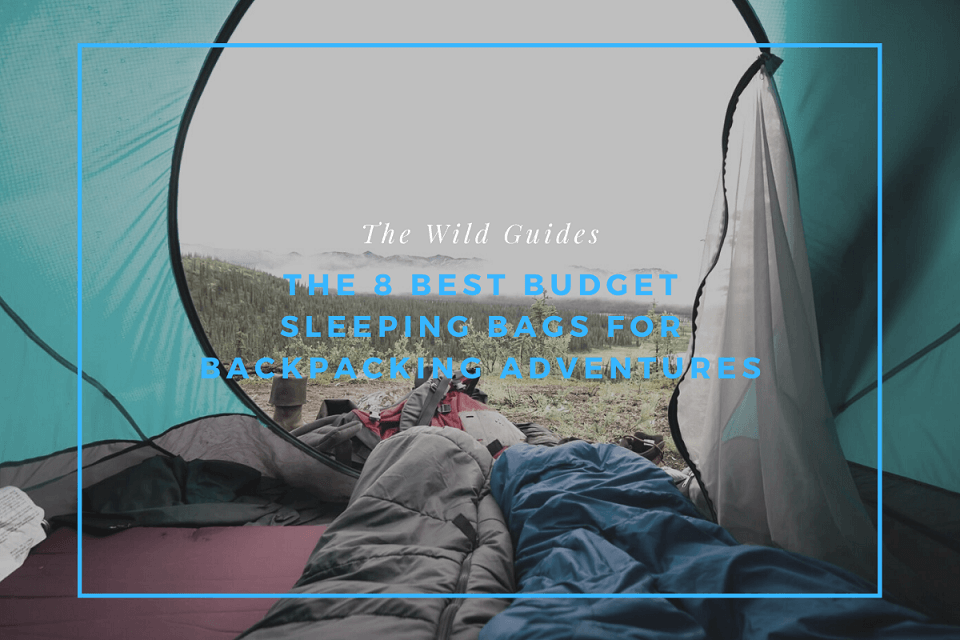 If you crave sleeping under the stars, you already know that you're not in it simply to save money on a hotel room. An overnight backpacking excursion is a priceless experience that merges the ground, the sky and your soul in something that's better than a dream! However, all that priceless gratification doesn't mean you want to spend a ton on a sleeping bag.
My experience has shown me that budget sleeping bags perform nicely on overnight trips. That's why I want to focus specifically on how to find the best cheap sleeping bag this time around. Included in my list of affordable sleeping bags are lightweight, ultra-portable styles that perform. Let's dig into my picks for the best affordable sleeping bag.
Quick Navigation
*Disclosure: I only recommend products that I would use myself. This post may contain affiliate links that may earn me a small commission at no additional cost to you. Read the full advertising policy here.*
List of Best Cheap Sleeping Bags for Backpacking
1. NEMO Kyan 35 Men's Sleeping Bag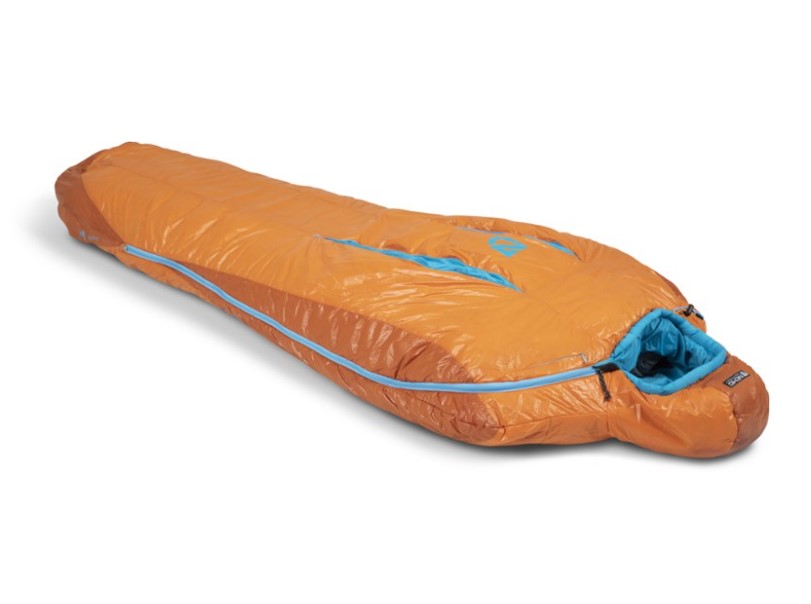 Temperature Rating: 35 F/1.6 C
Dimensions 72 inches (length), 61 inches (shoulders), 55 inches (hips)
Weight: 1.12 lb/508 g
Shape: Mummy
In terms of price, this sleeping bag just makes the cut as a contender for the best sleeping bag under 200. This is a very warm bag with tons of ventilation that's achieved through what look and feel like some very high-tech features. First, this bag is actually designed with a proprietary FeatherCore™ construction that improves heat retention by suppressing airflow. However, that's balanced by Thermo Gills™ that do a good job of venting while keeping drafts out. On the comfort front, this bag is really soft to the touch with help from a body made of ripstop nylon. It's easy to get in and out using the bag's full-length zipper. My favourite part of this sleeping bag is the hoodie-style crown for added warmth. Here's a look at the highlights:
Thermal-efficient shape bolsters the effectiveness of the high-tech materials used.
Water repellent (DWR) finish.
Good at repelling stains.
Snag-free zipper.
Great compression for packing.
2. Snugpak Jungle Bag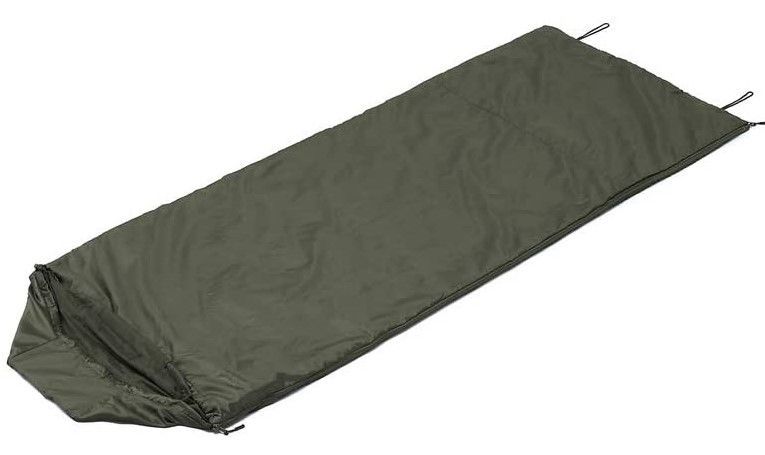 Temperature Rating: 45 F/7.2 C
Dimensions: 86 inches x 31 inches
Weight: 2 pounds
Shape: Rectangle
This is a really interesting, feature-rich bag to consider if you'll be camping in a warmer location. First, it uses a pretty lightweight insulation method to keep things comfortable when you're in a humid climate. This bag also has water-repellent properties that help to keep your body dry in a drizzle. The exterior on this bag is given an antibacterial treatment that maintains a "fresh" environment for you when conditions around you get a bit dank. Also impressive is this bag's rollaway mosquito-net face covering that prevents you from getting chomped on while you sleep. This net does a great job of letting you breathe while alleviating some of the fears of large bugs, vermin or snakes disturbing you. Here's a look at the highlights on this ultralight cheap sleeping bag that will keep you way under budget:
Opens fully to be a quilt.
Adjustable hood.
Antibacterial coating.
Rollaway net for insect protection.
Water-repellent properties.
3. TETON Sports Trailhead +20F Ultralight Mummy Bag
Temperature Rating: 20 degrees Fahrenheit/-6 degrees Celsius
Dimensions: 87 inches (length) x 32 inches (shoulders) x 22 inches (at the feet)
Weight: 2.9 lb/1,315 g
Shape: Mummy
Marketed as a three-season budget sleeping bag, this design really excels at keeping things toasty and packed in on cooler nights. I like the way the bag feels substantial, maintains its shape and creates a true feeling of insulation from the outside world. TETON decided to go with something called PolarLite Micro insulation on this bag to seal-in consistent warmth in both wet and dry conditions. I also like the full-length anti-snag zipper and cinched hood for locking warmth. This is a bag where the little details are really noticed when you're out there in the elements. For instance, this bag has a toe box that's roomier than usual. Its soft lining is also much appreciated. Here's a look at the highlights:
Water-resistant ripstop shell.
Hanging loops for quick drying.
Roomy configuration.
Great insulation.
Soft lining
Drawstring, cinched hood.
4. Marmot Trestles 30° Sleeping Bag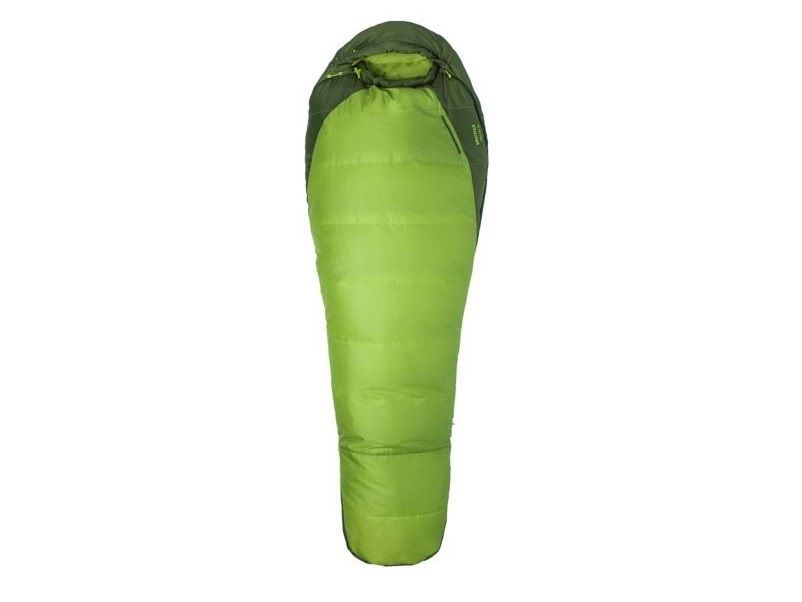 Temperature Rating: 30 F/-1.1 C
Dimensions: 82 inches (length), 62 inches (shoulder), 57 inches (hip)
Weight 3.1 lb/1,406 g
Shape: Mummy
This Marmot model takes the cake when it comes to the best affordable sleeping bag with a beautiful construction. You'll tell right away that a lot of thought has been put into creating a comfortable, full-night sleeping experience here. Even features like a fold-down second zipper and main anti-snag slider make getting in and out so easy. I like the way the layer configuration on this bag balances its sturdiness with appropriate ventilation. Once you're in, the bag's anatomically designed footbox really stands out for the way it keeps your feet warm and comfortable. Marmot uses something called Spirafil High Loft Insulation to make this bag both rugged and warm. There's also a nice balance created by a Combination Wave Construction Top and Blanket Construction Bottom that brings a little bit of a cloud effect. A look at the highlights:
Fold-down second zipper allows for custom ventilation.
Spirafil High Loft Insulation takes the cake for being toasty!
Anatomically shaped footbox creates nice wiggle room.
Comfortable hood.
Stash pocket.
Two hanging loops.
Innovative full-length two-way zipper.
5. Mountain Warehouse Basecamp 250 Sleeping Bag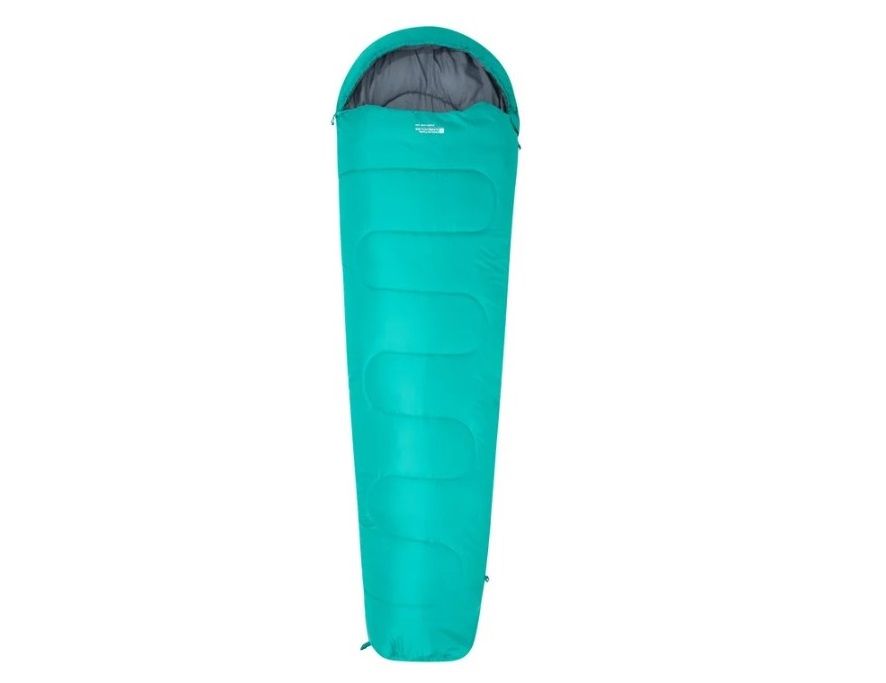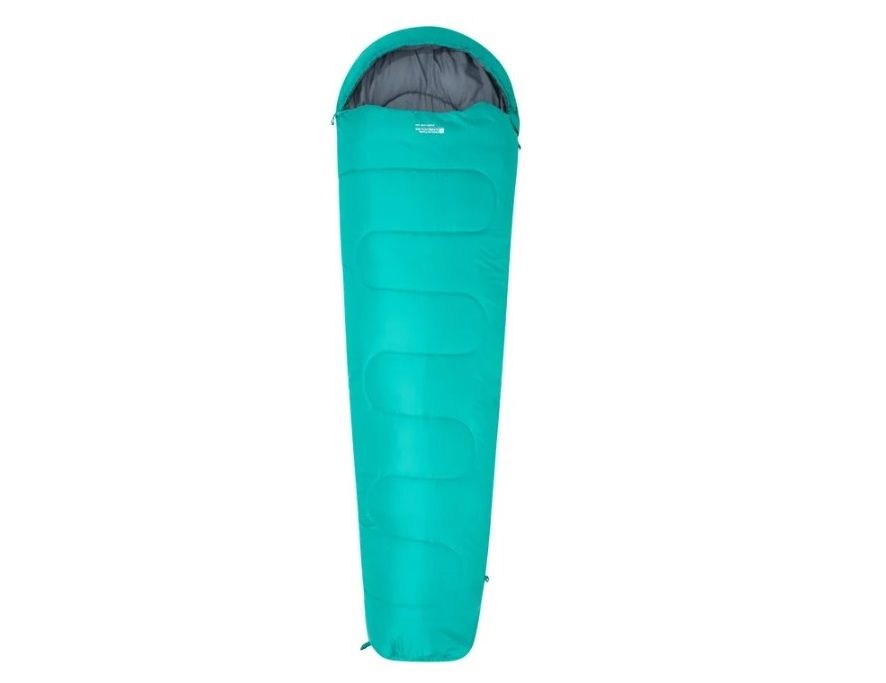 Temperature Rating: 41 F/5 C
Packed Dimensions: 8.6 inches x 17.3 inches
Weight: 2.2 lb/998 g
Shape: Mummy
I'll call this the best value budget sleeping bag if you're simply interested in no-frills, cheap sleeping bags that provide a cosy place to sleep in very mild conditions. I think this can be a great bag to just scoop up quickly if you're looking for something for an overnight camping trip with friends. This bag is insulated with hollow-fibre stuffing that does a good job of keeping you warm without creating a feeling of suffocation. While I'll stress that this is not a luxury sleeping bag by any means, it might be just enough for someone who is only going to be camping a few times in very hospitable conditions. The highlights:
Hollow-fibre stuffing does a decent job of insulating this bag.
A perfect lightweight option for summer nights.
Not the easiest bag for crawling in.
An economical price makes up for what's lacking.
6. Coleman North Rim 0 Degree Sleeping Bag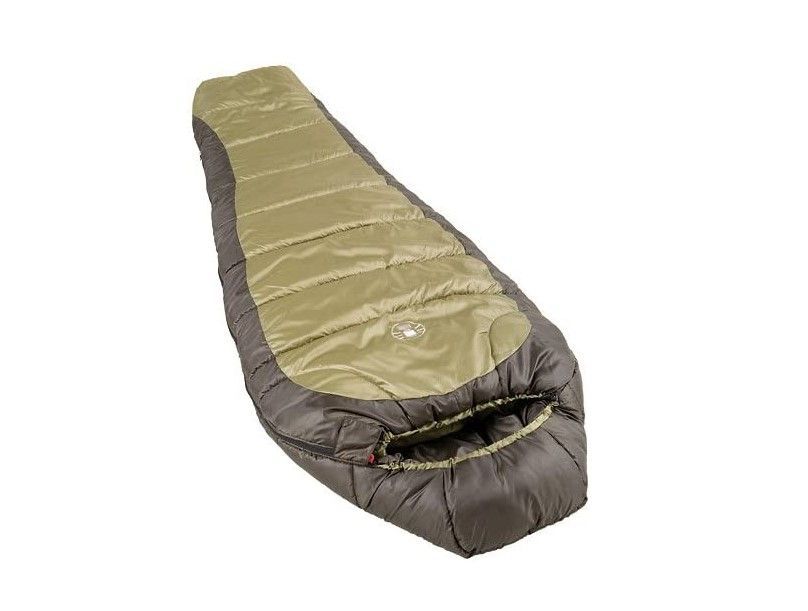 Temperature Rating: 10 F/-12.2 C
Dimensions: 17.1 inches x 12.35 inches x 12 inches
Weight: 5.8 lb/2,630 g
Shape: Mummy
This one is my top pick for a budget backpacking sleeping bag because it offers one of the better temperature ratings. While it's designed for sleepers over 6 feet tall, it also serves as a nice option if you simply want roominess. This bag has a nice quilting construction that features an insulated footbox and Thermolock draft tube. You'll find that it does a good job of retaining heat. If you need extra ventilation, the bottom easily unzips to air things out. I also noticed that the zipper system on this bag does a good job of preventing snagging. Overall, my impression is that this bag feels like it should cost more than it does. The highlights:
Quilting design is very warm and comfortable.
Optional ventilation.
Offers better temperature ratings than many comparable options.
Semi-sculpted hood does a nice job of keeping in heat via a drawstring.
Polyester ripstop cover with polyester lining.
7. SoulOut 4 Seasons Sleeping Bag
Temperature Rating: 32 F/0 C
Dimensions: 33 inches x 86.6 inches
Weight: 4 lb/1,814 g
Shape: Rectangular
One of the heavier cheap ultralight budget sleeping bags on the list, this model is the rare four-season bag that doesn't cost a fortune. It's made from lightweight polyester that earns points from me right off the bat just based on how easy it is to clean. This bag is also designed with a special "roll control" feature that makes it unusually easy to pack away. Overall, this is a very roomy and warm bag for the price that offers terrific performance. It even features a double-layer waterproof technology to preserve warmth in wet conditions. Let's run through the highlights:
One of the only bags in this price range suitable for near-freezing conditions.
Very comfortable and roomy.
Easy to pack.
You're taking on a little extra bulk in exchange for better temperature performance.
8. Kelty Cosmic 40 Sleeping Bag
Temperature Rating: 37 F/2.7 C
Dimensions: 72 inches (length), 62 inches (shoulder), 58 inches (hip)
Weight. 1.9 lb/862 g
Style: Mummy
I've tried to stick with some ultra-cheap sleeping bags on my list so far. However, I'll end things with a bag that's a little higher on the price scale while still managing to stay way under the $200 mark. I think this Kelty bag is worth "splurging" on a little just based on its really beautiful construction. With this bag, you're getting top-tier water resistance by way of 600-fill-power DriDown and durable water repellent (DWR) treatment. This bag also boasts a 20-denier nylon taffeta shell that does a good job of merging durability and softness. I also like the peace of mind given by this bag's dual-sliding, lockable zipper with anti-snag features. The same goes for the ultra-comfortable hood and draft collar that combine to make you feel like you have your own personal "roof" over your head. Overall, this is a small, light bag that doesn't make you feel like you're taking any chances. Here's your look at the highlights:
600-fill-power DriDown and durable water repellent (DWR) treatment for protection against wet conditions.
Ultra-comforting hood and collar.
50-denier polyester taffeta lining is a nice touch that almost makes you feel like you're sleeping in your own high-end sheets!
Sleeping Bag Temperatures Explained
Each sleeping bag is rated for temperature. In my reviews, I included the "tested lower limit" to give you an idea of how low you can theoretically go with each bag if you need to during an excursion. However, the lowest possible temperature isn't always the most ideal. The "tested lower limit" is also not the same as the "extreme" limit. As you shop, you'll see several temperature tiers listed for each bag. Here's a glance at what those categories mean:
Comfort: This is the ideal temperature for the bag.
Upper limit: This is the hottest temperature where the bag will still perform safely and comfortably.
Lower limit: This is the lowest temperature where the bag will still perform safely and comfortably.
Extreme: This is the lowest temperature possible where the bag can be used as a "survival" mechanism. You should not purchase a bag with the intention of ever relying on the bag to sustain you in this temperature.
Sleeping Bag Materials Explained
You're looking at down versus synthetic when it comes to sleeping bag materials. Feather-derived down insulates by trapping air in your bag while maintaining a very light, compressible design. You'll find that down is ideal when you're going to be sleeping in a cold, dry environment. Down bags are typically lighter and more comfortable than synthetic. However, the big downside to down is that it doesn't perform terrifically in wet conditions. The big benefit of synthetic sleeping bags is that they often offer superior water resistance when compared to down. However, they tend to be slightly bulkier. It is possible to find down-synthetic hybrids that do a good job of balancing out the pros and cons. Keep in mind that down is often substantially more expensive than synthetic.
Sleeping Bag Shape Differences
You've probably noticed by now that all of the affordable sleeping bags on my list come in one of two shapes. When shopping for your own best budget sleeping bag, you'll have to decide if you prefer a mummy bag or a rectangular bag. The decision is one of personal preference. However, you'll notice that outfitters are increasingly moving toward the mummy shape. I personally like a mummy shape for the way it contours to the body to lock in heat. This design is especially good at keeping the foot area toasty because all of the heat sort of funnels down to the bottom of the bag. However, some people like the freedom for movement offered by the more traditional rectangular design.
Check out more related articles