Unlike the southern side of the state, North California is pretty green. It has lakes, forests, and beaches, which make for good camping experiences. Since California is a tourist haven, peace doesn't seem possible. However, we have found some interesting sites for you to explore in North California.
The best Northern California RV camping resorts are comfortable, and the hosts do everything they can to make your stay memorable.
So here's the list of the best Northern California RV camgrounds:
1. Angel's Camp RV Resort
Located in Angels Camp, Angel's Camp RV Resort is one of the best places you can choose to camp. It's located in an area close to tourist attractions, so you'll get to explore many places.
The attractions include caverns, Bear Valley ski resort, Yosemite National Park, and Big Trees State Park. If you feel like golfing, you can visit the golf course nearby.
They have pull-through RV sites. You get full hookups that include water, sewer, and electricity. They also have a dog park, pool, fire pit, volleyball court, playground, kitchen pavilion, and much more. The scenery is fantastic and promises to be an excellent visit for you.
2. Olema Campground
You'll find the Olema Campground north of San Francisco. The campground has been welcoming visitors since 1969. Since the park is near the Point Reyes National Seashore, you will have access to plenty of outdoor activities. These include bird watching, kayaking, hiking, and fun at the beach.
The park offers free Wi-Fi, full hookup sites, showers, bathrooms, fire rings, a dump station, a laundromat, and more. The RV sites are pretty spacious, plus the area is quiet.
3. Agate Campground
The site is in Patrick's Point State Park. However, the park was later renamed to Sue-Meg State Park. The state park is next to the Pacific Ocean, so you get a beach and a park in one place.
You can visit Agate Beach by walking to the park's perimeter. However, it is discouraged to swim there because the water is dangerous. Plus, they allow dogs on a leash, but you can't take them to the beach or hiking trails. You can enjoy scuba diving and surfing in the area. 
4. River Reflections RV Park & Campground
The campground is spread out on 16 acres next to the Feather River. Not only is the park beautiful, but it has everything you could need. They have RV hookups, fabulous lodges, Wi-Fi, water, sewers, and electricity.
While you're there, you can fish for salmon, steelhead, and trout. Near the park, there is a wildlife shelter where you can enjoy bird watching and hunting. You can also visit Lake Oroville, the best fishing spot in California. If you're not in the mood for fishing, you can hike or bike around to explore the dazzling scenery.
The park is close to tourist attractions like museums, botanical gardens, golf courses, casinos, theaters, and cinemas. With all that to explore, you won't have a dull moment during your trip.
5. Fowler's Campground
Another riverside camping site, the Fowler's Campground, is located near McCloud on the Upper McCloud River. The camp is popular because of the McCloud River waterfalls.
If you want to see these waterfalls, you'll have to hike via a riverside trail. However, if you're not much of a hiker, you can drive up to them via the McCloud River Loop. You're free to fish or swim in this river.
Amenities include vault toilets, picnic tables, fire rings, food lockers, and more. Trailers and mid-sized RVs should have no trouble accessing the site. Moreover, leashed pets are allowed on site. 
6. Mystic Forest RV Park
Tom and Carolyn Atlas are the private owners of Mystic Forest RV Park. The park is situated five miles from Klamath. The site is close to two beaches and a redwood state park. One of these beaches, Hidden Beach, is pretty secluded. You can only get there via a hike, making it a relaxing site.
The camp offers complete RV hookups, water, sewer, cable TV, and electricity. There is also a gift shop, grocery shop, rec room, laundry, and hot showers. The hosts are very accommodating and do their best to ensure your stay is comfortable.
7. Santa Cruz Redwoods RV Resort
The resort is on the San Lorenzo river, near the Henry Cowell State Park. The park is scenic, and there is much to do here. There are three beaches in Santa Cruz and five more in nearby locations. There are seven biking trails and four waterfalls.
In addition to those, you can engage in rock climbing, golfing, or visit the Monterey Bay Aquarium. The site can accommodate guest RVs easily with hookup sites, pull-through sites, and big rig sites. There's also a clubhouse, free Wi-Fi, laundry, restrooms, cable TV, and more.
Frequently Asked Questions (FAQ)
1. Do all RV campgrounds in California offer utilities?
Not all sites offer an RV hookup. Some offer complete utilities like water, electricity, and sewage; others only have limited water and electricity. If you want your stay to be as comfortable as possible, choose a campground that offers utilities or at least basic services such as public bathrooms and laundry services.
2. How much do North California RV campgrounds and parks charge?
It depends on the season; most RV parks usually charge a higher price when it's peak season, or there's a high demand for space. On the other hand, it would also depend on the amenities available. Most RV parks charge around $30 to a hundred dollars.
3. Do I need to bring any special equipment for RV camping in Northern California?
While you don't necessarily need anything extra, bringing a few items can make your trip more comfortable. A portable power station is a great thing to have, especially if you're camping in a remote location. It can power your camping cooler, charge your phone, or run other small electronics.
Another item you might want to consider is a camping shower, privided your RV or camping van does not already have one.
Conclusion
Before choosing a location, look up their policies about pets, RV lengths, reservations, and cancellations. When you get to the site, respect the rules, and follow all safety protocols like avoiding the wildlife, etc. Once everything is figured out, just relax, sit back, and enjoy the best Northern California RV camping trip.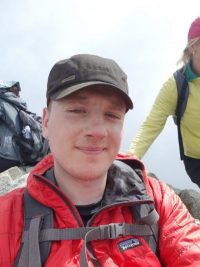 Mins Lukas Savela is a travel writer whose main focus is adventure travel. His passion for wildlife and nature has carried him to many countries in the world. He loves hiking the best trails on earth and sharing his experiences through writing. He hopes his experiences will help more people to start their own adventures and appreciate the world surrounding them a little bit more.
Mins Lukas Savela (also known as Lukas Saville) has written numerous articles that have been published on websites like Wandrly magazine, Go Nomad, Osprey.com, RAD Season, Wilderness Society, The Los Angeles Beat, California.com, Nature Conservancy, and many others.