The best portable camping showers review will tell you which shower units are the best within solar, pump, battery and propane-powered categories. It will also explain the differences between these categories and help you choose the right camping shower for your next great outdoors trip.
One thing I always lacked in my camping trips is the blissful joy of taking a shower after a long day of hiking or right after I exit my tent in the morning. The best portable shower units also allow you to wash your gear, dishes, and anything else you can't tolerate seeing riddled with dirt. Their spray coverage and rates of flow are more than enough to keep you and whatever else you care about sparkling clean.
Best of all, all camping showers you'll see below are lightweight and compact. This means they won't add too many pounds to the already heavy gear you'd be carrying on your back during your next trip outdoors. Here are ten of the best portable camping showers on the market in 2022.
*Disclosure: I only recommend products that I would use myself. This post may contain affiliate links that may earn me a small commission at no additional cost to you. Read the full advertising policy here.*
Best Portable Camping Showers
Let's look at the features of each of these portable shower units to determine why we think they're the ultimate pick for camping and other outdoor activities:
Best Solar-Powered Camping Showers for Camping
Here are the four best solar-heated camping showers in 2022:
Yakima Road Shower
Multiple features set the Yakima Road Shower apart from the competition. Start with its powder-coated aluminum tube that saves this camping shower from catching rust and corrosion. I was also impressed with the fact that it mounts on your roof rack, which means you can use it virtually anywhere.
The water pressure it delivers can compete with your typical garden hose, and as its tank empties and the pressure decreases, you can effortlessly "top up" the pressure with an air pump (similar to the one you purchased for your bike). The pump is responsible for increasing the water pressure.
It gives you two options to fill it up. You can either use a hose, but if you can't find one, just open the tank and fill it by hand, before pressurizing it with an air pump. Can't get a pump either? There's no need to worry, leave the tank open, and the water pressure will still be enough for splashing your face.
The included nozzle might be all you need for de-muddying your dog, rinsing feet, or cleaning the gear. But it can't serve as a substitute for an actual shower. For that, you may want to buy the attachable showerhead (sold separately). That's the only shortcoming I could find with this product.
Pros
Simple to use
Delivers high pressure
Impressive 4 gal capacity
One-year warranty
Cons
Requires a roof rack
Pressure decreases as it empties
Attachable shower head sold separately
Sea to Summit Pocket Shower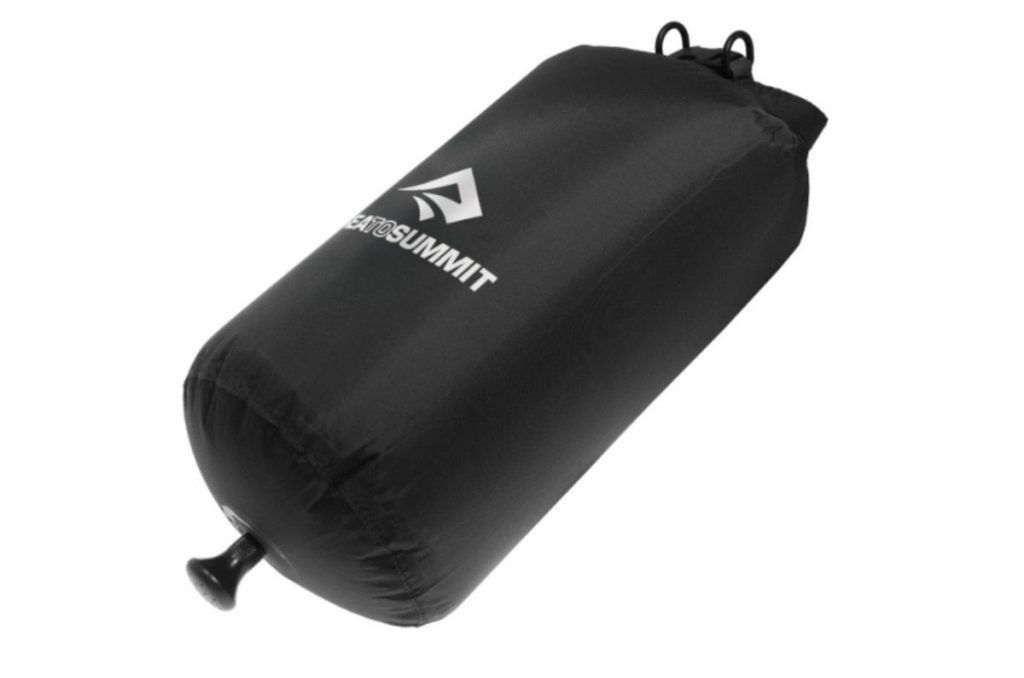 How does the Sea to Summit Pocket Shower compare with the Yakima Road Shower? You may have this question given that both these products are solar-powered. Don't worry as I've compared both these showers to answer this query for you.
This tiny shower's water pressure cannot hold a candle to that of Yakima. That shouldn't come as a surprise given that it comes with no pump. Instead, it relies on gravity for its water pressure. Though you can still increase or decrease its water flow rate with a twisting nozzle on the bottom.
Capacity is another area where this model cannot compete with the Yakima. While our top-pick for solar-powered camping showers offers 4, 7 and 10-gallon tanks, the Sea to Summit's tank can only hold 2.6 gallons of water. This means it would need multiple refillings if the whole family wants to bathe.
Not everything about the Sea to Summit is underwhelming, though. Its large open top makes scooping water straight out of a stream a cinch. The black exterior ensures maximum heat of the sun is transferred to the water. And an included long parachute cord allows for easy hanging in a tree.
Pros
Made of leakproof fabric
Large open top allows easy filling
Black color helps transfer sun's heat to the water
Comes with a variable pressure shower head
Cons
Nozzle might need frequent flushing to remove jammed dirt
SOL Solar Shower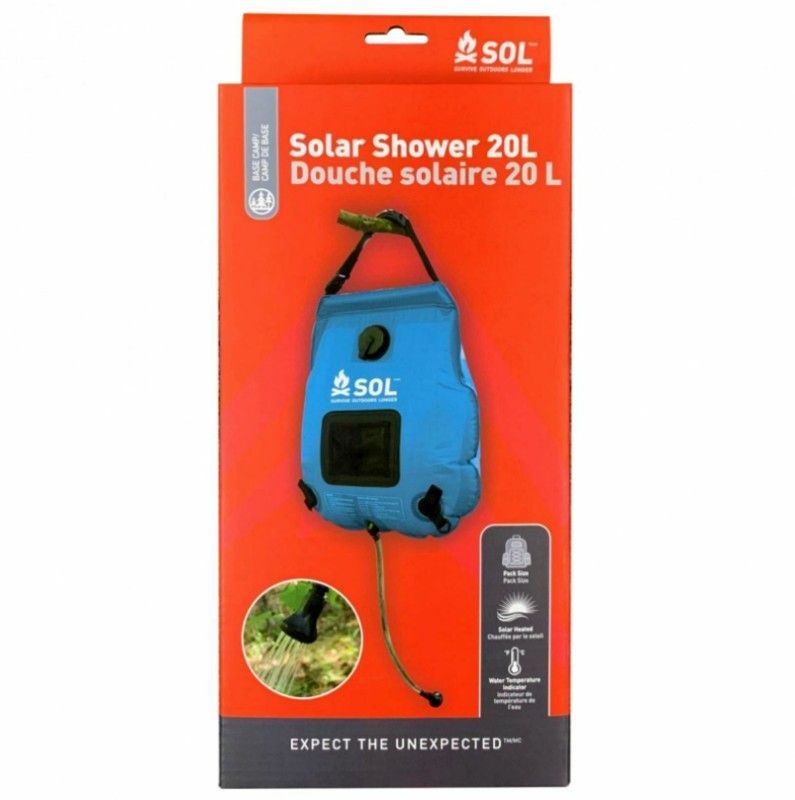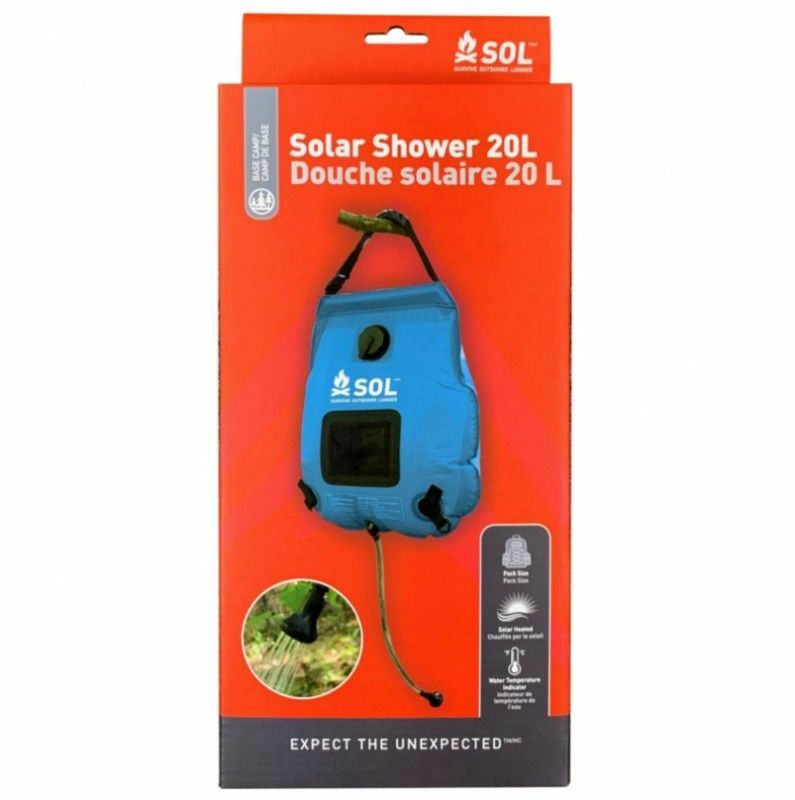 There are many similarities between the SOL Solar shower and our top pick. Both come with a built-in thermometer to let you check the water temperature. Both are made of a fabric that absorbs heat from the sun before transferring it to the water to raise its temperature.
Why, then, is the Yakima and not the SOL our top pick? Mainly because this model's capacity (5 gallons) cannot compete with the max capacity of the Yakima (10 gallons). But also because its manufacturer doesn't back the SOL with any warranty.
That it comes with no warranty doesn't mean this product lacks something. It comes with a screwable front cap for easy filling and refilling. A front mesh pocket is also on offer to give you all the space you need to store your toiletries. A durable handle allows for easy hanging and transport.
Lash straps at the bottom allow for added stability. They also help you in attaching it to a kayak. You also get a water nozzle to adjust its flow rate per your requirements. And a green-colored water temperature indicator does precisely what its name implies.
Pros
Water temperature indicator
Lash straps let you attach it to a kayak
Adjustable nozzle lets you customize water pressure
Cons
Doesn't come with a warranty
Advanced Elements Summer
The Advanced Elements is a gravity-powered shower that harnesses the power of solar energy. It has a four-layer construction and a side window to let the solar rays in. It comes in 2.5, 3.5 and 10-gallon capacities, with the first two offering a side pocket and an attached mirror.
The 3-gallon version I got my hands on offers almost 4 minutes of continual water flow, while the 5-gallon model churns out water continually for 6 minutes. Not enough for your needs? You'd then be better off with the 10-gallon version that provides full 15 minutes of continuous flow.
All three versions have their showerhead curved to increase the spray area for better coverage. Turning their water supply on and off is easy too – pull out the nozzle when you want the water to flow and push it back again for water to stop. They also feature a rubberized grip for carrying comfort.
They also offer multiple add-ons to help you feel at home. My favorite among them is the small mirror hanging by a string (it helps you remove all that dirt from your teeth and your face). Other add-ons include a side pocket for toiletries and two Velcro loops to hold your towel and a washcloth.
Pros
Built-in temperature gauge
Efficient solar heating
Lightweight when empty
Best Pump Camping Showers for Camping
Here are the best pump-operated camping showers in 2022:
NEMO Helio LX Pressure Shower
Most camping showers require you to hang them overhead. The NEMO Helix LX is different. It rests on the ground and delivers all the pressure you need to wash your body, clean your dishes, and rinse your gear. Its water pressure is more than enough for cleaning your dog's mud-laden paws, too.
You can quickly pressurize its tank with the included foot pump. Ten to twenty seconds of pumps will be enough to keep the tank fully pressurized for up to 10 minutes. An included nozzle lets you secure the trigger in the spray position if you want hands-free water pressure.
This shower with all its accessories weighs only 2lbs when empty. So you won't have to worry about it adding too much weight to your backpack. That surprised me given that its package includes a 7-foot neoprene hose to increase the shower's reach.
You also get a safety strap to prevent the accidental opening of this shower. The strap also allows easy transport. A compact carrying case gives you all the space you need to stow the pump, nozzle, hose, and tank into it. Plus, you also get a limited lifetime warranty on this camping shower.
Pros
Works from the ground
Can be refilled without a hose
Safety strap prevents accidental opening
Lifetime warranty on the camping shower
Cons
Might not stay upright if filled to maximum capacity
Reliance Flow Pro Portable Shower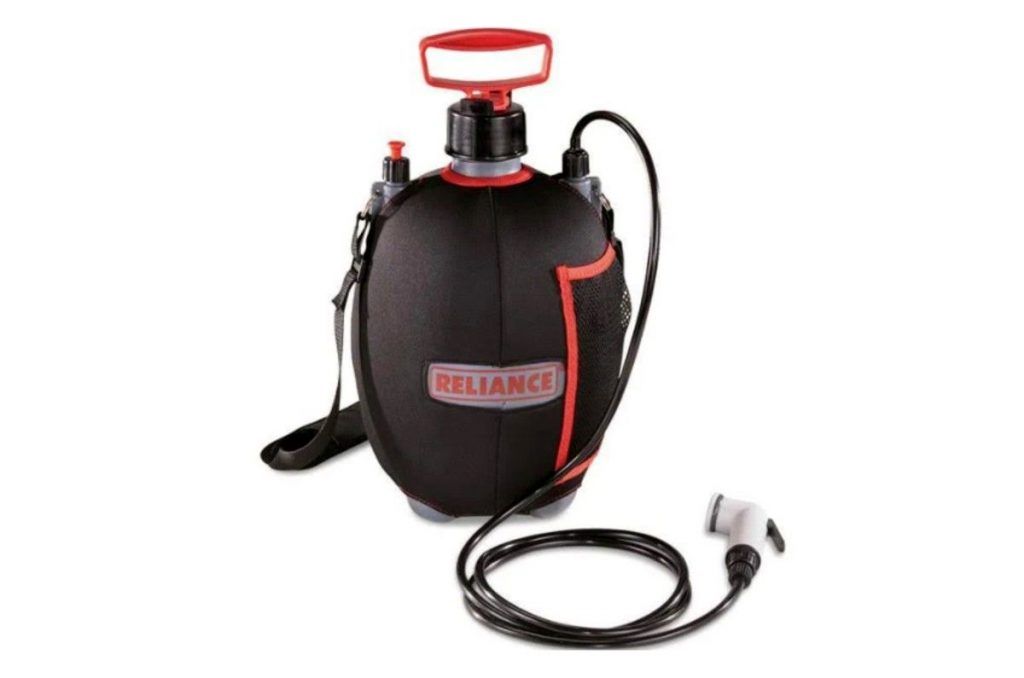 The Reliance Flow Pro Portable Shower offers multiple exciting features. Foremost among them is its trigger-action showerhead that delivers a consistent stream of water particles. However, some users complain that the showerhead gets clogged with dirt and needs consistent flushing.
It's pretty simple to set up and use this portable shower. All you need to do is fill its container with water, close the screwable upper lid, apply some pumps using the built-in pump, and you'll have enough pressure to remove stubborn dirt from areas it doesn't belong.
There are no complaints about the pressure-release valve, though. It allows for quick tank emptying when you no longer need water and are ready to pack up for the return trip home. A handy carrying strap will come to your aid as you carry this shower from the campsite to your van.
That's not the only option you have for carrying this shower. A washable neoprene mesh cover sleeve will also come in handy while you're transporting this product. In fact, I suggest you prefer the sleeve over the handle – it ensures even weight distribution on your back.
Pros
Easy to setup and use
Allows quick emptying
Includes kink-resistant hose
One-year warranty
Cons
Only delivers 2 minutes of spray after 20 pumps
Best Battery-Powered Portable Showers for Camping
Following are the best battery powered showers for camping:
Ivation Portable Outdoor Shower
The Ivation Portable is one of the best battery-powered showers on the market. It stands out from the crowd with its simple design that is easy to use. Its 2.5-inch wide showerhead offers a huge coverage area, though the fact that you cannot adjust water pressure isn't something I admire.
One thing that surprised me about this shower was its flow rate. I measured it delivering 1.2 gallons of water per minute. This means if you use a standard 5-gallon bucket, the Ivation will empty it in less than 4 minutes. So you must be prepared for frequent refillings.
I was able to recharge it from 0 to 100 percent in less than 3 hours with a 5V charging block (not included). If you're in the outdoors and recharge it using your carport, it will take longer. Luckily, a switch to blue light from a red light will let you know when it's fully juiced up.
A lot of showers out there don't offer a hands-free option. The Ivation bucks the trend by equipping its showerhead with not one but two mounts. A hook lets you use a fence or a branch for suspension, while the suction come comes in handy on the patio and car windows.
Pros
Massive flow rate
Considerable battery timing
Allows for hands-free operation
Cons
Requires you to purchase a bucket and a 5V charging block separately
DEDC Portable Outdoor Handheld Camping Shower
The DEDC Outdoor Portable Shower offers some pretty neat features. It's equipped with a built-in water filtration system to remove impurities from the water supply. That's why you can use it to take a bath, clean your dishes or water the plants in your garden.
Similar to the Ivation, the DEDC too offers two mounting options. You can either use the suction cup to attach it to your RV's windows, or the S-hook for hanging it. The presence of two rubber seals just below where the showerhead starts helps prevents leakage.
Although the DEDC costs less, it offers two features the Ivation fails to offer. The first of which is an adjustable showerhead that lets you increase or decrease the water flow rate. The second of the two features is an on/off switch on the handle.
One area where this model could have done better is its pressure. While it's true that you get what you pay for, I was still expected its flow rate to compete with that of the DEDC. That is something it can't do, which is why it isn't my top pick for battery-powered camping showers.
Pros
Built-in water filter
Adjustable shower head
Plugs into 12V cigarette adapter
Cons
Water pressure is disappointing
Best Propane-Powered Portable Showers for Camping
Let's take a look at camping showers that use propane to heat water:
Hike Crew Portable Propane Water Heater & Shower Pump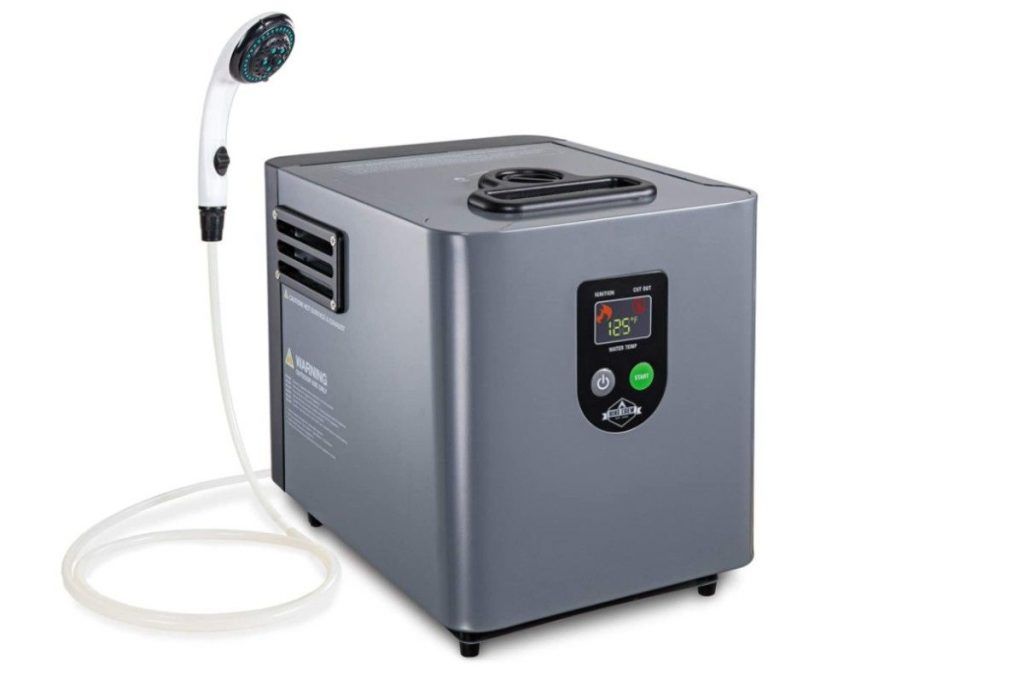 The Hike Crew propane water heater and shower unit take your safety pretty seriously. An automatic shut-off switch turns off the propane heater when the water temperature exceeds a safe limit, and an internal fuse shuts the whole thing down in the event of an overload.
Starting this unit is as easy as pressing a button on its control panel. You also get a temperature control knob to control the water's temperature. A shower head attachment lets you pick from the three adjustable spray patterns on offer and a hand faucet/spigot lets you direct water where it's needed.
You might be pleased to know that it also comes with a tilt-protection switch. One that will stop this unit from operating the moment it takes a tumble. This is a crucial safety feature because propane burns more easily than natural gas and needs little friction to light up.
Almost everything you need to get this unit up and running is included in the package. That includes adapters, hoses, attachments, and more. Plus, you also get a handy carry bag where you can store all the accessories you might not be using.
Pros
Offers three adjustable spray patterns
Automatic safety shut-off switch
Fuse and tilt protection
Includes a carry case in its package
Mr. Heater F235300 BOSS-XB13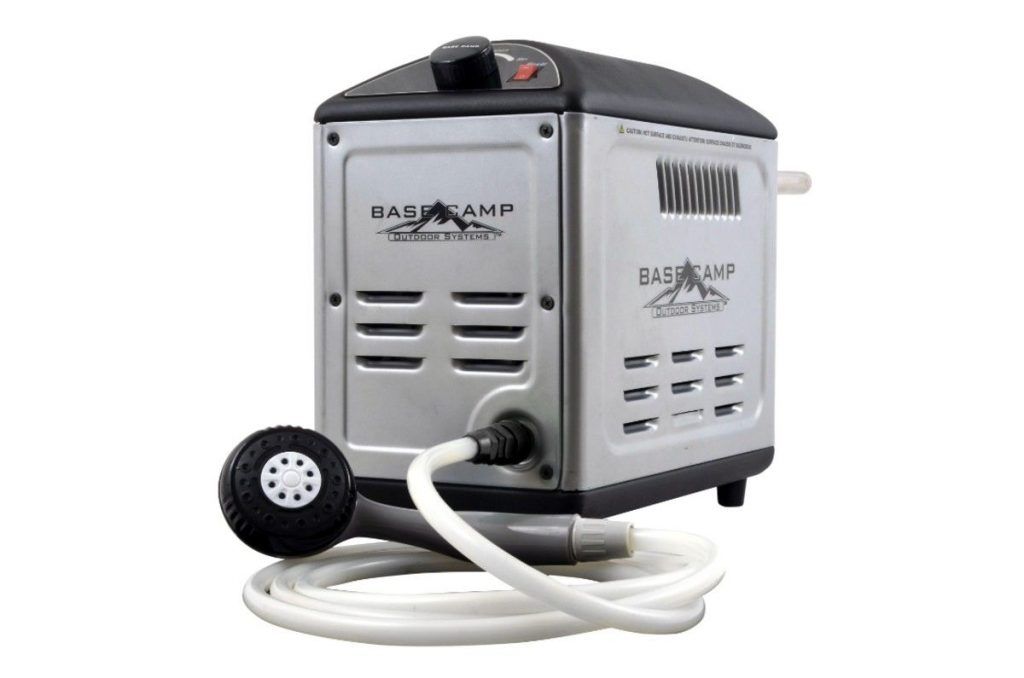 Mr. Heater F235300 Boss-XB13 is another propane-powered shower that doesn't take your safety lightly. Apart from the automatic shutoff and tip-over protection switches (which you also get from the Hike Crew), it offers anti-scald protection to minimize the risk of burn injuries.
Its water-filter system delivers squeaky clean water for your showers and clean-ups. The presence of electric ignition means you won't have to light up a match anywhere near it. Not that doing so might put your safety in danger – its propane container is enclosed within, far away from any potential fires.
You'd need six, D-cell batteries to get this unit up and running, not one of which is included in its package. Four of the xi batteries are needed for the pump, which is capable of outputting up to 0.6 gallons of water per minute. The other 2 are required for the electric igniter.
Not too keen on replacing D size batteries after every two weeks (the time after which most of them will give up)? Then take my word and purchase EBL rechargeable batteries. People who are using them tell me they go 2 weeks before needing a recharge.
Pros
Anti-scald protection
Safety-tip-over switch
Hassle-free electric ignition
Cons
The water pump cannot be turned off from the shower head
Solar Vs Battery Vs Propane Powered Camping Showers
Portable camping showers are powered by one of three fuels. Either they run on electricity (battery-powered), or they run on solar energy, or you've to burn propane to keep them running. Each of the three types come with their own merits and demerits.
Let's take a brief look at all three camping showers:
Solar Powered Camping Showers
Solar heated showers are incredibly easy to use. You just have to fill them up, park them in the sun for a few hours, and then hang them from a branch when the water is hot enough for your liking. You can run multiple errands in or around your campsite while they're busy heating water.
The absence of a battery or fuel tank makes these showers incredibly lightweight – most of them weigh less than 2lbs when empty. On the flip side, solar camping showers may not work as well in areas with very little or no sunlight. That means you might not be able to use them in the middle of thick trees.
Pros
Easy to use
Incredibly lightweight
Environmentally friendly
Cons
Won't work in areas with very little or no sunlight
Propane Powered Camping Showers
Propane-powered camping showers are the fastest option for heating up water. You might want to turn to them if your campsite is in an area that doesn't receive much sunlight. Apart from letting you look after your personal hygiene, they can also double as a kettle for your cooking needs.
That's where the good news ends. Gas-powered showers aren't environmentally friendly as they release toxic fumes into the air. The running of a gas pump also makes them obnoxiously loud. And apart from the shower itself, you also have to make space for its fuel tank in your luggage.
Pros
Easy to use
Incredibly lightweight
Environmentally friendly
Cons
Must make space for their fuel tank in your luggage
Battery Powered Camping Showers
Battery-powered camping showers work similarly to their propane-powered counterparts, though instead of burning gas, these units consume electricity. This means carrying around a multi-pound battery or charging station in your luggage, adding to the weight on your back.
Some battery-powered units also plug into your car's or RV's 12-volt port. Such units tend to be less heavy-duty than other types of showers – you can't rely on them to heat gallons of water – but they are more than enough to meet the water needs of 1 to 2 persons.
Pros
Require minimal maintenance
Can use them anywhere
Produce less noise than gas-powered showers
Cons
Require you to carry a heavy battery
How To Choose Portable Camping Showers?
With the market giving you so many options on camping showers, choosing the one that best meets your requirements can be tricky, both for newbie and seasoned outdoor gear shoppers. That's why we have highlighted some of the most crucial features to look for.
Here's what you must look for when shopping for a portable camping shower:
Durable Construction
How can you tell whether the shower you're looking at is durable? By inspecting each connection, hose, seam, and cap for integrity. These are what we call the 'suspect' areas. If these weakest links are strong enough to handle your camping adventures, so is the shower they're holding up.
Lightweight and Compact
Your portable camping shower must be lightweight and compact. It shouldn't weigh more than a few pounds and must also fold compact when not in use. Both these features will help you carry the shower on your back. They will also allow you to easily stow the shower in your car's boot.
Considerable Tank Capacity
Smaller capacity models (3 to 5 gallons) are ideal for short, sharp burst-style showers. Their compact-sized tank also makes them easy to carry. However, if you intend to wash dishes, clean gear and take a bath with your portable shower, you'll need to invest in a model with 10+ gallons capacity.
Variable Pressure Shower Head
Portable camping showers with variable pressure shower heads provide you with the best of both worlds. You can increase their flow rate while washing dishes, gear or other stuff, before decreasing it when you feel like you could do with a soft, luxurious bath.
Hot Water Vs Cold Water
Most people go camping during summer, so cold water systems are good enough for them. However, if you're in the minority that like venturing into the outdoors during winter, then you might want to invest in hot water systems. Keep in mind, though, that hot water showers don't come cheap.
Best Camping Shower Accessories
Whether you're going to clean off that grime in a lake or are opting for a portable camp shower, there are multiple camping shower accessories that will enhance your outdoor bathing experience. Here are a few you might want to purchase for your next outdoor trip:
Portable Power Station – Having a portable power station nearby would save you from hooking up your battery-operated camping shower to your car's 12V cigarette adapter port every time it needs recharging.
Microfiber Towel – Microfiber towels provide multiple benefits. They will help you dry out very quickly after a long, luxurious bath. At the same time, they're lightweight enough to not add to your backpack's weight.
Biodegradable Soap – When shopping for a biodegradable soap, look for a brand without surfactants, triclosan, phosphate and anti-bacterial ingredients. Such substances have the potential to sully streams or lakes.
Best Portable Shower Tents for Camping
Whether you're going to set up your shower in established campgrounds or primitive campsites, a portable shower tent, also known as a privacy tent, will let you shower away from the prying eyes of others. You won't have to hike off into the woods or wear a swimsuit.
Here are the portable shower tents that have caught my eye:
Kelty Blockhouse Privacy Shelter – With its 4 steel leg poles, a floor with built-in drains and side wall pockets to store toiletries, this portable shower tent will provide you with your ideal out-of-sight space in the outdoors.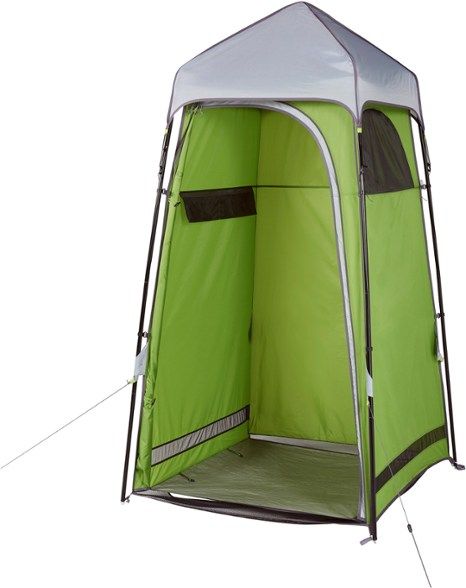 Cleanwaste GO Anywhere Privacy Shelter – It comes with a shower flap to hold a portable shower device, has three closable windows and a zippered door to provide full privacy and an internal storage pocket for your toiletries.
WolfWise Pop-up Shower Tent – The WolfWise Pop-up Shower Tent is a great and budget-friendly choice that has a great ventilation and is made from polyester fabric with taped seams that blocks 60% of harmful UV rays.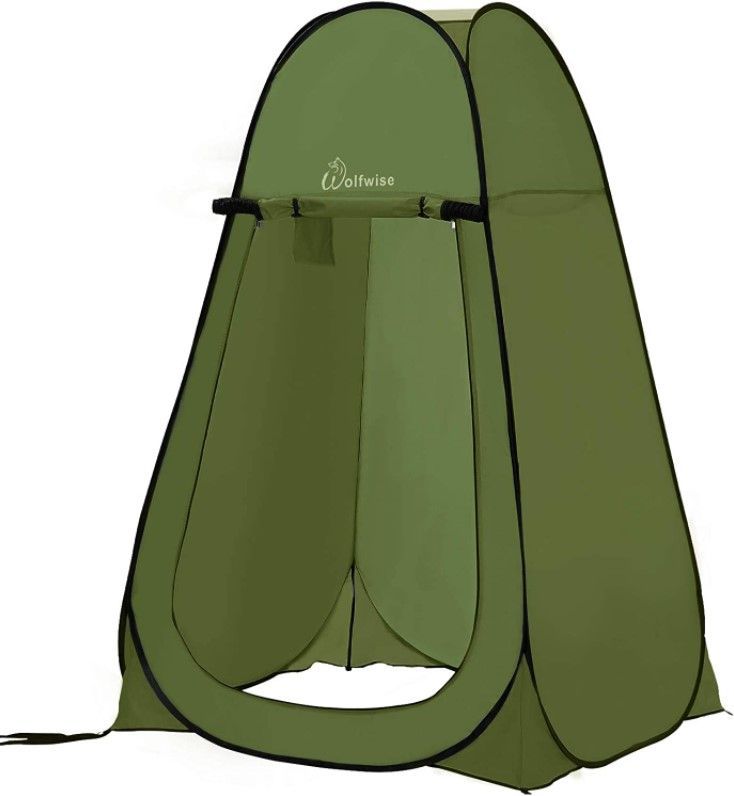 Frequently Asked Questions
How long does a 5 gallon portable shower last?
Given that the flow rate of a typical shower is 2.1 gallons per minute, a 5-gallon portable shower will last between 2 and 2 ½ minutes.
How do you heat water in a camp shower?
Different camp showers let you heat water differently. Propane-powered camping showers require you to burn gas to raise the temperature of the water. Battery-operated models require you to plug them into your car charger to heat up the water. Solar-powered camping showers need you to place their water tank in the sun, after which UV rays heat water within a few hours.
Do solar showers work in winter?
Solar showers work in winter, but a few factors determine whether you'll be able to get the water warm enough to easily use in a cold environment. These include how much sunlight is falling on the shower, how much wind is blowing out there and the ambient temperature.
Conclusion
Your search for the best portable camping showers ends here. Opt for the Yakima Road Shower if you want to harness solar energy into heat. It delivers high-pressure water, has an impressive 4-gallon capacity and is backed by a one-year warranty.
However, if you came in search of a pump camping shower, the NEMO Helio LX is your best bet. This camping shower is warrantied for a lifetime and requires less than 2 minutes of pumps to raise the water pressure for the subsequent 20 minutes or so.
Check out some of my other camping gear reviews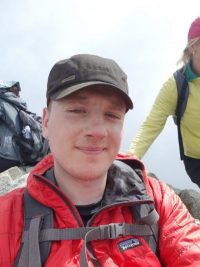 Mins Lukas Savela is a travel writer whose main focus is adventure travel. His passion for wildlife and nature has carried him to many countries in the world. He loves hiking the best trails on earth and sharing his experiences through writing. He hopes his experiences will help more people to start their own adventures and appreciate the world surrounding them a little bit more.
Mins Lukas Savela (also known as Lukas Saville) has written numerous articles that have been published on websites like Wandrly magazine, Go Nomad, Osprey.com, RAD Season, Wilderness Society, The Los Angeles Beat, California.com, Nature Conservancy, and many others.