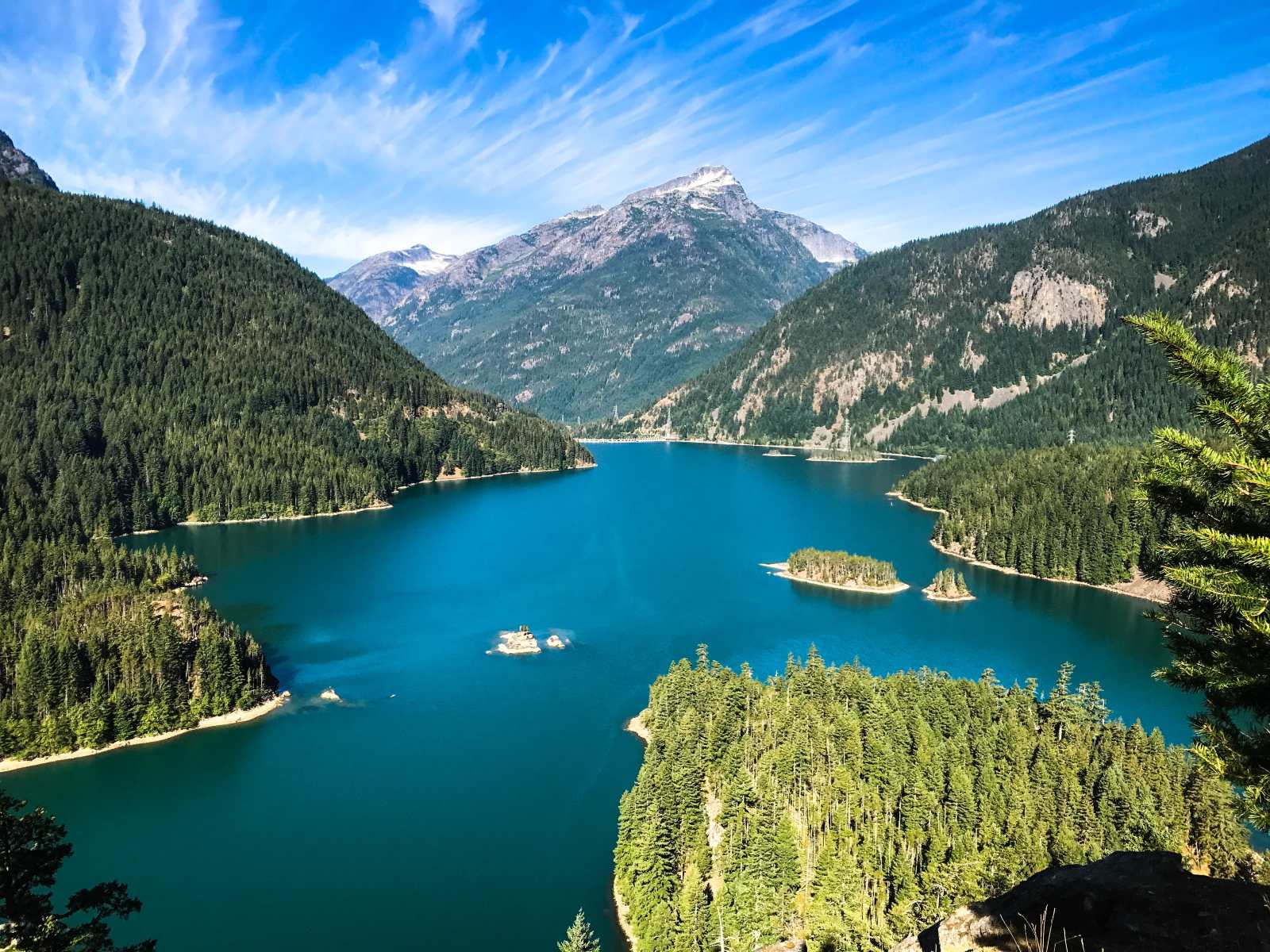 Camping is a popular pastime with people from all walks of life. Some prefer to pitch a tent in prime wilderness terrain, and others would rather vacation in a forested region with lots of amenities. Many consider these 10 campgrounds to be among the best camping in North Cascades National Park and the surrounding scenic areas.
The available campgrounds in this pristine forested park region range from primitive campsites located off the usual tourist grid all the way to luxury amenities and finer cabin accommodations found in resort style campgrounds. Many families travel the country via RVs or trailer campers of every size and description.
Whatever your favorite camping modes and styles, there is a perfect North Cascades National Park campground awaiting your arrival.
Quick Navigation
1. Newhalem Creek Campground
The campgrounds at scenic Newhalem Creek offers lots of gorgeous vantage viewing spots, and many prefer to camp here as it is a nice launching start for many of the adventures that await here at this larger North Cascades National Park camping area.
The Newhalem Creek Campground is ideal for every sized RV with its 100+ pull-through sites. This campground is open from May to September or thereabout depending on the local weather. Tent campers also like this place, as the thick and lush forest of trees here offers a natural privacy screen due to the dense and stunning foliage in the region.
The friendly nearby community of Newhalem lies just a short drive from the campsite. Guests can find a decent selection of camping-related supplies in that quaint small community.
Campground Amenities
Offers 100+ RV campsites that are pull-through and plenty of shady campsites to put up a tent as well. The campground offers potable water and clean flush toilets. Campers can opt for group camping with up to 30 people at set-aside group campsites when available.
Best Features & Things to Do
There are lots of things to see and do here at the Newhalem Creek Campground. The town is where several popular trailheads come together, and hiking is an excellent activity to experience.
Try the well-known Trail of the Cedars or head down to Ladder Creek Falls. Than take time to investigate the North Cascades Visitor Center just a few steps away for more area attractions.
2. Goodell Creek Campground
Located just across the Skagit River that flows past Newhalem Creek Campground, camping enthusiasts will find Goodell Campgrounds nestled into the magnificent forest lands where ancient trees keep prying eyes away. This seems like a spell of enchantment has been cast by earlier generations of people that lived here long ago.
This popular campsite is well suited for smaller RVs and tent campers. The main campground area has 19 camping sites, and the camp also has upper and lower campsites located towards the upper creek region. These areas can comfortably fit 50 and 30 campers respectively. The campsites are offered on a first-come and first-served booking basis.
Campground Amenities
The spectacular views of the entrancingly beautiful Skagit River beckons campers to go out on the water or fish while lounging lazily on the river's banks. Other tributaries meander throughout this camping landscape making the entire area even more intriguing and enticing.
Best Features & Things to Do
Check-out all the information from the nearby North Cascades Visitor Center and details about the river are compiled in a Skagit River Informational Center to get more ideas of things to do. Be on the lookout for up to 5 various salmon species and at least 2 trout species that make their home in the Skagit River and nearby waterways and lakes.
3. Colonial Creek Campground
Many frequent campers like Colonial Creek Campground which is situated conveniently in the central portion of the North Cascades National Park. Regular camping season here typically runs from May to September, but there are some limited rustic campsites along the South Loop that remain open in winter.
Those 100 South Loop area campsites can be reserved in-advance which is something rather rare for such a popular campsite. The other 42 campsites on the North Loop are on a first-come first-served schedule.
Campground Amenities
All campers here can access clean restroom facilities complete with flush toilets during their stay. Drinking water is also provided.
Best Features & Things to Do
Take a 2 and a half-hour easy drive to the lush evergreen forests located in and around Seattle, Washington. This is precisely why Seattle and a good portion of this region of Washington state has been given the apt nickname of Emerald City.
Along with plenty of outdoor pursuits that gets visitors right in the middle of this enchanting land of magical wonders, there are many traditional urban attractions and cultural community places that must be seen to fully appreciate.
Try your luck with mountain biking, hiking, backpacking and boating. This campsite gives visitors access to the cold and clear waters of Diablo Lake and all the fishing and other water pursuits that are a tradition here. Take time to visit some of this area's delicious cuisine for a delightful change-of-pace.
4. Sahale Glacier Campground
If terrains that are rugged, rustic and remarkable are just your kind of thing, take the time to experience the thrills and raw beauty of the Sahale Glacier Campground. This revered campground sits at an astonishing elevation of more than 7,500 feet, and the panoramic and scenic views from the site are well worth the small effort to obtain the required permit before being allowed to enter this wild backcountry during the overnight hours.
This campground offers some of the most iconic and rugged expanse landscape that includes icy glaciers and serrated mountain views that have been here for millions of years in the making. Get there by following the magnificent Cascade River Road then hike approximately 6 miles of challenging terrain through Cascade Pass. This journey is not for the weak and faint of heart.
Campground Amenities
There are only camping sites in designated areas. Permits are limited, so be sure to obtain yours well in advance of your expected journey. This campsite is for those with backpacking experience, and the views are unlike anywhere else in the country.
Best Features & Things to Do
The scenery all along the hiking trail is something almost mystical in nature. This is nature backcountry at its very best. The campsite is located just below the Sahale Glacier itself.
5. Gorge Lake Campground
This primitive campsite offers incredible views. You will want to bring your camera and binoculars to spy on some of the native wildlife in the area. Gorge Lake Campground is located on Gorge Lake if you haven't figured that out yet. Campsites are limited here at 6 to 8 in total. There are also limits on the number of people.
This is considered a rustic or primitive style campsite. There is no water available, but the camp does have vault toilets. Bring along your water supply, and pack food in airtight containers that are made to be undetectable to nearby wildlife looking for a free meal.
Campground Amenities
Call early as there are just a few sites at any given time. Some campsites sit on the edge of beautiful Lake Gorge, and others are located towards the center of the campgrounds that won't have the same great views. There are access points here to the lake with a boat launch on site.
Must pack out trash too. Gathering of firewood is prohibited anywhere in this campground. There are some wood supplies nearby for sale. Don't bring in wood from a prohibited different geographical region due to the potential spread of harmful pests that feed on dry wood.
Best Features & Things to Do
There are many different activities here. These include boating, kayaking, hiking, biking, canoeing, fishing and more. Fire-pits, recycling and trash service is available typically. Pets are welcome too.
6. Lone Fir Campground
This lovely campground is located just outside of the North Cascades National Park on its eastern side. The campground also is within the gorgeous Okanogan-Wenatchee National Forest. The grounds are situated less than a 30 miles drive from the old-west style town of Winthrop.
These camping sites amount to 27, and potential campers should plan to arrive early as there are no reservations and it operates on a standard first-come first-served deal. People like this campground because of its convenient locale that puts it squarely to park access points whether finishing a sightseeing trip or just beginning one.
Campground Amenities
The campground's location is near to Early Winters Creek, and campers can take advantage of water and spectacular mountain views not seen often anywhere.
Best Features & Things to Do
The Lone Fir Campground offers easy access to the Interpreted Lone Fir Trail that reaches lengths of 2 miles. This trail connects to the campground directly. This makes a terrific family camping site, and cyclists are often here staying overnight.
There is a Lone Fir Resort that offers great food, comfortable and clean sleeping quarters, free Wifi, a swimming pool, expanded rooms for families and kids will love the fun children's playground as well. Truly, some of the best camping in North Cascades National Park is located right here.
7. Mineral Park Campground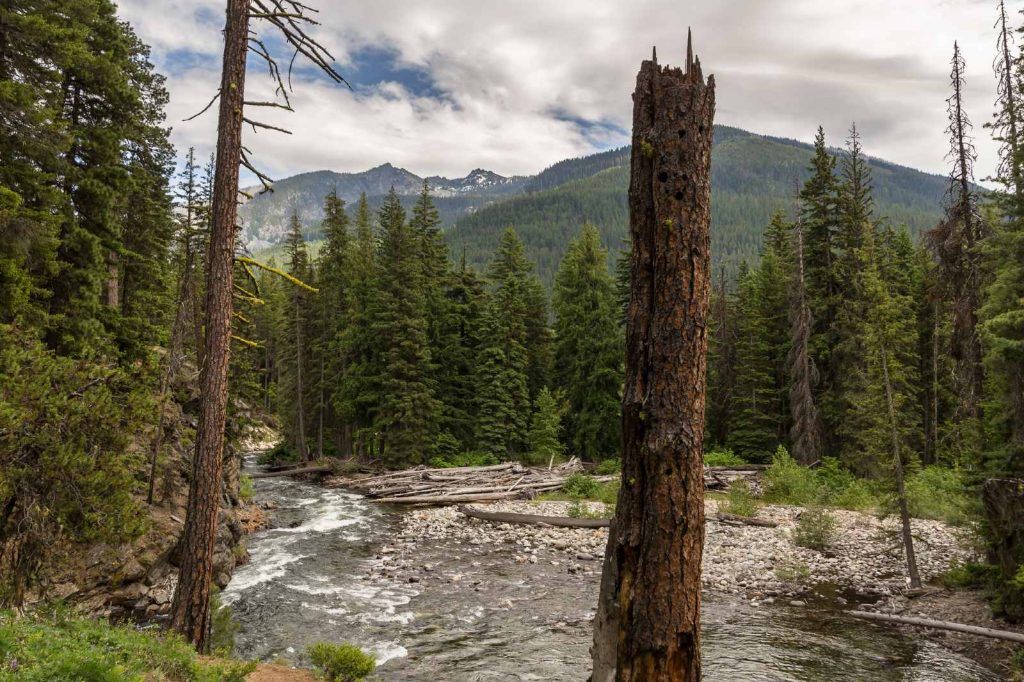 Campers wanting some privacy and rustic river views among some of the most beautiful forest scenes in Washington state should plan to hit the Mineral Park Campground. This campground has both east and west camping site options, and the wilderness terrain is best suited for pitching tents or trailers that are smaller in size.
This rustic campgrounds in Mineral Park offer quiet camping sites that have some of the most gorgeous views of all the attractions that this region where the stunning Cascade Mountain Range tower. Fall asleep under the stars listening to the melodic song of water rushing nearby where the Skagit River System runs. There are easy access ports to all the water adventures to be tried in this hidden forest paradise. These campgrounds sit about 14 miles along a shady gravel road.
Campground Amenities
There are 21 limited person camping sites most suited for pitch tents, vans, small camper trailers or shorter RVs when open sites are available. This is a BYOW – bring your own water – campsite, but toilets are available, and pets are welcome too. The nearest town is Marblemount, WA.
Best Features & Things to Do
Although standard campground amenities are fewer here, there are lots of enticing scenic spots and plenty of adventurous outdoor pursuits to keep you busy and happy throughout your stay here. Explore nearby caves, relax after hiking to a natural hot spring or jump into a cool swimming hole to feel refreshed and invigorated.
More things to keep you engaged in nature's wonderful nature features include climbing, boating, hiking, horseback riding, white water rafting and biking for those campers who enjoy challenging outdoor pursuits. Try your hand at fishing or simply immerse yourself in watching an abundance of nearby wildlife in their own natural environment. The fantastic Mount Baker Trail System is a must-do and is easily accessed from the campsites.
8. Hozomeen Campground
Situated near the northern tip of scenic Ross Lake and located along the Canadian Border, Hozomeen Campground continues to attract nationwide and international attention due to its pristine wilderness terrain and abundant natural wildlife along with local forest trees and water plant life and stunning scenery.
The National Park Service operates this free remote and wilderness campground. It can only be accessed by watercraft or hiking trails for the United States side. If desired, visitors to this region can get to this camping site by way of a Hope access road located in British Columbia. This requires a border crossing.
Campground Amenities
The magnificent Hozomeen Campgrounds boast more than 75 camping sites that are all available on a first-come and first-served basis. There are also several other designated campsites available in this stark and beautiful land that features all of the wonders of alpine nature scenery at its very best.
Best Features & things to Do
This alpine remote region is extremely popular for boating and fishing enthusiasts. It is only reachable via motor vehicle from a 40-mile-long gravel road that connects to the Hope, British Columbia access road. Alternately, campers can boat-in across Ross Lake.
Popular things to do include fishing, boating, whitewater paddling, bike riding, horseback riding, climbing or hiking. The surrounding scenery allows for lots of wildlife sightings seen living wild and free in their familiar home territory.
The terrain is mountainous with water in the form of a lake, rivers and streams running throughout this primitive and rustic region. Toilet facilities are available along with potable water. Pets are also welcome at Hozomeen Campground.
9. Lower Valley Campgrounds, Stehekin & 10. Stehekin Valley Ranch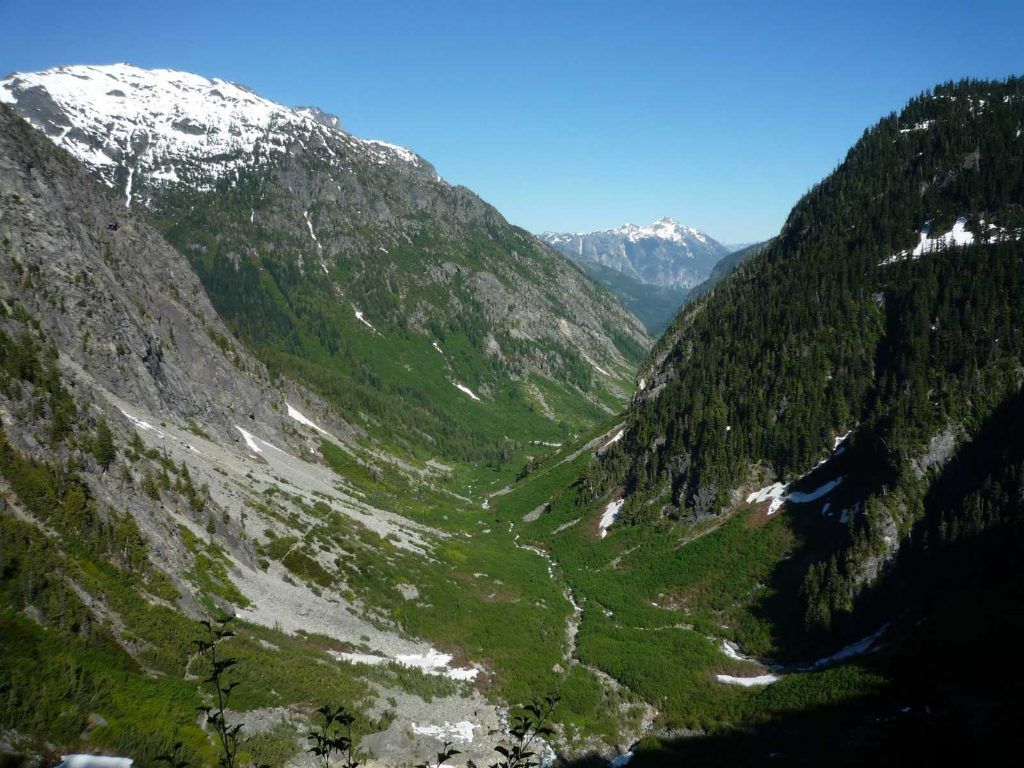 There are several terrific campgrounds located in the pristine forested and mountainous terrain in the North Cascades near Stehekin. Most of these campsites are primitive sites without much in the way of amenities.
All of these sites will require a backpacking camping permit. These can be obtained at the Golden West Visitor Center. Exceptions to this permit rule are some lakeside camping sites.
An alternate resort-style ranch offers luxury amenities and is a popular family vacation spot with its horse facility, prime fishing and boat rentals.
In this Lower Valley region, there are 9 Lakeview sites, 6 Purple Point sites, 2 Rainbow Bridge sites and 7 sites in Harlequin. Many campers looking for a more luxury camping site prefer the fine services and amenities located at the famed Stehekin Valley Ranch.
Campground Amenities
Along with prime fishing opportunities in the many lakes, streams and creeks that are interspersed throughout this area of Stehekin Valley Ranch, visitors can play horseshoes, volleyball, ping-pong and croquet or read a book for the extensive collection in the reading room. There are also puzzles and games to keep everyone in the family entertained in case of rain.
The views are unspoiled by time or construction. There are not any access roads to reach the quaint community of Stehekin. Visitors can arrive via foot-hiking, on horseback, aboard boats or via a plane. This ranch offers home-cooked, hearty, and delicious meals and cozy cabin accommodations shaded by the tall, majestic trees native to the region. Local transportation is provided free with package deals. Reservations made in advance.
Best Features & Things to Do
Pets welcome, lots of bird-watching and wildlife observation possible, tons of abundantly stocked waters available for fishing excursions and many adventures and outdoor games are just a few of the best amenities offered here.
Swimming, boating and hunting also part of the activities here at the Valley Ranch in Stehekin. This year, give North Cascades campgrounds a try.
To Sum Up
Camping in North Cascades National Park should be on every nature lover's bucket list. Many camping sites here are unspoiled and incredibly magnificent. There is nothing like it anywhere else. Camping amidst nature creates cherished memories lasting a lifetime.
Check out other articles related to camping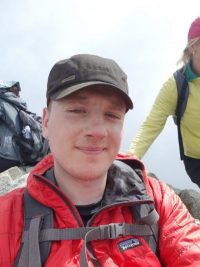 Mins Lukas Savela is a travel writer whose main focus is adventure travel. His passion for wildlife and nature has carried him to many countries in the world. He loves hiking the best trails on earth and sharing his experiences through writing. He hopes his experiences will help more people to start their own adventures and appreciate the world surrounding them a little bit more.
Mins Lukas Savela (also known as Lukas Saville) has written numerous articles that have been published on websites like Wandrly magazine, Go Nomad, Osprey.com, RAD Season, Wilderness Society, The Los Angeles Beat, California.com, Nature Conservancy, and many others.