Many people who enjoy being out in nature and camping often are startled by the sheer magnificent beauty of Glacier National Park located in northern Montana.
There are so many fun things to do while camping in Glacier National Park. Here are just a few of the favorites most campers love.
Hike the Avalanche Lake Trail or Walk the Trail of the Cedars
Feast on Sweet Huckleberries Growing Wild Here
Bring Along a Camera to Snap Pics of the Gorgeous Scenery & Abundant Local Wildlife at Goose Island & Everywhere
Go Rafting, Kayaking, Canoeing or Boating on the Lakes
Take the Glacier National Park Boat Tours
Head to Virginia Falls or Visit the Enchanting St. Mary Falls
Catch the Free Shuttle that Stops Along Going-to-the-Sun Road – a Busy Travel Route
Enjoy Spectacular Views at Hidden Lake Overlook and Logans Pass
Read on to discover 15 of the greatest campgrounds in Glacier National Park.
Quick Navigation
1. Many Glacier Campground
Experienced campers familiar with the rugged beauty of Glacier National Park tend to favor Many Glacier Campground located on the eastern side of this park. This campsite is situated close to the end of Many Glacier Road about 12 miles north of the quaint town of St. Mary and approximately 10 miles south of the Canadian border near Alberta.
Many Glacier has campgrounds in between tall trees for both tent campers and RV. travelers. Choose from 109 camping spots, but about half are reservation only. The other half are rented at a first-come first-served basis. If planning a trip during peak camping season, reserve well-in-advance or arrive early to grab a spot.
The wild beauty of the surrounding mountains and many scenic hiking trails are well-worth the trip. Guided day-hikes are a great way to see the local wildlife and stunning nature attractions including Iceberg Lake, Grinnell Glacier and Swiftcurrent Falls.
This campsite is located next to the Swiftcurrent Motor Inn that offers a combination restaurant, lodging and gift-shop.
Campground Amenities
Total 109 camping sites for tent or RV camping. Has running water showers and toilets. Nearby restaurants include Many Glacier Hotel, Nell's and Ptarmigan Dining Room. A shuttle runs to St. Mary's Visitor Center. Closes Oct. 31st. Pet friendly.
2. St. Mary Campground
St. Mary Campground is the largest site situated on the eastern side of Glacier National Park. These campgrounds are 1 of 3 campgrounds that offer advanced reservations. Some campsites accommodate RV's, with running water access and toilets available for all campers. Note: The Loop A campsite is for tents with on generators permitted.
St. Mary Campground sits along the idyllic shores of its namesake St. Mary Lake. A connected short hiking trail gets visitors to the main St. Mary Visitor Center. Campers can catch a Red Bus Tour here or a free shuttle service towards Going-Towards-the-Sun Road that lives up to the names. The evening sunset colors over the serene lake with mountain views are awe inspiring.
Campground Amenities
Fun for all age groups, informative nightly talks by knowledgeable park rangers occur through summer at the nearby St. Mary Campground Amphitheater. Showers available in Loop C. Just a mile away, the charming town of St. Mary Village offers campers good food venues, gas station and a local grocery store.
Experienced hard-core campers can try primitive camping free during the wintertime at the town picnic area. This is free in the town picnic area. Pets welcome.
3. Apgar Campground
The Apgar Campground sits just under 3 miles from the west park entrance. It is the largest campground here with over 200 camp sites for both tent camping on a first-come-first-served basis and group campsites for up to 24 people must be reserved ahead of time. A ranger station and visitor center are located nearby.
Activities include hiking, kayak rentals and horseback riding with guides. The campsite is situated near to the enchanting Apar Village with gift-shops, camping-related supplies and tantalizing restaurant fare that is served in hearty proportions.
Campground Amenities
All campers have access to running water, and the sparkling waters of nearby Lake McDonalds beckons those with a short walk access. Firewood available for evening campfires on chilly nights. Hot showers, toilets and RV disposal station on site.
Free shuttle Going-to-the-Sun Road stops at Apgar campgrounds. This makes it easy to visit many must-see sites in Glacier National Park. Campground open year-round with primitive camping in winter.
4. Rising Sun Campground
Located just 6 miles from St. Mary park entrance, Rising Sun Campground offers 84 campsites all available first-come basis only. This scenic campground is situated about midway along the shores of Lake Mary. It lies near Rising Sun Motor Inn offering guest cabins, coin-operated showers, a smaller store and casual delicious dining. Watch the spectacular sunrise over Lake Mary with the majestic peaks of Red Eagle Mountain framing the view.
Campground Amenities
Running water available for guests staying overnight. Showers, a small shop and access to free shuttle service nearby. Convenient to day-trail hikes moving east of Logan Pass. Clean bathrooms and less crowded than some campsites in the area.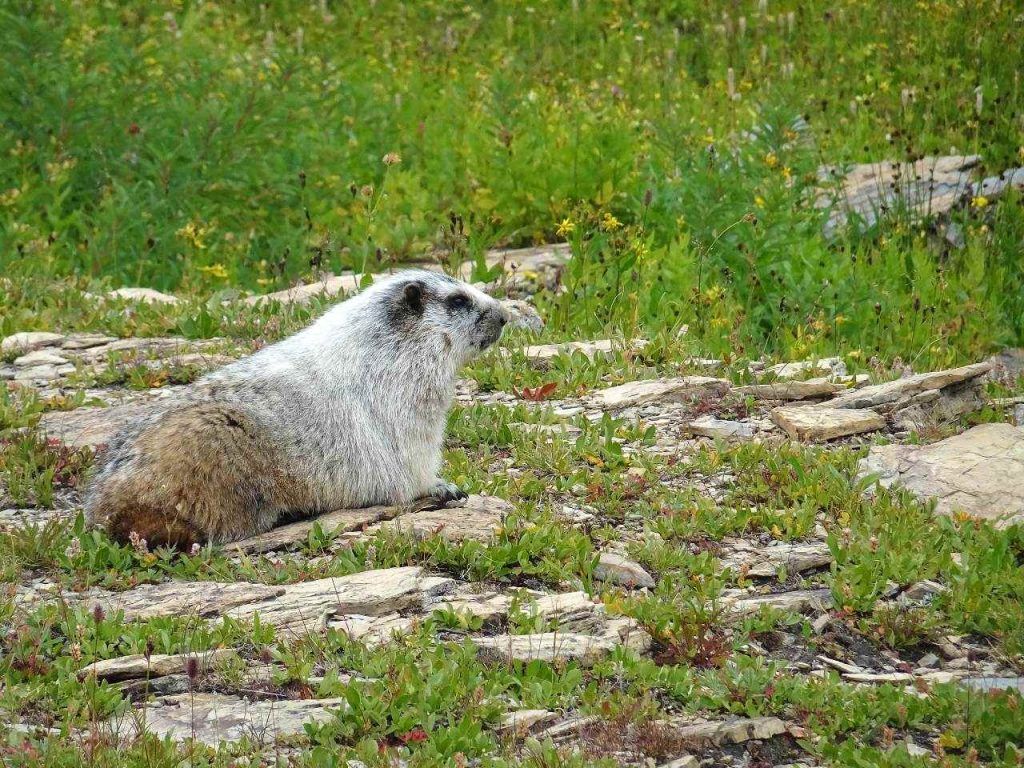 5. Two Medicine Campground
Situated about 11 miles from East Glacier Park Village, Two Medicine Campground is a quiet and less-populated site not connected with the main road. Two Medicine offers 100 campsites for tent and RV camping. Only 10 slots are available for RV parking requiring 36 feet. Summers fill up quickly, so arrive early or go offseason. Some pull-through sites for larger rigs.
Hike the scenic nature trails around Two Medicine Lake and Pray. A beautiful locale that calms the mind and nourishes the spirit. Close to Dawson Pass and Running Eagle Falls. Open late May to late October. Historic camp store in walking distance with mementos/souvenirs and some prepared food.
Campground Amenities
Running water available through June to September, and primitive camping in October. Closed for winter. Lots of intersecting nature trails connect this campsite with other attractions. Boating on the lake available. Flush toilets and sinks in restrooms. No showers or hookups.
Lots of shady trees offer some privacy between campers. Visit No Lake and Scenic Point. Bring binoculars to view local wildlife higher up the mountains like bears, big-horn sheep and deer. Handicap access trail leads to Running Eagle Falls.
6. Bowman Lake Campground
For campers wanting a bit of rugged wilderness camping will love Bowman Lake Campground for its off-the-beaten-trail locale that few will wander through. Situated in the far northwest corner of the park, this place is amazing. The grounds are located northeast of Polebridge 6.3 miles. Enjoy serene landscapes with towering cliffs and mountain tops rising over the pristine waters of Lake Bowman.
Spend your days fishing, boating, kayaking, canoeing and lots of gorgeous views make this trip well worth the trouble. Some more limited camper amenities at nearby Polebridge boasting an off-the-grid bakery.
Campground Amenities
Rustic and remote campgrounds with mountains, shady trees and access to Lake Bowman for lots of water recreation and day hikes. Water and restrooms with pit toilets available with nearby picnic area. Ideal for campers that desire secluded campsites.
7. Avalanche Campground
A fantastic place to go camping in glacier national park is Avalanche Campground. Go 15 miles past the west park entrance. This site is situated alongside a frequently used trail leading to Trail of the Cedars and beautiful Avalanche Lake. This campground attracts both RV campers and those that prefer tents. All available on a first-come first-served basis.
The campground offers 87 camping slots, but a little less than half of these sites will not fit larger RVs that are more than 26 feet long. Campground is accessible to the popular access road named Going-to-the-Sun Road which offers a free and convenient shuttle service. This allows visitors to access other popular attractions within the greater Glacier National Park region.
Campground Amenities
All campers who stay overnight can access running water. Restroom facilities on site with running sinks and flush toilets. Tall and fragrant cedar and hemlock trees native to this region provide shade and give this spot a magical enchanted air that includes lots of native wildlife.
Nightly ranger talks keep everyone informed on what to look for here in this gorgeous paradise. Visit nearby Lake McDonald, Virginia Falls and Highland Trail. Nearby dining venues include Belton Grille Dining Room & Tap Room, The Wandering Gringo and Glacier Highland.
8. Fish Creek Campground
The stunning Fish Creek Campground is one of only a few campgrounds in Glacier National Park that offer advanced reservations for its available standard campsites. Set along the gorgeous Camas Road, this campground is less than 4 miles from the western entrance to the park.
Fish Creek Campground is located close to many fine hiking trails with opportunities for guided day hikes on Rocky Point Nature Trail and all sorts of outdoor recreational activities. Try the adventure of mountain biking, hiking, hunting, wildlife spotting and fishing. For the thrill-seekers among us, consider whitewater rafting that is nearby.
Campground Amenities
Features 178 campsites, all sites will have access to running water. Campers that are registered also have the option of showers situated in the Loop-A area. Campgrounds are not far from Apgar Village that boasts dining and other camper amenities.
Nightly park ranger activities happen during the peak camping season at the nearby Fish Creek Amphitheater. This is a fun activity for those camping in glacier national park. Pet-friendly. May close earlier than other campgrounds in the region.
9. Glacier Campground
For a change-of-pace, consider camping at the privately owned Glacier Campgrounds that offers many delightful amenities not found at most camping sites in this area. This site is located just 1 mile from the main park west entrance. The grounds include 40 campsites amidst pristine acres of natural beauty, access for wildlife viewing and plenty of hiking. boating, bike riding and more.
Most love this campground for its closer proximity to the nearby Village of West Glacier approximately 1 mile away. Some must-do activities include enthralling helicopter tours, horseback riding, rafting, golf and much more.
Campground Amenities
Clean and hot steamy showers for a minimal cost, and a roaring fire in a relaxed lounge room indoors to greet you on chilly nights make this awesome camping destination an ideal one to be at near the end of your trip. Head home feeling clean, well fed and happy.
RVs up to 36 feet in length hookups available, and campers can also opt to sleep in cozy cabins or setup a tent. Eat for low rates at the onsite family-style Sunflower Cafe or head to West Glacier Village for other dining venue options.
10. Chewing Black Bones Campground
Experience camping in a Native American campground located on the eastern side of Glacier National Park near Babb. Chewing Black Bones Campground is just 1 of the 4 beautiful Native American run Blackfeet Tribal Campgrounds located just outside the edge of the nearby national parklands.
Campground Amenities
Offering 110 campsites for tents or RVs, full hookups available for added convenience. During the daytime, access the boat launch and try some water activities. Head over to the onsite General Store, explore the authentic Tipi Village or learn about the lands and history of this region at the Visitor Center.
Near to this campsite lies the Red Eagle Campsite for those desiring less populated camping. It is also near the same Two Medicine entrance into the national parklands. Buffalo Calf Campgrounds can accommodate 12 camping sites.
Further to the east of St. Mary park entrance, Duck Lake Campground is the place to go for water adventures and fishing that is topnotch and worth the effort.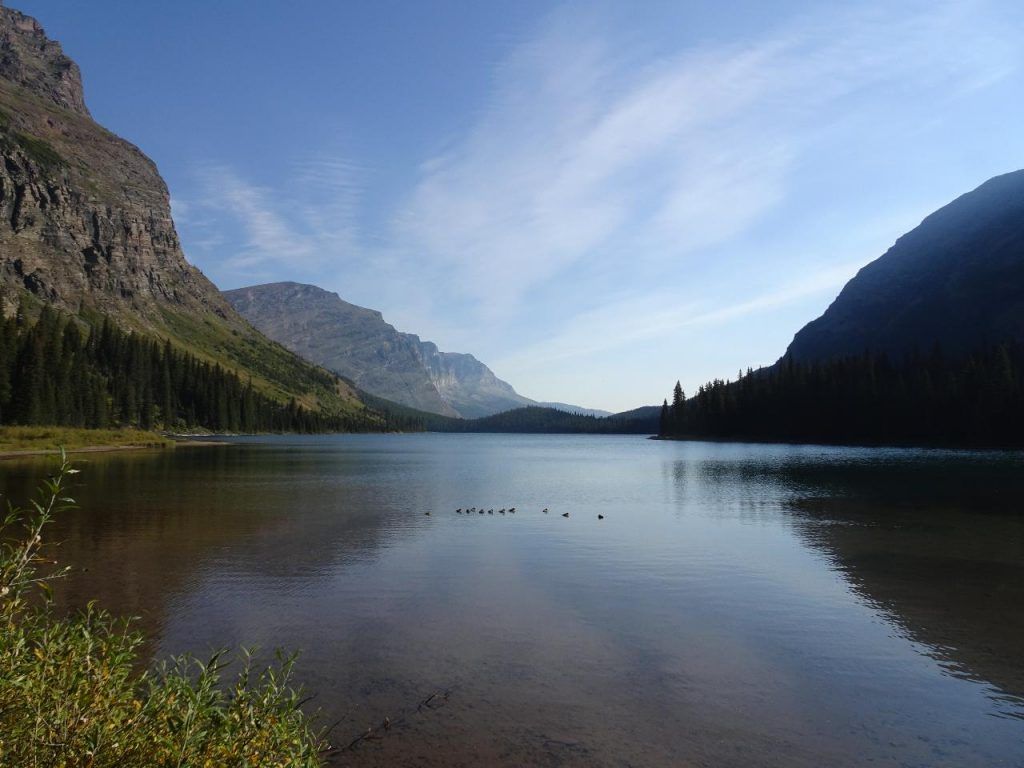 11. West Glacier KOA
For camping enthusiasts that prefer a more resort type of outdoor camping experience will adore West Glacier KOA located 3 short miles of the West Entrance to the national park. Imagine spending leisurely afternoons under fragrant tall pine trees with some of the most spectacular mountain and water scenery to be found anywhere.
Conveniently located at the far beginning of the access Going-to-the-Sun Road that takes campers via shuttle to other nearby attractions and towns.
Campground Amenities
The luxury amenities available only at beautiful West Glacier KOA include adults-only steamy hot-tubs, challenging fly-fishing clinics, to up your fishing skills, and cold ice-cream shops to take the heat out of summer days. Has tent camp sites, accommodates RVs with full hook-ups on some sites and laundry services, steamy-hot showers, Wifi connection, grocery store and dump site nearby.
Spend an afternoon lounging beside the resort-style swimming pool sipping on your favorite beverage and enjoy a bite to eat without having to go far. This is truly a must-see-to-believe camping destination.
12. Kintla Lake Campground
If peaceful walks under pristine forest trees and miles of gorgeous scenery appeal to you, this impressive and quiet refuge from the world called Kintla Lake Campground could be your next favorite destination. This rugged locale is not for everyone, but those that prefer remote campsites will find this one ideal. This rustic and stunning terrain is located in the far northwest corner of the greater Glacier National Park lands close to the Canadian border.
If you wish to hide from the world and people, this is a good place for that. Even Goldilocks probably would never wander this far. A 40-mile gravel road limits the traffic in this serene and wild piece of land.
Campground Amenities
Offers just 13 sites mostly for tent campers. No vehicles allowed over 21 feet in length. Running water only available from June to September. Here it is just you, the mountains, the lake and the land. Pit style toilets and a hand pump for potable water on campgrounds. A few limited amenities are in nearby Polebridge.
13. Sprague Creek Campground
Go about 9 miles from the western entrance to Glacier National Park by way of the popular Going-to-the-Sun Road aptly named access pathway. Here you will find an incredible land of serene beauty that only allows 25 campsites to keep crowds down. No towed cars or other vehicles allowed at this site. Campsites offered on a first-come first-serve routine only.
Enjoy unfiltered and glorious nature views overlooking the stunning calm waters of Lake McDonald. Sprague Creek Campground is close to many western located hiking trails that intersect and wind throughout this mystical wooded area with lovely meadows here and there.
Campground Amenities
Quiet solitude, terrific scenic views, lots of wildlife sightings and access to spectacular hiking trails gives this spot a lot of charm and joy for campers. Running water is available to campers here.
14. Quartz Creek Campground & Logging Creek Campground
Quartz Creek Campground & the nearby Logging Creek Campground are two of the smallest campgrounds in this pristine and beautiful region of the world. The sites are accessed through the Western Entrance station about a 23-mile drive.
Campground Amenities
Although gorgeous and well-worth the nature and solitude, neither of these campsites includes running water. The 23 camping sites are best for tent campers who are experienced in the woods and drive small recreation type vehicles. Reservations not available here. Campers must come early to get the few first-come and first-served spots.
15. Cut Bank Campground
Cut Bank Campground is another lovely primitive camping site suited for tent campers that enjoy being on their own outdoors. This magnificent scenery is really to drool over. The tall stately trees and refreshing pine and wildflower scents waft in the breeze.
Campground Amenities
Located on the eastern side of the national park, this place offers no running water. This is also a first-come first-served site taking no campsite reservations. Only 13 primitive campsites available here.
Some of the best campgrounds in Glacier National Park are gaining popularity with RV and tent camping enthusiasts camping in Montana. Call ahead for further details.
Find more articles related to camping: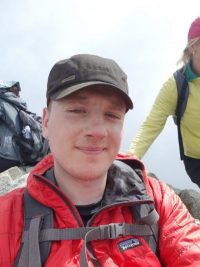 Mins Lukas Savela is a travel writer whose main focus is adventure travel. His passion for wildlife and nature has carried him to many countries in the world. He loves hiking the best trails on earth and sharing his experiences through writing. He hopes his experiences will help more people to start their own adventures and appreciate the world surrounding them a little bit more.
Mins Lukas Savela (also known as Lukas Saville) has written numerous articles that have been published on websites like Wandrly magazine, Go Nomad, Osprey.com, RAD Season, Wilderness Society, The Los Angeles Beat, California.com, Nature Conservancy, and many others.