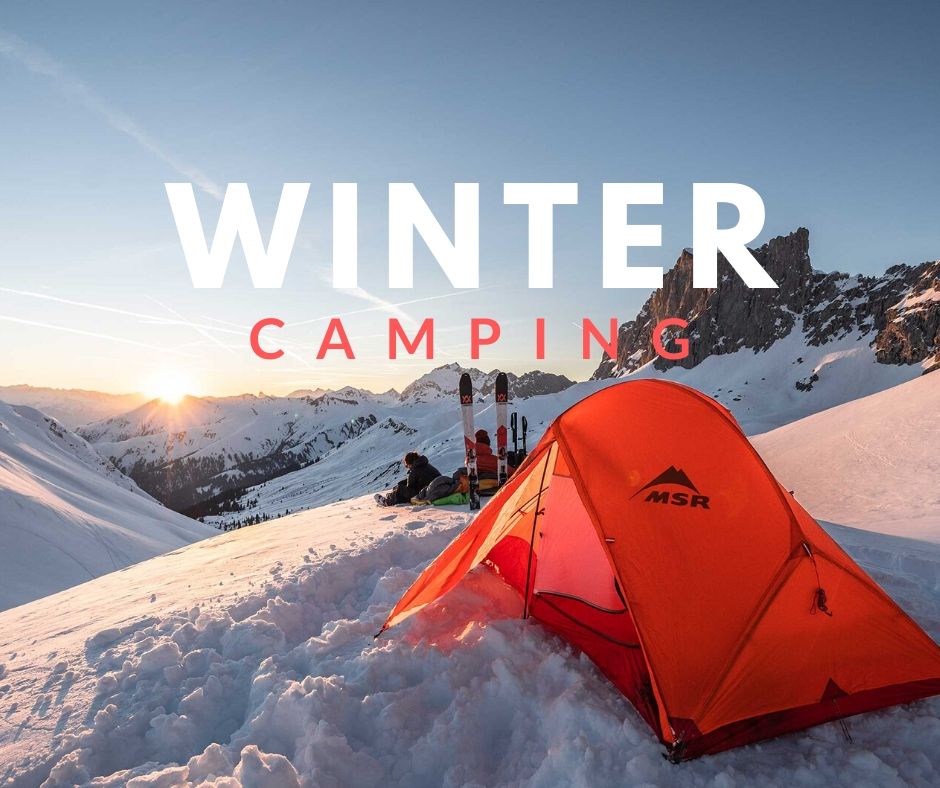 Imagine this: You are camping in your favorite park. During the night, you get out of the comfortable heated tent for a bathroom break, only to be embraced by an unfamiliar sight: billions of stars twinkling over you in the sky.
Breathtaking!
Such sight can only be seen when camping in winter.
Winter Camping – A Growing Cooling Trend
There are no statistics on winter camping in the United States. However, anecdotal evidence shows that more people are camping in winter.
The rise in popularity of the pastime can be attributed, in part, to a growing outdoor movement of people interested in skills like bushcraft. People simply want to live in the bush with little or no tools just to honor old school traditions.
But before you go camping in winter, you need the right winter camping gear.
Read on for an overview of all the gear you need to have a memorable winter camping experience. We've also provided a handy PDF checklist of the gear you need. Make sure you download it before leaving this page.
*The Wild Guides is reader-supported. When you buy through links on my site, I may earn an affiliate commission at no extra cost to you. Learn more*
Why Do You Need Winter Camping Gear?
If you are planning your first winter camping, you need to prepare well. Some parks offer comforts such as shower facilities, flush toilets, and rental accommodation like heated cabins and yurts. However, your experience will be limited if you don't have the right gear.
In winter, you will be camping on cold ground. Therefore, when you reach your camping site, instead of unpacking immediately, take time to find the right spot.
Having the right winter camping gear is important for your safety and comfort during camping. For example, you'll need to keep warm from the cold weather. What about water, do you have the right gear to melt snow?
Your winter camping gear will ensure you have an unforgettable camping experience and also stay healthy.
Below are the essential equipment you should have when going camping during the winter.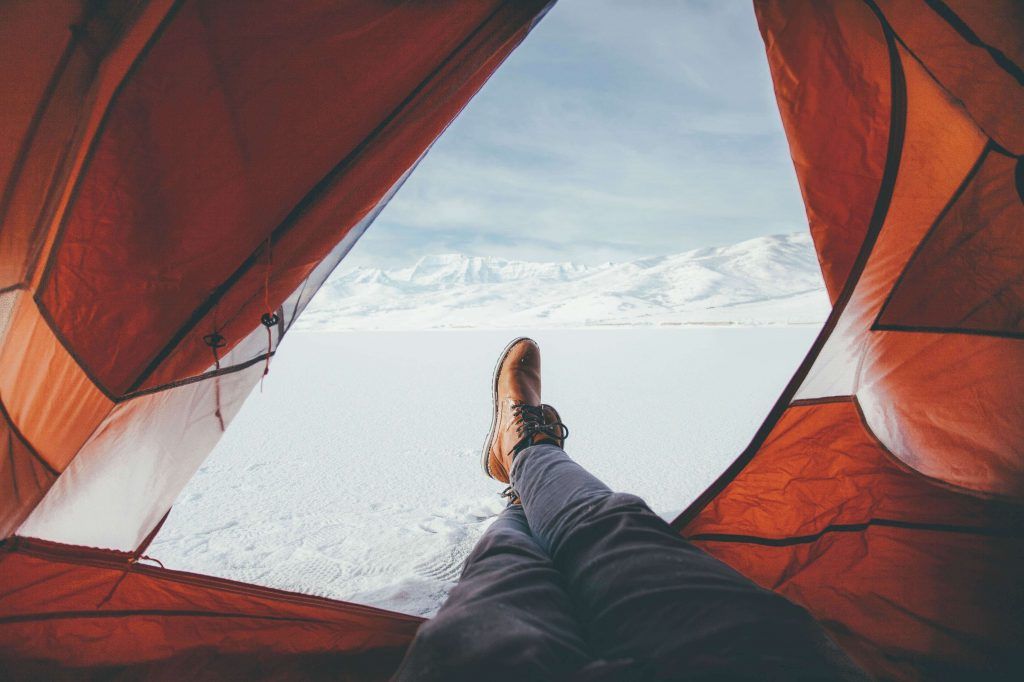 Essential Gear for Winter Camping List
1. 4-Season Tent
You need a sturdy 4-season tent to protect you from winter elements, including freezing temperatures, heavy precipitation, and winter storms. Ideally, you want a double-walled tent rather than a single-walled model like the Black Diamond Eldorado.
2. Cold Weather Sleeping Bag
After a long day of trekking through the snow, you will want to relax in a warm sleeping bag like the Mountain Equipment Iceline Sleeping Bag. We also love winter-specific bags from tops brands like Mountain Hardwear and Western Mountaineering.
3. Insulated Sleeping Pad
The sleeping pad is a key item in your collection of winter camping gear. It will keep your body warm when you are lying on the snow-covered ground. For winter camping, get the Therm-a-Rest NeoAir Xtherm. This sleeping pad will keep you warm by amplifying your body heat.
4. Stove and Fuel
Another important item for your winter camping gear are the stove and fuel for it. When camping in winter, your body will be working extra hard to keep you from freezing. Therefore, eating regularly is important. You need a reliable stove that can withstand the elements and boil water quickly. Check out the MSR Windburner.
5. Stove Platform
If you are using a liquid-fuel stove when camping in winter, the heat emitted can melt the snow underneath, thereby making the surface unstable. To avoid this, place the stove on a platform. You can go the DIY route here. Simply cut a 5-inch square foam and wrap an aluminum foil around it to bounce off the heat.
6. Utensils and Cookware
Carry a multipurpose stove for boiling water and heating food. If you'll be using a liquid-fuel stove, bring along lightweight cookware. Check the utensils offered by brands like Snow Peak, MSW, and GSI Outdoors. For more ideas on camping food, check out my No Cook Camping Food Ideas and the Camping Food List Guide.
7. Headlamp
During winter, days are shorter and nights are longer. You'll need a headlamp to light your way to the camp. The Spot 325 Headlamp is a great choice for its durability and brightness. Also, don't forget to carry extra batteries.
8. Winter Jacket
When the temperatures drop to freezing levels, you'll want to be in a warm jacket like the Featured Friends Khumbu Parka or the Arc'teryx Firebee AR.
9. Hardshell or Softshell Pants
Carry, thick, warm, and water-resistant winter trousers. Depending on the activities you will be doing, you can go for softshell or hardshell ski pants like the Flylow Gear Chemical.
10. Gloves
Although it may seem obvious, but you'd be surprised how may people underestimate gloves they pick for their winter camping gear. Carry multiple pairs of gloves to ensure you will be able to do everything you want during camping. For example, if you will be hiking in the mountains and also doing some snow-related work around the camp, you'll want a pair of waterproof gloves like the Give'r 4 Season Gloves.
11. Hats
Carry a pair of beanie hats to keep cozy at camp. Ideally, you want a thin, lightweight hat to wear during intense afternoon hikes or skiing, and a warmer option for the cold nights.
12. Warm Socks
When camping in winter, you are likely to be changing your socks every day. The socks should be warm enough to prevent non-temperature-related injuries as well as cold-related ones. Go for socks that can be extended up the calf, such as the Darn Tough Padded socks.
13. Sunglasses and Goggles
When you are at altitude during winter, you are likely to experience snow blindness. Therefore, we recommend you carry performance-oriented glacier goggles or sunglasses to protect your eyes.
14. Snowshoes
The waterproof hiking boots you usually wear for the outdoors will be no match for the snow on the trail during winter. Check out some of the greatest snowshoes made by MSR. If you will be skiing, you'll need lightweight backcountry skis, such as the black crows Navis Freebird Skis. Or check out my Tubbs Flex TRK review.
15. Mountaineering Boots
If you will be traveling on skis, carry backcountry ski boots for your touring bindings. The slightly stiffer Scarpa Maestrale RS Alpine Touring Boots are a great choice.
16. Backpack and Sleds
Get a large capacity backpack for your winter gear. If you are headed in a terrain that is not particularly steep, you'll travel more comfortably with a sled and a large duffle bag.
17. Poles
If you will be traveling during your winter camping trip, you'll appreciate having a pair of ski poles. We recommend the Leki Bold Lite S Ski Poles. This is a lightweight pack that can be collapsed and extended.
18. Map, GPS, or App
Finding routes when camping in winter can be difficult because the terrain is whited-out by the snow. Therefore, make sure you carry a GPS and a topographical map to know your location at any time. Smartphone apps like Topo Maps also come handy in tracking routes.
Essential Winter Camping Gear Table
Winter Camping Equipment
Cold-Weather Clothing
Winter Travel safety gear
4-season tent
Cold-weather sleeping bag
Insulated sleeping pad
Stove and fuel
Stove platform
Utensils and cookware
Headlamp
Winter jacket
Hardshell/Softshell pants
Gloves
Hats
Warm sock
Sunglasses or goggles
Backcountry snowshoes
Mountaineering boots
Backpack or sled
Poles
GPS
The above is an overview of the gear you need when going camping in winter.
Check out more great articles on camping: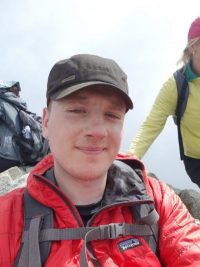 Mins Lukas Savela is a travel writer whose main focus is adventure travel. His passion for wildlife and nature has carried him to many countries in the world. He loves hiking the best trails on earth and sharing his experiences through writing. He hopes his experiences will help more people to start their own adventures and appreciate the world surrounding them a little bit more.
Mins Lukas Savela (also known as Lukas Saville) has written numerous articles that have been published on websites like Wandrly magazine, Go Nomad, Osprey.com, RAD Season, Wilderness Society, The Los Angeles Beat, California.com, Nature Conservancy, and many others.