Stepping into the great outdoors can be more beneficial than you think. According to Utah State University, camping boosts your physical and mental health as well as your self-esteem. After all, being able to say you managed to set up a tent in the wild does wonders for your confidence. If the idea of a simple overnight stay at a campground doesn't tempt you, though, there are other exciting experiences you can undertake—especially if you want to explore the world in the process. Here are the most unique camping experiences from around the world that can go on your bucket list.
Qaqortoq, Greenland: Going Beyond Boundaries with a Professional Explorer
Credit: @josefsen10 on Instagram
If your ideal camping experience involves embarking on a wide-ranging adventure, head to Qaqortoq. Camping isn't the only thing you do on this trip. Explora's luxury cruises mean you can integrate camping into a more immersive, days-long sea journey across Iceland and Greenland—with no less than professional explorer Mike Horn, who is a brand ambassador for the company. He will teach you how to find edible berries in the flora, pitch a tent against the raging wind, and munch on delicious expedition rations by a roaring campfire. Pick this camping cruise experience for a mesmerizing escapade with an experienced adventurer over land and sea.
Virunga National Park, Democratic Republic of Congo: At the Rim of a Lava Lake
Credit: UNESCO under CC BY-SA 3.0 IGO – no changes were made to the image
Do you think of yourself as a risk-taker? Test out the strength of your courage by touring with Gorilla Trek Africa and camping at the lip of a volcano. Your thrilling journey starts by entering DR Congo—in itself a risk, considering you might confront armed groups due to the ongoing conflicts. However, the molten beauty of Virunga National Park may be worth it. At its heart is Nyiragongo, one of the most active volcanoes in the world. The hike to the top of the crater takes around a grueling 4 hours. Your reward: the unforgettable sight of spurting, bubbling lava right below you and other old craters vibrant with unique plant life. You'll be safe at the rim, of course— just take care not to fall over. You can set up your tent there or leverage one of the many sleeping huts available. Take this journey if you want a hair-raising adventure.
Serengeti, Tanzania: A Thrilling Safari Adventure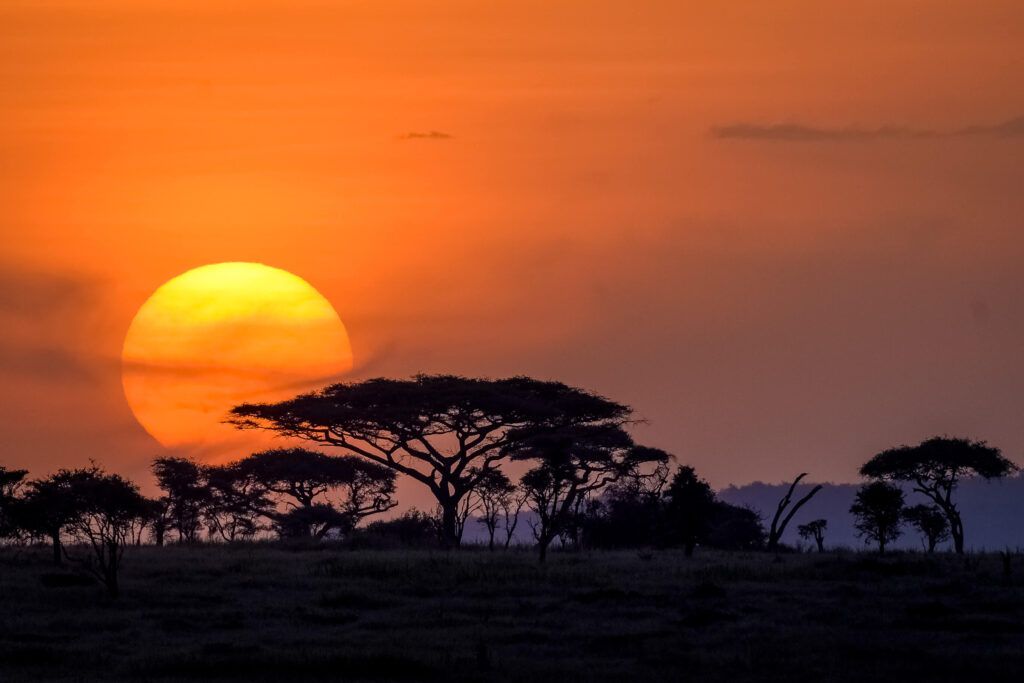 Perhaps the draw for you in camping is the wildlife. If you'd like the chance to see flamingos, lions, and over a million migrating wildebeest, book a weekend with Serengeti African Tours. You'll travel on a custom safari jeep with a pop-up roof, traverse the north circuit parks, and even do game drives to observe vast concentrations of elephants, cheetahs, and leopards. At night, you'll gather around the bonfire to reminisce about the day before heading off to your tents and sleeping bags. You'll also have the option of visiting the Maasai village, where you can learn the rich traditions of the lion-chasing tribe and try their specialty: raw animal blood with milk. Take a trip to the wild side with this Jeep camping tour.
Dinosaur National Monument, United States: Glimpses of the Ancient
Here's a camping trip that allows you to step back to the age of the dinosaurs. Fittingly called Dinosaur National Monument, this 210,000-acre expanse contains beautifully-preserved ancient fossil beds and cave etchings. Yet these relics of old aren't trapped under museum glass. You'll be allowed to hold and trace them while also having the opportunity to wade the rivers and gaze at the stars that our ancestors must have once looked upon. The Monument also lets visitors hike in the red rock canyons, learn about the site's geologic history, and ride the rapids present on-site. Visit this park for a unique, gorgeous glimpse across time.
Hatta, UAE: Luxury Oasis in the Desert
Credit: @mytraveloyster on Instagram
Not every camping trip needs to be rough and rustic. You can also try glamping, which allows you to experience the gorgeous wilderness alongside select creature comforts. If you want a special twist that makes your camping experience stand out, visit Hatta Dome Park. Here, you'll be away from bustling city life and can take in the splendid Hatta Mountains under starry skies. You can also participate in activities like paragliding and mountain carting. The aforementioned creature comforts you can use for camping include a dome-shaped luxury tent with a television, mini fridge, and private BBQ and fire pit. Camp here to enjoy the best of the outdoors in luxury.

If regular camping trips don't excite you, take yours a step further. Place one of these unique camping experiences on your bucket list and secure a one-of-a-kind journey you won't soon forget.

For more articles about outdoor experiences and destinations, visit us here on The Wild Guides.