Let me be honest – when I decided to buy my Tubbs Flex TRK snowshoes, I did not have the time to do a lot of research. I needed a pair fast, and I knew how quickly shops run out of winter stock these days. So, I chose Tubbs and took them to the trails. Overall, I now think this was a pretty good choice. Hence, I wanted to do a Tubbs Flex TRK snowshoes review where I describe my personal experience with this model.
I also think some gear reviews, especially when it comes to winter equipment, can be hard to understand due to the technical terms people use. So, this review is for those who want an honest and simply understandable review of Tubbs Flex TRK. Read on to learn what works and where they could perform better.
*The Wild Guides is reader-supported. When you buy through links on my site, I may earn an affiliate commission at no extra cost to you. Learn more*
The Verdict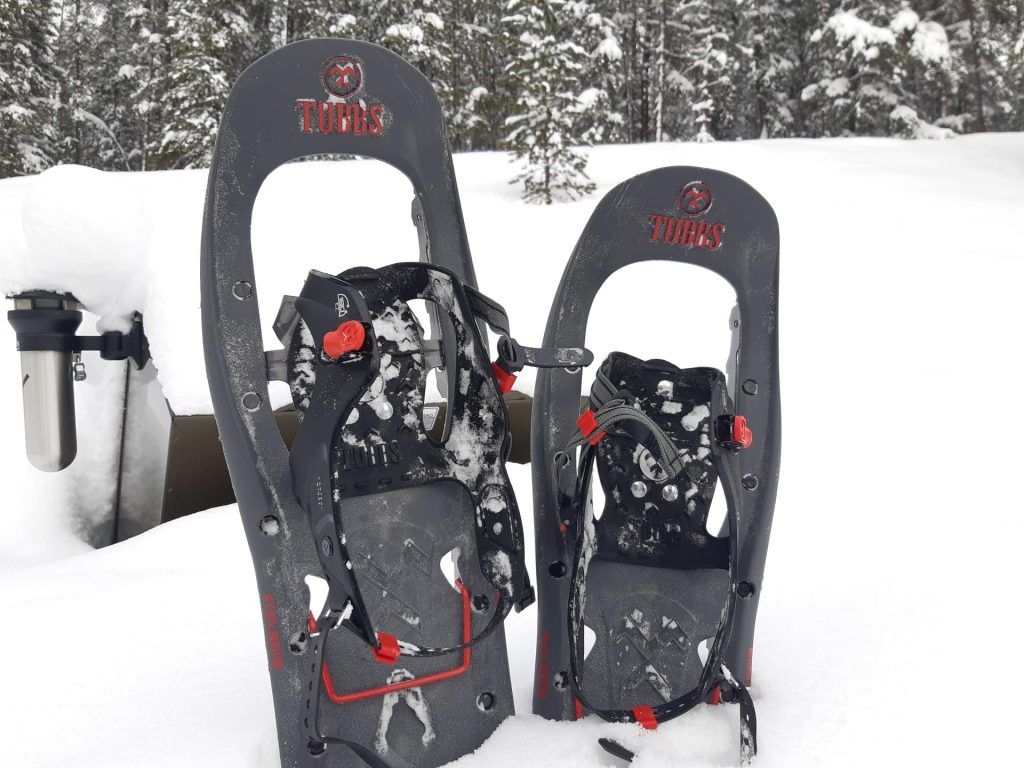 The Tubbs Flex TRK snowshoes are a decent choice if you're looking for a pair of general all-rounders. Their traction is good both uphill and on icy terrain; they're comfortable and easy to walk in, and the price is good for the value you get. They could perform slightly better when it comes to flotation, and you might need to get used to the bindings. But all in all, I'd rate it a 4.1/5⭐.
Rated 4.5/5⭐ on Tubbs
Tubbs Flex TRK Snowshoe Specifications
These are the specifications of the Tubbs Flex TRK Unisex snowshoes.
| Length | Weight limits | Shoe sizes |
| --- | --- | --- |
| 22″ | 80-160 lbs (36-73 kg) | US 6-11 (EU 36-43) |
| 24″ | 120-200 lbs (55-91 kg) | US 8-13 (EU 40-47) |
| 28″ (rarely seen in shops) | >190 lbs (>86 kg) | US 8-13 (EU 40-47) |
| Other specs | Tubbs Flex TRK Snowshoes |
| --- | --- |
| Weight | 3.7-4lbs (1.7-1.8 kg) |
| Frame | Aluminum |
| Deck | Nytex nylon |
| Crampon material | Carbon steel |
| Tractions | Toe crampon, Side traction, Heel lift |
| Price | $159.95 |

Tubbs Flex TRK Snowshoe Pros and Cons
Here are the pros and cons of Tubbs Flex TRK after I tested them on numerous winter trails in the Rockies.
Pros
Good value for the price. I believe the Tubbs Flex TRK snowshoes are only a little bit more expensive than the budget snowshoes out there (not counting the most economic snowshoes like Costco or Yukon Charlie's). And for that $30-40 increase in price, you get a pair of decent quality all-rounder snowshoes.
Great uphill traction. I had no issues climbing up both on snow and icy surfaces. I did not have to use the heel lift yet as well as the traction so far was good without it.
Comfortable walking. I wanted to mention this aspect since I went snowshoeing with others who used different snowshoe brands. I found that walking in Tubbs Flex TRK was smoother compared to their experiences. While others had occasionally stepped on their own snowshoes due to their wide shape, the TRKs had a good frame for fast and effortless snowshoeing.
Decent bindings. After the first initial setup (considering you'd be using the same boots to go snowshoeing), it's fairly easy to get into the snowshoes, even with gloves on.
Cons
Binder rear belt doesn't work with some gaiters. It might not be an issue for most of you, but my gaiters have strap loops at the outer side of my feet, and that's where the rear binder strap is too. Because of this, my feet would often slide out of the rear binding belt, and I had to readjust it. But getting a new pair of gaiters should be an easy fix for that. (Update: the bottom gaiter strap snapped due to the continuous tension it got from the snowshoe strap).
Downhill traction on icy surfaces. While not terrible, the Tubbs Flex TRK snowshoes were worse going down than climbing up. I occasionally felt slipping and had to reduce the speed on icy surfaces. But there were no issues while on the snow.
Tubbs Flex TRK Snowshoe: The Field-test
I've tested my Tubbs Flex TRK snowshoes on numerous trails and in various conditions throughout the Rockies and wanted to give you a brief overview of their performance within different categories. I also wanted this review to be simple to understand for those who are not well versed in the winter gear terminology (like myself!). So read on to find out more!
Flotation
Depending on the gear I had to bring on my snowshoeing trips, my trail weight was around 175-195 lbs (80-88 kg). The Tubbs Flex TRK faired very well compared to an older MSR model and a pair of Costco snowshoes that my trail buddies wore. Especially at the edges of the trail, which are more prone to breaking off.
They could have performed a little better when it came to breaking through the fresh and soft snow. But most snowshoes aren't that great on fresh snow. I think the main reason is that my trail weight is very close to the weight limit of the Tubbs Flex TRK snowshoe size 24". Though, I would not consider this to be an issue.
I would rate the flotation of Tubbs Flex TRK 4/5.
Bindings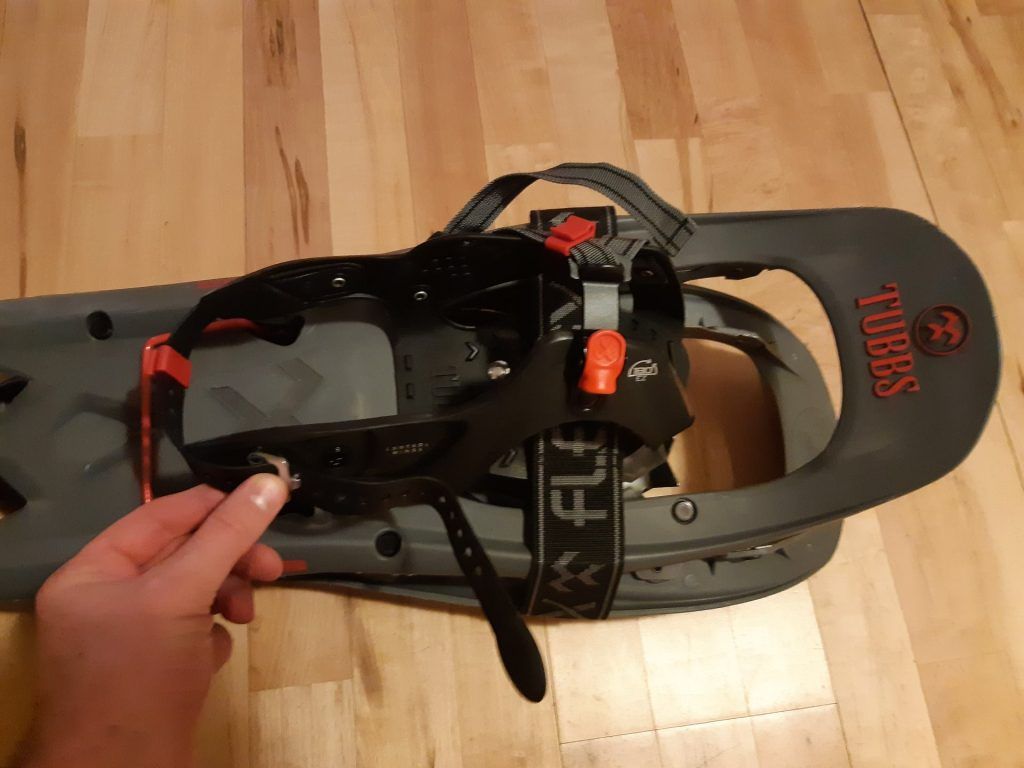 As you can see from the image, the Tubbs Flex TRK snowshoes have two adjustable bindings: one at the toes and one at the rear. It might take you a little bit longer to put them on for the first time, and you may need to take off your gloves for it too. But if you're anything like me, you probably take the same boots to all your snowshoeing trips as well. It means that you will only need to set one of the bindings and keep the other one strapped as before.
I usually keep the rear bindings strapped. I shove my feet into them and zip up the front bindings. Some other snowshoe models might have more sophisticated binding systems, but once you get the hang of it will become very comfortable. And you will no longer need to take the gloves off. The only notable issue I had with the bindings was that the rear strap occasionally slipped off my heels and I had to readjust it. Even though I have figured out this was caused by the gaiter strap loop under the binding strap, it did annoy me when it happened.
I would rate the bindings of Tubbs Flex TRK 3.8/5.

Traction
I would consider the traction of the Tubbs Flex TRK snowshoes to be really good, especially compared to the snowshoes my trail buddies wore on our trips. They stood out on the icy terrain, specifically when going up. And while they performed a little bit worse on a steep, slippery descent, they still felt reliable and did not cause any issues.
The Flex TRKs have metal crampons on the center and the sides of the snowshoes. So, there's enough grip to ascend or descend on steeper icy sections of the trail. These snowshoes also have a heel lift for very steep trail sections.
I would rate the traction of Tubbs Flex TRK 4.5/5.
Comfort
When it comes to snowshoeing and comfort, I wanted to look at this from a couple of angles. The first one is walking in Flex TRKs. Like I mentioned before, Tubbs snowshoes were easy to walk in. I like the fact that I never stepped onto my own snowshoe as my trail buddies did because the frame isn't too wide. And it narrows down even more towards the rear. I was able to maintain a fast pace, and my feet never felt sore after the trips (yet).
The other angle I want to mention is packing and carrying them on the trail. The TRKs are longer than some other models. Especially compared to the MSR ones. So, I thought it might be hard to attach them to my backpack in case I decide to do a trail where snowshoes are only needed in sections. After playing around with the bindings and the holding strap the Flex TRKs come with, I managed to attach them to both of my day packs. And that to me is an important function which I wanted to be able to do with my snowshoes.
I would rate the comfort of Tubbs Flex TRK 4/5.
Value
I bought my Tubbs Flex TRK snowshoes for around US$160. While it's not the cheapest price to pay for a pair of general snowshoes, the quality is worth it.
I have seen snowshoes made by unknown brands that cost $130-150. Tubbs snowshoes feel more solid compared to the other ones I held in my hands. The Nytex Nylon deck is durable yet flexible, meaning it can bend to a degree in case you hit a more complicated terrain or trip. Many of the cheaper snowshoes are made from low-quality materials, that can split in half, break off at the sensitive points near the screws.
I have also seen snowshoes made by more recognized brands that cost way more than $200. But often I did not think they had any actual benefits compared to Tubbs Flex TRK. That's why I think the price is fair, considering that I plan to use them for at least a few years and possibly longer.
I would rate the value of Tubbs Flex TRK 4/5.
A quick note: this Tubbs Flex TRK review is based entirely on my personal experience. And while I do think that these snowshoes are pretty great, I do not believe that one model can fit all types of trails. Flex TRKs are decent for a pair of general all-rounder snowshoes you can use on different terrain. But if you're looking to do something more challenging, I'd consider looking into activity-specific snowshoes that might fit your needs better.
Tubbs Flex TRK Snowshoes on the trails – Video
Competitor comparison
This is a comparison table that highlights the main differences between Tubbs Flex TRK and some of the other more known snowshoe models.
| Model | Sizes | Weight | Frame | Deck | Traction | Price |
| --- | --- | --- | --- | --- | --- | --- |
| Tubbs Flex TRK | 22″, 24″, 28″ | 3.8 lbs | Aluminum | Nytex nylon | Toe crampon, Side traction, Heel lift | $160 |
| MSR Lightning Ascent | 22″, 25″, 30″ | 4.19-4.94 lbs | Aluminum | TPU coated Nylon | Toe crampon, Side traction, Heel lift | $340 |
| Atlas Montane | 25″, 30″, 35″ | 4.44 lbs | Aluminum | Nytex fabric | Toe crampon, heel traction, Heel lift | $250 |
| MSR Evo | 22″ | 3.56 lbs | Steel traction rails | Molded plastic | Toe crampon, Side traction, | $155 |
| Atlas Helium Trail | 23″, 26″, 30″ | 3.56 lbs | Aluminum | Plastic | Toe crampon, Side traction, Heel lift | $145 |
Snowshoe comparison table
See some of my other gear reviews you might like: