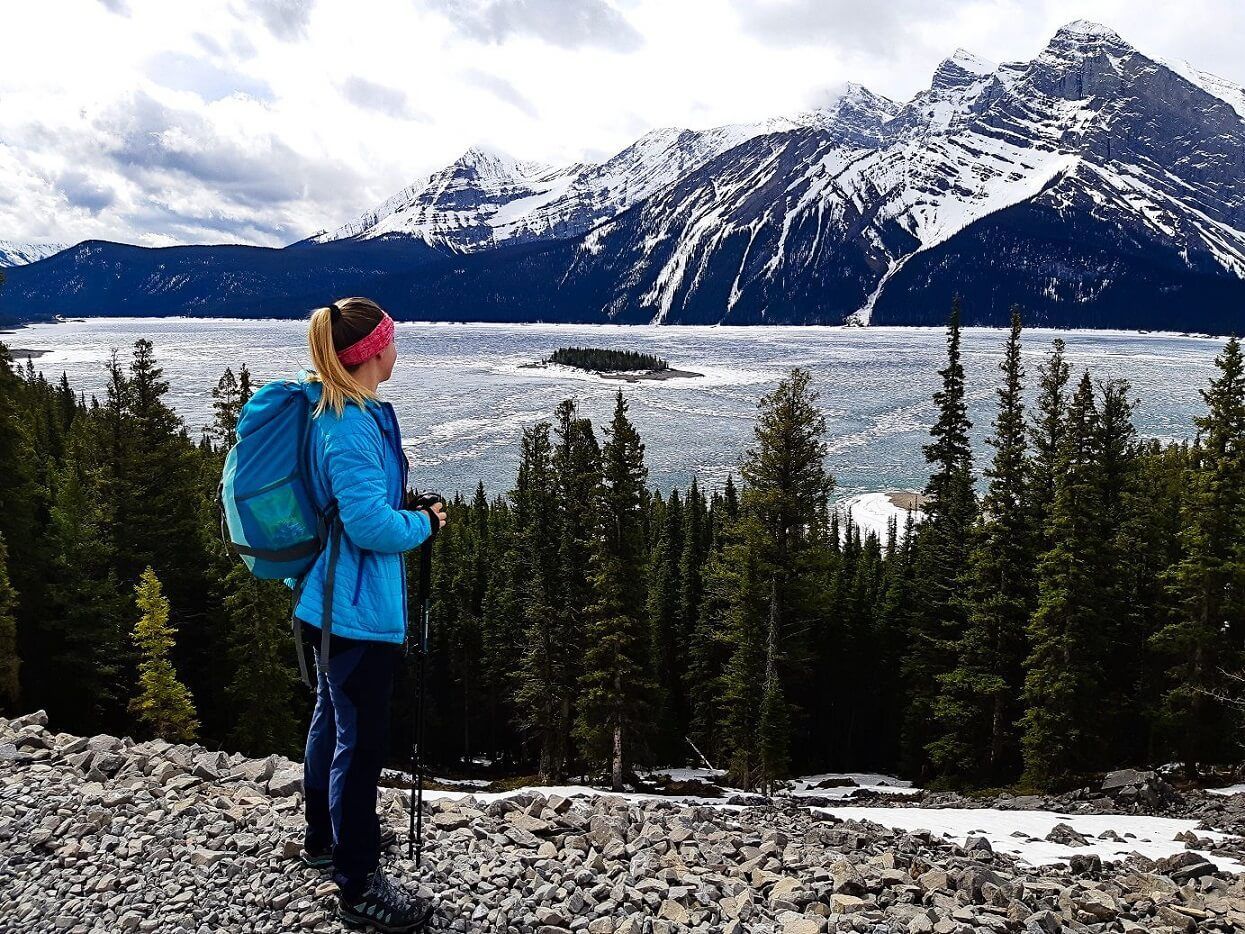 Scarpa Moraine Mid GTX Women's Hiking Shoes: The Verdict
Scarpa Moraine Mid GTX women's shoes are a pair of boots that simply won't let you down. The Moraines are pricier than some of the other mid-level hiking shoe models you might consider, but you will get a great value for the price. Even though the Scarpa Moraine Mid GTX shoes don't excel with any specific features, they are a workhorse. The Moraines bring a perfect balance between durability, comfort, waterproofing, and lightness, which few models can combine. I highly recommend this pair and strongly believe you will pick them as your go-to hiking boots.

I would rate the Scarpa Moraine Mid GTX Women's Hiking Shoes a 4.43/5.
*The Wild Guides is reader-supported. When you buy through links on my site, I may earn an affiliate commission at no extra cost to you. Learn more*
I was lucky to have my wife field-test the Scarpa Moraine Mid GTX women's hiking shoes for me. And I must say, after each hike, I do feel a little jealous that she got that pair of hiking boots as her first choice. The initial pick of these shoes happened after trying numerous hiking shoe brands and sizes, and after each new pair, her favorites always remained the Moraine Mid GTX. After the shop did not have any more brands to show, she finally made up her mind that the pair was the most comfortable one that day.
Since comfort is probably the only thing you can check out at the store, it was time to bring the hiking boots to the field and do some test runs. To this day, the Scarpa Moraine shoes are my wife's go-to hiking boots to go on a long hike and even a 2-3 night backpacking trip.
Quick Navigation
Scarpa Moraine Mid GTX Specifications
Scarpa Moraine Mid GTX hiking shoes apply some of the best technologies that are widely used by the most famous outdoor hiking shoe brands.
The upper layer is made from suede with polyester mesh inserts which increase breathability.
Abrasion-resistant toe rands protect your toes and add durability to one of the more impacted sections of the shoe.
GORE-TEX Extended Comfort technology is used for waterproofing and is known for being one of the most waterproof and durable membranes in hiking shoes.
Dual-density EVA midsoles are used for extra cushioning and foot support.
Activ Impact Technology uses materials that help absorb the negative impacts of the ground shock and take off some stress from your feet.
Vibram Dynatech 3 / XS Trek rubber for better traction on a higher amplitude of surfaces.
Eco-friendly materials used throughout the creation of the shoe.
Scarpa Moraine Mid GTX Women's Hiking Shoes: Field Performance
The Scarpa Moraine Mid GTX Women's shoes were put to the test right from the start of the shoulder hiking season in the Canadian Rockies. The boots were tested walking in them through waist-deep snow, loose scree, steep incline, and descent. They were tested both for day-hikes and backpacking trips. And they were used in wet and dry conditions. I have to thank my wife for testing the boots in all these conditions, some of which were not experienced on purpose nor enjoyable.
Comfort & Stability
The comfort of the Scarpa Moraine GTX was the main reason to choose this shoe in the first place. The shoes continued to feel great on the trail. They seemed to be quite sturdy and durable, so I assumed they might be a little rough on the feet. But the experience was great. There was enough cushioning and the Moraines had no real issues on any section of the trails they were tested on. They felt firm but light and stable throughout the hikes.

We give a 5/5 for comfort & stability.
Weight
The Scarpa Moraine Mid GTX Women's hiking shoe weighs around 357g, which is quite light for a hiking shoe that is both sturdy and waterproof. Usually, you'd get the best weight from the dry-weather hiking boots or the high-end shoes. So, knowing that Scarpa Moraine is actually on the lower end of Scarpa's price range, the lightness of the shoe has surprised me quite a bit.
We rate the weight of Scarpa Moraine Mid GTX a 4/5.
Traction
The Scarpa Moraine Mid GTX women's hiking shoes have proven to be quite reliable when it comes to diverse terrain. The feet felt firm on scree, steep ascents, quite good even on wet tree roots, and really great for fast descents. The only time my wife fell on the ground was when she slipped on a wet rock. Right after that, we tried walking over a few other rocks on purpose and I could not say her feet were slipping on them. Maybe it was just clumsiness, so I have to go with rating the traction above average. So far, Vibram outsole technology has been very reliable.
We rate the traction of Scarpa Moraine Mid GTX a 4/5.
Waterproofing
Waterproofing of Scarpa Moraine hiking shoes is just amazing. I have to say we've tested this by accident, where over 8 km of the trail was waist-deep snow. We just did not want to go back, so we ended up crawling through the snow without any snowshoes. I was wearing a pair of low quality hiking boots at the time, and my wife had the Scarpas on. After the hike, I could pour a half-pint of water from my boots and my wife's feet were completely dry. She also tested it in the rain and low current creeks, and the water never soaked through.
After all that, we have to rate the waterproofing of Scarpa Moraine GTX a 5/5.
Breathability
The breathability of Scarpa Moraine GTX has surprised me. After all, I thought their level of waterproofing will affect breathability quite negatively. But in general, the shoes were great in different weather and environment. The feet did not feel hot or sweaty. The only time it felt like the feet got a bit wet was after a long and strenuous hike through difficult terrain with many jumps and falls. I do feel, however, the balance between breathability and waterproofing is pretty solid.
We rate the breathability a 4/5.
Durability
The durability of Moraine Mid GTX is something I want to emphasize on. Just by holding a shoe in your hand you kind of feel how long they're going to last. And Scarpa is known for making boots that last a very long time. The pair of shoes was tested in harsh environments and many different trails. And after all that, they don't have any scratches, marks or even look as they've been used. I am quite confident that this pair will be my wife's go-to hiking shoes for a very long time.
We rate the durability a 5/5.
Pricing
The pricing of Scarpa Moraine Mid GTX is on the higher end of the price range for a mid-level hiking shoe. They usually cost around $170 and around $125 during a sale. And I have to say you can find some good pairs of hiking boots under $165 if you want. But Scarpa has never been a low-price shoe brand. Quite a few parts of the shoes are still handmade in Italy. And when you try them on, you know what you are paying for. Even though they are a bit pricier than quite a few other hiking shoes, you usually get a great value for money when it comes to Scarpa.
So we'd rate the pricing a 4/5.
Check out the links below to find some great deals on Scarpa Moraine Mid GTX hiking shoes.
Scarpa Moraine Mid GTX: Pros & Cons
Here are the main features we loved the Scarpa Moraine Mid GTX hiking shoes for and places the shoes might improve upon.
Pros
The shoes are very comfortable and light, allowing you to tackle long trails without any fatigue on your feet.
The shoes are really durable and firm for a pair of day hiking shoes. We are comfortable enough to use this pair on 2-4 day backpacking trips, just because it feels like the pair can take a lot.
For a pair of hiking shoes that are so light their waterproofing level is superb. And the best part about it is that it does not affect breathability as many other high-level waterproof shoes do.
Cons
Price is the only thing that stands out on the negative side of things. And even though you expect Scarpa to be more expensive, you can get higher-quality Scarpa hiking shoes for a fairly small budget increase.
Competitor Comparison
Here's a table that compares the Scarpa Moraine GTX Mid hiking shoes with some of its main competitors.
| | | | | | |
| --- | --- | --- | --- | --- | --- |
| Hiking shoes | Waterproof | Price range | Midsole | Outsole | Upper Layer |
| Scarpa Moraine Mid GTX | Yes – GoreTex Technology | $140-170 | EVA midsole | Vibram Dynatech 3 / XS Trek | Suede with polyester mesh |
| Scarpa Mistral Mid GTX | Yes – GoreTex Technology | $180-200 | PU-Direct Attach | Vibram | Suede leather & nylon |
| Salomon Ultra 3 Mid GTX | Yes – GoreTex Technology | $160-200 | EVA midsole | Rubber blend | Suede leather & nylon |
| Merrell Moab 2 Mid | Yes – M Select Technology | $110-160 | Merrell M Select FIT.ECO+ blended EVA | Rubber blend | Leather & mesh |
| Keen Pyrenees | Yes – KEEN.Dry Technology | $110-160 | EVA midsole | Non-marking rubber | Full-grain leather |
Check out more related articles on camping: