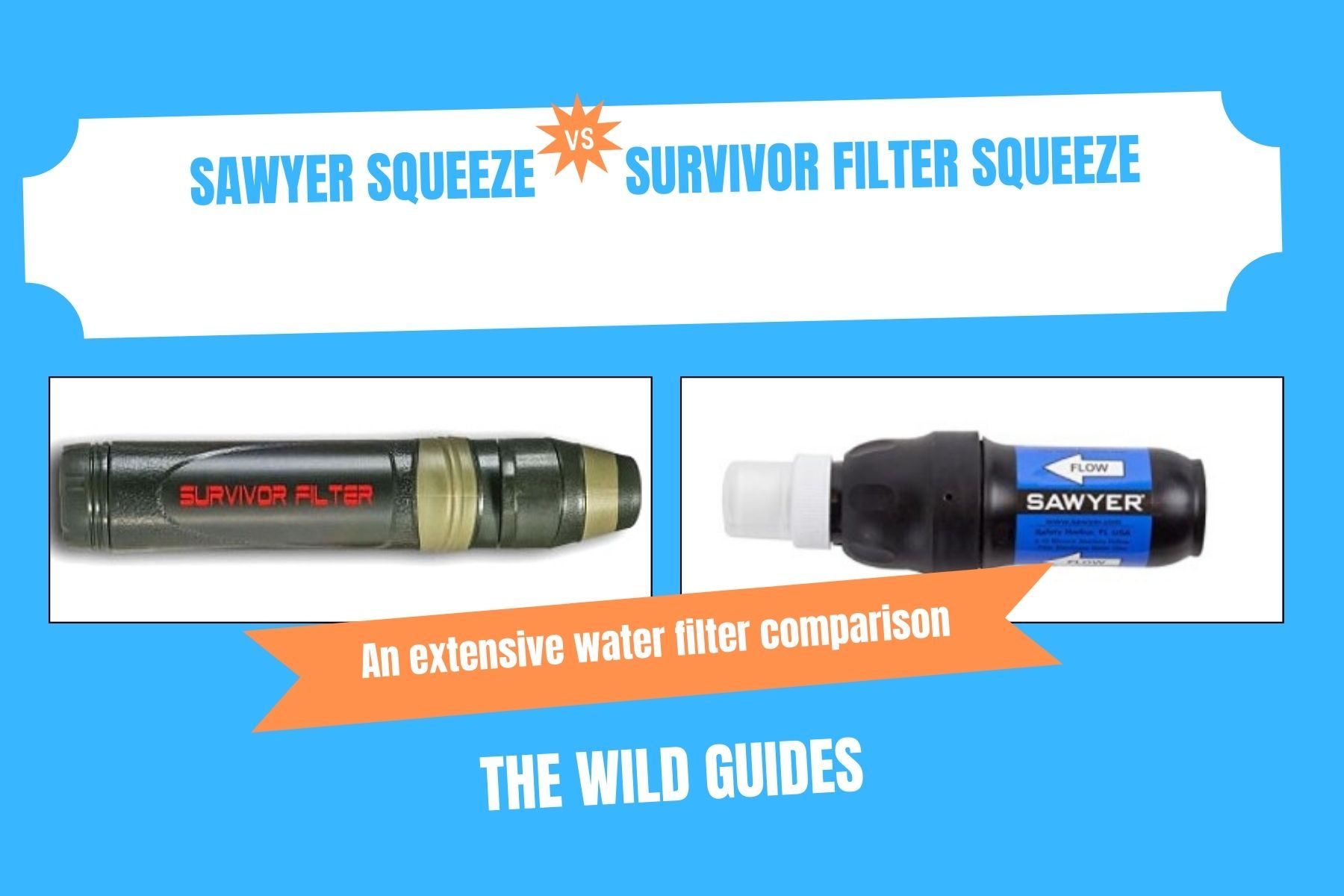 This Sawyer Squeeze Vs Survivor Filter Squeeze review will show you what similarities and differences these two awesome water filters have. And just to make it a bit more fun, I scored them in each category they were reviewed under. I hope this article will provide enough answers for you to pick your favorite water filter for hiking and backpacking.
I've bought the Sawyer Squeeze a couple of years ago and had it with me throughout all of my hiking and backpacking adventures since. And I received the Survivor Filter Squeeze from Survivor Filter company, which kindly asked me to review their product. I've used it now for one hiking season as well and can give you some of the insights I made.
Both the Sawyer Squeeze and Survivor Squeeze water filters work similarly. You fill their pouch with dirty water, squeeze it, and clean water comes out of the attached bottle. But that's where the similarities end. They differ in the contaminants they remove, filtration rate, filtration capacity, and more. Read on to find out the strengths and weaknesses of both Survivor Filter Squeeze and Sayer Squeeze.
*Disclosure: I only recommend products that I would use myself. This post may contain affiliate links that may earn me a small commission at no additional cost to you. Read the full advertising policy here.*
Sawyer Squeeze Vs Survivor Filter Squeeze – The Verdict
For those who want to find out which outdoor water filter is better when it comes to Sawyer Squeeze versus Survivor Filter Squeeze, my verdict is that Sawyer Squeeze is better on paper. According to the categories that I think are essential when reviewing water filters for hiking and backpacking, the score comes to 5:4 with Sawyer winning in just 1 category more than Survivor Filter.
Sawyer Squeeze tops Survivor Filter Squeeze by having more included accessories, a faster water filtration rate and larger filtration capacity before having to change any parts of the filter.
Survivor Filter Squeeze fares better than Sawyer Squeeze when it comes to the quality of the filter and the usage method category.
Even though the score fares Sawyer Squeeze, I personally believe that the filter quality category is more important than some of those Sawyer came out on top. So, I still see the two filters as equally great options for your outdoor trips.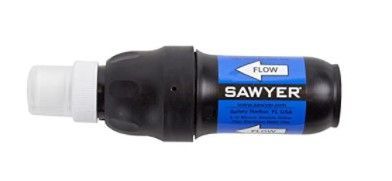 Sawyer Squeeze Vs Survivor Filter Squeeze – Summary
There's no clear winner between Sawyer Squeeze and Survivor Squeeze water filter. Both these models outsmart the other on some counts. Take, for instance, the fact that Sawyer Squeeze has a filter that can last a lifetime, offers more flow rate, and comes with more accessories.
The Survivor Filter Squeeze, meanwhile, justifies its high reputation by keeping its price lower, offering three filters to Sawyer Squeeze's one, and improving the filtered water's taste. It also removes waterborne viruses, something the Sawyer Squeeze is unable to do.
This means it's your requirements and not these filters' specifications that should help you decide whether the Sawyer Squeeze or the Survivor Filter Squeeze deserves your money.
Sawyer Squeeze Vs Survivor Filter Squeeze – Overview
Here's a quick overview of both these water filters:
Sawyer Squeeze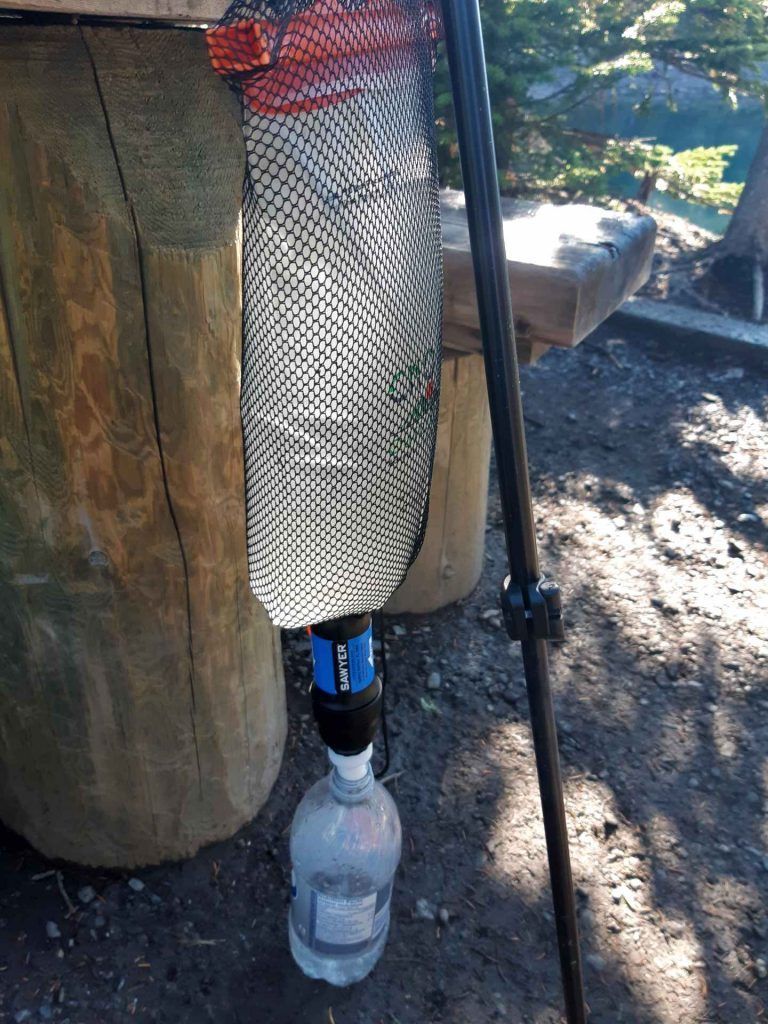 The Sawyer Squeeze has a 0.1-micron hollow water filter membrane. The membrane can remove 99.9% of all bacteria, protozoa, and cysts from filtered water. This makes it more than sufficient for water sources all around North America, where waterborne viruses are not a problem.
While its membrane has a stated shelf life of 540 gallons, you can keep using it forever as long as you backwash it often (discussed below). You also get five accessories alongside this model (revealed below). Plus, its manufacturer backs it with a limited lifetime warranty.
Survivor Filter Squeeze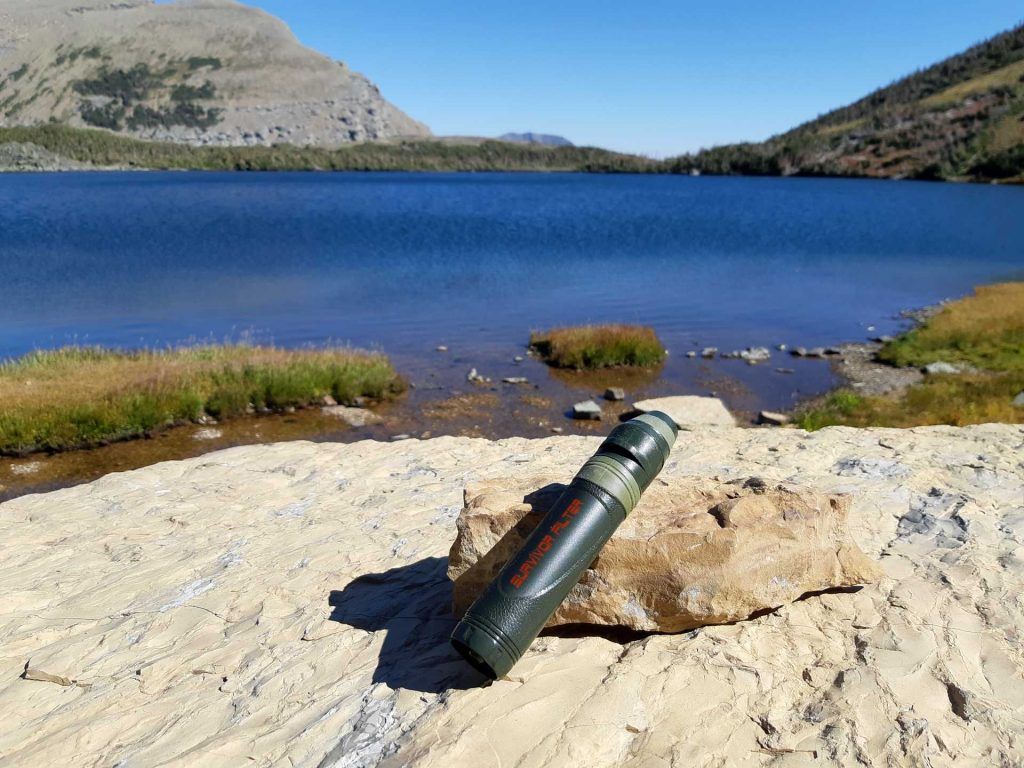 The Survivor Filter Squeeze comes with three filters. They include a pre-carbon filter (which takes care of large particles), a 0.05-micron filter (that removes heavy metals, bacteria toxins, etc.) and a post-carbon filter whose primary function is to improve the filtered water's taste.
All the filters are long-lasting, except the pre-carbon filter that might need replacement after every 530 gallons treated. But that shouldn't be a problem because 5 extra pre-carbon filters are included in the package. And you get a limited lifetime warranty on this model, too.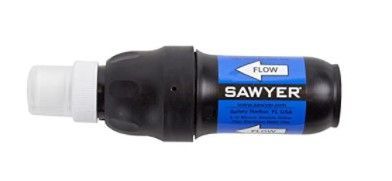 Sawyer Squeeze Vs Survivor Filter Squeeze – Comparison
Here's how both these water filters compare with each other:
Filter Medium and Capacity
The Sawyer Squeeze comes with a 0.1-micron hollow filter membrane. The membrane could remove 99.99% of all bacteria and protozoa from water. But it can't take care of waterborne viruses, nor can it improve the water's taste.
The membrane can last for a lifetime if you backwash this filter regularly. That is very easy: take the syringe that comes with this filter, load it with clean water, inject it into the filter, and push the clean water through the system. The ease of backwashing makes this filter quite simple to maintain.
The Survivor Filter Squeeze comes with three water filters:
Cotton Pre-Filter: Removes large particles, dirt, dust and sediments from water
0.05 Ultra-Micron Filter: Removes viruses, bacteria, toxins, and heavy metals
Carbon filter: Removes remaining heavy metals and improves water's taste
All three filters have a different capacity, though you can backwash the entire system at once. For instance, the cotton filter will need replacement after treating 530 gallons. The 0.05 ultra-micron and carbon filters, meanwhile, can last for 100,000 and 1000 liters, respectively.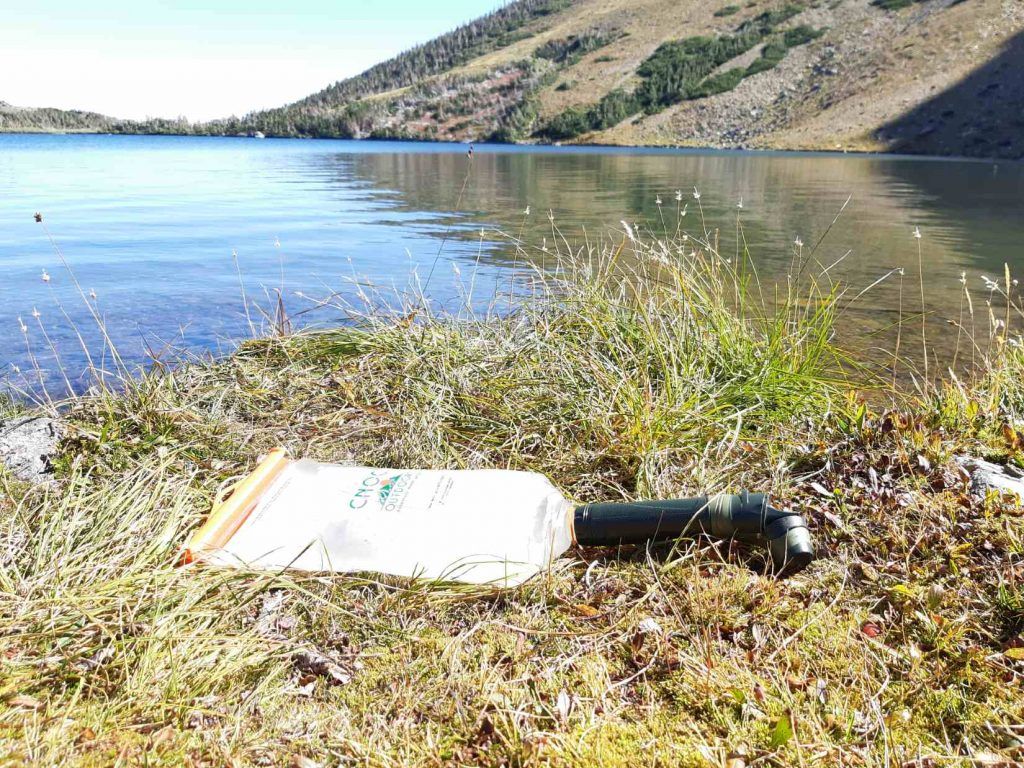 How To Use?
Winner: Survivor Filter Squeeze (provides one extra usage method)
You have two ways to use the Sawyer Squeeze water filter:
Indirect consumption. Collect the water in the provided bags and squeeze them to pass the water through the filter. Pour the filtered water into a cup or any other water vessel.
Direct consumption. Attach the straw to the bottom of the filter with the blue attachment cap and drink the filtered water via the other end of the straw. This way, you'll get rapid filtration. But the filtered water's flow rate will be less.
You have three ways to use the Survivor Squeeze water filter:
Via a threaded bottle. Attach the filter to a 28mm threaded bottle (SmartWater and Dasani bottles have this threading)
Via a collapsible canteen. Attach the filter to Survivor's collapsible canteens. Squeeze the canteen to drink filtered water directly or pour it into a vessel.
Direct from the water source. Place the filter in the water source and suck water as if you're sucking a straw
How Fast Does It Filter?
The Sawyer Squeeze water filter provides a flow rate of 1L/40s if you collect the water in the provided bags and squeeze it through the filter. This is pretty fast for a water filter whose pouch can hold only 32-ounces of water at one time.
I measured the flow rate by filling up one of the bags and squeezing them to push one liter of water through the Sawyer. After four tests, I learned that this water filter was able to filter one liter of water in approximately 40 seconds.
The Survivor Squeeze water filter, meanwhile, offers a flow rate of 200ml/minute if you squeeze its pouch to push the water through the filter (the flow rate will be less if you use a straw). This translates to around 1L every five minutes, pretty slow compared to the Sawyer Squeeze's flow rate.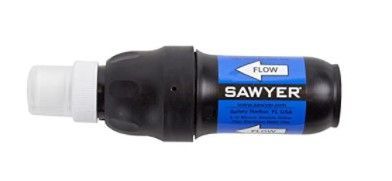 How Much Water Can It Filter?
The Sawyer Squeeze's 0.1-micron hollow membrane has a stated shelf life of 540 gallons. However, based on my personal experience, the filter can last a lifetime as long as a) you backwash it regularly and b) keep it away from the extremes of weather.
The Survivor Squeeze's three filters, meanwhile, have different shelf lives. While both the 0.05 ultra-micron filter and the carbon filter can last a long time with regular backwashing, the pre-cotton filter will need frequent replacements if you use the Survivor regularly.
How Easy Is It To Setup?
Set-up is equally easy with both the Sawyer Squeeze and the Survivor Squeeze. If you want immediate filtration, attach the straw and suck up the water directly from the water source. Otherwise, fill up the bag, attach it to the filter, and squeeze filtered water into your drinking container of choice.
What's In The Box?
Winner: Sawyer Squeeze (comes with more accessories)
The Sawyer Squeeze comes with a plethora of accessories. You get the filter itself, a mesh bag, an extra O-ring, and a syringe for backflushing. Also on offer are 2 different squeeze bags (each offering 32 fl. oz capacity), a straw and a straw adapter.
The Survivor Squeeze lacks on this count. This water filter only comes with the three filters you'd be using from day one, five extra pre-filters in case the original one stops working as intended, a mouthpiece, syringe and an O-ring.
What Does It Cost?
At the time of writing, both the Sawyer Squeeze and Survivor Squeeze cost almost the same. There's only a $2.60 difference between their pricing (with the Sawyer costing more). This means that at least on the price front, there's nothing to differentiate these two models.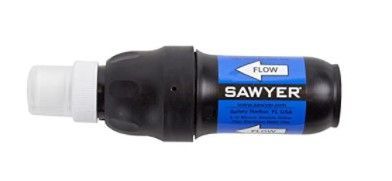 Best Water Bags for Sawyer Squeeze or Survivor Filter
Despite their differences, both these filters have one thing in common: their bags aren't solid and won't last much longer. That is especially the case with the Sawyer Squeeze. Its 32 fl. oz. pouches are fairly weak and will break after repeated use.
Fortunately, the flaw isn't fatal as both the filters are compatible with 28mm aftermarket thread bags. I'd suggest you order a replacement bag as soon as you order one (or both) of these filters. Here are the best replacement water bags for Sawyer Squeeze and Survivor Filter Squeeze:
1. CNOC Vecto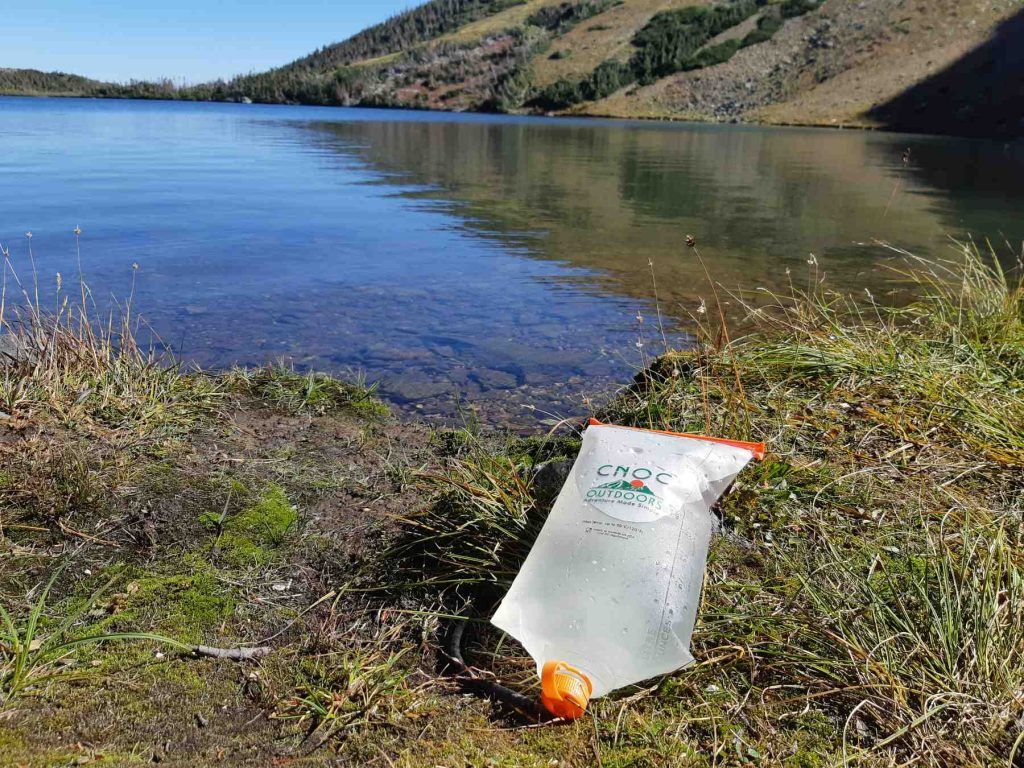 The CNOC Vecto bag is made from sturdy and elastic rubber. One that isn't sensitive to impacts and holds the squeeze pressure well. An opening at its back lets you quickly fill it with water and a secure cap at the front makes it equally easy to attach the bag to the filter. Plus, its 28mm threading makes the CNOC compatible with both the Sawyer Squeeze and the Survivor Squeeze filters.
2. Evernew Water Carry Hydration Pack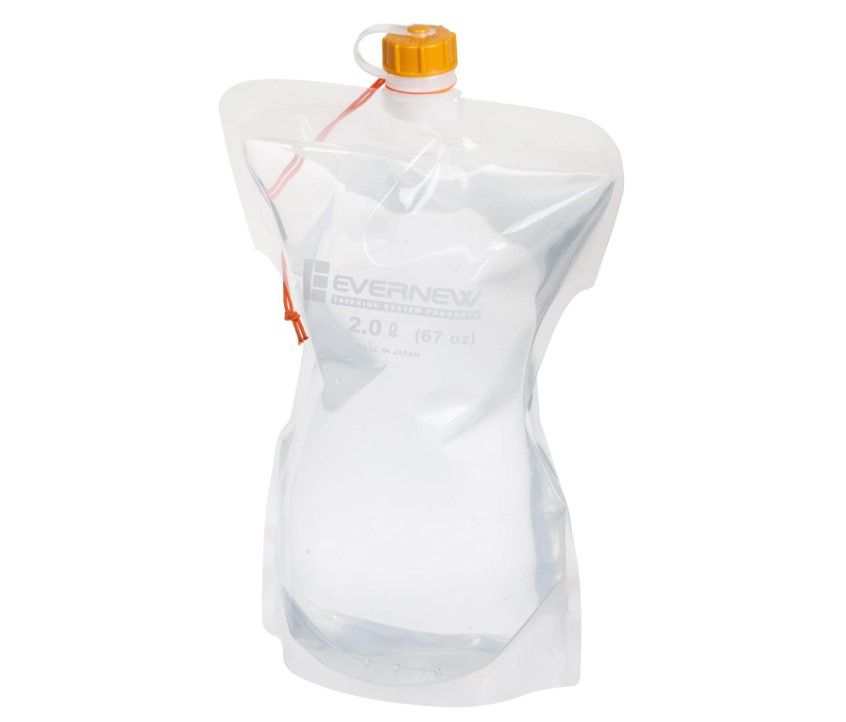 The Evernew hydration pack comes with a narrow middle section that makes it easy to hold. It has 28mm threads that make it compatible with both the filters we're discussing in this review. This model also boasts nylon-and-polyethene construction that makes it impact-resistant. Plus, it comes with a cord attachment so that you can keep it rolled up for compact storage.
3. Platypus Platy Bottle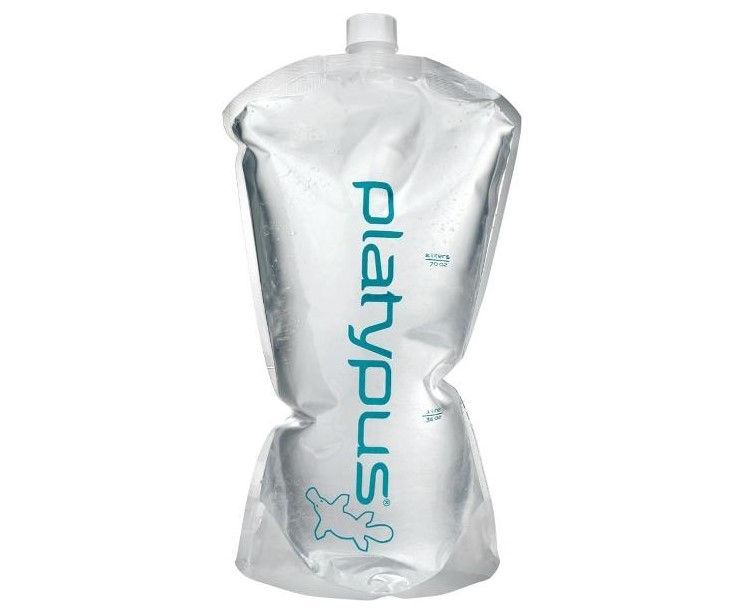 The Platypus Platy bottle is the lightest bag of the three. It's also the cheapest of the lot and is also more famous than the other two. This makes it easy to get from almost anywhere, even your local hardware store. Why, then, is it on the 3rd spot? This model's cap isn't attached to its bag, making it very easy to lose if you aren't paying attention to its whereabouts. And its capacity isn't great either.
More articles about Water Filters and Hydration Packs
Here you can find all of my other articles comparing some of the best hiking water filters and hydration packs.
A table of Articles about water filters and hydration packs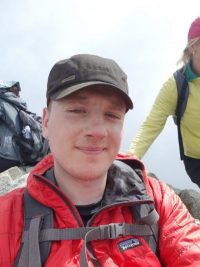 Mins Lukas Savela is a travel writer whose main focus is adventure travel. His passion for wildlife and nature has carried him to many countries in the world. He loves hiking the best trails on earth and sharing his experiences through writing. He hopes his experiences will help more people to start their own adventures and appreciate the world surrounding them a little bit more.
Mins Lukas Savela (also known as Lukas Saville) has written numerous articles that have been published on websites like Wandrly magazine, Go Nomad, Osprey.com, RAD Season, Wilderness Society, The Los Angeles Beat, California.com, Nature Conservancy, and many others.