If you found this article, this most likely means you own a Sawyer Squeeze water filter, and you probably already had one or two of their original water bags failing. Not to worry, I had this experience too. That's why I wanted to create an article that shares two great options you can use as alternatives to Sawyer Squeeze water bags. So after doing a lot of research, reading through a ton of forum threads, and waiting until the products are back in stock, I discovered three great alternatives: CNOC VECTO, Evernew Water Carry Hydration Pack, and Platypus Platy Bottle.
*Disclosure: I only recommend products that I would use myself. This post may contain affiliate links that may earn me a small commission at no additional cost to you. Read the full advertising policy here.*
Quick Navigation
The best Sawyer Squeeze bag alternative – CNOC VECTO
After testing numerous water bag options on my camping and backpacking trips, I think that CNOC VECTO is the best alternative water bag I found for the Sawyer Squeeze water filter.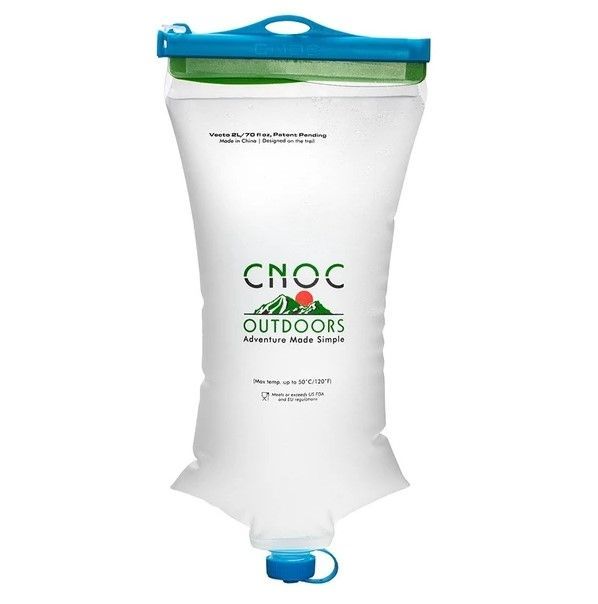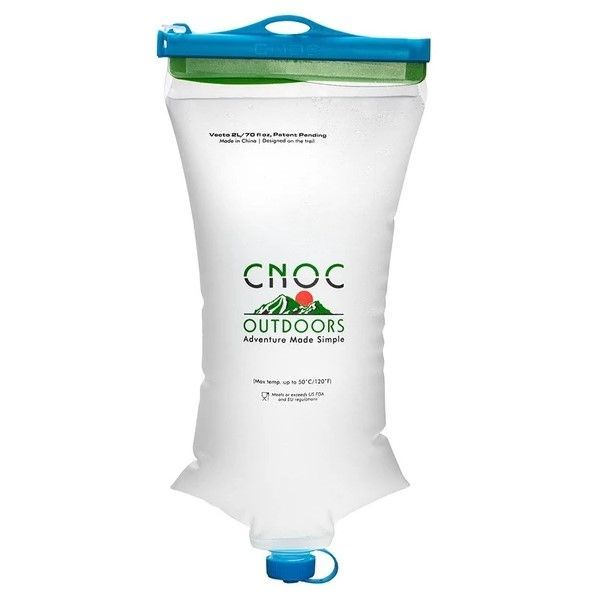 Find CNOC Vecto in your favorite stores
4.5⭐ out of 40 reviews on CNOC Outdoors
4.8⭐ out of 1651 reviews on Amazon.com
4.8⭐ out of 273 reviews on Garage Grown Gear
CNOC Vecto Pros
---
CNOC VECTO is made from sturdy rubber. While, like any bag, it's not protected from sharp edges and cuts, the rubber is elastic and bouncy, which holds the squeeze pressure and is not as sensitive to impacts, like dropping on the ground.
An opening at the back. CNOC VECTO has a seal on the back of the bag, that you can slide off (it's also attached to the bag so you won't lose the seal) and just fill it quickly with water. This is a major plus for me since I used to freeze my hands with the Sawyer bags that do not fill up placed underwater due to vacuum blocking the flow.
Secure cap attached to the bag. I love the small bit that holds the cap attached to the bag. I do have a habit of losing small pieces like caps from my bottles.
Great compatibility with Sawyer Squeeze. Tested with a lot of pressure and not a single drop seemed to get through any other part than the filter itself. This means it's safer as you know no dirty water mixed in with your filtered water.
It's elastic. The bag is easy to roll up and fits great anywhere from a pocket to a backpack.
It fits the Sawyer Squeeze net bag. This allowed me to hang the CNOC VECTO on a branch and use it as a gravity water filtration system.
CNOC Vecto Cons
---
Weight. Compared to Sawyer Squeeze pouches, Platy Bottle, and Evernew Hydration packs, CNOC VECTO weights more than the other options.
Price. Though not by much, it's the most expensive bag out of the three.
The runner up water bag alternative – Evernew Water Carry Hydration Pack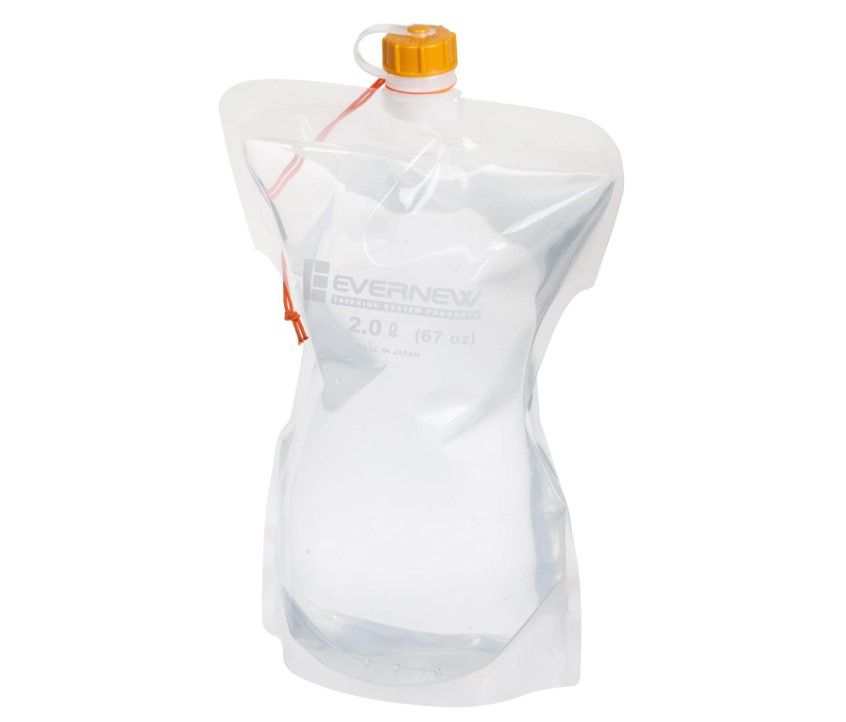 In my opinion, the Evernew Water Carry Hydration Pack comes in second place. Although it lacks some sturdiness and features that CNOC VECTO has, it's also a good choice to bring on your outdoor trips.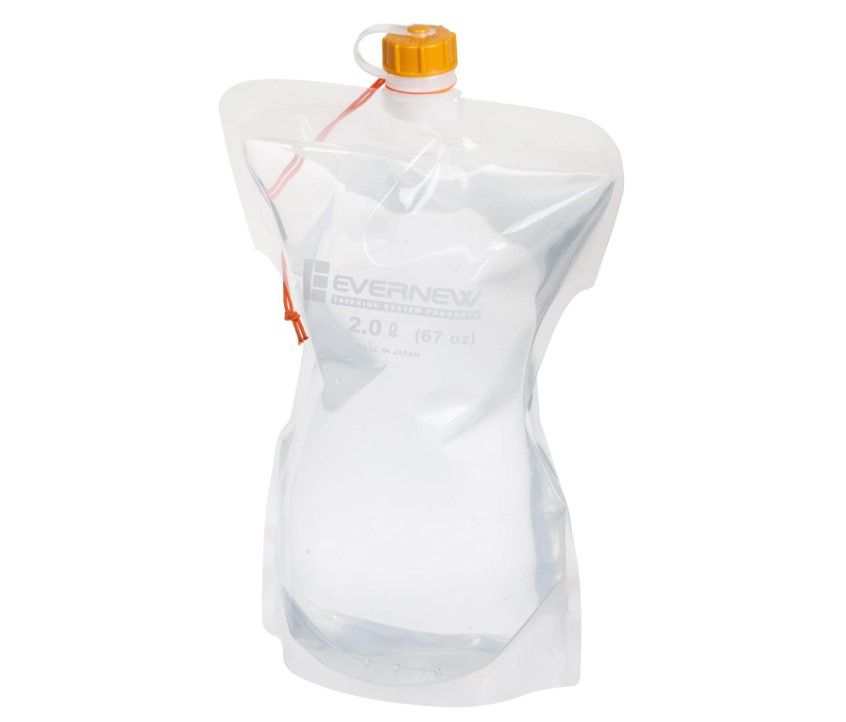 Find Evernew Water Pack in your favorite stores
4.7⭐ out of 453 reviews on Amazon.com
4.1⭐ out of 35 reviews on Amazon.ca
Evernew Water Carry Hydration Pack Pros
---
Comfortable shape. The bag has a narrower middle section that allows you to easily hold it in your hand and it also has a gusseted that allows it to stand when it's full.
A cord attachment. It allows you to tie it up in a rolled position and keep it tight in your storage.
Fairly sturdy. Compared to Sawyer Squeeze water pouches, the Evernew packs made from Nylon and Polyethylene feel sturdier and more impact resistant.
Cap attachment. The cap is connected to the bag so you can't lose it.
It's light. The 2.0-liter one only weighs 42 g (1.48 Oz).
Evernew Water Carry Hydration Pack Cons
---
Some leakage from the cap. In my experience and that of other users who shared this in various forums, unless you tie the cap very tightly, you might see some leakage from that part. Obviously, the tighter you twist on the cap or the filter, the bigger the chances to damage the thread.
Hard to fill. This is another big issue for me, as there aren't that many sources with water running top to bottom, that you can use on your backpacking trips. Pushing the bag underwater in a river is the most common situation I got myself into. The bag fills up pretty slowly because the vacuum is created and it does not allow anything else in. However, it performed better than the Platy Bottle.
Third place water bag alternative for Sawyer Squeeze bags – Platypus Platy Bottle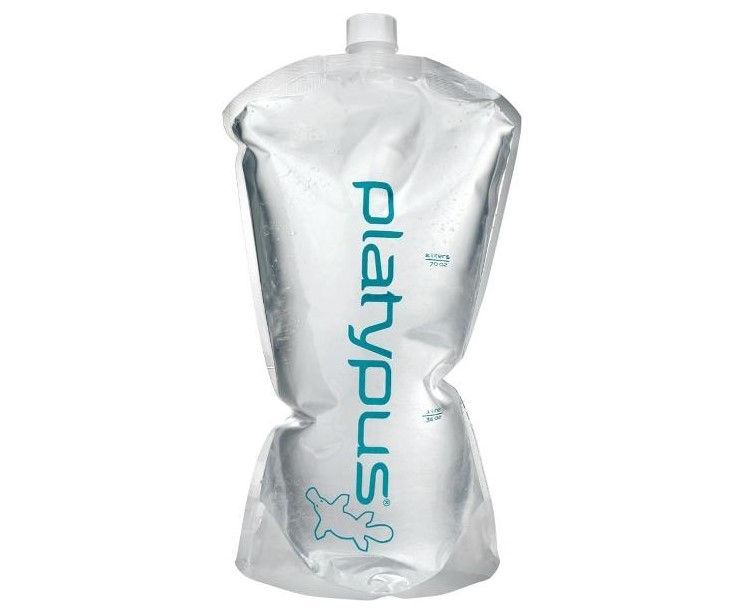 In my opinion, the Platy Bottle came close to second place, but it felt a little short. It's still a decent solution as an alternative to Sawyer Squeeze water pouches.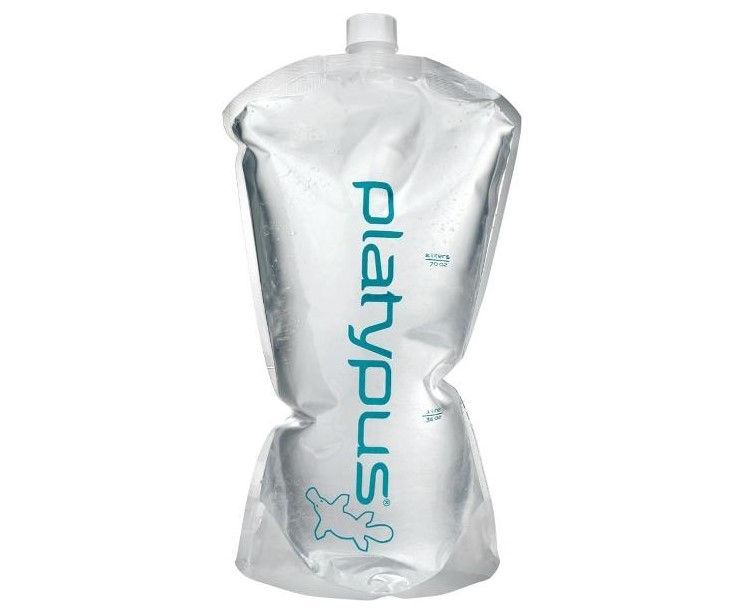 Find Platypus Platy Bottle in your favorite stores
4.4⭐ out of 148 reviews on REI
4.7⭐ out of 2415 reviews on Amazon.com
4.7⭐ out of 2064 reviews on Amazon.ca
Platypus Platy Bottle Pros
---
It's very light. It's the lightest bag out of the three.
Price. Their 2.0-liter bag is the cheapest out of the three.
A known brand. You can get it pretty much anywhere.
Sturdier than Sawyer Squeeze bags. The Platy Bottle seems to be made from a stronger material than Sawyer Squeeze bags.
Platypus Platy Bottle Cons
---
Some leakage. Even though I have not found it myself, I have seen numerous reports of users complaining they did get some leakage when using the bags with the Sawyer Squeeze filter. This would increase the risk of getting the dirty water mixed with your filtered one.
Hard to fill. Pretty similar to Sawyer Squeeze, the bottle does not expand when underwater, so there's not a lot of water going in when you push the bag underwater. Unless you can always find some source of water pouring downwards, you'll freeze your hands like I did many times using it.
Easy-to-lose cap. The cap is not attached to the bag which led me to search for it numerous times before even going on the trip. Though this could just be a personal issue I have.
Other alternatives for Sawyer Squeeze Water Pouches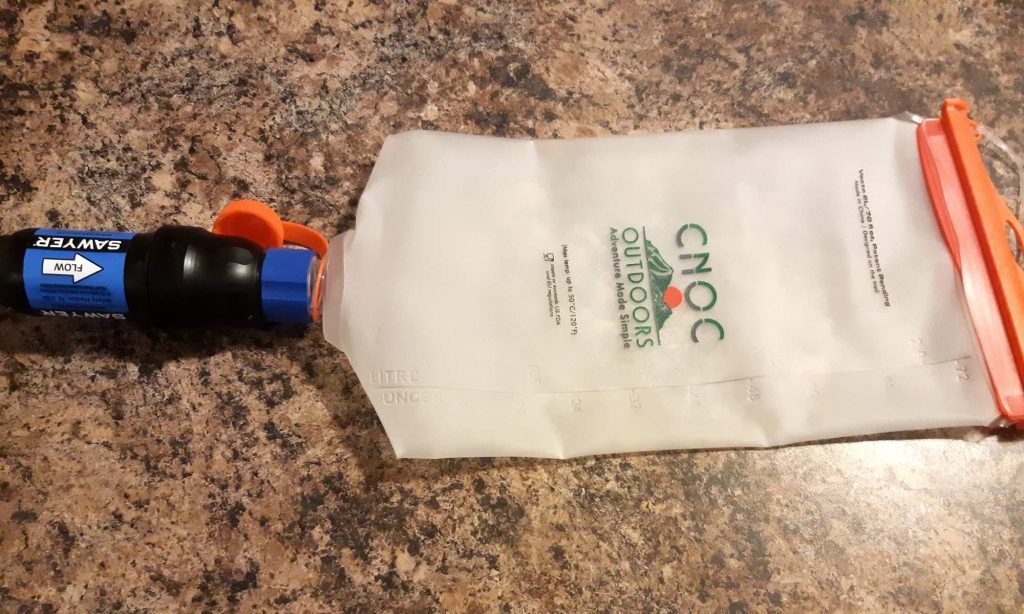 In all honesty, I do think there might be a lot more options that may be even better than the three I've listed. I just haven't tried them all yet. If you want to experiment yourself, just look for any bags or bottles that fit on a 28 mm cap thread, which is a standard thread size for a regular soda or water bottle you can get in any shop.
When the Sawyer bags popped, I used just some regular hard plastic bottles on my backpacking trips for a while, as there were shortages in camping gear shops. This is not the most convenient way, but if you need to use the filter and you do not have time to purchase new bags, just grab any plastic bottle from your home and use it with the Sawyer Squeeze filter. I would often just screw the filter on a one-liter bottle and drink the water straight through the filter.
Also, if you find some great alternatives I haven't mentioned in this article, be sure to mention them in the comment section below. I'd be happy to include it in this article as well.
CNOC VECTO, Evernew Water Carry Hydration Pack, and Platy Bottle comparison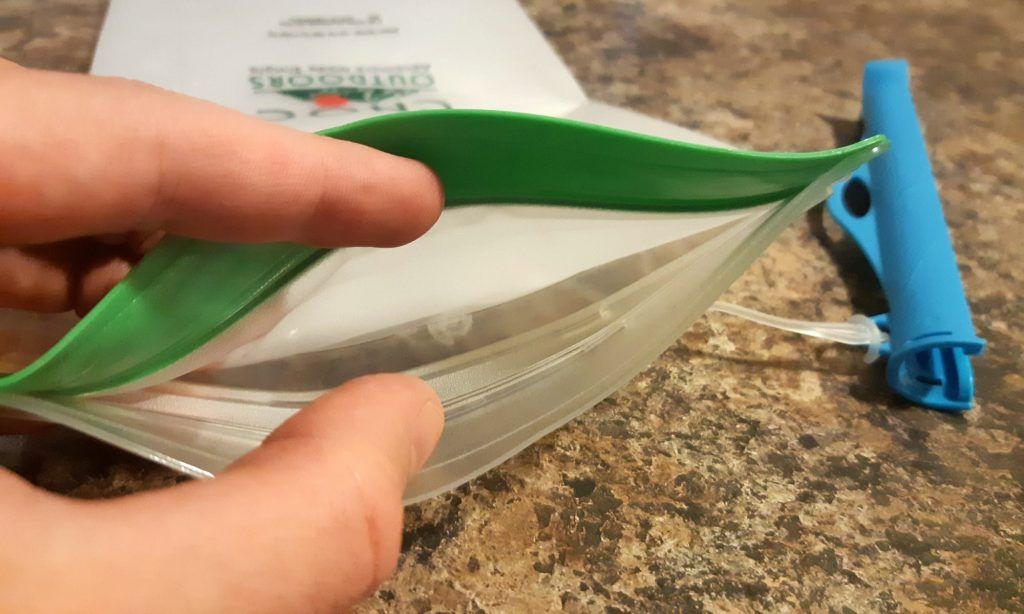 The sizes they come in
In addition to the 2-liter size, the Evernew Hydration Pack also comes in 900 ml and 1500 ml sizes. The Platy Bottle only comes in a 2-liter size, but you can check out their SoftBottle for smaller sizes. Though, as the name implies, they are less sturdy than the Platy Bottle, but they also work with the Sawyer Squeeze filter. CNOC VECTO can both be found in 2 and 3-liter sizes.
Price
Platypus Platy Bottle is the cheapest one with a price of $14.95. The Evernew Water Carry Hydration Pack costs $15.30. And the CNOC VECTO is $20.99.
Weight
The CNOC VECTO is the heaviest out of the three bags compared. The 2-liter water pouch weighs 76 grams (2.6 oz). The 2-liter Evernew Hydration Pack weighs 42 grams (1.48 oz). And the 2-liter Platy Bottle weighs only 37 grams (1.3 oz).
Materials
The CNOC VECTO water bag is made from Thermoplastic Polyurethane. The Platypus Platy Bottle and the Evernew Hydration Pack are both made from Polyethylene.
Why you should consider getting alternatives for Sawyer Water Pouches
If you're like me, you probably like the Sawyer Water filter. I know I do. It's light, easy to use, and the best part of all – it gives you clean water for life. Yes, you do not need to buy any additional filters or change any parts. Just make sure to backwash it often enough and keep it clean and it should serve you for life. This was why I actually got it, it just sounded like a great deal.
But after I received the Sawyer kit, I immediately thought the bags do not look that sturdy. This is fine if you're just camping. But I use mine regularly on backpacking trips. And if a bag pops and you did not plan to bring any spare bottles you could filter the water with, you might end up in a risky situation.
Out of the three bags that came along with the kit (two bigger ones and a small one), one big bag popped during my first car camping trip of the season. I have no idea how; perhaps it touched a rougher part of a tree, been placed on a fir tree needle, or maybe I just squeezed it a bit too hard. I just saw the water bursting through a hole and that was the end of that. The second big bag popped on a backpacking trip. Luckily, it was the last day of it and I was returning to my car. I had it filled with water and placed it on a wooden bench, not too far from the ground. The bag rolled on its side and fell on the ground, probably fell for about 30 centimeters (1 ft.) and it exploded on the impact.
Now I know some people in forums say, that if you treat the bags well, they'll hold. And that may be true. But these small accidents will happen and it can potentially end the whole trip. That's not something I am willing to accept.
The main risks of the bags popping
The Sawyer water pouches are made from thin plastic that can't seem to hold pressure.
The plastic material is too thin.
The filter often requires you to squeeze the bags to get the water through. So the risk of accidentally popping one during filtration is quite high.
Filled Sawyer pouches are wobbly and they do not have sturdy bases you can trust putting your bags on. They are fairly round when filled too. So, chances are, your one can also just roll off a bench and pop.
CNOC Outdoors Vecto
Pros
---
Made from sturdy rubber
An opening at the back
Cap attached to the bag
It's elastic
Cons
---
Weight
Slightly more expensive
Evernew Water Pack
Pros
---
Comfortable shape
A cord attachment
Fairly sturdy
Cap attachment
It's light
Cons
---
Some leakage from the cap
Hard to fill
Platypus Platy Bottle
Pros
---
It's very light
Great price
A well-known brand
A known brand
Sturdy
Cons
---
Some leakage
Hard to fill
Easy-to-lose cap
More articles about Water Filters and Hydration Packs
Here you can find all of my other articles comparing some of the best hiking water filters and hydration packs.
A table of Articles about water filters and hydration packs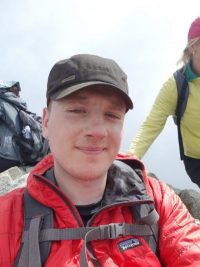 Mins Lukas Savela is a travel writer whose main focus is adventure travel. His passion for wildlife and nature has carried him to many countries in the world. He loves hiking the best trails on earth and sharing his experiences through writing. He hopes his experiences will help more people to start their own adventures and appreciate the world surrounding them a little bit more.
Mins Lukas Savela (also known as Lukas Saville) has written numerous articles that have been published on websites like Wandrly magazine, Go Nomad, Osprey.com, RAD Season, Wilderness Society, The Los Angeles Beat, California.com, Nature Conservancy, and many others.