RV camping near the Rocky Mountain National Park offers a magical variety of landscapes. The national park's 415 miles of lush-green meadows, sky-high mountains, and thick forests offer some of the most eye-catching views in the whole of the US.
Next comes hiking. The Rocky Mountains National Park houses over 350 miles of hiking tracks for people of all ages and ability levels. There are short, easy tracks to lakes for families to explore, summit hikes that could take the best out of the most rugged explorers, and plenty of mid-level hikes for day-trippers.
Then there's RV camping. Assuming you'd be staying in a recreational vehicle (your presence here gives us a clue), you won't have to deal with the issues other types of campers have to contend with. Enjoying the great outdoors within your comfortable and private recreational vehicle is true bliss.
Here are the best spots for RV camping in Rocky Mountain National Park:
Aspenglen Campground
Camping Fee – $30 per night
The Aspenglen Campground offers RV camping at its best. It offers a total of 52 campsites, all of which are reservable up to six months in advance. It is surrounded by seasonal wildflowers, grasses, and shrubs. Plus, it serves as a perfect gateway to the National Park's famous Fall River area.
Amenities
Provided you're visiting between May and September (since the campground is open only in the summer), you'll get access to various amenities. They include food storage lockers, ice for sale, potable water, trash-recycling collection, flush toilets, firewood for sale, and an amphitheater.
Glacier Basin Campground
Camping Fee – $30 per night (Up to 8 people); $40 per night (9 – 15 people); $50 (16 – 25 people); $60 (26-40 people)
Located 8,500 feet above sea level, the Glacier Basin Campground makes full use of its elevation to entertain you with dazzling, eye-catching views. Visitors to the campground can participate in various activities, such as horseback riding, hiking, fishing, backpacking, wildlife viewing, and more.
Amenities
The Glacier Basin Campground offers (almost) numerous amenities. They include flush toilets, shuttle bus service, picnic table, fire pit, and firewood for sale. Unlike the Aspenglen Campground, it has a dedicated dumping station for RVs. Plus, you also have easy access to utility sinks and drinking water.
Moraine Park Campground
Camping Fee – $30 per night (summer); $20 per night (winter)
Two things differentiate the Moraine Park Campground from Glacier Basin and Aspenglen. Both the campgrounds we saw above are open only in the summer season and welcome 36-foot RVs. Moraine Park, however, is open year-round and allows 40-foot Recreational vehicles.
Amenities
Being the largest campground in the Rocky Mountain National Park, Moraine offers year-round amenities, including vault toilets, potable water, food storage lockets, an amphitheater, and trash recycling. Seasonal amenities include ice and firewood for sale, flush toilets, on-site staff, and a dump station.
Timber Creek Campground
Camping Fee – $30 per night
Sitting right next to the Colorado River, the Timber Creek Campground is famous/notorious for the lack of shade at campsites. You read that right. There was once a mountain pine beetle infestation that forced the park's administration to cut most of the trees, exposing all the campsites to the sun.
Amenities
Just because you won't get much shade doesn't mean the campground won't make up for it in terms of amenities. The campground offers various facilities, including trash/recycling collection, staff on-site, dump station, potable water, flush toilets, and an amphitheater.
Spruce Lake RV Park
Camping Fee – Not available
Located about 2.3 miles west of the Rocky Mountain National Park, this RV park features a crystal-clear lake, lush green meadows, and a calmness-inducing Big Thompson River. Other attractions include a restaurant, golf course, horseback riding, wildlife tours, and fly fishing trips.
Amenities
The Spruce Lake RV Park has the amenities to keep registered guests entertained for days. They include cable TV, free WiFi, a 24/7 bathroom and laundry facility, a heated outdoor swimming pool, daily trash pickup in the morning, yard games, miniature golf, among others.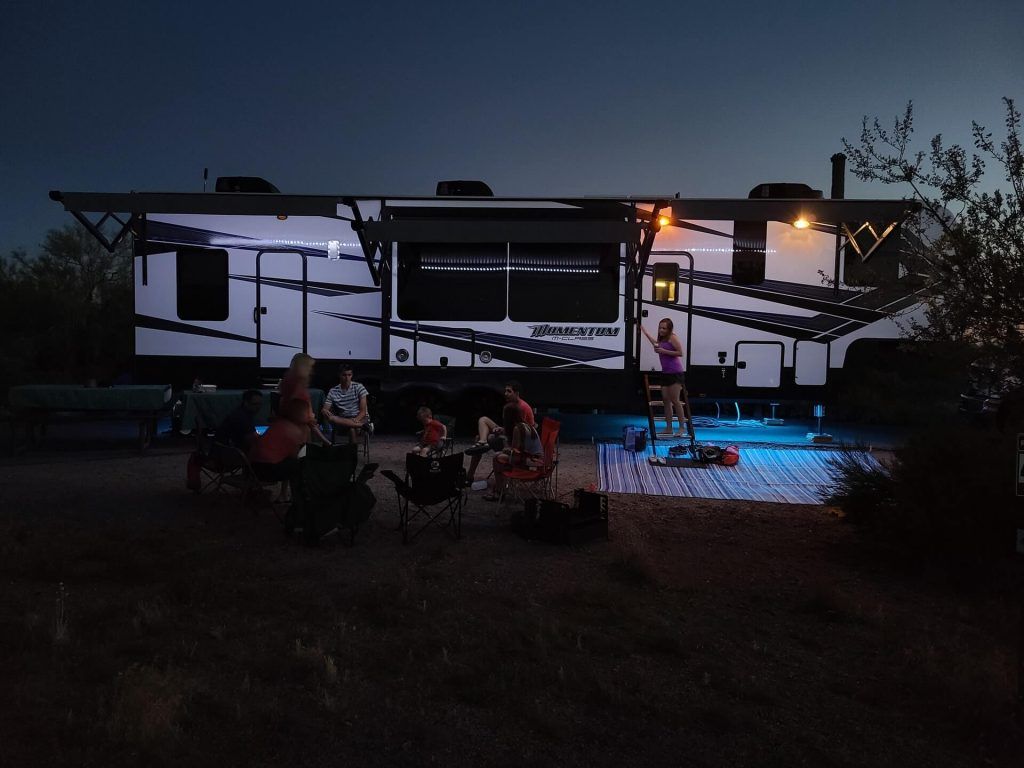 Winding River RV Resort
Camping Fee – Starting from $65 per night
In addition to being a family campground, the Winding River Resort also offers lodge accommodations and cabins. It's located right next to the Arapaho National Forest, on the west side of the National Park, and has an online reservation system which you'd do well to consult before turning up at its gates.
Amenities
The Winding River RV Resort offers the following amenities: on-site laundry, restrooms with showers, and a camp store. It also entertains its guests with many outdoor activities, including 1 & 2-hour trail rides, horse-drawn hayrides, and pony rides. Anyone above 13 years of age can sign up for a trail ride.
Elk Creek Campground & RV Resort
Camping Fee – Starting from $79 per night
Most campgrounds you saw above only offer easy access to the Rocky Mountain National Park. The Elk Creek Campground & RV Resort is a gateway to two more destinations: Grand Lake and Elk Creek. This campsite allows pets on its premises and allows you to take part in a wide array of local activities.
Amenities
Visitors to the RV Resort are provided with access to showers, restrooms, laundry facilities, a commercial camper sink, 24/7 available WiFi, and a portable tank dumping service. Aside from that, a general store (open 7 days a week), firewood/propane, ice-for-sale, and arcade are on offer, too.
Estes Park KOA
A drive from the Estes Park KOA to the Rocky Mountain National Park takes less than three minutes. However, exploring the National Park need not be your only reason for staying here. The nearby located town of Estes Park also has enough scenic sites of its own to merit a trip from you.
Amenities
This park offers an exciting range of amenities, including free WiFi, cable TV, on-site laundry, a pavilion, a dog walk area, and an in-town shuttle service that won't charge you a penny. You also get firewood for sale, propane tanks, registered guest showers, and a tent area bathhouse.
Manor RV Park
Located right in the middle of the town of Estes Park and Rocky Mountain National Park, the Manor RV Park is the perfect site for anyone wishing to experience both destinations. It has over 100 full hookup sites, more than 20 of which are right next to the Big Thompson River.
Amenities
The Manor RV Park is a seasonal destination that stays open from May 15 to October 15. It offers various sought-after amenities such as a supply shop, recently remodeled bathrooms, full laundry facilities, picnic tables and chairs, patios, cable TV, recreation room, and WiFi.
These are some of the best spots for RV camping in Rocky Mountain National Park. Let me know in the comments if you have other great suggestions for your fellow outdoor lovers!
Check out some of my other articles about camping: