The North Face Hedgehog Fastpack II Mid Hiking Shoes: The Verdict
As someone who did not plan on buying this brand, I can tell you with confidence – I would buy these shoes again. The quality and features of the Hedgehog Fastpack II shoes are more than enough to feel comfortable and safe on the trail. The shoes are waterproof, have great traction, and are very comfortable around your feet. Even though some of the features might not be top of the market, the quality is great, and you might not find better hiking shoes within this price range.
UPDATED: I would rate the North Face Hedgehog Fastpack II Mid Hiking Shoes a 3.93/5 3.79/5. Check the Durability section for the update.
I'll be honest the North Face Hedgehog Fastpack II Mid hiking shoes were not the pair of boots I was going to pick when I came into the shop. But I urgently needed a new pair, and not many outdoor shops were open due to the lockdown.
When I first entered the outdoor equipment store, I thought I'll try as many pairs as I can, just to make sure they fit like a glove. The parks had just reopened, and my last pair had fallen apart. Still, I made up my mind to get the pair I want and not the pair that'll do for the time being. And I had also seen they had Salomon Ultra 3 Mid GTX and Scarpa Mistral GTX, which were the ones I thought I'll be picking between in the end.
In the end, Salomon shoes were too narrow, and they did not have the right size for Scarpa (I loved the design though). So I left the shop with the pair I felt most comfortable in – the North Face Hedgehog Fastpack II Mid (also called the North Face Hedgehog Fastpack II WP). And I'm glad I did!
Quick Navigation
The North Face Hedgehog Fastpack II Specifications
The North Face Hedgehog Fastpack II Mid shoes are mid-range hardness hiking boots that are popular for their comfort and a good price. These hiking shoes are created using different technologies, most of which are used in other brands as well. Here are some of the main specs the shoe's made from.
The upper part of the shoe is covered in PU-coated leather and synthetic nubuck which, some would say, is a worse quality but more breathable leather product.
Abrasion-resistant mesh adds durability.
DryVent™ membrane – a creation of The North Face – is a similar fabric to Gore-Tex. Similar to Gore-Tex, Dryvent is waterproof, breathable, and windproof. However, it's considered to be less durable than Gore-Tex.
Eco-friendly OrthoLite® footbed is an eco-friendly sole, made for greater comfort and dryness of your feet.
Single-density EVA midsole adds extra cushioning and helps protect the foot from feeling hard or sharp objects. It also adds stability for each step.
CRADLE™ heel technology also adds cushioning benefits and stability.
Nylon midfoot shank allows the shoe to be warmer, softer, and to maintain a high level of support.
ESS shank provides lightweight and rigid stability in the midfoot.
Vibram® XS Trek outsole is said to maintain great performance at extremely low temperatures. Its firmer compound allows for maximum support and durability.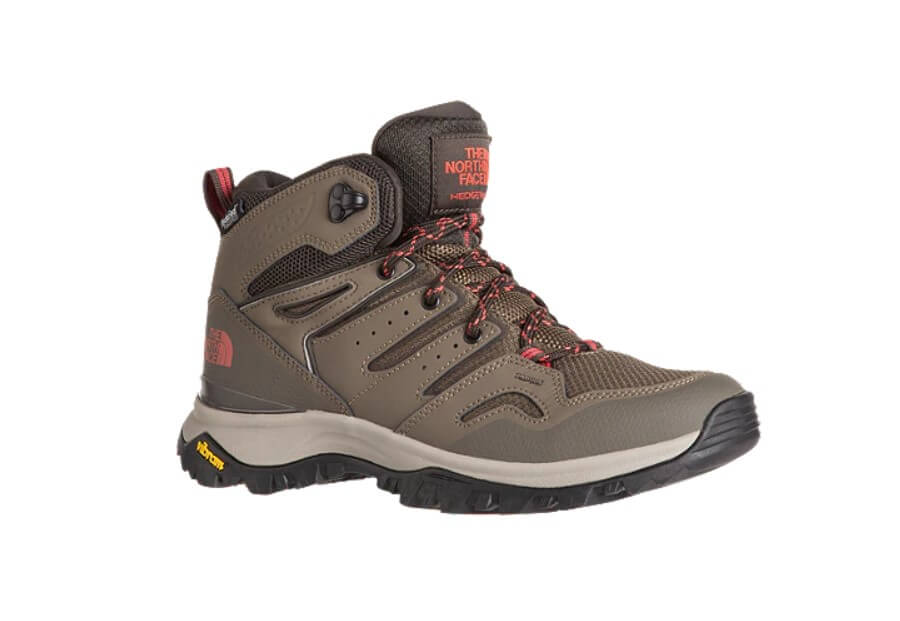 Field Performance of the North Face Hedgehog Fastpack Hiking Shoes
I was lucky enough to get the North Face Hedgehog Fastpack hiking shoes in the shoulder season. This allowed me to test them on different terrains and under various conditions. I have taken them on mountain hikes, where I tested the shoes while ascending and descending steep inclines. There were still snow patches, so I managed to test the traction and waterproofness. I have also tested them on scree to check the sole sensitivity to sharp objects. Lastly, I have taken them to explore the badlands for a breathability check. I have listed my findings below.
Comfort & Stability
One of the main reasons I have picked the North Face Hedgehog Fastpack II Mid hiking shoes in the shop was comfort. Especially after trying the Salomon Ultra 3 Mid GTX, which are known to be slightly narrower than the rest of them. The boots fit like a glove and I felt they had quite a bit of cushioning. I know these shoes are loved by people who have flat feet. Therefore, people with slightly higher mid-foot arch might not be huge fans of the Hedgehogs.
I was a little bit worried about stability, especially on steeper and rockier trails. That was mainly due to the shoes having a softer feel than the previous boots I had. But the boots felt good on the trail, both descending and ascending.
In general, I'd rate the comfort and stability of the North Face Hedgehog Fastpack II Mid shoes a 4/5.
Weight
One men's size 9.5 North Face Hedgehog Fastpack II shoe weighs around 467 g. This is on the lower end of the mid-price range and mid-height hiking shoe category. In comparison, the Salomon Ultra 3 Mid GTX weighs around 475 g and Scarpa Mistral GTX around 539 g. Don't use these measures as a rule, as different places state different weights for the boots, and it depends on the sizing and scales.
In general, the shoes feel fairly light and your feet don't get tired from long hikes. However, I'm sure that backpackers might want something a bit heavier, which often also adds to the sturdiness.
I'd rate the weight of the Hedgehogs a 4/5.
Traction
The tread design of the North Face Hedgehog Fastpack II Mid shoes has not been a letdown. The Vibram outsole technology has been great on steep descents. It felt firm on the rocks, roots, and loose sand.
Perhaps the only time I felt the feet slip in these shoes was when I climbed through a few patches of snow. Other than that, I trust it does its job well. For a low price-range day-hike type of shoe, that's pretty great.
I'd rate the traction of the North Face Hedgehog Fastpacks a 4/5.
Waterproofing
Even though the North Face Hedgehog uses the DryVent membrane technology, which is said to be not as great as the more commonly known GoreTex, it does a great job of keeping your feet dry.
I have tested these shoes in deep snow and strolled in them during the rain, and they did not let any water through inside. Although it's said to have a weaker waterproofing rate than GoreTex, I would think it's more than enough to withstand even the wettest conditions during a long day-hike. I might choose the GoreTex membrane for a thru-hike, but only because of the great rep it already has.
So, in general, I'm giving it a 4/5 for waterproofing until I test the boots further, and walk through a few intense creeks.
Breathability
I found that the North Face Hedgehog Fastpack II performed pretty well for waterproof hiking shoes. Boots covered in the waterproof membrane aren't usually the most breathable type. However, after testing the shoes in the field, the feet were dry, and it seldom came to be too hot to wear them.
The only time I might have felt the feet overly warm was in the badlands. To be fair, the temperature was pretty high, and there was no real elevation to get some fresh air. If you find yourself hiking in the desert or hot conditions like Southern Utah or Arizona, you might consider boots that are not waterproof but will add that breathability level you want. But if you need a bit of a balance, the Hedgehogs are a good choice.
In general, I'd rate the breathability of the North Face Hedgehog Fastpack II Mid shoes a 3.5/5.
Durability
The durability of the Hedgehog Fastpack II Mid shoes might be its only real downfall. I'm saying "might" because I did not have the opportunity yet to test them throughout an extensive time. However, the boots do feel less reliable when it comes to wear and tear.
The Hedgehogs feel fairly soft compared to some of their main competition, and although they are quite good for some long-day hiking, they aren't my top choice when it comes to backpacking. If you're going on a multi-day hiking adventure, one of the things you must have is the trust in your pair of hiking boots. You want something that you know will get you through some difficult terrain and hard conditions. And the North Face Hedgehogs just don't add to that feeling.
I will mention that I am planning to take the North Face boots on a couple of backpacking trips and will update this section if they prove me wrong.
In general, I'd give the Hedgehogs a 3/5 2/5* for durability: more than enough for a day hike, but you might want something firmer for a multi-day backpack.
*UPDATE: after using the Hedgehogs on more trails and various activities, I noticed the top mesh started ripping on both boots. It seems like a small scratch is all it takes and then it cracks through the whole top layer. Naturally, with the mesh ripped in some places the shoes are not as water-resistant as before. So I had to reduce the points for durability.
Pricing
The price of the North Face Hedgehog Fastpack II Mid hiking shoes is very affordable. You should usually be able to get these boots at around $130, depending on the country. Often they do deals and drop the prices to around $110. This, compared to some of the other hiking boots in the same mid-level category, is one of the best deals you can find.
For example, a pair of Scarpa Mistral GTX usually cost around $220, and the Salomon Ultra 3 Mid GTX – just under $200. Sure, the quality of the other two brands might be higher, but if you're looking for a good pair of one-day hiking boots, you don't necessarily need to spend more than $200 on the pair.
I'd rate the pricing of the Hedgehog Fastpack II Mid shoes a 5/5.
You can find some great deals on the North Face Hedgehog Fastpack II Mid hiking shoes following the links below.
Main Pros & Cons of The North Face Hedgehog Fastpack II Hiking Shoes
Like all products, the North Face Hedgehog Fastpack II Mid waterproof hiking shoes have their ups and downs. This is a summary of what you can expect from them.
Pros
Comfort: this was the main reason I picked these boots in the shop and one of the reasons I'll hold on to them for my casual day hiking trips.
Price: the Hedgehogs are on the lower end of the mid-range hiking shoe price-range. I managed to get the pair for just about $80. This is absolutely one of the best deals you can get without losing too much quality.
Great for day-hiking: the Hedgehog Fastpack II shoes have great ratings of waterproofing, traction, and stability. They are fairly light compared to other waterproof boots in this class. Although none of the features are top of the market, it's more than enough to keep you safe and comfortable on the trails.
Cons
Durability: if you're looking to do hard-level hikes or bring them along on multi-day backpacking trips, you might consider something sturdier than the Hedgehogs. Although I haven't tested them for long enough, I feel like their soft feel might not be the right material for a challenging adventure.
Breathability: the shoes are great for higher elevation hikes and chillier climates. But if you're an all-rounder like me, the Hedgehog Fastpack II shoes might be too hot if you plan on using them in a warm climate.
Competitor Comparison
If you want to compare the North Face Hedgehog Fastpack II Mid hiking shoes with a few other well-known brands in the same category, here's a comparison table covering some of the key specs of the shoes.
| | | | | | |
| --- | --- | --- | --- | --- | --- |
| Hiking shoes | Waterproof | Price range | Midsole | Outsole | Upper Layer |
| The North Face Hedgehog Fastpack II Mid | Yes – DryVent | $110 – 140 | EVA midsole | Vibram | Leather & mesh |
| Salomon Ultra 3 Mid GTX | Yes – GoreTex | $160 – 200 | EVA midsole | Rubber blend | Suede leather & nylon |
| Scarpa Moraine Mid GTX | Yes – GoreTex | $140 – 170 | EVA midsole | Vibram Dynatech 3 / XS Trek | Suede with polyester mesh |
| Scarpa Mistral GTX | Yes – GoreTex | $190 – 220 | PU-Direct Attach | Vibram | Suede leather & nylon |
| Merrell Moab 2 Mid | Yes – M Select | $110 – 160 | Merrell M Select FIT.ECO+ blended EVA | Rubber blend | Leather & mesh |
| Keen Men's Pyrenees | Yes – KEEN.Dry | $110 – 160 | EVA midsole | Non-marking rubber | Full-grain leather |
Check out more related articles on camping: