Most adventurers say there is no such thing as a tent good both for backpacking and car camping. And they're not wrong. Backpackers want packability, lighntess and reliability. While front country campers don't mind the extra weight and bulkiness for extra comfort. But if you're not prepared to pay for two tents and are okay with having drawbacks, the MEC Camper 2 tent might just give you the right balance for both activities.
I am not suggesting it will outperform a backpacking tent in its weight or packability, and I am not saying it will provide as much comfort as a spacious car camping tent. All I'm saying is you don't need to sacrifice an activity you love if you can sacrifice a bit or performance. Read on!
Quick Navigation
*The Wild Guides is reader-supported. When you buy through links on my site, I may earn an affiliate commission at no extra cost to you. Learn more*
The Verdict
The MEC Camper 2 Tent is a great choice for those who want to have one tent both for car camping and backpacking. Even though the tent is not leading in any separate aspect listed below compared to other tents in the car camping or backpacking tent category, the combined balance of weight, comfort, value and weather resistance makes it an ideal choice for different types of camping. The tent's weight is often better than some of the known backpacking-specific tents and it has enough floor area and height for a comfortable car camping experience. The tent is also very sturdy and can withstand even the harshest weather conditions (not talking about winter though).
Pros
Weight: compared to some backpacking-specific tents, MEC Camper 2 is right in the middle in the weight category.
Value: MEC Camper 2 is a great choice that costs less than USD 190.
Weather resistance: accidentally tested in some harsh conditions, I can vouch this tent will have you covered through heavy rainfall and hailstorms.
Cons
Ventilation: air circulation is not great and it becomes humid and cold during the night.
Attachments: there are not enough wire pegs or rope that come with the tent, so you'll have to buy extra.
Overview
The MEC Camper 2 Tent has been a reliable budget camping tent for many years. Those accustomed to MEC's gear might still remember the days this tent was getting some bad rep due to its unreliable pole design and quality issues. But since then, MEC has upped its game and improved its drawbacks, making it one of their go-to products for those looking for a good budget car camping tent. But the MEC Camper has also become a fairly common sight in backcountry campgrounds. Many would argue it's due to the lower price and people not wanting to spend the big bucks on backpacking-specific tents. That might be true. But looking at its size, weight, value and comfort, is it really a poor choice to take on a backpacking trip? Well, I've used it for the whole season and I do think it has some great perks. Check out the review.
Dimensions
MEC Camper 2 Tent dimensions
Length: 2.2 m / 86.6 in.
Width: 1.3 m / 51.2 in.
Interior peak height: 1.1 m / 43.3 in.
Floor area: 2.86 m2 / 30.78 ft2
Weight: 2.27 kg / 5 lb. minimum weight; 2.38 kg / 5.25 lb. packed weight
As you can see from the numbers above, the MEC Camper 2.0 tent does not stand out for its size or weight. But that's exactly why I picked it as a tent both for backpacking AND car camping. The width of the tent is 1.3 m (51.2 in), which is slightly wider than the usual 2-person backpacking tent. But, even that slight increase in width means you do not have to sleep next to the second person's feet, which some ultralight backpacking tents have you do. It was something I wanted to avoid and was not fond of. The tent's length is pretty like any other tent. But I found the interior peak height of MEC Camper 2 is larger than most other backpacking tents. While it may be a downside in backpacking, this is something I prefer while I'm car camping. It creates more space inside, allows you to sit in the tent and is more convenient in general.
The MEC Camper's weight was the key measurement I decided to go with this tent. With 2.38 kg (5 lb 4 oz) packed weight, MEC Camper can't compare against the best ultralight backpacking tents. But let's compare the weight to some of the backpacking-specific tents out there:
green – MEC Camper is lighter
red – MEC Camper is heavier
NEMO Dagger 2 – 1.75 kg (3 lb. 14 oz.)
NEMO Dragonfly 2 – 1.59 kg (3 lb. 8 oz.)
Hilleberg Anjan 2 GT – 2.1 kg (4 lb. 10 oz.)
Big Agnes Copper Spur HV UL2 – 1.42 kg (3 lb. 2 oz.)
MSR Hubba Hubba NX 2 – 1.76 kg (3 lb. 14 oz.)
MSR Elixir 2 – 2.77 kg (6 lb. 1.6 oz.)
The North Face Eco Trail 2 – 2.8 kg (6 lb. 2.7 oz.)
Nemo Kunai 2 – 2.2 kg (4 lb. 13.6 oz.)
REI Co-op Passage 2 – 2.55 kg (5 lb. 10 oz.)
Mountain Hardwear Mineral King 2 – 2.72 kg (6 lb.)
Klymit Cross Canyon 2 – 2.45 kg (5 lb. 6.4 oz.)
Kelty Late Start 2 – 2.04 kg (4 lb. 8 oz.)
I've randomly put together a list of backpacking-specific tents to check how MEC Camper 2.0 compares. As you can see, it weighs less than five tents out of the list of twelve. It weighs only slightly more than three out of the twelve tents. And it weighs significantly more than four out of twelve. In general, I think MEC Camper 2.0 is doing a pretty good job, considering it costs under USD 190 and classifies as a car camping tent.
If I'd be backpacking by myself, I'd probably want to have something way under 2 kg. But since most of my trips are with another person, MEC Camper 2.0 is light enough when sharing the total weight between two backpacks.
Setup
The setup of the MEC Camper 2 is pretty easy. The tent uses a regular X-frame structure system. It consists of two separate and foldable 7000-series aluminum poles. A third short foldable pole is used to stretch the top of the roof. Although the tent is symmetrical and there's no difference between its sides, its bottom corners are colour-coded (two are blue and two are orange). This helped me to make sure I always had one side for my head and the other for my feet. The top layer clips easily onto the frame poles, and you have the hooks to stretch the tent's corners. When I've done it a couple of times, the process of pitching this tent became pretty smooth and straightforward. Eventually, it only took me around 5 minutes to build (potentially less, yet I never had a goal to see how fast I can do it).
Keep in mind that the tent does not come with a footprint. But its bottom layer is thick enough not to have you worry about damaging or getting water through the bottom layer. It also only comes with eight wire pegs and no ropes or other attachments. So realistically, you have enough to stretch the corners and vestibules of the tent. But I had to buy more wire pegs and rope to be able to stretch the top of the tent.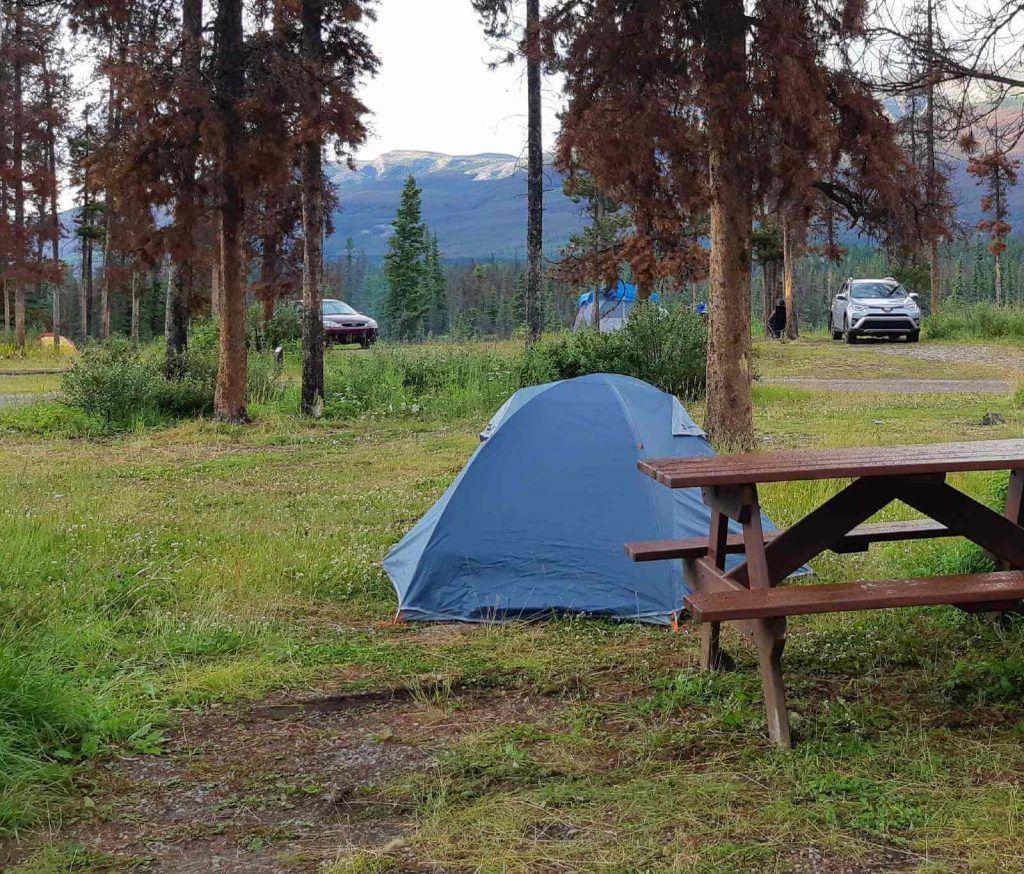 Comfort
I found the MEC Camper 2-person tent to be quite comfortable. Although it's only wider and higher by a few centimetres compared to some of the other backpacking tents, it all adds up. The extra space allows you to keep a few more things in the tent without losing comfort. The extra height was also great, as you can sit within the tent and move around without having to crawl in an uncomfortable position. There is a pocket on each side, where you can keep a few things you might need and also a hook at the top to hang a torch.
On the downside, even though I'm only 1.82 m (6 ft.), I found that the inner layer was falling on my head a little. I did not find a way to stretch it or tie it better to the top one and felt like it falls from the interior peak a bit too fast towards the ends. But compared to the other tents I had, it's still pretty good and does not create that claustrophobic feeling while you're in the tent.
The other thing I'd like to mention is the vestibule door zippers. The zipper is in the middle of the door, which you stretch out to make sure the outer layer does not touch the inner one. It also creates space to leave your gear under the cover. I found that after a rainy night, while most of the drops are still on the outer doors of the vestibules, unzipping it meant you'll have to get wet. The raindrops would fall in from the side that's not tied to a peg wire. This meant that on many mornings, getting out of that tent was not the most pleasant way to start your day.
Weather Resistance
Firstly, let me tell you that for a tent that costs under USD 190, I did not think it would be so sturdy against rain and wind. Take a look at the blunt numbers the manufacturer provides us with:
Canopy fabric 75-denier polyester
Floor fabric 70-denier nylon
Floor coating Ether-type polyurethane
Floor waterproofness 5000mm
Fly fabric 75-denier polyester
Fly coating Polyurethane
Fly waterproofness 2000mm
So, in theory, this all sounds amazing, but does it really protect you in harsh weather conditions? Heck yeah! I was "lucky enough" to test it out during a camping trip in Castle Provincial Park, Alberta. During one night, we had the worst weather imaginable. Having to spend the night in a tent we have not thoroughly tested before in those conditions was pretty scary. We ended up in the middle of a huge thunderstorm. The whole sky was covered in continuous lightning flashes and the sound of thunder was getting closer and closer to us. The rain was pouring down heavily on us, and each time it stopped, a hailstorm would take over. So that night heavy rainfall and intense hailstorms were cracking down on our MEC Camper 2. Not a drop passed into the tent. The thick floor had no issues in what became a puddle of water. The outer layer held up against hailstorms and heavy rain too. So after that night, I feel that I can vouch for this tent when it comes to weather resistance.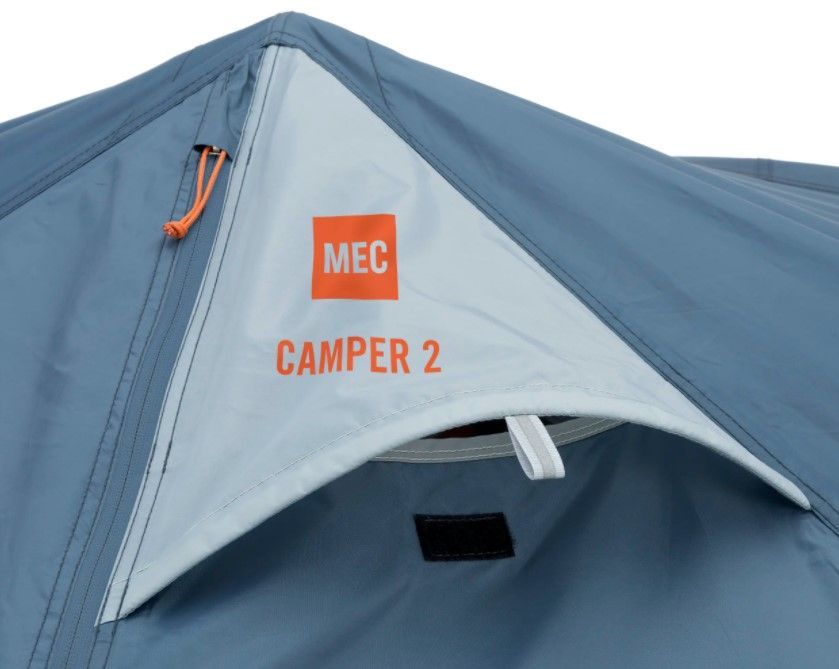 As for drawbacks, sadly it has one too. Ventilation is probably the biggest issue I had with the tent in general. It did not matter if the weather was warm or cold, damp or dry, and each morning, the inside of the tent had a lot of dew drops. The floor that wasn't covered by the mattress would be humid. And it gets very cold in a tent that's humid when you're camping in the mountains. There are only two air holes on the top of the vestibule (image above) that are supposed to keep the air circulation going. But whether that's because of poor design or maybe because there's no real way to keep them fully open, there's hardly any air moving through those air holes. I found that the best way to have some air circulating in the tent is by unzipping the doors and the vestibules, which is not ideal if it's raining.
Value
When it comes to value for money, the MEC Camper 2 Tent is definitely worth the price you would pay for it. The tent costs around CAD 235 (USD 188), which is a great price for a sturdy, fairly light and comfortable tent that will protect you in the harshest conditions. If you're in Canada, MEC offers free deliveries to all orders above CAD 50. If you're in the US, it would add a CAD 19 shipping fee, which is still a pretty great price for this tent.
Comparison
Here you can see a table that compares MEC Camper 2 Tent with some of the other known tents.
MEC Camper 2 Video Overview
Check out my other gear reviews you might find useful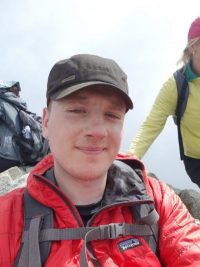 Mins Lukas Savela is a travel writer whose main focus is adventure travel. His passion for wildlife and nature has carried him to many countries in the world. He loves hiking the best trails on earth and sharing his experiences through writing. He hopes his experiences will help more people to start their own adventures and appreciate the world surrounding them a little bit more.
Mins Lukas Savela (also known as Lukas Saville) has written numerous articles that have been published on websites like Wandrly magazine, Go Nomad, Osprey.com, RAD Season, Wilderness Society, The Los Angeles Beat, California.com, Nature Conservancy, and many others.