In this ICEMULE Boss review, I'll tell you everything you need to know about this heavy-duty backpack cooler. The Boss will keep your cold drinks ice-cold mile after mile, regardless of whether you're camping in the middle of nowhere or taking a cross-country trip in your car.
Apart from reviewing the ICEMULE Boss, I'll be comparing this cooler with the Yeti Hopper Backflip 24, ICEMULE Pro XL and Otterbox Trooper LT30. All of which are this product's competitors. Read on to decide whether it's the ICEMULE Boss or one of its competitors that should go with you on your upcoming trip.
*Disclosure: I only recommend products that I would use myself. This post may contain affiliate links that may earn me a small commission at no additional cost to you. Read the full advertising policy here.*
The Summary
The ICEMULE Boss has a 3-centimeter thick insulation foam that helps it retain ice for days. Its top-loading enclosure allows you to load your contents with effortless ease and the high-end suspension system makes it a cinch to carry, even when it's packed to capacity (up to 60 pounds). However, its steep asking price might put off some potential users.
ICEMULE Boss Review
Weight and Build
The ICEMULE Boss weighs 7.5 pounds. This makes it considerably heavier than the 4.9lb-weighing Yeti Backflip 24 and more than twice as heavy as the ICEMULE Pro XL cooler. However, despite being on the heftier side, this product isn't difficult to carry (more on this in the comfort & support section).
Turning our attention to its build, the Boss is made of a waterproof technical fabric (whatever that means). It features welded seams to keep the weak points from coming off and its main compartment has a 3-centimeter thick insulation foam to keep its contents ice cool.
A top-loading pocket makes it easy to pack/unpack this product. The absence of a zipper might put off some users, but not me. I've used backpack coolers with zippers and witnessed how easily their zippers came off upon being treated roughly. That is one thing you won't have to worry about with the Boss.
Two insulated and waterproof cargo pockets on the sides are big enough to hold one regular soft drink bottle each. The one on the front is bigger and could hold as many items as the other two combined. Unlike the main pocket, all three side/front pockets are protected by a zipper.
Ice Retention
The ICEMULE Boss can keep ice frozen for 3+ days. The reason I can say that with confidence is that I was lucky to be able to test it out in one of the southern states for a very hot week. The cooler made sure that the ice I had paced inside its main compartment didn't completely melt into water for 3 days.
Most of the credit for its excellent ice retention goes to the 3-centimeter thick polar layer XT insulation foam. The foam is sealed inside the two layers (inner/outer) of the backpack's main fabric and does a fine job of keeping any air or heat from leaking into this backpack cooler.
This product's IM AirValve also deserves credit for its superb ice retention. Located on the left side, it lets you add air to the insulation layer, increasing its insulating capability. Then, once you're done using the cooler, you could open the valve to release the air so that the cooler rolls up for compact storage.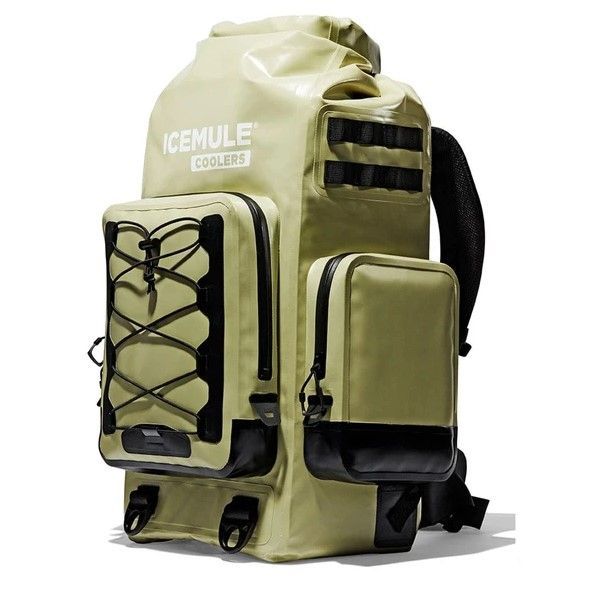 Comfort and Support
The ICEMULE Boss is much easier to carry than its competitors. That is despite the fact that this product could carry more weight (24 cans with no ice) than the Yeti Backflip (20 cans with no ice). This product's ease of carrying stems from its high-end suspension system.
It comes with double-padded shoulder pads that help distribute this product's weight evenly across your shoulders. An adjustable stabilizer strap right across where your ribs would be will make sure that the backpack is secured snugly right across your waist.
Then come the adjustable hip belt and the padded hip pads. Both make sure that the backpack rests right on top of your buttocks, not too up to interfere with your ease of movement and not too down to become too cumbersome to carry.
Other Notable Features
Here are other stand-out features of the ICEMULE Boss:
Modular Lightweight Load-carrying Equipment (MOLLE). Used by militaries all over the world, the MOLLE system lets you attach multi-tools, knives, and other equipment to this backpack. This way, you won't have to dig through this backpack's pockets to reach for survival gear.
Tons of clip points. Ever headed out for a long day of fishing, only to remember that one of the backpacks containing the essential gear is left behind at the campsite? Thanks to this model's bottom-facing clip points, the risk of you inadvertently leaving it behind is zero.
100% waterproof. To test this claim, I bundled several useless documents into its main storage compartment. Afterwards, I tipped it over into my backyard pool and applied pressure on top to ensure it stayed submerged for 30 seconds. Guess what? Everything inside stayed bone-dry.
Roll-down style lid. Most other backpack coolers you see on the market protect their main compartment with a zipper. This model, however, has opted for the traditional roll-down style lid. One that makes it easy to access items as you won't have to fret with a zipper.
3-year warranty. The Yeti Backflip 24 is backed by a 1-year warranty. The ICEMULE Boss, however, is warrantied for three years. This means that, at the very least, you can count on this product to last for two years longer than one of its main competitors.
Pros and Cons
The ICEMULE Boss offers tons of useful features. They include 3-centimeter thick insulation foam, multiple-day ice retention and 100% waterproof construction. However, just like its competitors (see below), this product also has its fair share of shortcomings.
ICEMULE Boss Pros
Incredibly easy to carry
Can retain ice for days
Three insulated and waterproof cargo pockets
Comes with a 3-year warranty
ICEMULE Boss Cons
How It Compares With Other Backpack Coolers
In this section, I'm going to discuss how the ICEMULE Boss compares with its three main competitors. They include the Yeti Hopper Backflip 24, ICEMULE Pro XL, and the Otterbox Trooper LT30. Hopefully, the comparison will help you decide which of the four backpack coolers is worth investing in.
Here's how the ICEMULE Boss compares with other backpack coolers:
ICEMULE Boss Vs Yeti Hopper Backflip 24
Yeti Hopper Backflip 24
Capacity: 21.8 liters
Weight: 5.3 lbs.
Dimensions: 13.7″ x 19.1″ x 15″
Similarities: Both the ICEMULE Boss and the Yeti Backflip use thick foam to offer superior insulation to their contents. They're both made of a waterproof, high-density fabric that allows them to retain ice for days. And there isn't much price difference between the two either.
Where the ICEMULE Boss fares better: This backpack cooler provides more pockets (3 vs. 0), can hold more cans with a 2:1 ice-to-can ratio (24 vs. 20), and comes with a bigger warranty (3 years vs. 1 year). All in all, the ICEMULE Boss is a better option for carrying more cargo.
Where the Yeti Hopper Backflip 24 fares better: The Yeti Backflip weighs lighter (5.3 lbs. vs. 7.5 lbs.), is more compact, and lets you attach a MOLLE bottle opener directly to this backpack's MOLLE Zinger. Plus, it's available in far more colors.
ICEMULE Boss Vs ICEMULE Pro XL
Yeti Hopper Backflip 24
Capacity: 33 liters
Weight: 3.5 lbs.
Dimensions: 14″ x 11″ x 24″
Similarities: Both these backpack coolers are made of the same heavy-duty fabric. They are both backed with 3-year warranties and feature weight-distributing sternum straps, as well as padded shoulder straps, making them a cinch to carry.
Where the ICEMULE Boss fares better: This backpack cooler features three front/side pockets to the Pro's zero, making it a better choice for carrying everyday items. Also, it offers better insulation than the Pro. and boasts a bigger capacity (30 liters vs. 23 liters).
Where the ICEMULE Pro XL fares better: The ICEMULE Pro XL weighs lighter than its older sibling (3.5 lbs. vs 7.5 lbs.), is more comfortable to carry over long distances and it also has a bigger capacity than the ICEMULE Boss (33 l vs 30 l).
ICEMULE Boss Vs Otterbox Trooper LT30
Otterbox Trooper LT30
Capacity: 28 liters
Weight: 6.69 lbs.
Dimensions: 21″ x 17″ x 11″
Similarities: These backpack coolers can keep ice frozen for 3+ days, depending on external conditions. They have an airtight and leak-proof construction that keeps their contents ice-cold and prevents dust, heat and moisture from leaking into the cooler.
Where the ICEMULE Boss fares better: The ICEMULE Boss offers a much bigger capacity (30 liters. vs 28 liters), has more water-resistant pockets (3 vs. 1) for smaller items and folds fully flat for compact storage. Plus, it lets you add air for extra insulation.
Where the Otterbox Trooper fares better: The Otterbox Trooper weighs much lighter (6.69 lbs. vs. 7.5 lbs.), comes with a bigger warranty (limited lifetime vs. 3 years) and costs less ($299.99 vs. $399.99) than the ICEMULE Boss. This makes it a better option if you're on a budget.
Final Verdict: Should You Buy ICEMULE Boss?
If you're looking for a backpack cooler that is incredibly easy to carry, folds flat for compact storage and keeps ice frozen up for days on end, the ICEMULE Boss is definitely worth your money. Sure, this model costs more than its competitors. But with its insulation (which you can take one notch up by filling it with air) and other features mentioned above, it certainly offers the best bang for your buck.
Check Out Some of My Other Camping Gear Reviews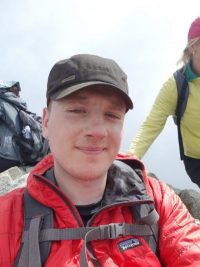 Mins Lukas Savela is a travel writer whose main focus is adventure travel. His passion for wildlife and nature has carried him to many countries in the world. He loves hiking the best trails on earth and sharing his experiences through writing. He hopes his experiences will help more people to start their own adventures and appreciate the world surrounding them a little bit more.
Mins Lukas Savela (also known as Lukas Saville) has written numerous articles that have been published on websites like Wandrly magazine, Go Nomad, Osprey.com, RAD Season, Wilderness Society, The Los Angeles Beat, California.com, Nature Conservancy, and many others.