Florida has some of the most spectacular campsites for freshwater fishing. So, if you're looking for the best outdoor destination to bond with friends and family while enjoying your fishing hobby, then Florida is the place to be. When it's time of the year to pack up your camping gear and pair up your outing experience with fishing, finding a great campsite in Florida is a relatively affordable way to have fun and make some good memories. Choosing a campsite with a river, lake, or stream as part of its amenities can sometimes be overwhelming because there are numerous beautiful waterways out there. Fortunately for you, we've rounded up the top five Florida campsites for freshwater fishing that you should consider exploring.
1. Blackwater River State Park
The campsite has a golden brown-hued river that runs through Blackwater State Forest and the park. The forest is a very rare tropical rainforest because of its unique contiguous longleaf pine locations that are one of the largest in the world. Anglers who love pairing up their camping experiences with fishing will find the Blackwater River very enjoyable.
If your party wants to explore the waters, you can rest assured of catching some catfish, largemouth bass, or panfish in a single day. For best catches, consider going to the still water locations where the water current is slightly slower. You should also check out the park's ox-bow lakes, where experienced anglers tend to have great fishing opportunities. However, you need to avoid locations that are crowded with swimmers. If you have any questions about the best locations to fish, feel free to ask the park staff for help.
It's important to remember that all the fishing activities you'll engage in while at the park must conform to the laid out regulations regarding the method of capture, size, number, and season. You may need to contact the Florida Wildlife Conservation Commission to purchase a fishing license online.
2. Grape Hammock Fish Camp, Lake Wales
Grape Hammock provides exceptional cabins and RV sites around Lake Kissimmee. If fishing is your favorite pastime, you'll surely have a blast at Grape Hammock. Besides leisure fishing, guests rave about the airboat tours at this campsite. You can spot all kinds of wildlife, including gators and Bald Eagles.
3. Everglades National Park
No place matches the 1,509,000 acres of Everglades National Park when it comes to camping and fishing adventures. The site offers two drive-in front country campsites, Long Pine Key Campground and Flamingo Campground. The main attraction for many campers is the breathtaking Backcountry camping site in the park. Beach sites, Ground sites, and camping platforms (popularly known as Chickees) are all available. The majority of the sites are accessible only by vessel, but others, such as Clubhouse Beach, are accessible to hikers.
4. Wekiwa Springs State Park, Florida
The Wekiwa River is a spring-fed river in Florida that has been a prime spot for fishing for several years. History indicates that the Timucuan tribe of Native Americans used to rely on the river for nearly all their fishing needs. The Wekiwa River has pristine waters that are perfect for other outdoor activities such as swimming, paddling, and kayaking. Furthermore, you and your party will also enjoy the park's miles of stunning hiking trails.
Since the park is centrally located, you can be guaranteed that most of the Floridian holiday destinations will be easily accessible from the park. Apart from the Wekiwa River, you can also opt for Sand Lake as long as your fishing activities conform to the park's fishing regulations. You may need a fishing license, as well.
Although the waters can feel too chilly on cold days, you'll enjoy your stay and fishing on a hot day. You can watch fish and turtles if you like as you go about your camping trip. Moreover, the park staff allows campers to float around on a raft. You can also rent kayaks and go down the river to explore the waters and make the experience even more memorable.
5. Blue Spring State Park
The park is strategically located at the point where Blue Springs meets the refreshing waters of the St. John's River. Many seasoned anglers are easily lured by the confluence of these 72-degree water bodies. Visiting the Blue Spring State Park between mid-November and March will give you a rare opportunity to view the West Indian manatees that were first spotted here in 1972, just two days before the park was established. The endangered species loves the 72-degree water of the river and spends most of the colder months in the park.
If your party is larger, you should opt for the six two-bedroom cabins that are fully equipped with refrigerators, kitchens, and stoves. The campsites in the park have electricity, picnic tables, water, and grills. So, you can go fishing all day and enjoy the evenings around the picnic tables. Aside from the fishing escapades, you can also enjoy hiking along the spring run or the Pine Island trail to explore the park's wonders. You can also rent a kayak or take a guided riverboat cruise when you're not put fishing.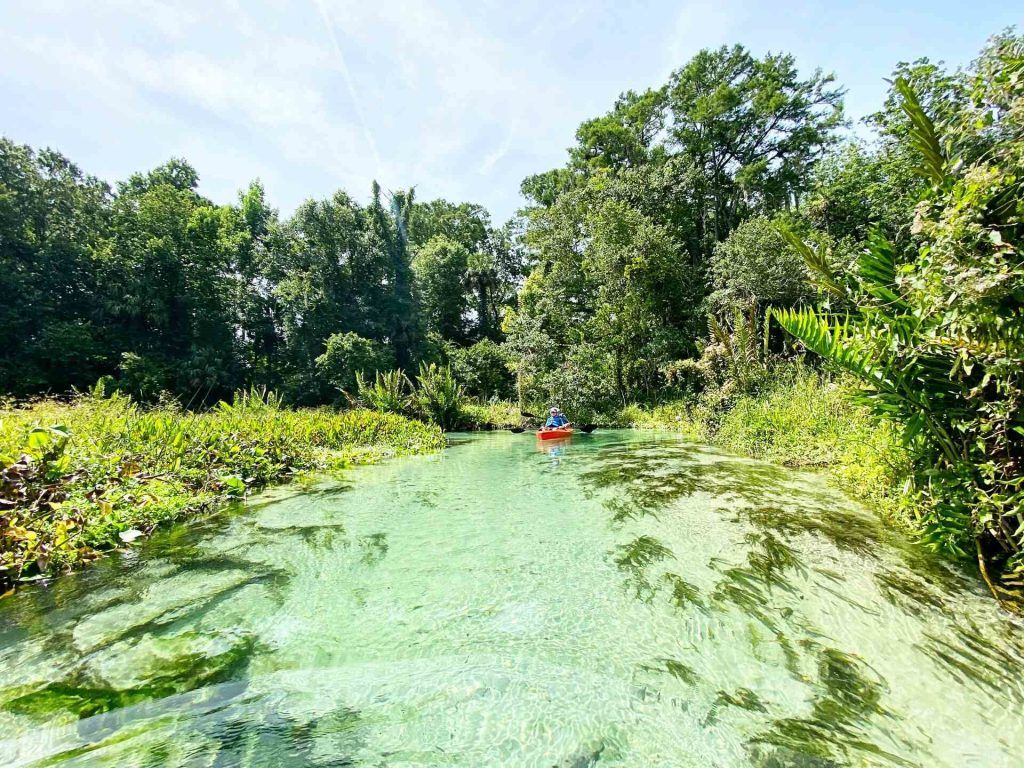 Wrap Up
Are you looking for an affordable yet rewarding way of enjoying a good time with your close friends and family members as you go camping in Florida? Simply pick the right campsite for freshwater fishing that is comfortable for you and your crew, and head out when the gear is packed and ready. Ensure you research the fish species to expect, pack the fishing poles and lures, and purchase a fishing license before you lay the course. If you have any other suggestions of great campsites for freshwater fishing in Florida, feel free to share your ideas below.