Camping in Texas promises to be full of adventures. The Lone Star state offers multiple campgrounds by the seaside, close to the city, in the middle of forests, and right next to creeks. Some are also located in the largest canyon habits in the continental U.S., much to the delight of wildlife enthusiasts.
Another big draw of Texas campgrounds is their diversity. While some are made for R.V. camping, others feature car camping sites to lure campers from near and afar. Still, others offer modern motel-style lodging for those that aren't too enthusiastic about traditional or car camping in Texas.
All in all, regardless of the type of camping you're interested in, the Lone Star state gives you plenty of reasons to visit and explore its outdoors. Are you interested? Your presence here tells me that you are. Let's look at the top five destinations for the best camping in Texas.
Big Bend National Park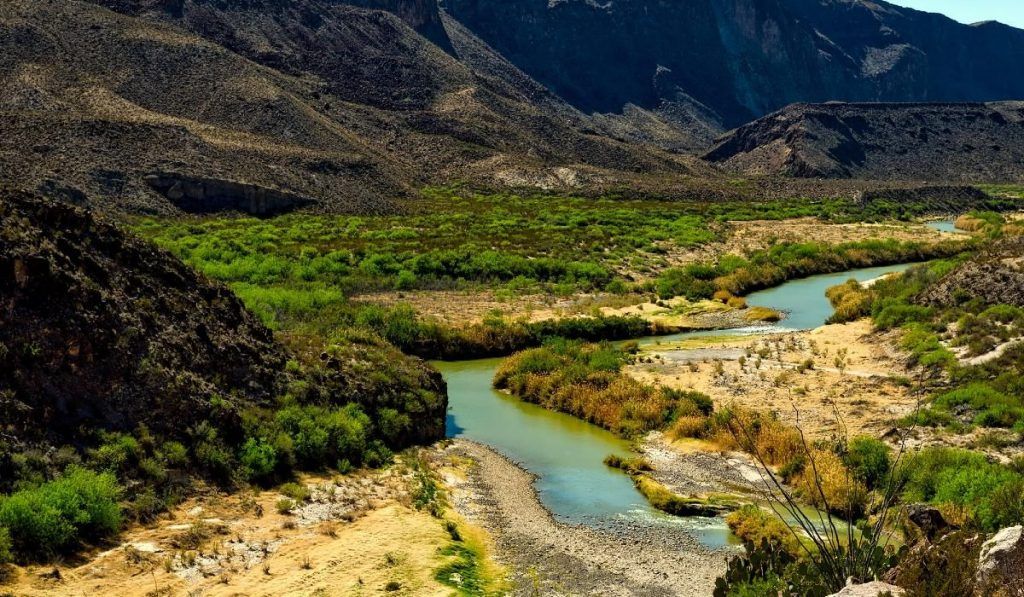 Main Campgrounds: Chisos Basin Campground, Rio Grande Village Campground, Cottonwood Campground, Rio Grande Village RV Park Campground
The Big Bend National Park offers camping at its best. Located in Far West Texas, it offers refuge to hundreds of bird species, at least 75 species of mammals, and over 1,000 species of plants. Some of the artifacts in this park are said to be as old as nine millennia.
There are four campgrounds in this National Park. Three of them are operated by the National Park Service (NPS) and offer plenty of restrooms and drinking facilities. The fourth park, meanwhile, offers more than 20 operational sites with the best RV camping in Texas. All four allow visitors to stay for up to 14 nights.
Things To Do In Big Bend National Park
If you're planning a one-day trip to the National Park, I'd suggest taking a trip down the Ross Maxwell Scenic Drive to visit the Chisos Basin. The scenic trip will give you eye-catching views of the stunning Chihuahuan Desert Landscape, along with other picturesque exhibits and overlooks on the way.
However, if you have a whole week of free time on your hands, you can make full use of it by exploring the Grapevine Hills Area, driving or hiking on the unimproved dirt roads, or following the trails to Boot Canyon, South Rim, and the Emory Peak to visit the forested mountain environment.
During my only visit to the Big Bend National Park, which lasted for five days, I explored the Chihuahuan Desert Nature Trail. It allowed me to see the habitat of the 1000s of species that call the Big Bend National Park home. The hike ended with a picnic under a shady oasis with cottonwood trees and tables.
Big Thicket National Preserve
Main Campgrounds: Has no developed campgrounds (only primitive campsites)
The Big Thicket National Preserve abounds with life of all types. Located in southeast Texas, it contains multiple hiking trails and waterways that crisscross through 9 different ecosystems, from cypress-lined bayous to longleaf pine forests. Talk about nature at its best!
Keep in mind, however, that Big Thicket offers no developed campgrounds. Neither are there any designated campgrounds in the preserve. You are on your own to erect a tent in the preserve, for which you must get a permit (free) at the visitor center, so make sure you bring all the supplies with you.
Things To Do In Big Thicket Preserve
Do you like hunting? Then you might find it good to note that the Big Thicket National Preserve allows hunting – albeit to hunters who have a valid Texas hunting license. After getting the permit, you can pursue white-tailed deer, feral hogs, squirrels, rabbits, and waterfowl.
Fishing is another popular pastime in the preserve. While all of Big Thicket's waterways allow fishing, only a few have the population of fish necessary to give you a fighting chance of not returning to land empty-handed. They include Neches River, Turkey Creek, and Village Creek.
You can also spend your time hiking in the Big Thicket Trails. There are approximately 40 miles of them, with their lengths varying between 0.3 miles and 18 miles (round trip). And you can also paddle, canoe, and kayak to explore the rarely-explored areas of the Big Thicket.
Devil's Sinkhole
Main Campgrounds: Llano Campground (in the adjacent South Llano River State Park), LedgeWater Campground (on the Nueces)
The Devil's Sinkhole offers an entry point to the underworld in Texas. This natural formation is located on the northeastern side of the town, and legend has it that campers just like you used it in the Middle Archaic period, sometime between 2500 and 4000 B.C.
A few thousand years later, this place was discovered by native people, who ended up using its chert for tool making. Fast forward hundreds of years, and cowboys and cavers turned this place into their gathering spot. You can still see names of some of them etched on the Sinkhole's limestone walls.
Things To Do In Devil's Sinkhole
Tours are the only thing you'd be able to do at the Devil's Sinkhole. The park offers sinkhole and birding tours, though visitors aren't allowed to enter the Sinkhole. Only the staff are permitted to use the ramshackle ladder to climb down into the Sinkhole, which they rarely do.
Apart from educating visitors on the Sinkhole's history, the staff will also prepare you for bat emergence. You read that right. There are approximately three million bats inside the Sinkhole, and when they get out (which mostly happens during the summer months), quite a sight is formed.
Imagine a black whirlpool coming out of a giant hole, consuming innumerable amounts of insects before dissolving into thin air above the hills. If you get intrigued by the Sinkhole's history, its easy-to-miss visitor center will let you buy souvenirs.
Colorado Bend State Park
Main Campgrounds: Live Oak Group Campground, River Back Pack Campground, Windmill Back Pack Campground,
The Colorado Bend State Park offers unspoiled wilderness at its best. Located less than a hundred miles northwest of Austin, it greets its visitors with over 5,000 acres of pure Hill Country. However, as a visit to its intricate network of caves will tell you, there's more to this State Park than meets the eye.
This State Park offers three types of camping sites: drive-up, walk-in, and hike-in. Keep in mind that all camping areas inside the park are primitive camping, so you might want to have a portable power station in your gear if you're planning to keep your devices charged.
Things To Do In Colorado Bend State Park
If you intend to visit the Colorado Bend State Park for adventure, consider including hiking on the agenda. The Park offers 35 miles of hiking trails, among which is the fan-favorite Gorman Falls Trail. It is not that long, only 2.6 miles, yet greets you with a serene 50' waterfall at the end.
This Park's location on the edge of the Colorado River has enabled it to offer some of the best bass fishing in the whole of Texas. As long as you remain within the State Park's limits, you won't have to possess a fishing license, and there's also a fish cleaning station along the beach to wash your day's catch.
Lastly, if you're visiting the park when water levels are reasonably high, don't forget to undertake a multi-day kayak adventure. Multiple backcountry sites along the Colorado River will help you get lost for days. Other activities you could do in the park include biking, paddling, and swimming.
Garner State Park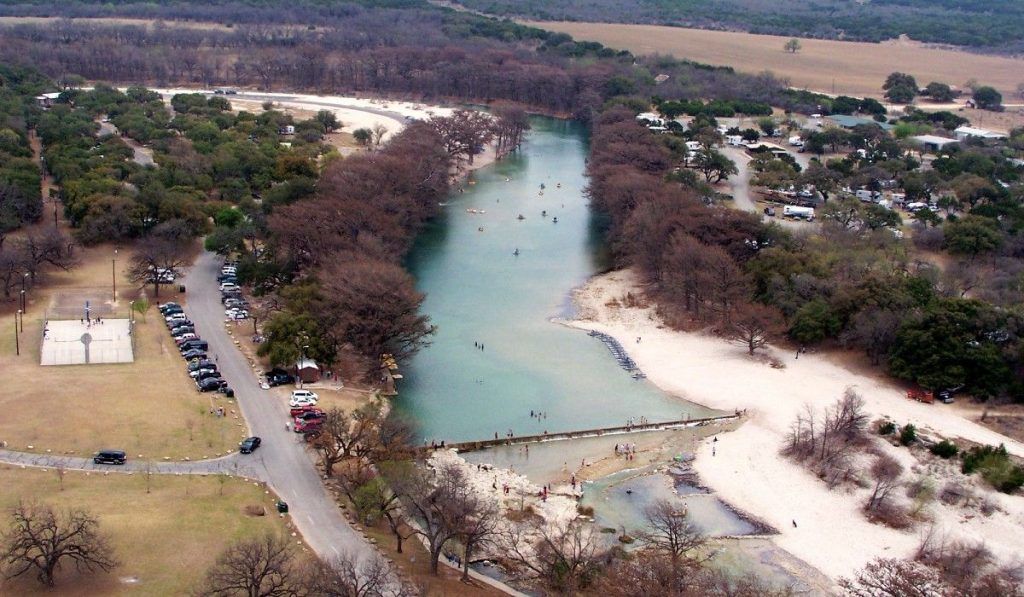 Main Campgrounds: Live Oak Group Campground, River Back Pack Campground, Windmill Back Pack Campground,
The Garner State Park had been on my bucket list since forever. I finally went camping there with my family in the summer of 2019 and it didn't disappoint. With exquisite scenery, innumerable activities, and a lodging option for campers (and non-campers), it's a perfect place to camp with your family.
We stayed at the Pecan Campground during our visit, mainly because the main area near the campground is a tourist hotspot for swimming. However, as I found out much later, the campgrounds near the Blinn River Trail offer more secluded spots. Do visit them if you're a stickler for privacy.
Things To Do In Garner State Park
Check out the White Rock Cave Trail if you've slightly older kids with you (or are traveling alone or with physically fit friends). The trail is only 0.3 miles long but is pretty steep, though it rewards you for your effort with some pretty nice views along the way, as well as with a cave at the end of it.
If the idea of hiking fails to excite you, perhaps a mini-golf course will. The Garner State Park has one next to its restaurant. You can also swim near the Blinn River trail, but if the water temperatures are too cold for your taste (it's named Frio River for a reason), you can rent a kayak, canoe, or paddleboat instead.
I visited during pre-COVID times and was able to attend an old-school jukebox dance at the concession building in the evenings. Whether that activity is still ongoing depends on COVID safety protocols. Even if it is discontinued for the moment, you won't run out of activities to do at Garner.
Find More Articles About Camping