Georgia is one of the best places that provide multiple opportunities when it comes to camping. The state has one of the most successful park systems that allows both novice and veteran campers to have a consistent and hospitable experience. Whether you like to have an activity-packed schedule or simply want to be close to nature, camping in Georgia provides the ideal opportunity for all.
If you want a relaxing camping trip, you can lounge around the lakeside all day. For a more action-packed trip, you can choose the hiking spots or even kayaks around the swampy areas of Georgia. So basically, no matter what your idea of camping is, this state has the right place for one and all.
Here is a quick listicle of the best locations for camping in Georgia:
Cloudland Canyon State Park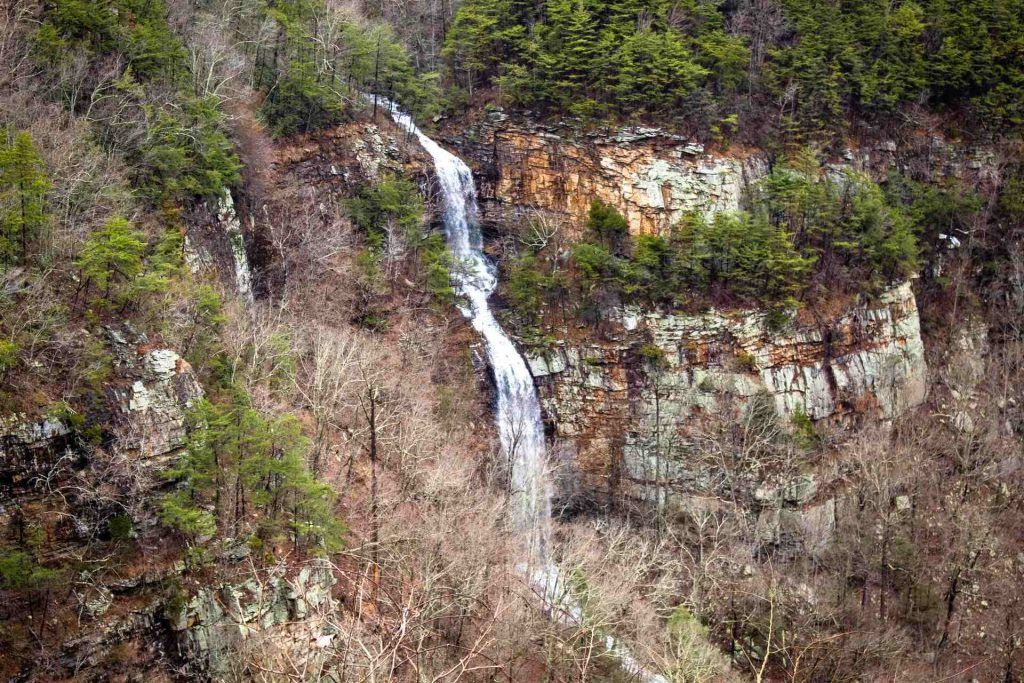 Cloudland Canyon State Park is famous for providing the most stunning view as it is located on the Western side of Lookout Mountain. This is one of the most scenic parks in Georgia that offers a rugged view and an adrenaline-pumping list of experiences.
The presence of the Sitton Gulch Creek creates a cut into the mountain, making the elevation differ between 800 to 1,980 feet. So, a range of activities can be performed in this park, such as hiking, fishing, whitewater paddling, climbing, horseback riding, and more.
And that's not all! You can also get access to the stunning views just from the picnic area parking lot. However, if you want to indulge in some adventurous activities, you can take a hike along the rim trail. If you are adventurous enough to reach the bottom of the gorge, you will be able to witness beautiful waterfalls falling over various layers of shale and sandstone. While there are cottages near the canyon's edge, there are also walk-in campsites that provide privacy as well as luxury.
Skidaway Island State Park
Another great choice for camping in Georgia is Skidaway Island State Park. This park is located close to Savannah and just near the Skidaway narrows, which is an integral part of Georgia's Intracoastal waterway. There are trails that you can enjoy here, passing through the forest and salt marsh leading to the observation towers.
If you are a fan of wildlife, you can sit patiently and watch fiddler crabs, deer, egrets, raccoons, and even a variety of migratory birds all around the park. It is an excellent place for families or singles wanting to enjoy various kinds of camping.
There are camping cabins nestled in this park that offer air conditioning, screened porches, a kitchen, a well-furnished bathroom, a master bedroom, and lofts for kids. While guests have to bring their own dishes, towels, and other necessary items, it is an extremely hospital lodging area for groups and families. The best part is that even pets are allowed in this park as long as they are leashed. You will even find picnic tables, grill set up, and fire rings.
Vogel State Park
Vogel State Park is one of the most beloved, active, and oldest state parks in Georgia. It is located directly at the base of the Blood Mountain situated in the Chattahoochee National Forest. In case you are heading towards this park from the South, you will be able to pass through the Neel Gap. This mountain pass is extremely beautiful and happens to be the highest point in Georgia. The Park is best visited during the fall season, where you will be able to witness the Blue Ridge Mountain covered in autumnal leaves, providing a view like no other.
There are a number of trails that you can choose from when deciding to hike. Some of the most challenging yet scenic trails include the Coosa Backcountry Trail and Bear Hair Gap loop. Whether planning a backpacking tour or taking your RV, this campsite provides hospital opportunities for one and all. You can even enjoy the vast pool that is open to visitors during summer.
The lake, in contrast with the mountains, provides an exhilarating view that is truly unforgettable. Besides being an extremely pleasant campground, this park also has a rich history making it even more enjoyable. You can enjoy various activities here besides hiking that include fishing, paddling, geocaching, swimming, kayaking, biking, and much more!
F.D. Roosevelt State Park
F.D. Roosevelt State Park is one of Georgia's most significant parks, an absolute paradise for backpackers and hikers. It offers more than 40 miles of trail, providing the perfect opportunity for you to be one with nature and also give yourself an adrenaline-pumping activity. One of the most popular trails includes the Pine Mountain Trail that includes everything on its way from waterfalls to vegetation. Besides, the park also has a rich history of being a popular picnicking spot for President Franklin D. Roosevelt. Now a life-size statue of the president has been installed here in his fond remembrance.
In fact, the various camping facilities that are still available today were built during the Great Depression by the Civilian Conservation Corps. These include the various cottages as well as the Liberty Bell Swimming Pool. This is an all-rounder Park that provides you with a long list of activities that you can enjoy that includes birding, fishing, swimming, scouting, picnicking, stargazing, hiking, geocaching, horseback riding, and more.
Various educational programs also take place here from time to time. All camping-related amenities are available here, including multiple cottages, campsites for tents and RVs, picnic centers, playground Wi-Fi, and more.
Stephen C. Foster State Park
When visiting Stephen C. Foster State Park, you can expect nothing less than the most wonderful sites and a list of adventurous activities waiting for you one after the other. This part is one of the most prominent entrances to the Okefenokee Swamp, which is included in Georgia's seven natural wonders. Whether you are a paddler or a photographer, the future is absolutely breathtaking and filled with wildlife. You can observe turtles, alligators, black bears, raccoons, deer, herons, ibis, wood storks, herons, and many other creatures.
You can go for the pontoon boat tours as well that are guided, providing interesting facts at every turn. You can also kick start your adventures by renting kayaks, canoes, or Jon boats to explore the swamp even further. If you like to participate in some fishing, the lake offers a variety of fishes to be caught, including catfish, bluegill, chain pickerel, warmouth, and many more. You can come here in your RV, but make sure that it is ready for all seasons, especially the winters, to provide you maximum comfort. Otherwise, campsites for trailers and tents are also available. It is undoubtedly one of the best places to visit with your family or friends for a breathtaking day of adventure.
In Conclusion
Whether you are a local in Georgia or coming to visit the state as a tourist, these parks are undoubtedly the most interesting places to be. The park system of Georgia is excellent and managed to provide tourists with an enjoyable experience that can be consistently depended on. What is even more exciting about camping in Georgia is that every destination provides its own experiences and is unique from one another. Start planning your next camping trip today!
Check Out My Other Camping Guides in the USA
Looking for Some Great Camping Gear? Check Out Some of the Gear Reviews I've Done