Spring is the perfect time to go camping in Alabama. On the one end, you're welcomed by budding trees and wildflowers that are ready to bloom. On the other end, bugs and humidity, the number one nemesis of campers in the state, are yet to return from their annual slumber. You can thus camp in peace.
Having identified the best time of the year for camping in Alabama, it's time we move on to an equally crucial question. One whose answer will determine whether you'd have a baller of a time out there or you'd be planning to return even before you've pitched your tent.
Here's the question I'm talking about: where can you go for the best camping in Alabama? Not sure you have the correct answer to it yet? Don't worry as you're at the right place. In this article, I'll direct you to the eight best camping destinations in Alabama to check out this season.
Quick Navigation
DeSoto State Park
Camping: A well-maintained campground with many types of camping available, such as RV camping sites, primitive campsites, two backcountry campsites w/shelters.
The DeSoto State Park has got something to offer for everyone. Located on the tip of Lookout Mountain in the northeastern corner of Alabama, this 3,500-acre State Park features wildflower fields, lush rolling terrain, various wildlife species, and plenty of rustic beauty. That's not all.
More than half a dozen swamplands offer you ample opportunity for canoeing, kayaking, boating, and fishing. Multiple off-road hikes, meanwhile, allow you to enjoy a blissful day deep in the pines. And there are areas of the park dedicated to biking, horseback riding, and similar activities.
All in all, this State Park has got everything to let you camp forever. Just make sure you pack up for a week or more worth of gear if you are serious about discovering everything DeSoto has to offer. I'd suggest bringing in the Dometic Powered Cooler as DeSoto tends to get very hot in the summertime.
Cheaha State Park
Camping: Five campgrounds: 1 primitive, 1 semi-primitive, 1 ground campground, and 2 developed w/RV hookups.
The Cheaha State Park offers the best RV camping in Alabama. Located at the crossroads of Cleburne and Clay counties, it stands more than 2,400 feet above sea level. Little wonder, then, that the native Creek American Indians named it "Chaha", meaning high place.
You have two options to enjoy once you're inside this State Park. Either you can spend the whole day fishing, hiking the trails, picnicking, or swimming on its beach with your friends. Or, if you happen to be lazy, you can rest inside one of its many lodge rooms, family cottages, or camper cabins.
Regardless of what your choice is, make sure you don't return home before visiting the Bunker Loop Campground. Located on the backside of the full-service campground, it contains two bathhouses as well as campsites equipped with fire rings and grills to let you enjoy bonfire night(s).
Buck's Pocket State Park
Camping: 36 campsites with electricity and water; four even have sewage facilities.
Legend has it that all the defeated public officials go to Buck's Pocket State Park to lick their wounds after an unsuccessful attempt at the office. And they have every reason to! This 2000-acre park's secluded beauty has got the potential to make anyone forget their worries.
Buck's Pocket is located at the foot of the Appalachian Mountains. Its location enables the park's picnic area to give the arriving guests a peek into the pocket below – one located on one of Lake Guntersville's upstream tributaries. However, it isn't the pocket's location that makes it unique.
Instead, what makes the Pocket and, by extension, Buck's Pocket special is its improved campground. One that is complete with grills, tables, hiking trails, playgrounds, shelters, and even laundry. All 36 of the campsites have water and electricity, with each furnished with all the modern amenities of life.
Gulf State Park
Camping: 496 campsites including back-in and pull-through sites, ADA-accessible sites; paved pads, glamping sites, and more.
From spending hours soaking the sun on its two-mile-long beaches to learning about alligators and snakes to visiting the Nature Center museum to learn amazing facts about wilderness and wildlife, there's seemingly no end to the things you could do once you're inside the Gulf State Park.
My favorite is the two-hour guided kayak tour by the Coastal Segway Adventures. It lets you rent paddleboards and kayaks so that you can enjoy yourself in the park. I also enjoyed dining at the Gulf State Lodge, which serves both family-oriented meals as well as chef-cooked local fish.
Yet another activity that mesmerized me was a movie night in the pool. You read that right! Gulf State Park offers weekly "Dive-in Movie Nights" where registered guests can watch a movie while floating in the park pool with their loved ones. What more can you ask for!
Bankhead National Forest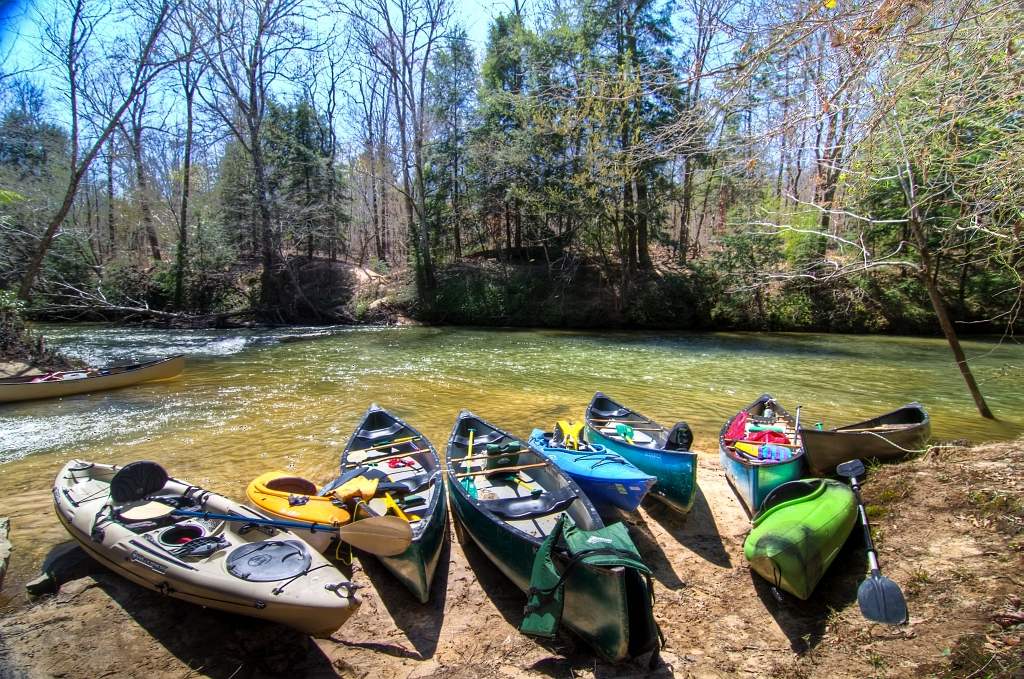 Camping: Four fully developed campgrounds with primitive, dispersed, and full hook-up RV camping sites.
The Bankhead National Forest is called the Land of a Thousand Waterfalls for a good reason. As you hike through one of its 90 miles of trails beneath deep rock shelters, past moss-covered bluffs, and alongside many rivers that traverse through it, you'd quite literally encounter a waterfall at every corner.
Although the trails in this National Forest aren't blazed out, they are incredibly worn and are therefore easy to follow. Still, I suggest you carry a GPS with you and must have prior knowledge of how to use a map. Don't forget to pack a portable charging station if you're planning to be camping for days so you can charge all your electric gadgets.
One of the best things about the forest is that it allows you to camp anywhere in the wilderness area, as long as you abide by the National Forest Service's dispersed camping rules. You can find them here. Make sure to go through them before you set about erecting your tent in the wilderness.
Pro Tip: Have trouble choosing a portable charging station for your next camping trip? Then let our comparison of the two best-selling charging stations help you out.
Bartram Canoe Trails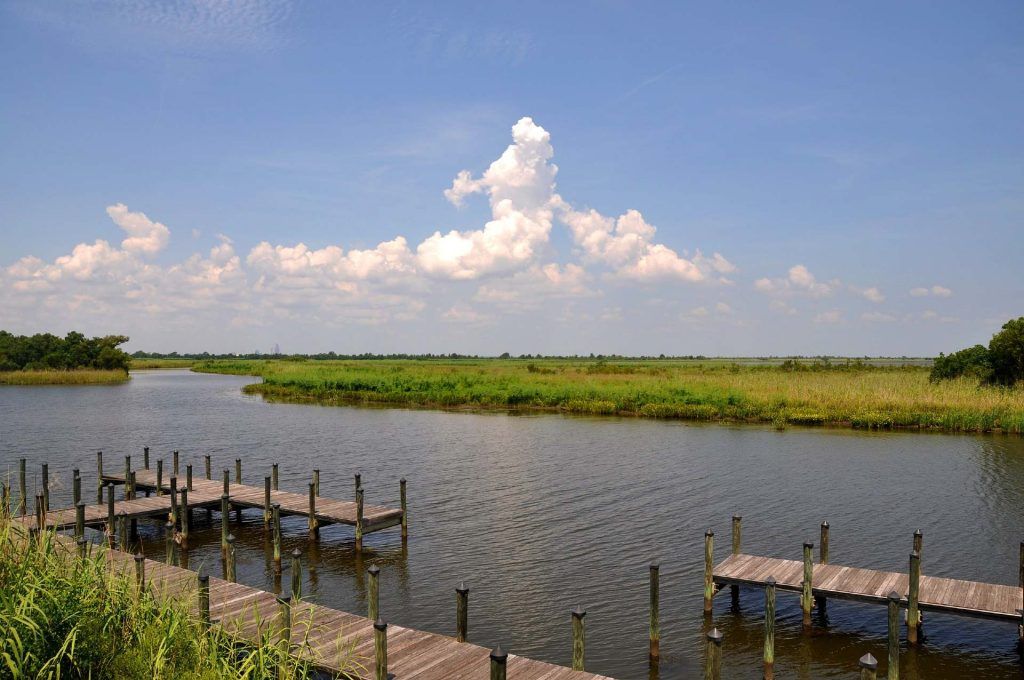 Camping: Two land-based, primitive campsites; four water-based floating campsites.
The 250,000-acre Mobile-Tensaw Delta is one of the biggest river deltas in the US. It's home to dozens of endangered plant and animal species and is a vast wetland of swamps, marshes, and bottomland hardwood ecosystems. And it's also the place that houses Bartram Canoe Trails.
These trails are among the top five longest aquatic trails in the United States. They feature six overnight and six-day use trails, which take kayakers, canoeists, and recreational boaters through miles and miles of bayous, sloughs, lakes, streams, and rivers. The good news continues.
Provided you want to explore the 170+ miles of these trails, boating, canoeing, and kayaking will be your primary means. While fishing is also allowed, swimming is prohibited due to the large population of local alligators. Also on offer are water-based campsites, which you can book online for a paltry fee.
Noccalula Falls Park and Campground
Camping: More than 120 campsites with rental cabins, swimming pool, laundry room, and other facilities.
The Noccalula Falls are named after a princess who, as the legend goes, chose to jump from atop to prevent her parents from forcing her into an unwanted marriage. It encompasses more than 5 miles of trails that you can spend an entire weekend exploring on foot or your bike's seat.
About 15 Black Creek Trails provide visitors with plenty of options for walking, running, cycling, or hiring. Children are given the opportunity to get up close to their favorite animals in the petting zoo. Adults, meanwhile, can entertain themselves with natural rock formations, cascading waterfalls, and more.
Turning our attention to its campground, it offers more than 120 sites from pull-through w/ complete hook-ups to primitive tent camping. A swimming pool, multiple rental cabins, playground, rec room, laundry facility are available, too. Also, visit this park if you intend to do car camping in Alabama.
Cathedral Caverns State Park
Camping: Multiple campsites with a bathhouse, 2 large picnic pavilions and more.
The clue is in the name! Cathedral Caverns State Park got its current name due to its cathedral-like appearance. Though, once you visit this State Park, you won't need anyone to guide you about why it got its current name – the design of its massive entrance would be enough for that.
Yet another thing that sets the cavern apart from other Alabama campgrounds is its internal temperature. The cavern stays at a comfortable 60-degrees temperature 365-days-a-year, making itself an excellent choice of field trips for schools, churches, or groups.
All the hiking trails in this 493-acre park are marked to ensure you don't get lost on the way. You can also schedule a "Cave Tour" on its website if things like gemstone mining interest you. All of this is to say that this State Park has got something to pique the interest of visitors of all ages.
Check out other articles related to camping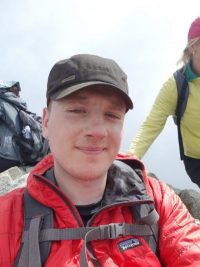 Mins Lukas Savela is a travel writer whose main focus is adventure travel. His passion for wildlife and nature has carried him to many countries in the world. He loves hiking the best trails on earth and sharing his experiences through writing. He hopes his experiences will help more people to start their own adventures and appreciate the world surrounding them a little bit more.
Mins Lukas Savela (also known as Lukas Saville) has written numerous articles that have been published on websites like Wandrly magazine, Go Nomad, Osprey.com, RAD Season, Wilderness Society, The Los Angeles Beat, California.com, Nature Conservancy, and many others.