When it comes to outdoor adventures, Missouri isn't the first name that comes to mind. However, the state offers several amazing spots for all types of camping with its parks, reserves, rivers, museums, and caves.
Even if you are a local, camping in Missouri is a great way to explore the beauty of this great state. First-timers need not worry too much. Regardless of the weather and the terrain, modern-day camping equipment can keep you and your family safe and comfortable.
Nowadays, you can easily get comfy sleeping bags, cookstoves, LED lanterns, and powerful ice coolers with Bluetooth and Wi-Fi connectivity (such as the Dometic CFX3 95DZ).
And if tents are not your thing, you can always go RV camping. So without further ado, here are the 6 best locations for camping in Missouri.
#1 Lazy Day Campground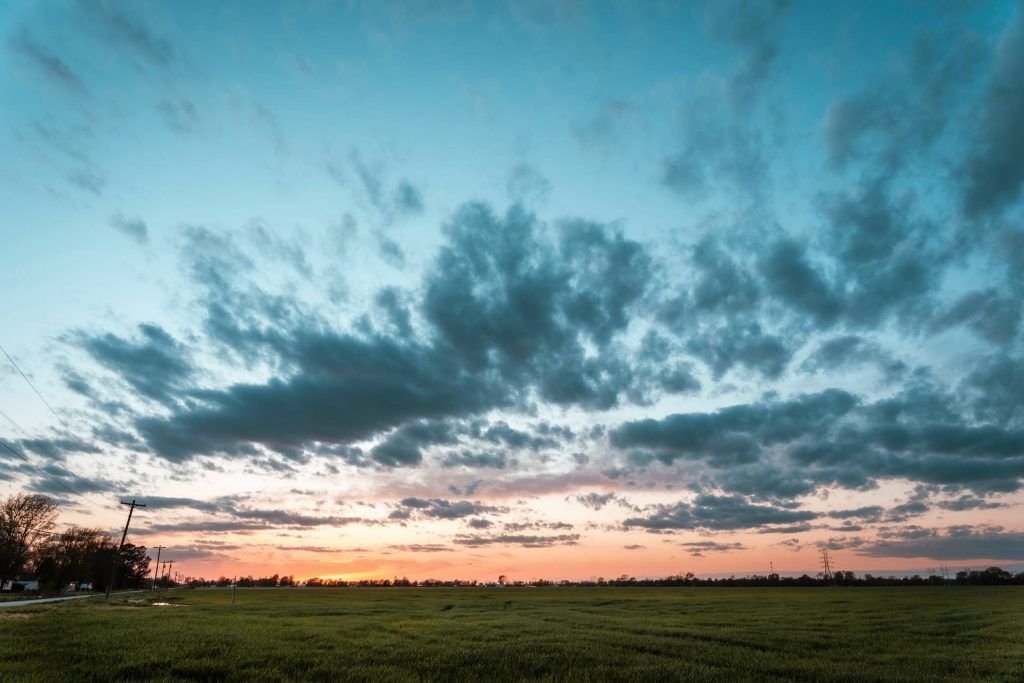 We begin our list of the best Missouri campgrounds with Lazy Day. Located in Danville, it is a great place for families who want to enjoy nature while tent camping. Lazy Day Campground includes several activities for all ages, including a swimming pool, fishing lake, playground, and a dog park.
You get four options at this location:
Basic tent camping
Tent site with water and electricity
Water and electricity only site (30 amp service)
Full hookup with 50 amp service for portable power stations
Overall, the park has much in store for families and large groups. The park staff is courteous and friendly, helping you with the facilities at all times.
Location: 214 Highway J, Danville, MO 63361
Contact: (573) 564-2949
Best for: Public celebrations, swimming, outdoor movies, pets, and tent camping.
Things to Consider:
Lazy Campground isn't the best option for RV camping. Also, remember that there are no cabins; that's how the owners prefer it.
#2 Lake of the Ozarks State Park – Best RV Camping in Missouri
Next on our list is the Lake of the Ozarks State Park. As the name implies, the campsite is located near water, namely, the Public Beach in Brumley. Covering a wide area (17,626.55 acres) on the Missouri shoreline, the park is situated on a cove, which makes for intriguing cave adventures. Other activities you can enjoy at the location include swimming, biking, hiking, and fishing.
Unlike Lazy Day Campground, this camping site in Missouri offers both lodge and tent camping. There are four areas you can select from, each having different amenities that include:
Running water
Vault toilets
Washing area
Parking and hookup for RVs
Play area
Moreover, the park also has yurts and outpost cabins for those who don't want to bother with setting up tents. Despite being a popular attraction, the Lake of the Ozarks State Park is one of the safest and cleanest campgrounds in Missouri.
Location: 257 Public Beach Rd, Brumley, MO 65017
Contact: 8774226766
Best for: Lodging, tent camping, RV camping in Missouri, cave exploration, and water-based activities.
Things to Consider
The waters have a stony bottom, so avoid going barefoot inside the lake.
#3 America's Best Campground – Best for Glamping
Moving on, we have the self-proclaimed 'America's Best Campground'. While I believe that everyone should try basic tent camping at least once in their lives, it does take considerable preparation.
The short-term solution (but one that costs more) is what we call 'glamping'. In other words, you explore the outdoors with all the luxuries of a hotel or resort. In this case, America's Best Campground lives up to its name, offering you everything from free Wi-Fi to full concierge service.
Amenities at the 'campsite' include:
Pool and spa
Play areas
Souvenir shop
RV supplies
Grills and picnic tables
You can choose from a wide variety of cabins with warts and all, and there are sites for RVs with all of the plugins.
Location: 499 Buena Vista Road, Branson, MO 65616
Contact: 800-671-4399
Best for: Campers who want to enjoy the outdoors but with the necessary luxuries. It is also a great spot for RV campers.
Things to Consider
Considering its popularity (what some call overrated), the RV spots at America's Best Campground are booked months in advance.
#4 Meramec State Park – Best for Winter Camping
What I love most about camping in Missouri is the abundance of nature. In fact, Missouri is known as the 'Cave State', and there are 40 caves located near the Meramec State Park alone.
The park spreads over almost 7,000 acres and features forests, bluffs, and caves. It also combines local heritage with the rugged landscape that surrounds it. The campsites are located along the Meramec River. Each site contains fire pits, picnic tables, showers, and restrooms. Some even have electric hookups (standard 30 amp).
Other amenities include:
Playground
Washing facilities
Firewood
Shop and restaurant
There is so much to do at Meramec State Park. You can enjoy the picturesque scenery of the riverbank, go bird-watching or relish the wilderness and wildlife. You can also go fishing, swimming, boating, rafting, kayaking, and canoeing (rental equipment is available onsite).
Campers can also hike through the forest areas on trails that stretch for about 15 miles. You can also explore the caves, especially the Fisher Cave. The park organizes guided tours for visitors who want to learn more about these caves, but these tours are seasonal.
Park rangers are also present nearby to assist campers.
Location: 21880 Maramec Spring Drive, St. James
Contact: (573)265-7387
Best for: Hiking, exploring caves, water-based activities, and tent, RV, and car camping in Missouri. Meramec State Park is also the best location on this list for winter camping.
Things to Consider
If you plan to visit Meramec during the cooler months, make sure you have the right winter camping gear handy.
#5 Harry S. Truman State Park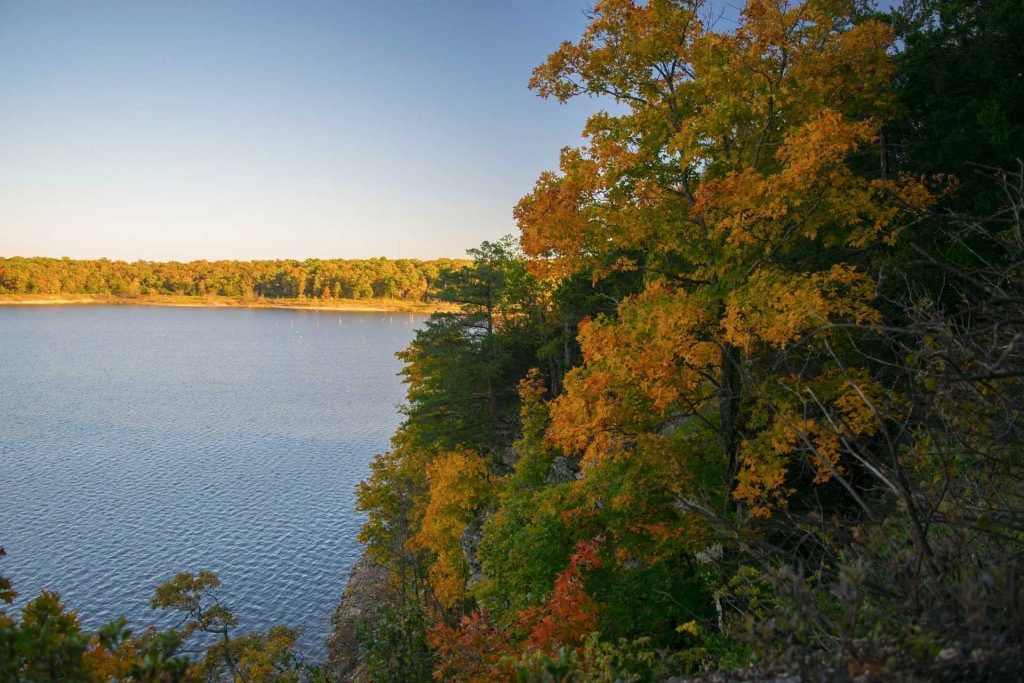 On number 5 we have another state park in MO, this one located in Warsaw. The Harry S. Truman State Park offers everything you want at a campsite. But I rate it highly because it is a great place for fun activities like metal detecting.
When I asked around, campers mostly praised this location for its stunning views and especially the care given to hygiene and sanitation. It is also a great campground for fishing enthusiasts.
One often sees school groups at the Harry S. Truman State Park, who come here for interpretive programs during summer. There is also an amphitheater for educational activities and entertainment.
Overall, it is a great place for both tent campers and RV campers. In fact, many of its amenities make for a decent glamping experience.
Location: 28761 State Park Road West, Warsaw, MO 65355
Contact: 660-438-7711
Best for: This is the best location on our list for those who are interested in metal detecting. Other activities you can enjoy there include hiking and fishing. If you want to explore the waters, there is a boat dock on Thorny Ridge as well.
Things to Consider
Select the appropriate area of the campground, as every section has different amenities.
#6 Mark Twain State Park
I'll conclude this list with this beautiful park located in the mountains of Monroe County, Missouri.
The Mark Twain State Park offers something for everyone:
Hiking on the mountain trails
Fishing in the river
Fun, interactive activities for children
Facilities are abundant on the site, including hookups for RVs, showers, running water, and cabins. What most campers will love about the Mark Twain State Park is the beautiful scenery and the view from the mountainous trails. It is well worth the visit.
Location: 37352 Shrine Rd, Florida, MO 65283
Contact: 573-565-3440
Best for: Boating, fishing, and hiking. There are good facilities for both tent and RV campers.
Things to Consider
Cabins are available on the campground, but they are pretty basic and rustic. It's not the best place for hardcore camping.
FAQs
When is the best time to go camping in Missouri?
The great thing about Missouri campsites is that most of the sites are open throughout the year. That said, the best weather for these outdoor trips is from May to September. Also note that while weather and temperatures remain fairly moderate, most camping facilities are usually available from 1st April to 31st October.
How early should you book?
The best places are usually booked in advance. You may have some luck with on-spot bookings during the pandemic, but the best way to book a campsite is to call ahead and check availability.
What type of camping is best in Missouri?
When it comes to types of camping, Missouri is best for tent camping, RV/van camping, car camping, winter camping, bike camping, glamping, and kayak camping.
Conclusion
That's about it!
The list is by no means exhaustive, and there is so much more to camping in Missouri. These selections cater to everyone from first-time campers to experienced ones and those who like lodging and concierge services.
So whether you're a local or a tourist, camping is a great way to enjoy the natural beauty and the cultural history of the Show-Me state.
Check out some of the other best camping destinations in the US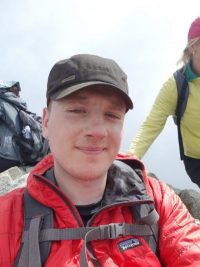 Mins Lukas Savela is a travel writer whose main focus is adventure travel. His passion for wildlife and nature has carried him to many countries in the world. He loves hiking the best trails on earth and sharing his experiences through writing. He hopes his experiences will help more people to start their own adventures and appreciate the world surrounding them a little bit more.
Mins Lukas Savela (also known as Lukas Saville) has written numerous articles that have been published on websites like Wandrly magazine, Go Nomad, Osprey.com, RAD Season, Wilderness Society, The Los Angeles Beat, California.com, Nature Conservancy, and many others.