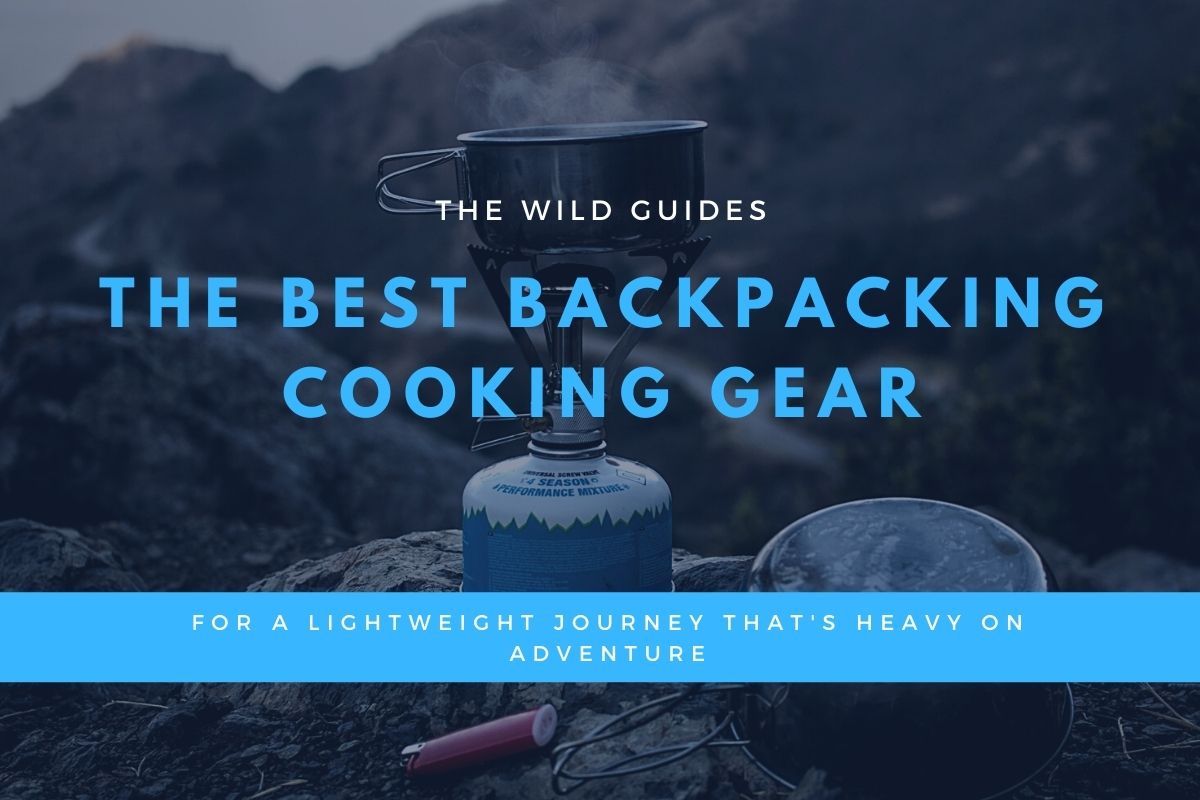 It can sometimes feel like we have to carry the world in our backpacks just to be able to explore the natural world comfortably, safely and sustainably. You know what I'm talking about if you've ever been stuck lugging backpacking gear that was too bulky. The thing about relying on nature for everything is that nature doesn't come with a kitchen. That means bringing along backpacking cooking gear to ensure that you'll be able to safely prepare and eat food that will supply you with energy on the trails.
I've learned a lot about finding the right ultralight backpacking cooking gear after making all the wrong moves on my earliest wilderness treks. I've put together a list of some of the best strategies and products that have helped me to enjoy much lighter loads that still provide everything I need. Let's cover the best outdoor cooking gear if you're looking for an ultralight configuration in your pack that won't leave you hanging at mealtime.
Quick Navigation
*Disclosure: I only recommend products that I would use myself. This post may contain affiliate links that may earn me a small commission at no additional cost to you. Read the full advertising policy here.*
Backpacking Cooking Stoves
I have to start with backpacking stoves because your stove is simply your most important piece of gear for meal prep out there in the wild. The two main factors to look at are weight and cooking style. I think this is where it's worth making the investment because a hearty, properly cooked meal can be everything after a long day on the trails. However, I can assure you that you'll find some nice budget options if you aren't looking to drop a ton on a stove.
Types of Backpacking Cooking Stoves
We're looking at five possible types of cooking stoves. They are white gas, canister, denatured alcohol, wood and solid fuel stoves. I personally consider everything other than gas to be a bit fringe or specialty. That's why I'll mostly be covering gas stoves in my reviews of what I think are the best performers.
Best Backpacking Stoves
I've narrowed down my list of the best performers that I think deserve to be considered for your backpacking cooking gear setup. I'm categorizing them based on considerations like weight, ease of use and budget because I know that everyone has their own priorities. At the end of the day, each backpacking stove on my list will do its job out there in the wilderness.
Best for Weight and Ease of Use: MSR Pocket Rocket Deluxe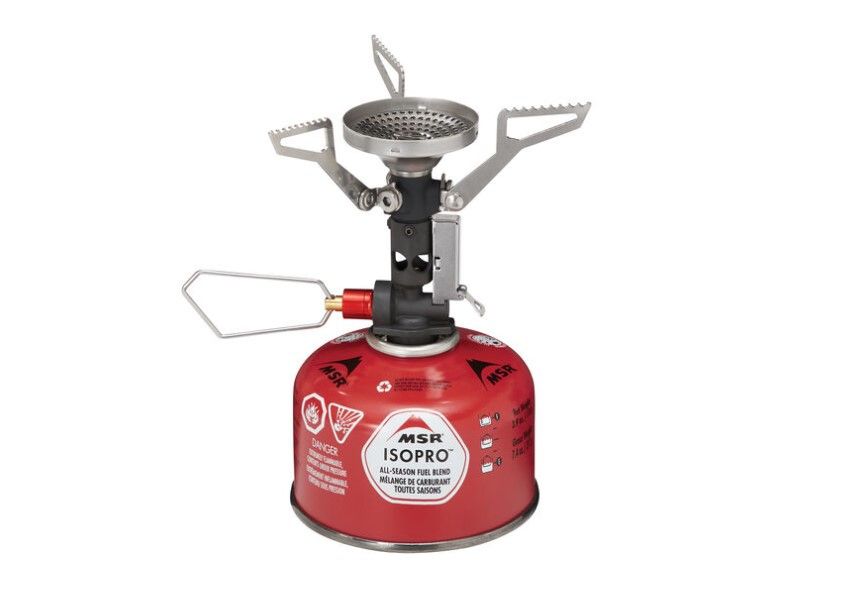 Weight: 2.9 ounces
The MSR Pocket Rocket Deluxe earns my title for the best all-around pick because it features a pressure regulator that works for all-condition environments for faster boiling times even when you're backpacking in cold weather. This stove also comes with a push-start piezo igniter and burner head that deliver impressive heat distribution. The last thing I'll say about this ultralight stove is that its broad burner and wind-blocking burner lip are nice choices because they improve wind resistance.
Best Cooking System: Jetboil Flash Cooking System
Weight: 3.1 ounces
With this ultralight design, the pot and burner form one unit that simply requires a gas canister. It's a top pick if you're looking for something light and efficient. It dazzles by breaking records to boil water in just 100 seconds. I'll also say that the setup of the Jetboil Flash Cooking System is as nice as its performance. Touches like an ultra-reliable push-button igniter and color-change heat indicator make this an intuitive tool that requires zero fumbling around. The system's 1-liter FluxRing cooking cup with added insulation makes it a perfect fit for coffee or soup.
Best Budget Option: BRS-3000T Ultra-Light Canister Stove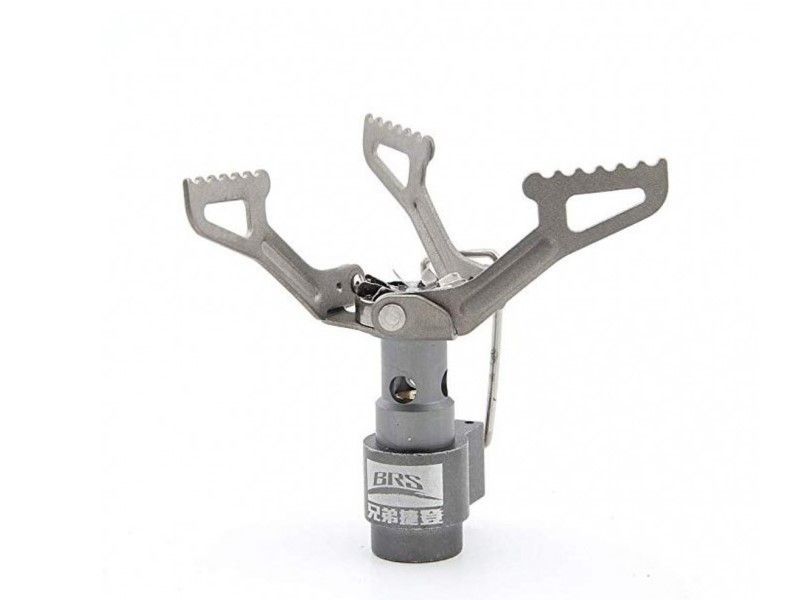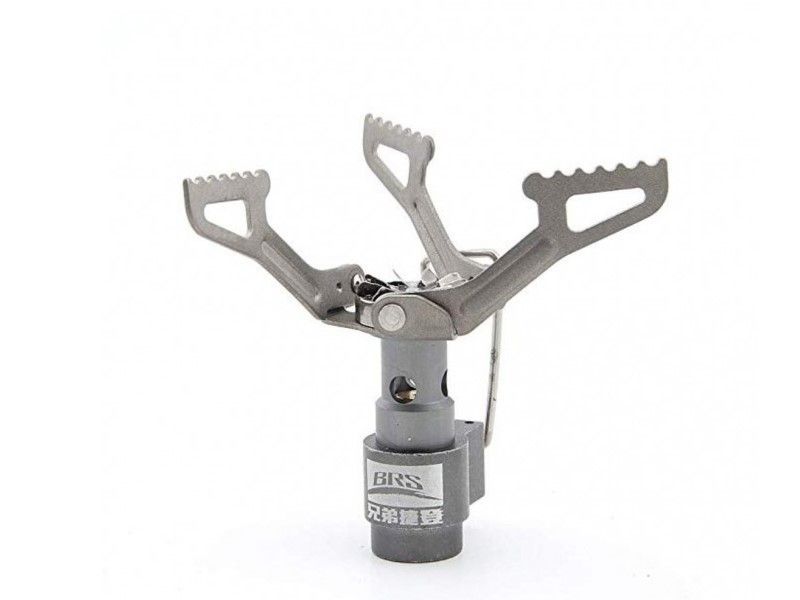 Weight: 25 grams
This one makes the list because it offers a design that's light and cheap while still offering quality performance. In fact, the lightness of this stove alone makes it a top pick if you're willing to give up some features in exchange for that extra room in your pack. I'm pretty sure it's actually the lightest stove of its kind on the market. Using a very stable flame, the BRS-3000T gets water to a boil in just a hair under three minutes. The only downside to this stove is that you're not going to get away with sharing it between two people the way you can with the other options covered on my list.
Best Wood Burning Backpacking Stove: Solo Stove Lite Stove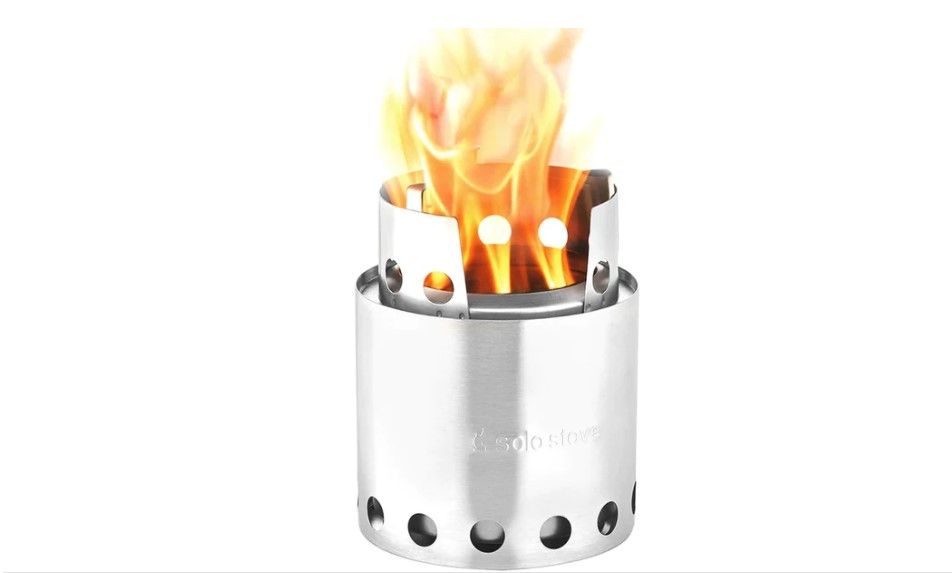 Weight: 9 ounces
With this stainless-steel stove, you're always just a few twigs away from getting some hot food in your stomach. I had to include this stove as an eco-friendly option that's good for the planet while also saving you from the hassle of ever having to buy fuel again. This option also lightens your load a bit because you can "pick up" your fuel on the trail instead of having to carry it around. Twigs fuel your fire while a series of intake holes on the stove's bottom bring air in. A secondary combustion is created by pre-heated oxygen coming in through the stove's top vents. The result is a surprisingly impressive fire that doesn't create a ton of smoke. It's a really great design for a backpacker who doesn't want to leave any footprints in the forest.
Good Value for the Money: MSR Windburner Personal Stove System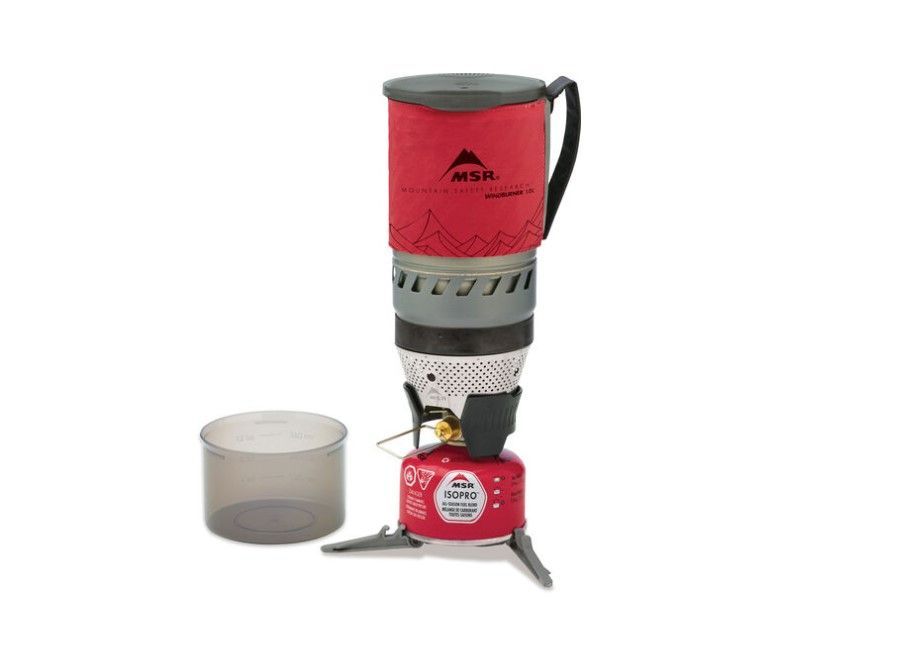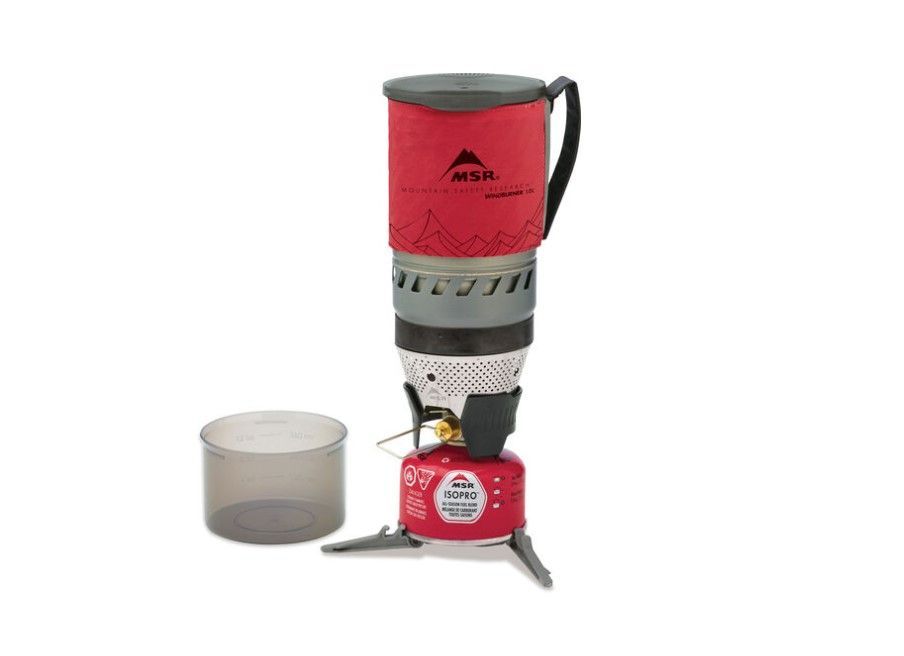 Weight: 15.3 ounces
Designed for minimalists, this stove doesn't skimp on performance. It uses a radiant burner and enclosed design to give you a windproof system for operating in harsher conditions. It gets an extra dose of portability from a nesting system that lands everything inside a 1-liter pot. I also find the insulated cozy handle used in this stove system to be more ergonomic than other options that cost more. Boil time for half a liter is 2:25 minutes.
Best Multi-Fuel: Littlbug Junior Camp Stove
Weight: 5.1 ounces
The Littlbug Junior Stove is a small camp stove that can give you hours of natural wood-burning firepower and weighs only 5.1 ounces. Littlbug Stoves can be reconfigured to become the necessary windscreen and pot support for most commercially available alcohol burners and DIY designs. While it can burn alcohol, it also efficiently burns twigs, sticks and other biomass which means you don't need to carry the additional weight of fuel. The stove is constructed with durable stainless steel and provides a stable and versatile cooking platform. The rugged simplicity allows for easy assembly and doesn't require maintenance kits, spare parts, windscreens, or heat exchangers. It boils water fast and cools quickly. For packing efficiency, it is designed to fit inside a rolled-up sleeping pad for easy storage and transport.
Backpacking Cookware
For many backpackers, taking along cookware is akin to piling bricks into their packs. It doesn't have to be that way once you find efficient, ultra-light cookware for backpacking. We have a few different materials to consider when selecting backpacking cooking gear. There's really no getting around the fact that you're dealing with trade-offs regardless of which option you ultimately go with. Let's cover them!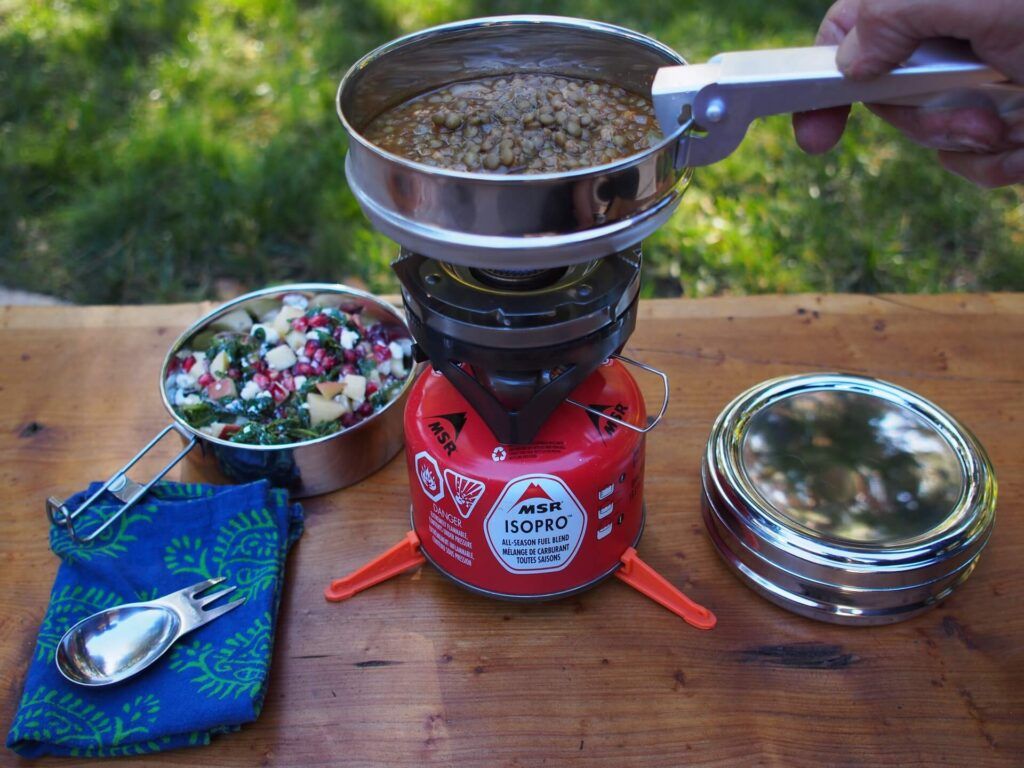 Types of Backpacking Cookware
This is where it really takes going step by step through the cooking processes for the specific foods you intend to whip up on the trail. The three options are titanium, aluminum and stainless steel. Next, I'll go into detail regarding the hits and misses for all three.
Most Popular and Very Light: Titanium Cookware
Why You Might Love It: Titanium is simply one of the lightest raw materials. It also happens to be nearly as strong as steel! The thinness of titanium also makes for some speedy cooking. All told, this is my personal pick.
Why You Might Not Love It: The quick-heating aspect of titanium can really sneak up on you to burn your food if you're not careful. That's devastating when you're working with carefully planned rations.
Best Cooking Results and Heat Distribution: Aluminum Cookware
Why You Might Love It: Aluminum offers very even heating to present really good results.
Why You Might Not Love It: You may find that food sticks to aluminum more than other materials.
Most Durable: Stainless Steel
Why You Might Love It: Really stands up to wear and tear nicely.
Why You Might Not Love It: It's the heaviest option.
Backpacking Pot vs Cookset
Here's where I'll dive into the controversy of backpacking pots versus cooksets. Where do I come down on the issue? For me, it's all about efficiency.
I've always found that one pot is more than enough to make basic, camp-appropriate meals that provide enough calories and sustenance. As someone who generally sticks to boiling water with my pot, I find that a pot does the trick. However, I will concede that a cookset can be appropriate in cases where you have some specific meal intentions that require a little more versatility. Ultimately, you have to reconcile your decision with the amount of space you have. Keep in mind that every ounce you add is coming with you during every single step on that trail!
Best Backpacking Cooking Pots and Sets
The weight can start to pile in really fast if you're not diligent about auditing for ultralight backpacking cooking gear. That's why I like to focus on pots that are good for storage or nesting. Take a look at five picks that might make that a little easier for you.
MSR Titan Kettle
Weight: 4.2 ounces
This titanium kettle can hold .85 liters of liquid when used as a bowl or mug. It performs nicely with help from a tight lid and drip-free spout. You can also nest this kettle with the Titan Cup.
The Vargo BOT 700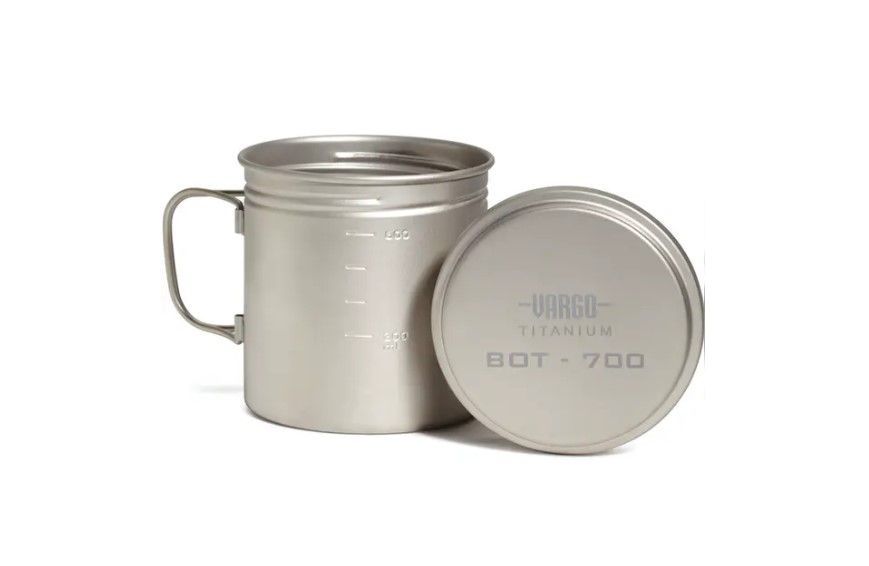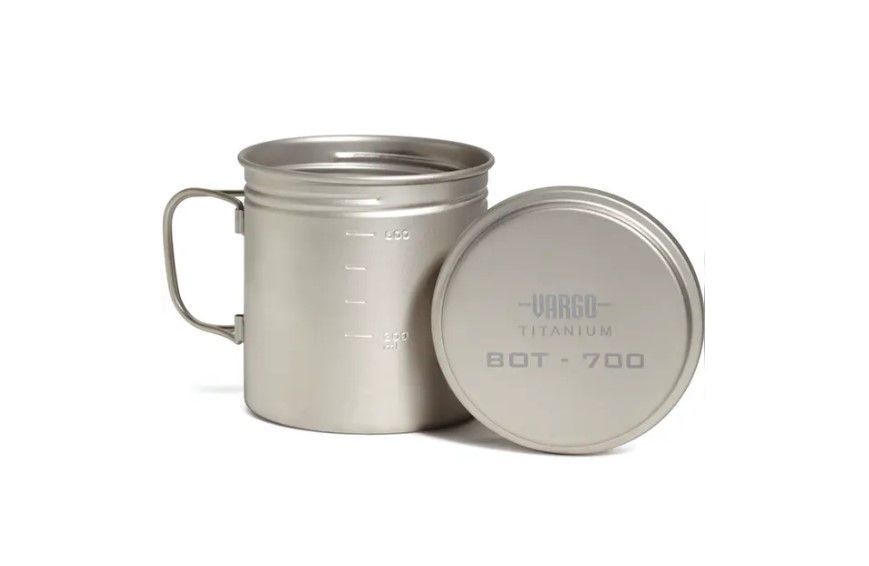 Weight: 4.4 ounces
What I like about this multipurpose pot is that it's great for carrying, storing, measuring and cooking! Made of titanium, it features fold-away handles for easy cleaning and a cooking lid. Most people who use the BOT actually take advantage of its 700-milliliter volume for pre-soaking dehydrated and freeze-dried foods. You can do this because the lid's screw-on mechanism is watertight.
Snow Peak Multi Compact Cookset
Weight: 11.6 ounces
Despite my general dislike of cooksets, I'll brand this as a good choice for two users to share. This set includes two stacking pots and two fry pans with foldable handles made from Japanese titanium. The different depths offer extra versatility for making different meals.
TOAKS Titanium Pot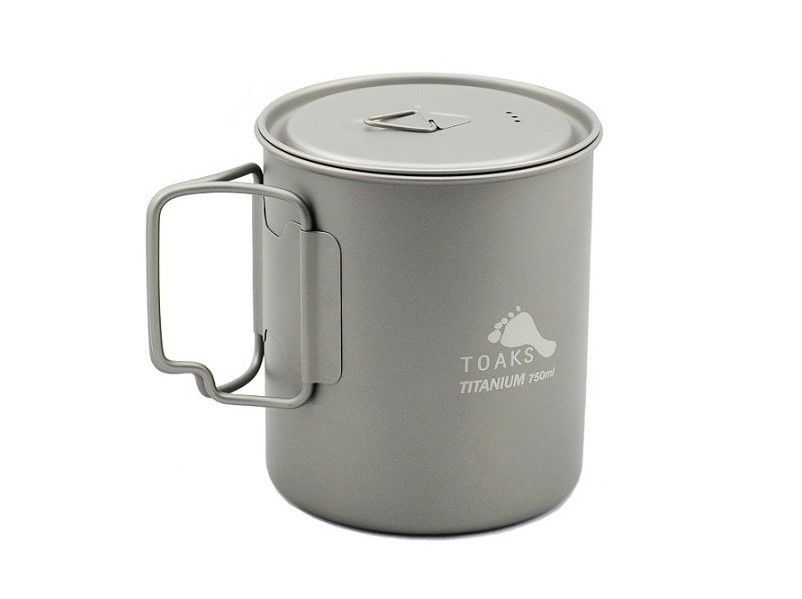 Weight: 3.6 ounces
The security added by this pot's lockable lid and mesh sack is a highlight for sure! This is also a good "base" item if you're interested in stacking because it can nest about five different TOAKS products ranging from a cup to a wood-burning stove. It can also nest inside some of the larger TOAKS pans.
MSR Alpine Stowaway Stainless Steel (Series)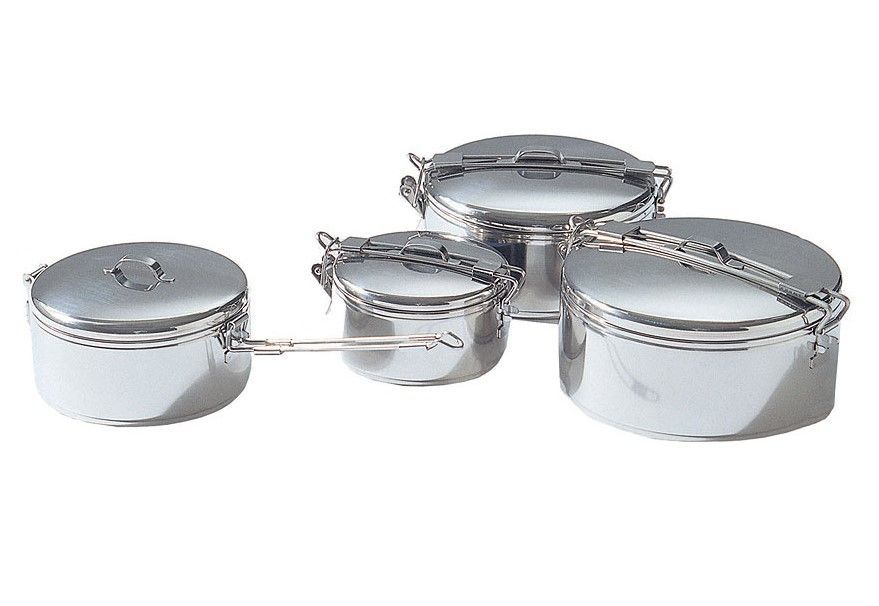 Weight: Ranges from 9.5 ounces to 19.5 ounces
This is a nice series to choose from if you're looking for one or more pots in various sizes. I can justify the weightiness of some of the larger pots here because they double as storage for cooking supplies. Overall, these are really durable pots that have easy-lift handle flips that help to lock the lid nicely in place.
Backpacking Mugs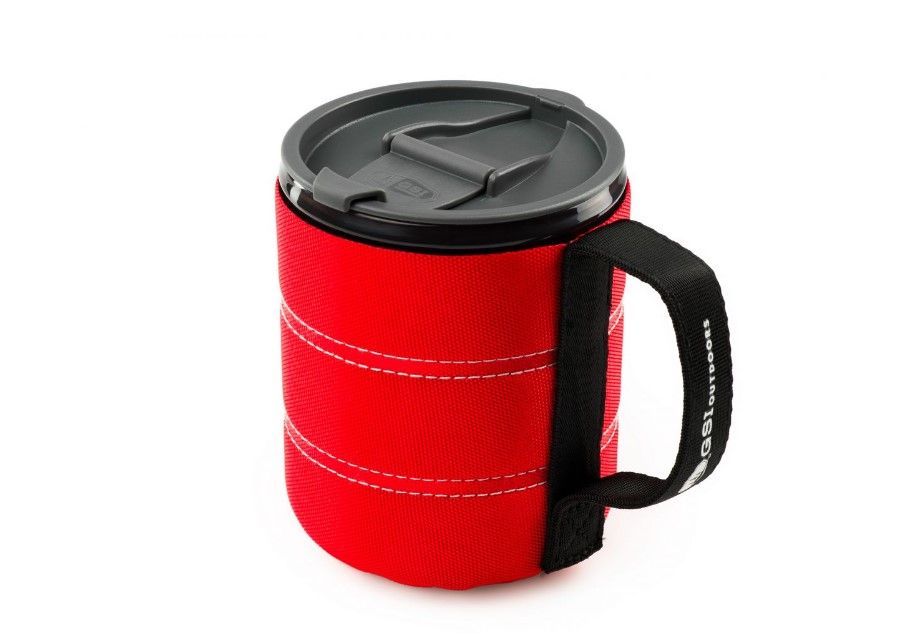 A backpacking mug is one of those inexpensive, handy accessories that you might not realize you need until you're out there. Generally, what makes backpacking mugs different from camping mugs is that they have better insulation and sturdier lids. You may be able to get away with using the big cup from a stove system as your coffee mug. However, it's worth glancing at official backpacking mugs if you're into hot drinks because they're a little more ergonomic.
My first go-to pick would be something like the GSI Outdoors Infinity Backpacker Mug. This ultra-lightweight, highly insulated mug weighs just over 4 ounces. I like its slip-resistant top and insulated neoprene sleeve.
I also like the Sea to Summit DeltaLight insulated mug. At just over 2 ounces in weight, this is a good choice for group trips because you can actually stack several together. I like how ergonomic the grip is on this. There's also an easy-sip silicone lid and removable insulation.
Backpacking Bowls
Backpacking bowls are often underrated and overlooked. However, I've found them to be worth it when it comes to apportioning meals instead of assuming I'll just eat from my cookware. In my experience, the Sea to Summit Delta Bowl (4.7 ounces ) with lid is an option that justifies the space it takes up because you can actually use it to store utensils. It's designed using food-grade polypropylene with a high melting point for using hot water to re-hydrate freeze-dried foods. I also like how the high sides keep food in the bowl instead of on the ground near your tent.
The UST FlexWare Bowl (2.8 ounces) deserves some accolades if we're basing our opinion just on size. The FlexWare bowls collapse to take up minimal space. They're made of heat-resistant, flexible food-grade silicone that feels pretty stable in your hand. A lot of people actually use these as food or water bowls for their dogs on longer treks.
Backpacking Utensils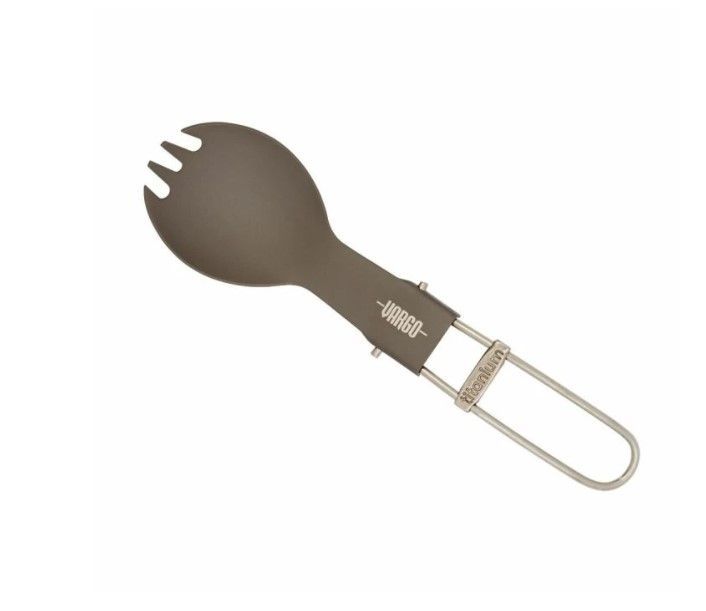 My go-to utensil is a spork for its two-in-one properties. Something like the UCO Utility Spork (0.5 ounces) is an ultralight, inexpensive option. This particular spork is technically a three-in-one due to the serrated edge for cutting on the side of the fork feature. I also like that it has a tether for hanging the spork to dry.
Humangear GoBites Uno Sporks (0.5 ounces) are also pretty solid. In addition to a really ergonomic feel in your hands, this spork features low-curvature edges that make it easy to scrape the sides of bowls and containers. That comes in really handy when you're in the mode to not waste a scrap. They also produce a titanium spork (1 ounce), for those who might want something more durable.
Vargo Outdoors also does a titanium folding spork (0.6 ounces) that's really efficient. I'll also throw in that I like a long spoon for both stirring and reaching into larger food bags without any cross-contamination risks. For this, the TOAKS Titanium Long Handle Spoon with Polished Bowl (0.7 ounces) is a nice option. I've found that one of the best ways to get my cookware and bowls clean without damaging my spork through excessive scraping is to add a scraper to my pack. At just 0.4 ounces, the GSI Outdoors Compact Scraper is a product that earns its keep because it can be used for both cleaning up burned bits and getting every last bit of food from the pan to my plate.
Backpacking Food Storage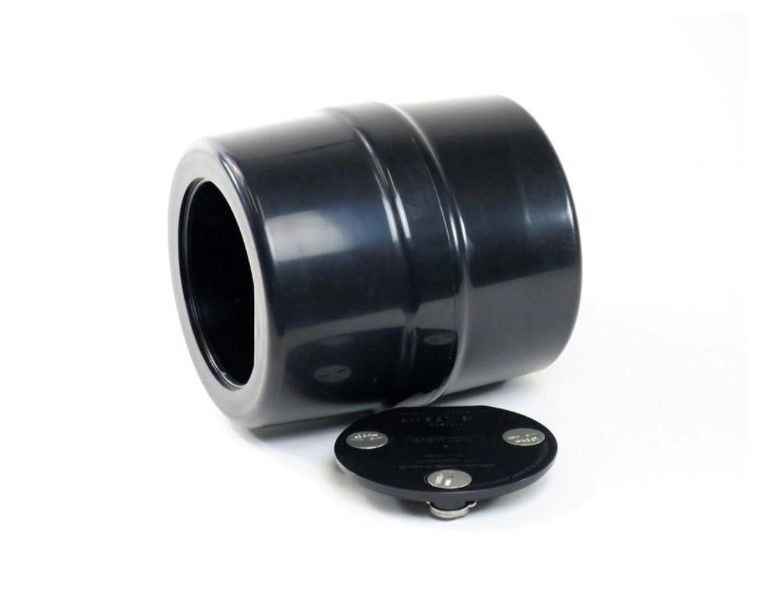 For storing food on a journey, I recommend dry bags as the default choice for their ability to retain cold temperatures. Due to their ability to keep food odors contained, dry bags are considered bear smart. You're just getting a lot more flexibility and convenience by going with something that has a handle and the ability to be attached to a rope. You can generally either place these in bear lockers that are provided or hang them on bear poles. My top pick for a dry bag is the Sea to Summit Stopper Dry Bag because it's waterproof and easy to pack.
It's possible that you might need to go with a bear canister if you're hiking in spots like Glacier, Yellowstone, Yosemite, Sequoia, Grand Teton, Gates of the Arctic or Olympic. While useful, canisters do add bulk. One of the lightest bear boxes on the market is the Bare Boxer (1.6 pounds). You'll be able to fit enough for two to three days in one of these. Some other lightweight options that weigh slightly more are the BearVault500 (2.9 pounds) and the UDAP No-Fed-Bear canister (2.4 pounds).
Check out more related articles