Camping is one of the best outdoor recreational activities. A great camping getaway usually involves delicious food by the fire, scenic hikes, and tons of wildlife spotting. A lot of people love to go camping with a dog. And why not? Exercise and the great outdoors is good for everyone – no matter how many legs you have! But by doing that, you need to get the right dog camping gear.
Same as people, dogs need camping gear to make their trip safer and more comfortable. These items are not just meant to make your dog's life easier. They will make your trip easier as well. There are many items you can get for your dog, but this list only contains the main gear items I recommend bringing on the camping trip. It also does not mean you need them all; it should give you an idea of what's out there for your dog and how it can make your trip more manageable.
So here's the dog camping gear list with 13 must-have items for an epic adventure with your pup.
In this article
1. Hands-free dog leash
A hands-free dog leash is one of the best dog hiking gear items out there. Anyone who's been camping knows how important it is to have your hands free at all times. You want your hands for things like setting up camp. You also want them for support on more difficult hikes, and you might want to use hiking poles on your trails. And if you plan to take your dog on a camping trip, the hands-free dog leash will let you do all those things. You won't have to worry about the whereabouts and the safety of your pup. Some hands-free leashes are universal and can be used as a hand-held leash or attached to a belt on your waist.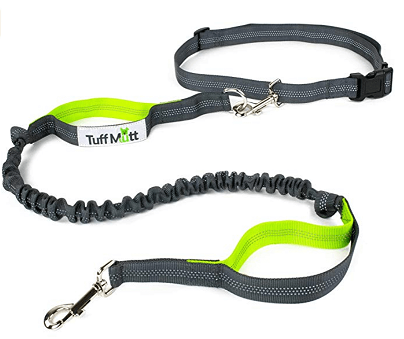 Best hands-free dog leash
2. Collapsible dog bowl
A collapsible dog bowl is a great item to have, whether you're going camping or not. It's durable, light, foldable, and comes in many shapes and sizes. I recommend using a collapsible dog bowl instead of a regular one. This type of bowl takes a lot less space when you're traveling with your dog. It's also easier to wash. But the best part about it is that your pooch can carry it in its backpack!
Best collapsible dog bowl
3. Dog sleeping bag
A dog sleeping bag is one of the more important items on a camping list. You want your pup to have a good night's sleep after a long day hiking. Make sure the sleeping bag is warm and water-resistant. You also want to find one that is easy to clean, light to carry, and does not take up much space to store.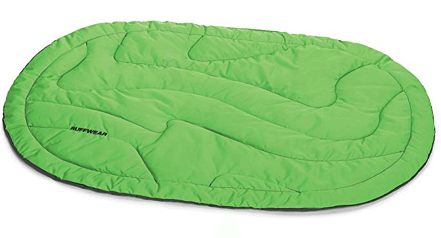 Best dog sleeping bags
4. Dog hiking backpack
A dog hiking backpack is a great gear item to have. It allows you to reduce the weight on your shoulders by adding a few of your pooches items to its backpack. Don't let it carry too much. But if it's a medium or a large dog, it can carry its water, dog bowl, and a few other things. Often, the backpack has a handle on the dog's back. This is great for attaching the hands-free dog leash or lifting your pup when it needs help to climb through obstacles. It also protects your dog from scratches and gives some extra warmth.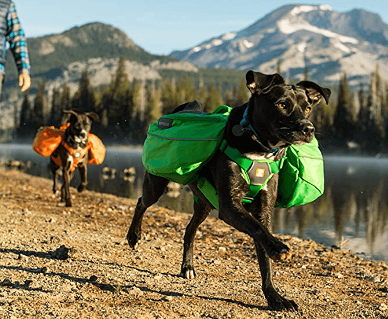 Best dog hiking pack
5. Dog tent
A dog tent is a must-have dog camping gear item if you're not planning to allow your dog into the tent. You can have a lot of reasons for it, like hygiene, training your dog to be less dependable, or maybe the lack of space. In any case, having a good dog travel tent for your pup means your pal will get a comfortable sleep in a warm and safe environment. Make sure it's big enough for your dog and that it's wind and water-resistant.
Best dog tent
6. Dog hiking boots
If you're taking your dog camping, you are probably also thinking of taking it with on the trails. Depending on the trail, your pup might need dog hiking boots as much as you do. Especially if you're planning to walk with your bud on sharp debris and rock scree. Good hiking boots for your dog will ensure his paws are protected and also will add some good grip on slippery surfaces. I am not suggesting your dog needs to wear boots all the time, but some trails may be rougher than others. You might want to consider having it with you in your dog's backpack just in case.
Best dog hiking boots
7. Dog light
Camping in the wilderness does come with a risk. Firstly, there's going to be wildlife, and your dog may be attracted to chasing it. Your pooch may also get interested in exploring this vast undiscovered territory on its own. With the right training and supervision, you and your pup should be fine. But just in case you think it might try to wander off, get a dog light to attach to his collar. Attaching a bright led light to your dog's collar will make it easier to spot it in the distance. Make sure it's water-resistant and comfortable for your dog to wear.
Best dog lights
8. Dog car seat cover
A dog car seat cover is probably not something your dog needs – it's more what you need. This item helps to enjoy your camping trip without worrying that your pooch might get your car seats covered in mud, water, or dirt. A dog travel mat would allow you to worry about your dog's cleanliness when you get home. I recommend using a wide, waterproof dog car seat cover that is easily attachable to your pal's seat.
Good dog car seat covers
9. Dog eye protection goggles
If you're taking your dog on a hike, consider bringing dog eye protection goggles. If you're going to hike in a sunny environment, or somewhere with high wind and dust, your dog will need as much eye protection as you do. Dog's eye protection goggles should also guard your pet's eyes against debris, eye diseases, and drying out. This dog hiking gear item does not take too much space and can be added to your pup's hiking backpack. Before you buy the goggles, do know that your dog will require training to get used to wearing eye protection.
Best dog eye protection goggles
10. Dog cooling vest
Dog cooling vest is an item to consider if you are planning on doing a camping trip during the hot season. It's also useful if you're going to take your dog hiking in lower altitudes or open terrains. The vest is usually sunk in the water, squeezed out, and put on your dog. The special design of the cooling vests use the droplets of water and turn it to a gaseous state. The humidity slowly evaporates off your dog, reducing the temperature of the body. At the same time, the outer layer of the vest reflects heat. This allows the dog to remain cool and protects it from overheating.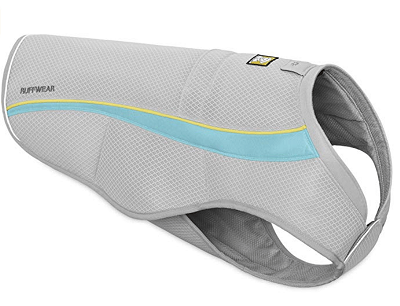 Best dog cooling vest
11. Dog life jacket
If you're planning on camping near water and taking your pooch on boat trips, consider bringing a dog life jacket. Some dogs are amazing swimmers, others might not be as good in the water. But life jackets can assure your dog is safe if you're swimming near strong currents, or if your dog is tired after previous activities. It's good to have the dog life jacket with you for getting your pet on and off the boat. Its bright colors also make it easier to spot in the distance.
Great life jackets for dogs
12. Dog bug spray
The hot season always sees an increased number of people exploring the wilderness. But the numbers of bugs swarming through the forests increase as well. Mosquito bites, flies, and ticks can become a real problem. Insects can also carry diseases. And some of those are not just harmful to humans. Dogs can get ill as well. And even if they don't, those fly and mosquito bites can also be a pain for your pup to endure. That's why a dog bug spray is a good measure you can use to protect your dog against insects. Make sure the spray is organic and not harmful to your pet. Only use it if it's necessary.
Best dog bug spray
13. Dog first aid kit
A first aid kit for your dog can be a very important camping item to have with you. The chances of using it are slim, but it surely is great to have one, in case something happens. Some of the items in the first aid kit for humans will be fine to use for your dog. But some are quite specific. So make sure you either add the dog items to your kit or get a specialized first aid kit for dogs.
Best dog first aid kits
Frequently asked questions about camping with your dogs
Can I leave my dog in a tent?
The short answer is yes, but there are a lot of things to consider. Check with the campground rules – some campgrounds might not allow you to leave your dogs unattended. Make sure the dog has proper ventilation in hot weather and that the tent is warm enough during the cold. It's always great if your dog is trained to stay in its cage until you are back. This can also allow your pup to get that extra rest while you're gone to the store or out for a shower.
Where does your dog sleep when camping?
Most of the time, your dog will want to sleep with you in your tent. Some people love to cuddle with their pooch and will have a dog's sleeping bag inside their tents. Others prefer to separate the sleeping areas for people and dogs. In this case, you'll need a dog tent. You can either set it up in your tent's patio area or next to your tent.
Should my dog sleep in my tent?
It's more about your preference. Some people like having their dog next to them; others prefer keeping a distance. Either way is possible with the right dog camping gear.
Can you take your dog camping?
The answer is yes. But some people might have heard otherwise. It depends on the regulations of the campground you're going to. Some campgrounds might not allow dogs. Usually, it's because of wildlife in the area, and dogs might cause stress to or attract unwanted wildlife to the campsite. Make sure you read the pet rules before you reserve a camping spot.
Can puppies go camping?
Yes. Taking your dog camping while it's young, can help him to get accustomed to the wilderness. Your dog would learn to hike with you, sit by the campfire, and take part in other outdoor activities. Before you take your puppy on a camping trip, check with the vet. Your pooch will need its vaccines before you go camping. For more information, check out this great article on how to introduce your puppy to the outdoors.
How can I keep my dog safe while camping?
It's like keeping a human safe. Make sure you always know of your dog's whereabouts. Do not take your dog on hikes, where dogs aren't allowed. The rules are usually there to protect the wildlife and your dog, as the two can rarely coexist in peace. When hiking, make sure to bring water for your dog and keep him on a leash. Stay on marked trails and protect it from wildlife.
Do dogs get cold camping?
Yes. Depending on the breed, some dogs get colder than others. The fur can usually protect your pet from chilly weather, but not all dogs can stand harsh weather conditions.
How can I keep my dog warm while camping?
Make sure to get a dog blanket and a few extra layers for the tent. During the hikes or other activities, a dog jacket and dog boots help to keep your pet warm.
To conclude
This list is only a recommendation, and you should only bring the items that you and your dog need. I hope this article will give you some great ideas on how to make your next camping trip with a dog easier and more comfortable both for you and your pet.
The recommended items in this article are some of the best dog camping gear dog owners recommend. But be sure to compare them with other products that might be more suitable for your dog.
Find more related articles on camping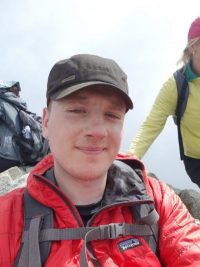 Mins Lukas Savela is a travel writer whose main focus is adventure travel. His passion for wildlife and nature has carried him to many countries in the world. He loves hiking the best trails on earth and sharing his experiences through writing. He hopes his experiences will help more people to start their own adventures and appreciate the world surrounding them a little bit more.
Mins Lukas Savela (also known as Lukas Saville) has written numerous articles that have been published on websites like Wandrly magazine, Go Nomad, Osprey.com, RAD Season, Wilderness Society, The Los Angeles Beat, California.com, Nature Conservancy, and many others.