Whether you are a keen hiker who goes on regular long excursions or simply enjoy a shorter hike every now and then, there is always some preparation that needs to be done before your trip. You have to wear the right gear, ensure your route is carefully planned and have enough fuel in the form of liquids and snacks to keep you going.
While there is a lot of information available on the right clothes to wear on a hike, the secrets of which hiking snacks to pack aren't always discussed in as much detail. When you're planning to go on a hike, certain snacks will keep you going for longer: It's all about finding filling and nutritious, but lightweight snacks.
In this article you will find:
Healthy hiking snacks
The best bars for hiking
The best salty snacks for hiking
The best sweet snacks for hiking
Healthy Hiking Snacks
Before finding out which snacks to pack for your next trip, let's look at what makes the perfect hiking snack:
Less fats and sugar: Fatty and sugary foods may give you some energy, but not for long. These types of foods can make you feel lethargic after a while and slow you down.
Lasting energy: Complex carbohydrates and proteins are known to offer energy that lasts, making you go faster for longer.
Something fresh: When you're active for long periods, you can quickly become dehydrated. Fresh foods often have more liquids, which can help to keep you hydrated.
Keeping these points in mind, let's consider some of the best hiking snacks.
The Best Bars for Hiking
Don't let a heavily packed food pack weigh you down. Opt for a lightweight bar or two:
Granola Bars
Granola is usually made of rolled oats, nuts, honey or brown sugar. It is typically a breakfast food, but it makes delicious, high-calorie snacks for hiking too. The oats in granola deliver impressive numbers in fiber and iron, while the honey is a healthy form of sugar, which offers extra energy and stamina.
Granola comes in many forms, including cereals, bars or biscuits. The easiest way to carry it is in one of its solid forms. Try one of these granola bar recipes.
Peanut Butter Bars
Peanut butter in any form is a great source of energy, but peanut butter bars are easy to carry and eat too, making it ideal snacks for hiking. Peanut butter is packed with healthy fats and protein which help to stave off hunger and keep blood sugar levels steady. Just a scoop and you'll feel that extra energy in just a few minutes! It is a good option for vegetarians and The Wild Guides has easy recipes for vegetarians camping food.
Peanut butter bars are quick to make at home and easy, good food to pack in your backpack. Try one of these bar recipes with just a few simple ingredients.
Seed Bars
Compact seed bars are the perfect protein snacks for hiking. Go for bars that are made from hemp seeds, pumpkin seeds, sunflower seeds, flax seeds, or sesame seeds, as these have the most nutrients and protein. Lightweight and easy to pack, these bars are ideal to eat on the go.
The Best Salty Snacks for Hiking
If you're going to work up a sweat, you need to replenish lost salts. Try one of these delicious options:
Tuna and Cracker Bread
If you have a little extra time to stop and eat, go for tuna on cracker bread. Tuna is an excellent source of Vitamin B6 and B12, as well as protein. Some brands sell tuna in packets that can easily be carried. The cracker bread is lightweight and makes for a delicious salty snack with tuna on top.
Pasta
If you are planning to have a break during your hike, pack a small tub of cold pasta salad. Pasta is known to produce lots of energy when eaten in moderation. This delicious high-calorie and carbohydrate snack will sustain your energy for longer. Go for whole-grain pasta if you're looking to add more fiber to your diet.
Olives
Healthy fats, like the ones found in olives, are essential for helping you to stay full, which is ideal for when you are hiking. These little fruits are also high in vitamin E which is a powerful antioxidant. They are known to be good for the heart and may also protect against osteoporosis. If you have limited space, simply add a few olives to your pasta salad.
The Best Sweet Snacks for Hiking
Have a sweet tooth? Try one of these options:
Nuts and Dried Fruit
Nuts and dried fruit are great healthy hiking snacks on their own, but mix them for more variety and an interesting taste. Nuts are rich in heart-healthy polyunsaturated and monounsaturated fats, as well as protein, vitamins and minerals, and potassium and magnesium, while dried fruit are also packed with different vitamins, as well as plenty fiber. The best dried fruit to pack for a hike is raisins, figs, dates, apricots and apples. These fruits are packed with plenty of energy and will boost iron levels quickly.
Fresh Fruit
Fruit is generally more difficult to carry than most of the items on this list. But if you have a safe space in your backpack or are taking cooled hiking food packs, you can pack in an apple or a banana for the trip. Fruit is packed with an array of vitamins and minerals. Bananas will boost your potassium which will help regulate your fluid balance and muscle contractions, while apples will help you stay hydrated.
There are plenty of delicious snacks to take hiking, but if you choose carefully, the snacks you choose can keep you hydrated, fuel your energy and keep you feeling stronger for longer. Always try to go for something that's easy to travel with and have enough nutrients to give you sustained energy and keep your muscles and bones strong. Choose one or two options from this list or go for a mix for a balanced intake.
Find More Related Articles on Food Outdoors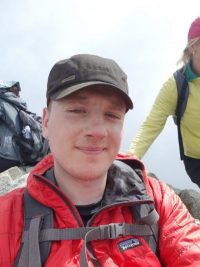 Mins Lukas Savela is a travel writer whose main focus is adventure travel. His passion for wildlife and nature has carried him to many countries in the world. He loves hiking the best trails on earth and sharing his experiences through writing. He hopes his experiences will help more people to start their own adventures and appreciate the world surrounding them a little bit more.
Mins Lukas Savela (also known as Lukas Saville) has written numerous articles that have been published on websites like Wandrly magazine, Go Nomad, Osprey.com, RAD Season, Wilderness Society, The Los Angeles Beat, California.com, Nature Conservancy, and many others.